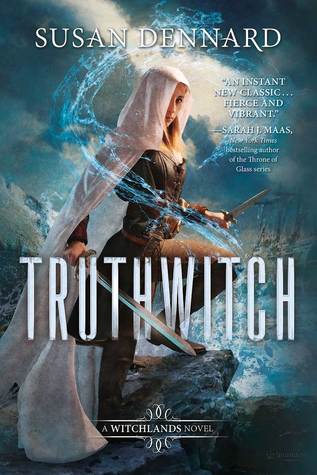 Title: Truthwitch
Author: Susan Dennard
Series: The Witchlands #1
Genre: Young Adult, Fantasy, High Fantasy, Romance
Publisher: Tor Teen
Publication date: January 5th, 2016
Pages: 416
My rating: 
---

Young witches Safiya and Iseult have a habit of finding trouble. After clashing with a powerful Guildmaster and his ruthless Bloodwitch bodyguard, the friends are forced to flee their home.
Safi must avoid capture at all costs as she's a rare Truthwitch, able to discern truth from lies. Many would kill for her magic, so Safi must keep it hidden – lest she be used in the struggle between empires. And Iseult's true powers are hidden even from herself.
In a chance encounter at Court, Safi meets Prince Merik and makes him a reluctant ally. However, his help may not slow down the Bloodwitch now hot on the girls' heels. All Safi and Iseult want is their freedom, but danger lies ahead. With war coming, treaties breaking and a magical contagion sweeping the land, the friends will have to fight emperors and mercenaries alike. For some will stop at nothing to get their hands on a Truthwitch.
"I hate this. Both the storm and the plan. Why does it have to be 'we'? Why not just 'me'?

"Because 'just me' isn't who we are," Iseult hollered back. "I'll always follow you, Safi, and you'll always follow me. Threadsisters to the end."
Okay, I'm pleasantly surprised. I knew for some reason I was going to like it, because a lot of people have been recommending this book to me, and I've been seeing a lot of positive things about the series online, but I didn't think I would like this novel as much as I did. Turns out, I was wrong. And I'm so happy to see that.
Truthwithch has a lot of elements I tend to enjoy in a fantasy series, but somehow they were introduced in a very different and fluid way that was so good to see, so I'm so happy I decided to pick it up, because I've owned it for so long and never read it until now!
"If you wanted to, Safiya, you could bend and shape the world."
My favorite part and one of the things that made me immediately want to read this novel was the female friendship. It was a very beautiful and strong one, where you could see how much they loved and cared about each other. They were both really heavy and important characters, and something I was happy to see was that they didn't overpower each other, and I didn't like one more than the other. They made such an amazing pair, and I loved both of them so much.
Like I said before, the female friendship was delicious. The sorority between them, and the interactions between them were done so well and in a very smooth way. It didn't felt forced or unrealistic, and it immediately made me connect with each of those characters. I loved the camaraderie and the jokes that most of the time they had, and I felt as well that even though they had a different development, somehow their friendship evolved as well, which was one of the things I loved the most about it.
I also really enjoyed the romance and the different side characters. Though I may say the romance wasn't the main focus of the story whatsoever, I still liked the relationship and interactions between Safiya and her love interest. Also, I'm super curious to read more about the Bloodwitch, because though we knew a bit about him in this first installment, I think there's more to him that what we already know, and I can't wait to read about his story!
"It wasn't freedom she wanted. It was a belief in something, a prize big enough to run for and to fight for and to keep reaching toward no matter what."
I absolutely adored the world building and the magic system. I loved how it had different types of witches but each one could control a different element, and I also enjoyed how I knew about the world progressively. There wasn't a lot of information about it thrown at the beginning of the novel or in the first two chapters, but it was introduced to you as you kept reading and when it was necessary, which was better to remember for someone like me.
It was more a slow burning type of story. It took me a bit more than expected to finish it, but it had a lot of action packed moments where I couldn't put it down. I might say that it started to get more fast paced toward the end, where a lot of things were going down and there were a lot of cliffhangers, so those parts took me less to read.
Overall, it was an amazing first book in a series. I loved the characters and the world, and though there's a lot to come in the next installments, I'm so happy I decided to read it!
Follow me on BlogLovin'
Goodreads | Instagram | Twitter | Contact Me