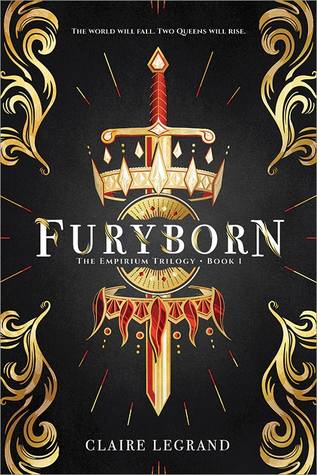 Title: Furyborn
Author: Claire Legrand
Series: Empirium #1
Genre: Young Adult, Fantasy, High Fantasy, Romance
Publisher: Sourcebooks Fire
Publication date: May 22nd, 2018
Pages: 512
My rating: 
---
When assassins ambush her best friend, the crown prince, Rielle Dardenne risks everything to save him, exposing her ability to perform all seven kinds of elemental magic. The only people who should possess this extraordinary power are a pair of prophesied queens: a queen of light and salvation and a queen of blood and destruction. To prove she is the Sun Queen, Rielle must endure seven trials to test her magic. If she fails, she will be executed…unless the trials kill her first.
A thousand years later, the legend of Queen Rielle is a mere fairy tale to bounty hunter Eliana Ferracora. When the Undying Empire conquered her kingdom, she embraced violence to keep her family alive. Now, she believes herself untouchable–until her mother vanishes without a trace, along with countless other women in their city. To find her, Eliana joins a rebel captain on a dangerous mission and discovers that the evil at the heart of the empire is more terrible than she ever imagined.
As Rielle and Eliana fight in a cosmic war that spans millennia, their stories intersect, and the shocking connections between them ultimately determine the fate of their world–and of each other.
"She had betrayed everyone in the kingdom of Celdaria, everyone in the world. She was supposed to be the Sun Queen, their savior and protector. And yet she had become the Blood Queen. The Kingsbane. The Lady of Death."
I know this is going to be a pretty unpopular opinion because lately everyone's been raving about this book, but sadly it wasn't the book for me. I can see why people liked it that much, and I don't know if I didn't enjoy it as much as everyone else because I wasn't in the right mood or what, but it is what it is, and probably this is one of my most disappointing books I've read this year.
I was beyond excited when I got an ARC of this novel, because not only the premise sounded amazing, but also because I'd been anticipating this book ever since I knew about it. The reviews were also pretty positive, so I went with quite high expectations.
"We live in a world where good kings die and those foolish enough to hope for something better are killed where they stand."
I think my main issue with this book and the one I couldn't see past was that I was constantly thinking what the actual plot of this book was. There were two story lines, and a lot of sub plots regarding each main character, but I didn't see what connection they had with each other apart from the obvious thing you learnt at the very beginning. Neither of those characters had anything in common, and sometimes I felt like I was reading two complete stories because of that.
The characters weren't bad, but also I didn't connect with them as much as I wanted. I must say my favorite out of both of them was Rielle, because I feel she was the one we knew most about. Her chapters added much more information about what the book was about (but not much), and also I got to see and learn more about the magic system and elemental magic. Eliana's chapters were much slower and not much was happening, and I didn't start to like her more until the very end of the book.
I was just wishing to know more about the world and those characters and how each of them could connect with the bigger story line, because there were a lot of characters and subplots but apart from that not much was happening. I couldn't connect with most of the cast of characters, and it took me most of the book to start to like their development, which was so sad.
"The empirium is always there. Every moment, every breath, every inch of life you touch. It waits for you."
The story was quite lineal and I found the world building quite lacking. I still don't know much about the angels or the reason they are the bad ones, and to be frankly honest, I couldn't see much about the world, but a few glimpses when Eliana was traveling. However, I really enjoyed the writing style , though I must say I was a bit confused when the characters cursed, and also weird, but that was just me.
Like I said before, the story was so lineal and I felt nothing was really happening. And let me tell you the book is very long, so I expected to see more information or at least, more action packed scenes, but sadly it was all quite disappointing.
Overall, it wasn't my type of book. I had a lot of issues with the characters and the plot, and though I liked the writing, everything was a bit anticlimactic.
Follow me on BlogLovin'
Goodreads | Instagram | Twitter | Contact Me