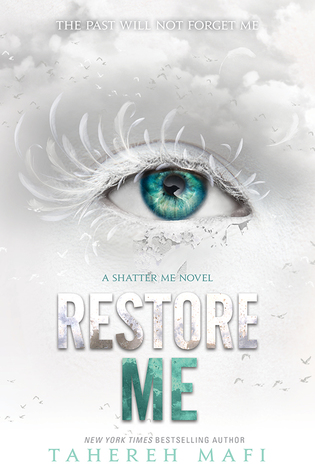 Title: Restore Me
Author: Tahereh Mafi
Series: Shatter Me #4
Genre: Young Adult, Dystopia, Sci-fi, Romance
Publisher: HarperCollins
Publication date: March 6th, 2018
Pages: 448
My rating: 
---
Juliette Ferrars thought she'd won. She took over Sector 45, was named the new Supreme Commander, and now has Warner by her side. But she's still the girl with the ability to kill with a single touch—and now she's got the whole world in the palm of her hand. When tragedy hits, who will she become? Will she be able to control the power she wields and use it for good?
"But if I don't learn how to manage these many relationships? If I don't at least pretend to have even the slightest idea of how I'm going to rule? The rest or the world could so easily destroy me.

And sometimes I'm not sure I'm make it out of this alive."
I don't know where to start this review because right now I'm a pile of feels and fangirling all over the place because THERE'S ANOTHER BOOK IN THE SERIES AND I'M NOT OKAY. To be completely honest, I was equal parts excited and hesitant to read this fourth installment, because I freaking adored the first three books and it had a mind blowing ending, so this could go either amazingly good or completely wrong. Turns out, to me it was an amazing sequel.
If you couldn't tell already, this was one of my most anticipated releases of this year. And I know that I say that pretty often, but this one was a top priority for me, and one I highly needed to read right after it came out. And now I can't believe I had to wait another year for the next installment, because oh, my my, I need it in my hands now!
"In the steady thrum that accompanies quiet, my mind is unkind to me. I think too much, I feel, perhaps, dar more than I should. it would be only a slight exaggeration to say that my goal in this life is to outrun my mind, my memories. So I have to keep moving."
To be completely honest, the tone of this book was much complex and darker than I expected. Though it was still a character driven story, I feel we got to see more of the world and the society in this installment, and it totally makes sense because in the first three books Juliette was trapped and had spent most of her time in a prison or inside Sector 45, so it was understandable that she didn't know much about the world or the politics, whereas in this one she was basically thrown into it.
I actually loved that it still had very flawed characters, and you could see that throughout the entire book when you read about them not knowing what to do, or screwing up sometimes because of the decisions they were making. And that not only added tons of angst and relationship drama to the story, but also it created that made them imperfect and also made you empathize more with them.
I was also living for the relationships formed in this novel. Not only we got to see more of the friendship between Kenji and Juliette (I'll talk about that in a second), but also there was such a beautiful friendship between Juliette and a new character, Nazeera, and let me tell you I'm so down for it. And like I said before, I freaking adored Kenji in this installment, because not only he was quirky and funny in Restore Me, but also he was such a loyal and amazing friend and helped Juliette so much, and I really enjoyed reading more about him.
"She has no recollection of a life lived anywhere but in Sector 45. I doubt she's ever gone for a swim, much less sailed on a ship in the middle on the ocean. She's never lived anywhere but in books and memories."
And one of the best parts of this book was that I got to read more about Warnette. They were such a powerful couple, and though in this installment they were a bit more distant because of everything that was going on, I couldn't help but love that imperfections and angst and that relationship drama. I'm sorry, I'm a sucker for them.
Also this book kept me on the edge of my seat the entire time. Though the beginning was more on the slower side, mostly because there was a lot of new information that we needed to know, I didn't get bored or anything, and I flew through the book. She has such a beautiful and lyrical writing that I devoured it in hours. And not only that but it had a lot of twists and turns, and plot twists that shocked me and made me want to continue reading it. AND THAT CLIFFHANGER?? I cannot!
Follow me on BlogLovin'
Goodreads | Instagram | Twitter | Contact Me