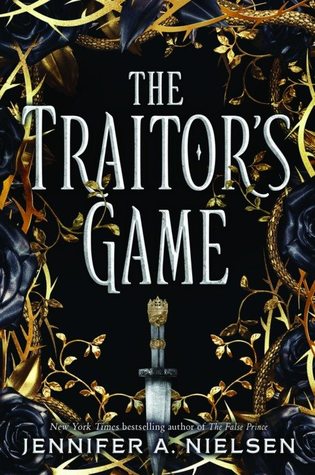 Title: The Traitor's Game
Author:  Jennifer A. Nielsen
Series: The Traitor's Game #1
Genre: Young Adult, Fantasy, High Fantasy, Romance
Publisher: Scholastic Press
Publication date: February 27th, 2018
Pages: 400
My rating: 
---
Nothing is as it seems in the kingdom of Antora. Kestra Dallisor has spent three years in exile in the Lava Fields, but that won't stop her from being drawn back into her father's palace politics. He's the right hand man of the cruel king, Lord Endrick, which makes Kestra a valuable bargaining chip. A group of rebels knows this all too well – and they snatch Kestra from her carriage as she reluctantly travels home.The kidnappers want her to retrieve the lost Olden Blade, the only object that can destroy the immortal king, but Kestra is not the obedient captive they expected. Simon, one of her kidnappers, will have his hands full as Kestra tries to foil their plot, by force, cunning, or any means necessary. As motives shift and secrets emerge, both will have to decide what – and who – it is they're fighting for.
"This carriage was also a symbol for what my life might become now. Maybe everything I knew and wanted, everything I was, would soon be compacted into some safe, proper world."
I cannot tell you how excited I was to read this book because the premise sounded awesome and like it was going to be amazing, and though I could see why people liked it, I was pretty disappointed with this book overall. I don't know if my expectations were pretty high or what, but I had so many issues with the story and the characters, and though at times it seemed like I started to enjoy it more, I couldn't pass the problems I had with it.
Okay, this was one of my most anticipated releases of this year, and since lately I'd been hearing a lot of positive things about it, I was even more excited to pick it up. And sadly, I think the premise and the title was a bit misleading, because I expected something that didn't end up happening, and it was kind of a bummer, to be honest.
"He didn't know it yet, but those words were about to become his biggest problem. Because I wasn't giving up either. Not even close."
I had a lot of issues with the characters. I found the main character Kestra super annoying most of the time. She was the type of character that I've read many times before in other YA books, and she was so plain. There were a lot of things she did that didn't make that much sense to me, and I was a bit confused with her personality overall. I feel I didn't empathize a lot with her throughout the story, and some things she did or some interactions she had with other characters didn't add much to the story.
Another thing I wasn't the biggest fan of was the romance. It didn't have a lot of time to develop and it appeared out of nowhere. I think I just didn't picture those characters together because they had no chemistry at all, and while reading the novel those characters got me shaking my head many times.
Also something that I was expecting to see but didn't end up happening was a great friendship. I feel it could have been a great addition to the story for our main character to have a great friend to rely on, and there were a lot of times that I could see that happening, but suddenly everything changed and that wasn't the case, which made me so sad.
"Life doesn't five us what we want. It gives us what we need and asks what we will do with it."
The story started quite slow and it took me a few chapters to understand the world, and I have to say that it started to be a bit more fast paced as I continue reading the novel, which was great because at the beginning I was a bit confused. However, basically each plot twist that happened towards the end was super predictable, mostly because I feel those revelations were done in many other YA novels, so it wasn't as shocking as I expected.
There were sometimes were I started to enjoy more the plot and the characters, especially towards the end and after seeing a good development in them, so I decided to give it 2.5 stars. It was a story that had an interesting concept, but I feel it could have been done much better.
Follow me on BlogLovin'
Goodreads | Instagram | Twitter | Contact Me