Hello bookworms! I'm Nia and today I'm going to be talking about the books I've read this past month of April.
April was such an amazing reading month. I read a total of 19 books and a novella, which was really good. I'm pretty sure I read the same amount of books I read in March, so I'm so proud of myself for that. I have to say there were some really amazing books and others that I didn't enjoy as much as I wanted.
But without any further ado, let's start with this week's topic!
Tales From The Shadowhunter Academy | Cassandra Clare
⭐️⭐️⭐️⭐️
My thoughts: I decided to read this collection of short stories before picking up The Dark Artifices, mostly because a lot of people recommended doing so to understand some things going on in Lady Midnight, and I have to say I'm glad I did so.
Simon was one of my favorite characters in the original series, and though this collection of novellas had some that I didn't care of or particularly liked, there were others that I adored. Also I think there were a few where we learnt more about the Shadowhunter world and the ceremonies, like the parabatai one. And not only that but also there was a lot of information about their history, which was so fun to read about.
I might say that the last novella (Angels Twice Descending) broke my heart into a million pieces, because I sure as hell didn't expect something like that to happen and woow, I was shook.
Simon Lewis has been a human and a vampire, and now he is becoming a Shadowhunter. But the events of City of Heavenly Fire left him stripped of his memories, and Simon isn't sure who he is anymore. He knows he was friends with Clary, and that he convinced the total goddess Isabelle Lightwood to go out with him…but he doesn't know how. And when Clary and Isabelle look at him, expecting him to be a man he doesn't remember…Simon can't take it.So when the Shadowhunter Academy reopens, Simon throws himself into this new world of demon-hunting, determined to find himself again. His new self. Whomever this new Simon might be.But the Academy is a Shadowhunter institution, which means it has some problems. Like the fact that non-Shadowhunter students have to live in the basement. And that differences—like being a former vampire—are greatly looked down upon. At least Simon is trained in weaponry—even if it's only from hours of playing D&D.
Join Simon on his journey to become a Shadowhunter, and learn about the Academy's illustrious history along the way, through guest lecturers such as Jace Herondale, Tessa Gray, and Magnus Bane. These ten short stories give an epilogue to the Mortal Instruments series and provide glimpses of what's in store in the Dark Artifices.
To Kill a Kingdom | Alexandra Christo
⭐️⭐️⭐️⭐️.5
My thoughts: I have already posted a review of this book, so click here in case you want to check it out.
Princess Lira is siren royalty and the most lethal of them all. With the hearts of seventeen princes in her collection, she is revered across the sea. Until a twist of fate forces her to kill one of her own. To punish her daughter, the Sea Queen transforms Lira into the one thing they loathe most—a human. Robbed of her song, Lira has until the winter solstice to deliver Prince Elian's heart to the Sea Queen or remain a human forever.
The ocean is the only place Prince Elian calls home, even though he is heir to the most powerful kingdom in the world. Hunting sirens is more than an unsavory hobby—it's his calling. When he rescues a drowning woman in the ocean, she's more than what she appears. She promises to help him find the key to destroying all of sirenkind for good—But can he trust her? And just how many deals will Elian have to barter to eliminate mankind's greatest enemy?
Midnight Thief | Livia Blackburne
⭐️⭐️
My thoughts: Sadly, I didn't enjoy this story as much as I wanted to. I went with pretty high expectations, because I read her other book and really enjoyed it, but I found that this story just wasn't for me.
The main issue I had with the novel was that it was SO slow. It took almost half of the book for things to finally develop and for me to see a plot, and the first part was a lot of information about the main character that I found unnecessary at times. And because it was that slow pacing, I was bored most of the time.
Also I wasn't the biggest fan of the characters. They were quite plain and not that unique, and not that remarkable to me. I struggled to find the connection between the actual plot and the characters, and I found sometimes their interactions a bit forced and simple.
The writing wasn't bad by any means, but there were a lot of twists throughout the story that were so predictable, and I don't know if that's what the author wanted or not, but to me they weren't surprising or shocking at all.
Growing up on Forge's streets has taught Kyra how to stretch a coin. And when that's not enough, her uncanny ability to scale walls and bypass guards helps her take what she needs.
But when the leader of the Assassins Guild offers Kyra a lucrative job, she hesitates. She knows how to get by on her own, and she's not sure she wants to play by his rules. But he's persistent—and darkly attractive—and Kyra can't quite resist his pull.
Tristam of Brancel is a young Palace knight on a mission. After his best friend is brutally murdered by Demon Riders, a clan of vicious warriors who ride bloodthirsty wildcats, Tristam vows to take them down. But as his investigation deepens, he finds his efforts thwarted by a talented thief, one who sneaks past Palace defenses with uncanny ease.
When a fateful raid throws Kyra and Tristam together, the two enemies realize that their best chance at survival—and vengeance—might be to join forces. And as their loyalties are tested to the breaking point, they learn a startling secret about Kyra's past that threatens to reshape both their lives.
A Girl Like That | Tanaz Bhathena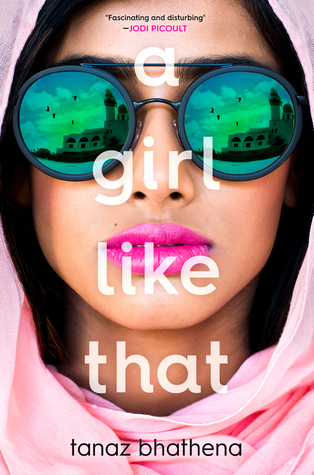 ⭐️⭐️⭐️⭐️.25
My thoughts: Oh my god, this book. I was so excited to read this book because I'm pretty sure I've never read anything set in Saudi Arabia, so when I read that not only this novel took place in it, but also it had an unlikeable character, I immediately wanted to read it.
Overall, it was a very sad and heartbreaking book. You basically knew what you were going to get after reading the first chapter or the synopsis, but it was tough to read sometimes because of everything that was going on.
I completely adored our main character, Zarin. She was such a complex, amazing character full of layers that it was amazing to get to know her and read from her perspective. I would say she's one of those mysterious characters where you don't have a full picture of until the very end of the novel, but nonetheless it was absolutely great to know her story. I loved her interactions with her cousin and the other characters, and though it didn't end up that well, I'm so happy I read this book.
Overall, I found this book quite unique and heartbreaking, and a beautiful story, and I highly recommend it if you're interested in it.
Trigger warnings for: sexual assault, abuse. 
Sixteen-year-old Zarin Wadia is many things: a bright and vivacious student, an orphan, a risk taker. She's also the kind of girl that parents warn their kids to stay away from: a troublemaker whose many romances are the subject of endless gossip at school.  You don't want to get involved with a girl like that, they say. So how is it that eighteen-year-old Porus Dumasia has only ever had eyes for her? And how did Zarin and Porus end up dead in a car together, crashed on the side of a highway in Jeddah, Saudi Arabia? When the religious police arrive on the scene, everything everyone thought they knew about Zarin is questioned. And as her story is pieced together, told through multiple perspectives, it becomes clear that she was far more than just a girl like that.
Lady Midnight | Cassandra Clare
⭐️⭐️⭐️⭐️⭐️
My thoughts: I have already posted a review of this book, so click here in case you want to check it out.
Emma Carstairs is a warrior, a Shadowhunter, and the best in her generation. She lives for battle. Shoulder to shoulder with her parabatai, Julian Blackthorn, she patrols the streets of Los Angeles, where vampires party on the Sunset Strip, and faeries—the most powerful of supernatural creatures—teeter on the edge of open war with Shadowhunters. When the bodies of humans and faeries turn up murdered in the same way Emma's parents were when she was a child, an uneasy alliance is formed. This is Emma's chance for revenge—and Julian's chance to get back his brother Mark, who is being held prisoner by the faerie Courts. All Emma, Mark, and Julian have to do is solve the murders within two weeks…and before the murderer targets them.
Their search takes Emma from sea caves full of sorcery to a dark lottery where death is dispensed. And each clue she unravels uncovers more secrets. What has Julian been hiding from her all these years? Why does Shadowhunter Law forbid parabatai to fall in love? Who really killed her parents—and can she bear to know the truth?
The Crown's Fate | Evelyn Skye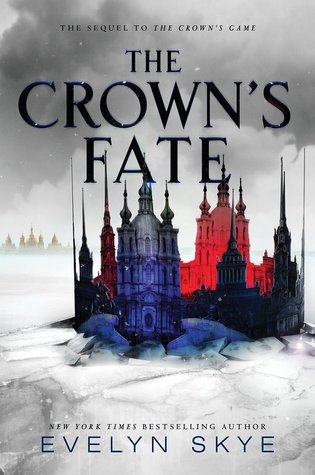 ⭐️⭐️⭐️⭐️
My thoughts: I have already posted a review of this book, so click here in case you want to check it out.
Russia is on the brink of great change. Pasha's coronation approaches, and Vika is now the Imperial Enchanter, but the role she once coveted may be more difficult—and dangerous—than she ever expected.
Pasha is grappling with his own problems—his legitimacy is in doubt, the girl he loves loathes him, and he believes his best friend is dead. When a challenger to the throne emerges—and with the magic in Russia growing rapidly—Pasha must do whatever it takes to keep his position and protect his kingdom.
For Nikolai, the ending of the Crown's Game stung deeply. Although he just managed to escape death, Nikolai remains alone, a shadow hidden in a not-quite-real world of his own creation. But when he's given a second chance at life—tied to a dark price—Nikolai must decide just how far he's willing to go to return to the world.
With revolution on the rise, dangerous new magic rearing up, and a tsardom up for the taking, Vika, Nikolai, and Pasha must fight—or face the destruction of not only their world but also themselves.
The Orphan Queen | Jodi Meadows
⭐️⭐️⭐️.75
My thoughts: I have already posted a review of this book, so click here in case you want to check it out.
Wilhelmina has a hundred identities.
She is a princess. When the Indigo Kingdom conquered her homeland, Wilhelmina and other orphaned children of nobility were taken to Skyvale, the Indigo Kingdom's capital. Ten years later, they are the Ospreys, experts at stealth and theft. With them, Wilhelmina means to take back her throne.S
he is a spy. Wil and her best friend, Melanie, infiltrate Skyvale Palace to study their foes. They assume the identities of nobles from a wraith-fallen kingdom, but enemies fill the palace, and Melanie's behavior grows suspicious. With Osprey missions becoming increasingly dangerous and their leader more unstable, Wil can't trust anyone.
She is a threat. Wraith is the toxic by-product of magic, and for a century using magic has been forbidden. Still the wraith pours across the continent, reshaping the land and animals into fresh horrors. Soon it will reach the Indigo Kingdom. Wilhelmina's magic might be the key to stopping the wraith, but if the vigilante Black Knife discovers Wil's magic, she will vanish like all the others.
The Mirror King | Jodi Meadows
⭐️⭐️⭐️.75
My thoughts: I decided to marathon the duology, mostly because I've had it for a while on my shelves and it was about time for me to finally pick them up.
Overall I really enjoyed this sequel. Though I don't really loved how it all ended, I still think the plot in this one was much more political and complex and I got the answers to most of my questions. I still had a few issues with some of the things, because I feel they weren't quite explained, but what can I do.
Something that I really enjoyed about this sequel was Wil's development. Though she isn't completely different from the first installment, she had a good evolution, and particularly I really enjoyed her interactions with the other characters of the story. I also enjoyed the addition of a new character (Chrysallis), because he added a different vibe to the plot and he was very interesting.
Like the first book, it was an addicting story, and because of that I was so engrossed in it that it took me a few hours to finish it.
Wilhelmina has a hundred enemies.
HER FRIENDS HAVE TURNED. After her identity is revealed during the Inundation, Princess Wilhelmina is kept prisoner by the Indigo Kingdom, with the Ospreys lost somewhere in the devastated city. When the Ospreys' leader emerges at the worst possible moment, leaving Wil's biggest ally on his deathbed, she must become Black Knife to set things right. HER MAGIC IS UNCONTROLLABLE. Wil's power is to animate, not to give true life, but in the wraithland she commanded a cloud of wraith mist to save herself, and later ordered it solid. Now there is a living boy made of wraith—destructive and deadly, and willing to do anything for her.
HER HEART IS TORN. Though she's ready for her crown, declaring herself queen means war. Caught between what she wants and what is right, Wilhelmina realizes the throne might not even matter. Everyone thought the wraith was years off, but already it's destroying Indigo Kingdom villages. If she can't protect both kingdoms, soon there won't be a land to rule.
The Falconer | Elizabeth May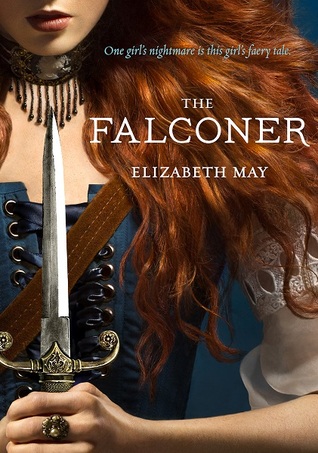 ⭐️⭐️⭐️⭐️.25
My thoughts: I have already posted a review of this book, so click here in case you want to check it out.
She's a stunner.
Edinburgh, 1844. Eighteen-year-old Lady Aileana Kameron, the only daughter of the Marquess of Douglas, has everything a girl could dream of: brains, charm, wealth, a title—and drop-dead beauty.
She's a liar.
But Aileana only looks the part of an aristocratic young lady. she's leading a double life: She has a rare ability to sense the sìthíchean—the faery race obsessed with slaughtering humans—and, with the aid of a mysterious mentor, has spent the year since her mother died learning how to kill them.
She's a murderer.
Now Aileana is dedicated to slaying the fae before they take innocent lives. With her knack for inventing ingenious tools and weapons—from flying machines to detonators to lightning pistols—ruthless Aileana has one goal: Destroy the faery who destroyed her mother.
She's a Falconer.
The last in a line of female warriors born with a gift for hunting and killing the fae, Aileana is the sole hope of preventing a powerful faery population from massacring all of humanity. Suddenly, her quest is a lot more complicated. She still longs to avenge her mother's murder—but she'll have to save the world first.
The Vanishing Throne | Elizabeth May
⭐️⭐️⭐️⭐️⭐️
My thoughts: I have already posted a review of this book, so click here in case you want to check it out.
Trapped. Aileana Kameron, the Falconer, disappeared through the fae portal she was trying to close forever. Now she wakes in an alien world of mirrors, magic, and deception—a prisoner of the evil fae Lonnrach, who has a desperate and deadly plan for his new captive.
Tortured. Time after agonizing time Lonnrach steals Aileana's memories, searching for knowledge to save his world. Just when she's about to lose all hope, Aileana is rescued by an unexpected ally and returns home, only to confront a terrifying truth. The city of Edinburgh is now an unrecognizable wasteland. And Aileana knows the devastation is all her fault.
Transformed. The few human survivors are living in an underground colony, in an uneasy truce with a remnant of the fae. It is a fragile alliance, but an even greater danger awaits: the human and fae worlds may disappear forever. Only Aileana can save both worlds, but in order to do so she must awaken her latent Falconer powers. And the price of doing so might be her life…
Truthwitch | Susan Dennard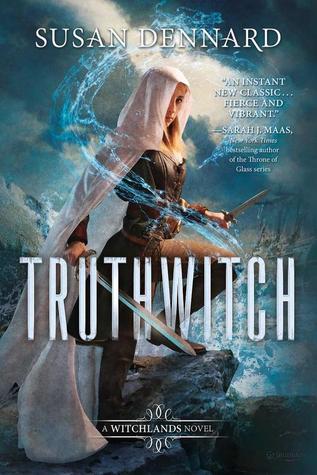 ⭐️⭐️⭐️⭐️.25
My thoughts: I have already posted a review of this book, so click here in case you want to check it out.
In the Witchlands, there are almost as many types of magic as there are ways to get in trouble—as two desperate young women know all too well.S
afiya is a Truthwitch, able to discern truth from lie. It's a powerful magic that many would kill to have on their side, especially amongst the nobility to which Safi was born. So Safi must keep her gift hidden, lest she be used as a pawn in the struggle between empires.
Iseult, a Threadwitch, can see the invisible ties that bind and entangle the lives around her—but she cannot see the bonds that touch her own heart. Her unlikely friendship with Safi has taken her from life as an outcast into one of reckless adventure, where she is a cool, wary balance to Safi's hotheaded impulsiveness.
Safi and Iseult just want to be free to live their own lives, but war is coming to the Witchlands. With the help of the cunning Prince Merik (a Windwitch and ship's captain) and the hindrance of a Bloodwitch bent on revenge, the friends must fight emperors, princes, and mercenaries alike, who will stop at nothing to get their hands on a Truthwitch.
Emergency Contact | Mary H. K. Choi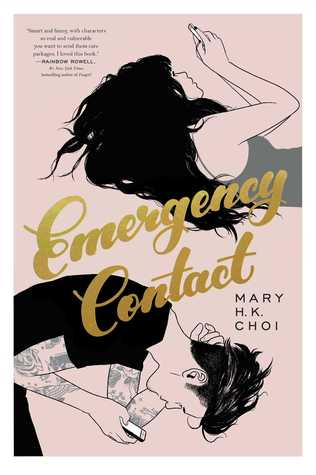 ⭐️⭐️.25
My thoughts: I was super excited to read this book because not only the cover was absolutely gorgeous, but the premise sounded really good and I need more adorable books. And I've come to the conclusion that this wasn't the book for me.
Though I completely understand why people liked it, I just had so many issues with the whole story. I really liked the relationship between both main characters and their interactions, but I wasn't the biggest fan of them separate. There wasn't a big difference of writing in each point of view, and sometimes I felt like I was reading the same perspective over again.
One of the main problems I had with the book was that though the characters were 18 and 21, the behaved as if they were 16, which was so weird to read at times. I think if they would be younger the story could have worked better, but as it was, I wasn't mind blown.
I didn't see much a development on the characters. Yes, their relationship evolved, but I feel that the entire plot of the book was based on that relationship, and the characters themselves were quite lineal and plain.
I loved the diversity of the book and that it was an own voices novel, but sadly I found a lot of issues regarding the plot and the characters that I couldn't see through that. And like I said: not a book for me.
For Penny Lee high school was a total nonevent. Her friends were okay, her grades were fine, and while she somehow managed to land a boyfriend, he doesn't actually know anything about her. When Penny heads to college in Austin, Texas, to learn how to become a writer, it's seventy-nine miles and a zillion light years away from everything she can't wait to leave behind.Sam's stuck. Literally, figuratively, emotionally, financially. He works at a café and sleeps there too, on a mattress on the floor of an empty storage room upstairs. He knows that this is the god-awful chapter of his life that will serve as inspiration for when he's a famous movie director but right this second the seventeen bucks in his checking account and his dying laptop are really testing him.
When Sam and Penny cross paths it's less meet-cute and more a collision of unbearable awkwardness. Still, they swap numbers and stay in touch—via text—and soon become digitally inseparable, sharing their deepest anxieties and secret dreams without the humiliating weirdness of having to see each other.
Furyborn | Claire Legrand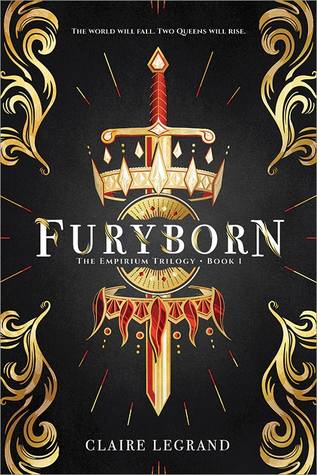 ⭐️⭐️.5
My thoughts: I have already posted a review of this book, so click here in case you want to check it out.
When assassins ambush her best friend, the crown prince, Rielle Dardenne risks everything to save him, exposing her ability to perform all seven kinds of elemental magic. The only people who should possess this extraordinary power are a pair of prophesied queens: a queen of light and salvation and a queen of blood and destruction. To prove she is the Sun Queen, Rielle must endure seven trials to test her magic. If she fails, she will be executed…unless the trials kill her first.
A thousand years later, the legend of Queen Rielle is a mere fairy tale to bounty hunter Eliana Ferracora. When the Undying Empire conquered her kingdom, she embraced violence to keep her family alive. Now, she believes herself untouchable–until her mother vanishes without a trace, along with countless other women in their city. To find her, Eliana joins a rebel captain on a dangerous mission and discovers that the evil at the heart of the empire is more terrible than she ever imagined.
As Rielle and Eliana fight in a cosmic war that spans millennia, their stories intersect, and the shocking connections between them ultimately determine the fate of their world–and of each other.
The Fallen Kingdom | Elizabeth May
⭐️⭐️⭐️⭐️.5
My thoughts: I have already posted a review of this book, so click here in case you want to check it out.
Find life.
Deep in a forest, Aileana Kameron claws her way out of the earth. Back from the dead with no memory of who she is or what has happened to her, the Falconer now possesses even greater otherworldly powers and a ruthless instinct to kill—and the one piece of knowledge that can change everything.
Find Kiaran.
Two fae monarchs, Aithinne and Kadamach, stand on the brink of war, and according to an ancient curse, one must die at the hand of the other or all the worlds will perish. Once, Kadamach was known as Kiaran, and he was mentor, protector, and lover to Aileana. Now, under the grip of the curse, his better nature seems lost forever.
Find the book.
Aileana's only hope lies in the legendary Book of Remembrance, a book of spells so powerful that it can break the fae curse and even turn back time. But the book has been lost for centuries, and many are looking for it, including its creator, the Morrigan—a faery of terrifying malevolence and cruelty.
Sacrifice everything.
To obtain the book and defeat the Morrigan, Aileana must form an unthinkable alliance, one that challenges every vow she has made to herself—even as the powers that brought her to life are slowly but surely killing her.
Rhapsodic | Laura Thalassa
⭐️⭐️⭐️.75
My thoughts: I basically decided to pick this book on a whim because lately I've heard a lot of things about this and how it was like an ACOMAF fan fiction, and since I needed a lighter book, I decided to read this book. And I completely understand why people said that, because man… They were similar.
Though this book wasn't the best book in the world, it was still a very enjoyable and fast read. I mean, it was your typical paranormal/urban fantasy, and I just tend to read those when I need a fantasy break, so this one helped.
The characters were okay and the story was okay, but what I liked the most was the relationship between our protagonist and her love interest. It was quite similar to one that was in ACOMAF, and though it wasn't exactly the same, I still had a great time reading it.
I had a few issues with our main character's development and the lack of word building, but overall it was a fun, entertaining novel.
Callypso Lillis is a siren with a very big problem, one that stretches up her arm and far into her past. For the last seven years she's been collecting a bracelet of black beads up her wrist, magical IOUs for favors she's received. Only death or repayment will fulfill the obligations. Only then will the beads disappear. Everyone knows that if you need a favor, you go to the Bargainer to make it happen. He's a man who can get you anything you want… at a price. And everyone knows that sooner or later he always collects. But for one of his clients, he's never asked for repayment. Not until now. When Callie finds the fae king of the night in her room, a grin on his lips and a twinkle in his eye, she knows things are about to change. At first it's just a chaste kiss—a single bead's worth—and a promise for more.
For the Bargainer, it's more than just a matter of rekindling an old romance. Something is happening in the Otherworld. Fae warriors are going missing one by one. Only the women are returned, each in a glass casket, a child clutched to their breast. And then there are the whispers among the slaves, whispers of an evil that's been awoken.
If the Bargainer has any hope to save his people, he'll need the help of the siren he spurned long ago. Only, his foe has a taste for exotic creatures, and Callie just happens to be one.
Shatter Me | Tahereh Mafi
⭐️⭐️⭐️⭐️⭐️
My thoughts: I honestly can't believe this was my first time re-reading this trilogy. It's been ages since I first read them, and I have to say I was so happy to dive back into this world and these characters, because there were a lot of things I didn't remember from the first time I read them.
This second time around I appreciated Juliette's character even more. I feel I connected and empathize more with her, and with her development and her personality. Also I fell in love with Warner over again, and I'm not ashamed.
But I think my favorite thing about this book was the writing. Tahereh has such a beautiful way to create a story, and I feel that this very unique and lyrical writing of hers just added something even more special to the story. Because of that, you got to know Juliette's mind so much and learnt what she went through or the type of person she was right at the very beginning of the story, and I think that's one of the things I loved the most about this installment.
One touch is all it takes. One touch, and Juliette Ferrars can leave a fully grown man gasping for air. One touch, and she can kill.No one knows why Juliette has such incredible power. It feels like a curse, a burden that one person alone could never bear. But The Reestablishment sees it as a gift, sees her as an opportunity. An opportunity for a deadly weapon.Juliette has never fought for herself before. But when she's reunited with the one person who ever cared about her, she finds a strength she never knew she had.
Unravel Me | Tahereh Mafi
⭐️⭐️⭐️⭐️⭐️
My thoughts: I think out of all of the three books, this one was the one I remember the least. Maybe it's because it is the second book in the trilogy (series?), but I was so happy to re-read it before I pick up Restore Me, because there was a lot of information about some things that happened later in the series.
I liked the Juliette's evolution in this particular installment a lot, because it was like a bridge, where you could see the point where she started and what would she become in the future, and that was something that I liked about Unravel Me so much. Also her relationship with Warner in this one was so angsty but amazing, that I can't help but point that out.
I can't believe why I didn't re-read these books before, because after diving into this world again, I completely understand my obsession back in the day with these books.
Juliette is still haunted by her deadly touch. But now that she has teamed up with other rebels with powers of their own, she'll be able to fight back against The Reestablishment to save her broken world. With the help of these new allies, she'll also finally learn the secret behind Adam's—and Warner's—immunity to her killer skin.
Ignite Me | Tahereh Mafi
⭐️⭐️⭐️⭐️⭐️
My thoughts: Out of the three Shatter Me original books that I've read, this second time around I must admit that Ignite Me is still my favorite.
I just love Juliette's development so much, and the interactions between her and the other characters in this installment. She was strong, badass and wasn't afraid of her power anymore, and more important, she started learning how to use it. And now only that but I feel this second time around I saw a lot of details in the characters that I didn't pay that much attention when I first read it, and I think I even enjoyed it even more.
It felt so good to be back in this world, and to read this all over again in anticipation of Restore Me, and I'm pretty sure I'll re-read it again in a near future, because I kept thinking about the series weeks after reading it.
With Omega Point destroyed, Juliette doesn't know if the rebels, her friends, or even Adam are alive. But that won't keep her from trying to take down The Reestablishment once and for all. Now she must rely on Warner, the handsome commander of Sector 45. The one person she never thought she could trust. The same person who saved her life. He promises to help Juliette master her powers and save their dying world . . . but that's not all he wants with her.
Restore Me | Tahereh Mafi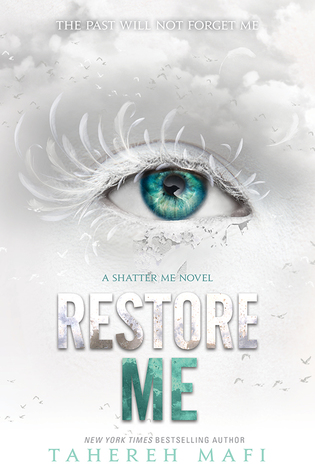 ⭐️⭐️⭐️⭐️⭐️
My thoughts: I have already posted a review of this book, so click here in case you want to check it out.
Juliette Ferrars thought she'd won. She took over Sector 45, was named the new Supreme Commander, and now has Warner by her side. But she's still the girl with the ability to kill with a single touch—and now she's got the whole world in the palm of her hand. When tragedy hits, who will she become? Will she be able to control the power she wields and use it for good?
Son of The Dawn | Cassandra Clare
⭐️⭐️⭐️.5
My thoughts: It was a nice addition to the story we all know. I was happy to see Raphael again and Jem in a short story, and though we know very well the story of Jace Herondale and his back story at the New York Institute, I didn't know the very beginning of it, and this filled that blank space.
The Lightwoods, the Shadowhunters who run the New York Institute, are expecting a new addition to their family: the orphaned son of their father's friend, Jace Wayland. Alec and Isabelle aren't too sure they want a new brother, and their parents are not assuaging their fears, too occupied with the dark news that Raphael Santiago, second-in-command of the New York vampire clan, has brought from the Shadow Market.
What books did you read this past month of April and which one was your most and least favorite? Let me know if you've also read or want to read any of the books I've mentioned!
Follow me on BlogLovin'| Goodreads | Instagram | Twitter | Contact Me