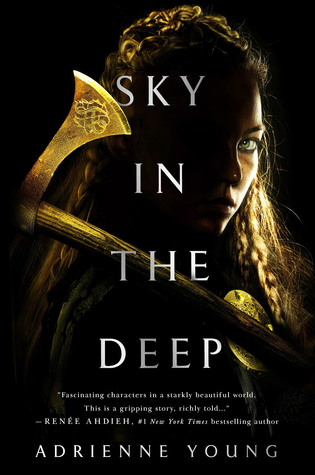 Title: Sky in The Deep
Author: Adrienne Young
Series: N/A
Genre: Young Adult, Fantasy, Historical Fiction, Romance
Publisher: Wednesday Books
Publication date: April 24th, 2018
Pages: 352
My rating: 
---
OND ELDR. BREATHE FIRE.
Raised to be a warrior, seventeen-year-old Eelyn fights alongside her Aska clansmen in an ancient rivalry against the Riki clan. Her life is brutal but simple: fight and survive. Until the day she sees the impossible on the battlefield — her brother, fighting with the enemy — the brother she watched die five years ago.
Faced with her brother's betrayal, she must survive the winter in the mountains with the Riki, in a village where every neighbor is an enemy, every battle scar possibly one she delivered. But when the Riki village is raided by a ruthless clan thought to be a legend, Eelyn is even more desperate to get back to her beloved family.
She is given no choice but to trust Fiske, her brother's friend, who sees her as a threat. They must do the impossible: unite the clans to fight together, or risk being slaughtered one by one. Driven by a love for her clan and her growing love for Fiske, Eelyn must confront her own definition of loyalty and family while daring to put her faith in the people she's spent her life hating.
"OND ELDR. BREATHE FIRE."
Okay, I can say now that I was such a big fan of this novel. I don't know why but there's something about hyped books that makes me a bit scared to read them, just in case they end up not being as great as I pictured in my mind, but I was happy to see this wasn't the case at all.
Sky in the Deep was one of my most anticipated releases of this year. Ever since I heard that this was a vikings novel, I got very excited. There aren't many vikings inspired stories, and one that got such high praises? I needed to read it ASAP.
"I eyed the shears in Runa's hand. If I wanted to, I could kill the three of them right now. 

I could set this field of yarrow on fire and let myself burn with it."
I would say this novel was more a character driven story than a heavy plot based one. It focused more on the characters and their interactions and relationships throughout the book, and though the plot wasn't very complex and sometimes it was a bit lacking, I didn't mind as much because I adored those characters.
Something that I thoroughly enjoyed reading about was getting to know the two different tribes that appeared in the story. We got to know a bit more about the Riki, since it was where the novel took place most of the time, but I found the mythology aspect of the novel so interesting and intriguing.
I also adored the development and relationships Eelyn formed throughout the story. She had an amazing evolution, and you could clearly see how her opinion changed as she lived with the Riki. That was, I think, one of my favorite things of Sky in the Deep. I just loved the slow burning romance and the dynamics between those characters.
"Even if you can't see her when you close your eyes, our bodies and our minds remember things that we can't. They hold onto things. And you'll see her again."
The story itself was a slow burning type of story. Though it had some action packed moments and they were done very well, I wouldn't say it was necessarily a fast paced novel. Something that I would have loved to see more and found it was a bit rushed was the ending. Since the story was building up and I was expecting a big finale, I thought it was going to be a bit of a longer scene, and I found it was a bit rushed and it didn't take long for that scene to end, which was kind of a bummer.
Still, I adored the family relationship and the characters were very well done and complex, and though at times there was no plot and it was purely based on the characters, I still think it was a great story and I really enjoyed it.
Follow me on BlogLovin'
Goodreads | Instagram | Twitter | Contact Me