Hello bookworms! I'm Nia and today I'm going to be talking about my favorite sci-fi stories.
I have to admit that sci-fi isn't the genre I usually reach for. I lean more towards fantasy or contemporary when I read, and it is the same when it comes to watching movies or TV shows. So needless to say I had to think about it for a little while to finally come with some sci-fi novels I love.
If you aren't familiar with Top 5 Tuesday, it is a group here on WordPress now currently run by Shanah over at BionicBookWorm, where each week they give you a topic and you talk about 5 books that fit that category.
I have only could think about four books, so bear with me. Without any further ado, let's start with this week's topic!
Renegades | Marissa Meyer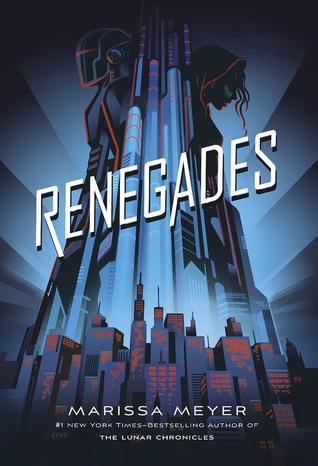 My thoughts: I was pleasantly surprised by how much I loved this book, because I went with pretty low expectations. But it was such a great story, and I love the whole hero/villain thing that was going on during the whole entire book. I don't know, it was such an addicting story, where I found myself I couldn't stop reading and wanting to know what was going to happen next, and the interactions between the characters were so well done. Also, the romance was slow burning and took its time to happen, which was just amazing. I cannot wait to read Archenemies, because Renegades ended in such a cliffhanger that I need the sequel ASAP.
The Renegades are a syndicate of prodigies — humans with extraordinary abilities — who emerged from the ruins of a crumbled society and established peace and order where chaos reigned. As champions of justice, they remain a symbol of hope and courage to everyone… except the villains they once overthrew.
Nova has a reason to hate the Renegades, and she is on a mission for vengeance. As she gets closer to her target, she meets Adrian, a Renegade boy who believes in justice — and in Nova. But Nova's allegiance is to a villain who has the power to end them both.
Warcross | Marie Lu
My thoughts: I absolutely adored Warcross. Again, it happened the same that in Renegades; I was a bit scared of all the hype surrounding it that I had low expectations, but it ended up surprising me, and not only that, but it had became one of my favorite reads of last year. I loved the story and the characters so much, and it was such a fast paced book that I finished it in a few hours.
I have a review of this book here in case you want to check it out.
When a game called Warcross takes the world by storm, one girl hacks her way into its dangerous depths. For the millions who log in every day, Warcross isn't just a game – it's a way of life. Struggling to make ends meet, teenage hacker Emika Chen works as a bounty hunter, tracking down players who bet on the game illegally. When Emika hacks into the game illegally, she's convinced she'll be arrested, and is shocked when she gets a call from the game's creator, the elusive young billionaire Hideo Tanaka, with an irresistible offer. He needs a spy on the inside of this year's tournament in order to uncover a security problem . . . and he wants Emika for the job. 
Illuminae | Amy Kaufman & Jay Kristoff
My thoughts: I think this is one of the first sci-fi books I read, and I don't know why I was expecting to hate it. Turns out, I really enjoyed it and think it was a very interesting format for a book, that kept me interested and wanting to know what was going to happen next. The beginning was a bit confusing and it took me a bit to get used to that format, but once I did, I flew through the story and absolutely fell in love with it.
I have a review of this book here in case you want to check it out.
This morning, Kady thought breaking up with Ezra was the hardest thing she'd have to do. This afternoon, her planet was invaded.
The year is 2575, and two rival megacorporations are at war over a planet that's little more than an ice-covered speck at the edge of the universe. Too bad nobody thought to warn the people living on it. With enemy fire raining down on them, Kady and Ezra—who are barely even talking to each other—are forced to fight their way onto an evacuating fleet, with an enemy warship in hot pursuit.
But their problems are just getting started. A deadly plague has broken out and is mutating, with terrifying results; the fleet's AI, which should be protecting them, may actually be their enemy; and nobody in charge will say what's really going on. As Kady hacks into a tangled web of data to find the truth, it's clear only one person can help her bring it all to light: the ex-boyfriend she swore she'd never speak to again.
Want | Cindy Pon
My thoughts: Though this didn't made it to my favorite list, I had to mention it because I really enjoyed it and I think it's a bit underhyped. I would say this was more a romance sci-fi story more than a full sci-fi book, but nonetheless it talked about very important things, and Jason Zhou was such a great main character.
I have a review of this book here in case you want to check it out.
Jason Zhou survives in a divided society where the elite use their wealth to buy longer lives. The rich wear special suits that protect them from the pollution and viruses that plague the city, while those without suffer illness and early deaths. Frustrated by his city's corruption and still grieving the loss of his mother, who died as a result of it, Zhou is determined to change things, no matter the cost.
With the help of his friends, Zhou infiltrates the lives of the wealthy in hopes of destroying the international Jin Corporation from within. Jin Corp not only manufactures the special suits the rich rely on, but they may also be manufacturing the pollution that makes them necessary.
Yet the deeper Zhou delves into this new world of excess and wealth, the more muddled his plans become. And against his better judgment, Zhou finds himself falling for Daiyu, the daughter of Jin Corp's CEO. Can Zhou save his city without compromising who he is or destroying his own heart?
What are your favorite sci-fi books or movies? Let me know if you have any of these ones on your list as well!
Follow me on BlogLovin'
Goodreads | Instagram | Twitter | Contact Me