Hello bookworms! I'm Nia and today I'm going to be talking about some new releases that are coming out in June that I'm very excited about!
I would say June is a pretty good month when it comes to new releases. It's not as bad as May, but there are some books that I'm super excited to read and cannot wait to pick them up! I think this list will have more than 20 books, so grab a cup of coffee, tea or a snack because it's going to be a long post.
Without any further ado, let's start with this month's new releases.
Bring Me Their Hearts | Sara Wolf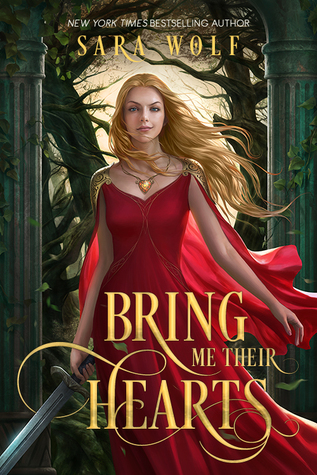 Pub. Date: June 5th
Zera is a Heartless – the immortal, unageing soldier of a witch. Bound to the witch Nightsinger ever since she saved her from the bandits who murdered her family, Zera longs for freedom from the woods they hide in. With her heart in a jar under Nightsinger's control, she serves the witch unquestioningly.
Until Nightsinger asks Zera for a Prince's heart in exchange for her own, with one addendum; if she's discovered infiltrating the court, Nightsinger will destroy her heart rather than see her tortured by the witch-hating nobles.
Crown Prince Lucien d'Malvane hates the royal court as much as it loves him – every tutor too afraid to correct him and every girl jockeying for a place at his darkly handsome side. No one can challenge him – until the arrival of Lady Zera. She's inelegant, smart-mouthed, carefree, and out for his blood. The Prince's honor has him quickly aiming for her throat.
So begins a game of cat and mouse between a girl with nothing to lose and a boy who has it all.
Winner takes the loser's heart.
Literally.
Neverworld Wake | Marisha Pessl
Pub. Date: June 5th
Once upon a time, back at Darrow-Harker School, Beatrice Hartley and her six best friends were the cool kids, the beautiful ones. Then the shocking death of Jim–their creative genius and Beatrice's boyfriend–changed everything.
One year after graduation, Beatrice is returning to Wincroft–the seaside estate where they spent so many nights sharing secrets, crushes, plans to change the world–hoping she'll get to the bottom of the dark questions gnawing at her about Jim's death.
But as the night plays out in a haze of stilted jokes and unfathomable silence, Beatrice senses she's never going to know what really happened.
Then a mysterious man knocks on the door. Blithely, he announces the impossible: time for them has become stuck, snagged on a splinter that can only be removed if the former friends make the harshest of decisions.
Now Beatrice has one last shot at answers . . . and at life.
And so begins the Neverworld Wake.
Smoke in The Sun | Renée Ahdieh
Pub. Date: June 5th
After Okami is captured in the Jukai forest, Mariko has no choice–to rescue him, she must return to Inako and face the dangers that have been waiting for her in the Heian Castle. She tricks her brother, Kenshin, and betrothed, Raiden, into thinking she was being held by the Black Clan against her will, playing the part of the dutiful bride-to-be to infiltrate the emperor's ranks and uncover the truth behind the betrayal that almost left her dead.
With the wedding plans already underway, Mariko pretends to be consumed with her upcoming nuptials, all the while using her royal standing to peel back the layers of lies and deception surrounding the imperial court. But each secret she unfurls gives way to the next, ensnaring Mariko and Okami in a political scheme that threatens their honor, their love and the very safety of the empire.
Always, Forever, Maybe | Anica Mrose Rissi
Pub. Date: June 5th
When Betts meets Aiden at the candy store where she works, their connection is like a sugar rush to the heart. Betts already knows the two of them are infinite. Inevitable. Destined to become an us.
Betts has only ever kept one secret from her best friend, Jo, but suddenly there's a long list of things she won't tell her, things Jo wouldn't understand. Because Jo doesn't see how good Aiden is for Betts. She finds him needy. Possessive. Controlling.
She's wrong. With a love like this, nothing else matters.
Save the Date | Morgan Matson
Pub. Date: June 5th
Charlie Grant's older sister is getting married this weekend at their family home, and Charlie can't wait—for the first time in years, all four of her older siblings will be under one roof. Charlie is desperate for one last perfect weekend, before the house is sold and everything changes. The house will be filled with jokes and games and laughs again. Making decisions about things like what college to attend and reuniting with longstanding crush Jesse Foster—all that can wait. She wants to focus on making the weekend perfect.
The only problem? The weekend is shaping up to be an absolute disaster.
There's the unexpected dog with a penchant for howling, house alarm that won't stop going off, and a papergirl with a grudge.
There are the relatives who aren't speaking, the (awful) girl her favorite brother brought home unannounced, and a missing tuxedo.
Not to mention the neighbor who seems to be bent on sabotage and a storm that is bent on drenching everything. The justice of the peace is missing. The band will only play covers. The guests are all crazy. And the wedding planner's nephew is unexpectedly, distractingly…cute.
Over the course of three ridiculously chaotic days, Charlie will learn more than she ever expected about the family she thought she knew by heart. And she'll realize that sometimes, trying to keep everything like it was in the past means missing out on the future.
The Bird and The Blade | Megan
Pub. Date: June 5th
As a slave in the Kipchak Khanate, Jinghua has lost everything: her home, her family, her freedom … until she finds herself an unlikely conspirator in the escape of Prince Khalaf and his irascible father as they flee from their enemies across the vast Mongol Empire. On the run, with adversaries on all sides and an endless journey ahead, Jinghua hatches a scheme to use the Kipchaks' exile to return home, a plan that becomes increasingly fraught as her feelings for Khalaf evolve into a hopeless love.
Jinghua's already dicey prospects take a downward turn when Khalaf seeks to restore his kingdom by forging a marriage alliance with Turandokht, the daughter of the Great Khan. As beautiful as she is cunning, Turandokht requires all potential suitors to solve three impossible riddles to win her hand—and if they fail, they die.
Jinghua has kept her own counsel well, but with Khalaf's kingdom—and his very life—on the line, she must reconcile the hard truth of her past with her love for a boy who has no idea what she's capable of … even if it means losing him to the girl who'd sooner take his life than his heart.
Sweet Black Waves | Kristina Pérez
Pub. Date: June 5th
Two proud kingdoms stand on opposite shores, with only a bloody history between them.
As best friend and lady-in-waiting to the princess, Branwen is guided by two principles: devotion to her homeland and hatred for the raiders who killed her parents. When she unknowingly saves the life of her enemy, he awakens her ancient healing magic and opens her heart. Branwen begins to dream of peace, but the princess she serves is not so easily convinced. Fighting for what's right, even as her powers grow beyond her control, will set Branwen against both her best friend and the only man she's ever loved. 
Little Do We Know | Tamara Ireland Stone
Pub. Date: June 5th
Next-door neighbors and ex-best friends Hannah and Emory haven't spoken in months. Not since the fight—the one where they said things they couldn't take back.
Now, Emory is fine-tuning her UCLA performing arts application and trying to make the most of the months she has left with her boyfriend, Luke, before they head off to separate colleges. Meanwhile, Hannah's strong faith is shaken when her family's financial problems come to light, and she finds herself turning to unexpected places—and people—for answers to the difficult questions she's suddenly facing.
No matter how much Hannah and Emory desperately want to bridge the thirty-six steps between their bedroom windows, they can't. Not anymore.
Until their paths cross unexpectedly when, one night, Hannah finds Luke doubled over in his car outside her house. In the aftermath of the accident, all three struggle to understand what happened in their own ways. But when a devastating secret about Hannah and Emory's argument ultimately comes to light, they must all reexamine the things they hold true.
A Reaper at the Gates | Sabaa Tahir
Pub. Date: June 12th
Beyond the Empire and within it, the threat of war looms ever larger.
The Blood Shrike, Helene Aquilla, is assailed on all sides. Emperor Marcus, haunted by his past, grows increasingly unstable, while the Commandant capitalizes on his madness to bolster her own power. As Helene searches for a way to hold back the approaching darkness, her sister's life and the lives of all those in the Empire hang in the balance.
Far to the east, Laia of Serra knows the fate of the world lies not in the machinations of the Martial court, but in stopping the Nightbringer. But while hunting for a way to bring him down, Laia faces unexpected threats from those she hoped would aid her, and is drawn into a battle she never thought she'd have to fight.
And in the land between the living and the dead, Elias Veturius has given up his freedom to serve as Soul Catcher. But in doing so, he has vowed himself to an ancient power that will stop at nothing to ensure Elias's devotion–even at the cost of his humanity.
How Do You Like Me Know? | Holly Bourne
Pub. Date: June 14th
Who the f*ck is Tori Bailey?
There's no doubt that Tori is winning the game of life. A straight-talking, bestselling author, she's inspired millions of women around the world with her self-help memoir. And she has the perfect relationship to boot.
But Tori Bailey has been living a lie.
Her long-term boyfriend won't even talk about marriage, but everyone around her is getting engaged and having babies. And when her best friend Dee – her plus one, the only person who understands the madness – falls in love, suddenly Tori's in terrifying danger of being left behind.
When the world tells you to be one thing and turning thirty brings with it a loud ticking clock, it takes courage to walk your own path.
It's time for Tori to practice what she's preached, but the question is: is she brave enough?
Not the Girls You're Looking For | Aminah Mae Safi
Pub. Date: June 19th
Lulu Saad doesn't need your advice, thank you very much. She's got her three best friends and nothing can stop her from conquering the known world. Sure, for half a minute she thought she'd nearly drowned a cute guy at a party, but he was totally faking it. And fine, yes, she caused a scene during Ramadan. It's all under control. Ish.
Except maybe this time she's done a little more damage than she realizes. And if Lulu can't find her way out of this mess soon, she'll have to do more than repair friendships, family alliances, and wet clothing. She'll have to go looking for herself.
The Mermaid | Christina Henry
Pub. Date: June 19th
Once there was a mermaid who longed to know of more than her ocean home and her people. One day a fisherman trapped her in his net but couldn't bear to keep her. But his eyes were lonely and caught her more surely than the net, and so she evoked a magic that allowed her to walk upon the shore. The mermaid, Amelia, became his wife, and they lived on a cliff above the ocean for ever so many years, until one day the fisherman rowed out to sea and did not return.
P. T. Barnum was looking for marvelous attractions for his American Museum, and he'd heard a rumor of a mermaid who lived on a cliff by the sea. He wanted to make his fortune, and an attraction like Amelia was just the ticket.
Amelia agreed to play the mermaid for Barnum, and she believes she can leave any time she likes. But Barnum has never given up a money-making scheme in his life, and he's determined to hold on to his mermaid.
A Thousand Beginnings and Endings | V. V. A. A.
Pub. Date: June 26th
Star-crossed lovers, meddling immortals, feigned identities, battles of wits, and dire warnings. These are the stuff of fairy tale, myth, and folklore that have drawn us in for centuries.
Fifteen bestselling and acclaimed authors reimagine the folklore and mythology of East and South Asia in short stories that are by turns enchanting, heartbreaking, romantic, and passionate.
Compiled by We Need Diverse Books's Ellen Oh and Elsie Chapman, the authors included in this exquisite collection are: Renee Ahdieh, Sona Charaipotra, Preeti Chhibber, Roshani Chokshi, Aliette de Bodard, Melissa de la Cruz, Julie Kagawa, Rahul Kanakia, Lori M. Lee, E. C. Myers, Cindy Pon, Aisha Saeed, Shveta Thakrar, and Alyssa Wong.
A mountain loses her heart. Two sisters transform into birds to escape captivity. A young man learns the true meaning of sacrifice. A young woman takes up her mother's mantle and leads the dead to their final resting place.
Now You See Her | Lisa Leighton & Laura Stropki
Pub. Date: June 26th
AMELIA has always felt like a happy life is just out of reach. Having moved every few years with her mom and sister, she's always had a hard time making and keeping friends; there's never enough time, and never enough money to stay in one place. And now, in her senior year, right before tennis season, Mom wants to move again.
SOPHIE has a perfectly curated, Instagram-ready life, from her first singles wins to her cute, long-term boyfriend to the beautiful, landscaped home where she lives with her parents. Though they're tennis teammates, the two girls almost never speak.
But then one night changes everything. When Amelia's car breaks down on the side of the road in a rainstorm, a man she thinks is a Good Samaritan pulls over to help her. When he tries to abduct her instead, she escapes into oncoming traffic.
In one inexplicable moment, Amelia and Sophie switch bodies. Amelia wakes up in Sophie's body. Amelia's body is in a coma. Now Amelia needs to find a way to switch back into her own life—but before that, she must retrace her steps to unravel the mystery of the accident, her attempted abduction, and how it's all tied to her mother's secret past.
One Small Thing | Erin Watt
Pub. Date: June 26th
Beth's life hasn't been the same since her sister died. Her parents try to lock her down, believing they can keep her safe by monitoring her every move. When Beth sneaks out to a party one night and meets the new guy in town, Chase, she's thrilled to make a secret friend. It seems a small thing, just for her.
Only Beth doesn't know how big her secret really is…
Fresh out of juvie and determined to start his life over, Chase has demons to face and much to atone for, including his part in the night Beth's sister died. Beth, who has more reason than anyone to despise him, is willing to give him a second chance. A forbidden romance is the last thing either of them planned for senior year, but the more time they spend together, the deeper their feelings get.
Now Beth has a choice to make—follow the rules, or risk tearing everything apart…again.
Wild Blue Wonder | Carlie Sorosiak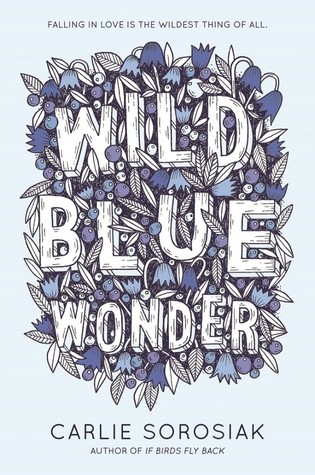 Pub. Date: June 26th
Ask anyone in Winship, Maine, and they'll tell you the summer camp Quinn's family owns is a magical place. Paper wishes hang from the ceiling. Blueberries grow in the dead of winter. According to local legend, a sea monster even lurks off the coast. Mostly, there's just a feeling that something extraordinary could happen there.
Like Quinn falling in love with her best friend, Dylan.
After the accident, the magic drained from Quinn's life. Now Dylan is gone, the camp is a lonely place, and Quinn knows it's her fault.
But the new boy in town, Alexander, doesn't see her as the monster she believes herself to be. As Quinn lets herself open up again, she begins to understand the truth about love, loss, and monsters—real and imagined.
My Plain Jane | V.V. A.A. 
Pub. Date: June 26th
You may think you know the story. After a miserable childhood, penniless orphan Jane Eyre embarks on a new life as a governess at Thornfield Hall. There, she meets one dark, brooding Mr. Rochester. Despite their significant age gap (!) and his uneven temper (!!), they fall in love—and, Reader, she marries him. (!!!)
Or does she?
Prepare for an adventure of Gothic proportions, in which all is not as it seems, a certain gentleman is hiding more than skeletons in his closets, and one orphan Jane Eyre, aspiring author Charlotte Brontë, and supernatural investigator Alexander Blackwood are about to be drawn together on the most epic ghost hunt this side of Wuthering Heights.
What June releases are you most excited for? Do you have any of these ones on your list as well? Let me know so we can chat about them!
Follow me on BlogLovin'
Goodreads | Instagram | Twitter | Contact Me