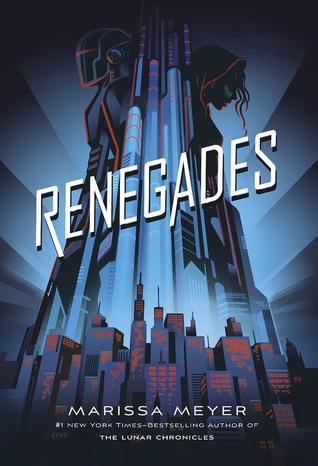 Title: Renegades
Author: Marissa Meyer
Series: Renegades #1
Genre: Young Adult, Fantasy, Sci-Fi, Romance
Publisher: Feiwel & Friends
Publication date: November 7th, 2017
Pages: 556
My rating: 
---
Secret Identities. Extraordinary Powers. She wants vengeance. He wants justice.
The Renegades are a syndicate of prodigies — humans with extraordinary abilities — who emerged from the ruins of a crumbled society and established peace and order where chaos reigned. As champions of justice, they remain a symbol of hope and courage to everyone… except the villains they once overthrew.
Nova has a reason to hate the Renegades, and she is on a mission for vengeance. As she gets closer to her target, she meets Adrian, a Renegade boy who believes in justice — and in Nova. But Nova's allegiance is to a villain who has the power to end them both.
"One cannot be brave who has no fear."
Oh, my freaking god! I honestly wasn't expecting to love this book as much as I did. To be completely honest, I wasn't expecting anything from it when I decided to pick it up, but it didn't disappoint me at all.
This is one of those novels that was pretty popular and everyone was talking about it when it first came out, but lately I haven't heard many people reviewing it or praising it, so I was a bit worried it wasn't going to be as good as I thought it would be when I first decided to purchase it. Turns out, I was so wrong and I ended up loving the crap out of it.
"There are many dangerous people in this world. But there are also many good people. Brave people. No matter how bad things get, we have to remember that. So long as there are heroes in this world, there's hope that tomorrow might be better."
I was so intrigued by the concept, because let's face it: I don't usually reach for superheroes vs. villains stories, but I found that this one was pretty easy to get into, which made the whole reading experience much better.
I would say this first installment was more character and plot driven, and we didn't get to know much of the world building or what happened before the whole Anarchists vs. Renegades started, but I still got some background information and had a fair idea of where things went before this plot started.
I don't tend to mind character driven stories, and Renegades was one of those cases. I absolutely adored the characters and the evolution they had throughout the novel. Nova was such an intelligent and amazing protagonist, and she had a great and complex character arc. I also adored her interactions with the whole Renegades crew and the evolution her character had with them. They were very flawed characters, but I think that's what made them remarkable to me.
Also I was pretty impressed with the romance/relationship Nova and Adrian had during this first book. I'm more into slow burning romances, so I was pleasantly surprised with this one, because hell, it was angsty and slow burning. I cannot wait to know what's going to happen between them in the sequel.
"She wasn't a Renegade.

She was Nightmare.

And she did not like to be seen."
Despite being a chunk of a book and a pretty intimidating one, I found myself thinking constantly about it and reaching for it to keep reading. It was super fast paced and had lots of action packed scenes that kept me on the edge of my seat. Of course there were some slower parts, but I would say this was a pretty addicting book and I couldn't put it down.
Also I should add that though I had a fair idea that there was going to be a mayor plot twist regarding one of those characters towards the end of the novel, I still was a bit surprised with some of the revelations that happened at the very end of the story, so I'm so interested to know what the second installment is going to be about.
Overall, I was pleasantly surprised by Renegades and ended up loving the entire book, and I just hope that the sequel will be as or even better than this first book was.
Follow me on BlogLovin'
Goodreads | Instagram | Twitter | Contact Me