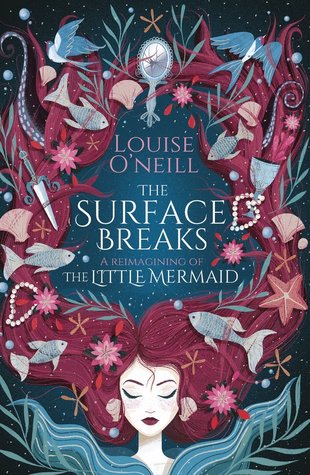 Title: The Surface Breaks
Author: Louise O'Neill
Series: N/A
Genre: Young Adult, Fantasy, Urban Fantasy, Retelling, Feminism
Publisher: Scholastic
Publication date: May 3rd, 2018
Pages: 320
My rating: 
---
Deep beneath the sea, off the cold Irish coast, Gaia is a young mermaid who dreams of freedom from her controlling father. On her first swim to the surface, she is drawn towards a human boy. She longs to join his carefree world, but how much will she have to sacrifice? What will it take for the little mermaid to find her voice? Hans Christian Andersen's original fairy tale is reimagined through a searing feminist lens, with the stunning, scalpel-sharp writing and world building that has won Louise her legions of devoted fans. A book with the darkest of undercurrents, full of rage and rallying cries: storytelling at its most spellbinding.
"One cannot have beauty for nothing, she would tell me. There is always a price to pay."
Finally a feminist retelling! I love me a good retelling, especially a Little Mermaid one, but I was blown away by this one, maybe because it's the first one that brought up such important topics, but I loved this book so much!
Ever since I first heard about this book I knew I had to read it when it was released. It was definitely one of my most anticipated reads of this year, and I'm so glad I decided to read it because this would be a book I'd recommend in the future 100%.
"You are of the sea, child. This is where you belong."
The story itself was a pretty true retelling of the original fairy tale, with the addition of sirens along the mermaids that usually were in the story. I loved how the author created something of her own out of a tale we all quite familiar with, adding her own touches and bringing up quite important topics that we all should be aware nowadays regarding consent, rape culture, and sexism. My favorite type of retellings are those who have some elements of the original story but still managing to do something different with them, and this book was definitely one of those cases.
In this book, Gaia was a pretty naïve and curious mermaid that was pretty much obsessed with the surface, but she had an amazing evolution throughout the story. You could see how her entire world crumble and changed, and at the end of the story she was a much more completely different girl than she was at the very beginning, and it was done so well I was living for it.
I also absolutely love the Sea Witch (she has another name, but I'm sorry, ya girl can't remember it – nothing new here!). Though she had some qualities that made it look like the witch from the original story, she was incredibly well created and I absolutely love how complex and intelligent she was, and how different she ended up to be. She had a great character arc, and I just wish I'd known more about her!
"It is your father who has insisted on calling me a 'witch'. That is simply a term that men give women who are not afraid of them, women who refuse to do as they are told."
I enjoyed so much the writing style. It was definitely quite an odd story, but I think the writing fit so well with what the author was describing and trying to tell us. It was quite simple but whimsical, and added a bit more to the book itself.
The ending was also pretty awesome. Though it was more on the bittersweet side, I was kind of glad to see it was loyal to the fairytale, whilst giving quite a different message. What can I say, I guess I like to see my heart break into a million pieces.
Overall, The Surface Breaks was a pretty interesting book and retelling and I'm happy I decided to pick it up in the first place, not only because I'm a huge fan of old fairytales brought up to life again, but also because I think it was the first feminist retelling I've read, and I was pretty pleased with it.
Follow me on BlogLovin'
Goodreads | Instagram | Twitter | Contact Me