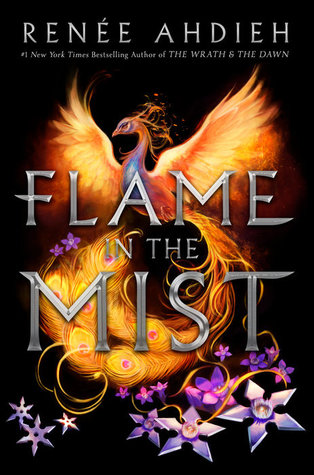 Title: Flame In The Mist
Author: Renée Ahdieh
Series: Flame In The Mist #1
Genre: Young Adult, Fantasy, High Fantasy, Romance
Publisher: G.P. Putnam's Sons
Publication date: May 16th, 2017
Pages: 392
My rating: 
---
The only daughter of a prominent samurai, Mariko has always known she'd been raised for one purpose and one purpose only: to marry. Never mind her cunning, which rivals that of her twin brother, Kenshin, or her skills as an accomplished alchemist. Since Mariko was not born a boy, her fate was sealed the moment she drew her first breath.
So, at just seventeen years old, Mariko is sent to the imperial palace to meet her betrothed, a man she did not choose, for the very first time. But the journey is cut short when Mariko's convoy is viciously attacked by the Black Clan, a dangerous group of bandits who've been hired to kill Mariko before she reaches the palace.
The lone survivor, Mariko narrowly escapes to the woods, where she plots her revenge. Dressed as a peasant boy, she sets out to infiltrate the Black Clan and hunt down those responsible for the target on her back. Once she's within their ranks, though, Mariko finds for the first time she's appreciated for her intellect and abilities. She even finds herself falling in love—a love that will force her to question everything she's ever known about her family, her purpose, and her deepest desires.
"But more than that, she still held power over her decisions. For at least this one last day.

She would face her enemy. And die with honor."
Ever since I heard that Renée had a new book coming out, I wanted to read it immediately. I absolutely adored The Wrath and The Dawn when I first read it a few years ago, so I was pretty intrigued in what she would come out up next. And though I overall enjoyed this book, I guess I was expecting much more from it.
Now let me first start by saying that though this novel was labelled as a Mulan retelling, it wasn't one. Yes, it had a few similar things as the Disney movie, but the story itself and the characters were completely different, so if you're picking this up expecting to read something like that, you'll probably be disappointed.
"Be as swift as the wind. As silent as the forest. As fierce as the fire. As unshakable as the mountain. And you can do anything."
Though I had a good time reading this book, I had a few issues with it. One of the main ones was that there was no explanation to the magic system whatsoever. You were thrown into this fantasy world where there were some odd magical things happening, but at no time throughout the book was something related to them explained, and that made the reading experience a bit more confusing, mostly because I wanted to know more about that Forrest magic.
The characters weren't bad and I think Mariko, our protagonist had a great evolution. She was quite intriguing and her character development was done very well, and I think she has more to give in the second book, so hopefully I'll be right about that. One of the main problems I had was with her love interest, which until today I still don't know if I liked that romance or not.
The thing is that though you clearly know there was going to be a romantic relationship between our main character and her love interest, I think it came practically out of nowhere and took me by surprised. Some parts between both of them were a bit odd and cringy, and though I liked their relationship throughout the book, I'm still not sure if I liked them together.
"She remembered Chiyo telling her that finding one's match was like finding one's other half. Mariko had never understood the notion.

She was not a half. She was wholly her own."
I think there's something that always tend to happen when I read a book by her, and that is that though I absolutely adore her writing style and the way she tells us the story, after a few days I tend to forget most of the things that happened in it. It occurred the same to me when I was reading her debut novel, and I feel it's going to happen the same with this one, because I'm starting to forget some things (though I wouldn't say it's as terrible as with The Wrath and The Dawn). So I guess we'll see how it ends.
Sadly, the same that happened with the magic system happened to the world building. I was a bit confused by it, because though at times there was some information about it, there wasn't much to make an entire picture in my mind, which was a bit disappointing. I just hope that we get to see more about those things lacking in this first installment in its sequel.
Overall, this was a pretty solid read, and I enjoyed the story and the path it's taking. I had a few issues with the magic system and the world building, but I'm still interested in continuing with the second book just to see if it's going to get better.
Follow me on BlogLovin'
Goodreads | Instagram | Twitter | Contact Me