Hello bookworms! I'm Nia and today I'm going to be talking about the books I've read this past month of May.
Well, I was pleasantly surprised to see that May has been a great reading month to me. I had a pretty busy month, so I wasn't expecting to read as much as in past months, but turns out I read a total of 18 books, which is such a great amount! There were some that I adored and others that I didn't like that much, but I'm pretty happy with the amount of books I ended up finishing.
Without any further ado, let's begin with my May wrap-up!
The Traitor's Game | Jennifer E. Nielsen
My thoughts: I have a review of this book already posted on this blog, so click here in case you want to check it out.
Nothing is as it seems in the kingdom of Antora. Kestra Dallisor has spent three years in exile in the Lava Fields, but that won't stop her from being drawn back into her father's palace politics. He's the right hand man of the cruel king, Lord Endrick, which makes Kestra a valuable bargaining chip. A group of rebels knows this all too well – and they snatch Kestra from her carriage as she reluctantly travels home.The kidnappers want her to retrieve the lost Olden Blade, the only object that can destroy the immortal king, but Kestra is not the obedient captive they expected. Simon, one of her kidnappers, will have his hands full as Kestra tries to foil their plot, by force, cunning, or any means necessary. As motives shift and secrets emerge, both will have to decide what – and who – it is they're fighting for.
Daughter of The Siren Queen | Tricia Levenseller
My thoughts: I have a review of this book already posted on this blog, so click here in case you want to check it out.
Alosa's mission is finally complete. Not only has she recovered all three pieces of the map to a legendary hidden treasure, but the pirates who originally took her captive are now prisoners on her ship. Still unfairly attractive and unexpectedly loyal, first mate Riden is a constant distraction, but now he's under her orders. And she takes great comfort in knowing that the villainous Vordan will soon be facing her father's justice.
When Vordan exposes a secret her father has kept for years, Alosa and her crew find themselves in a deadly race with the feared Pirate King. Despite the danger, Alosa knows they will recover the treasure first . . . after all, she is the daughter of the Siren Queen.
Ace of Shades | Amanda Foody
My thoughts: I have a review of this book already posted on this blog, so click here in case you want to check it out.
Enne Salta was raised as a proper young lady, and no lady would willingly visit New Reynes, the so-called City of Sin. But when her mother goes missing, Enne must leave her finishing school—and her reputation—behind to follow her mother's trail to the city where no one survives uncorrupted.
Frightened and alone, her only lead is a name: Levi Glaisyer. Unfortunately, Levi is not the gentleman she expected—he's a street lord and a con man. Levi is also only one payment away from cleaning up a rapidly unraveling investment scam, so he doesn't have time to investigate a woman leading a dangerous double life. Enne's offer of compensation, however, could be the solution to all his problems.
Their search for clues leads them through glamorous casinos, illicit cabarets and into the clutches of a ruthless mafia donna. As Enne unearths an impossible secret about her past, Levi's enemies catch up to them, ensnaring him in a vicious execution game where the players always lose. To save him, Enne will need to surrender herself to the city…
And she'll need to play.
Scarlet | A. C. Gaughen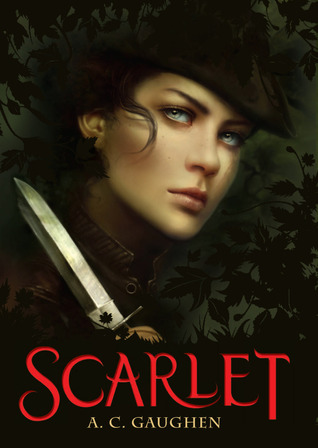 My thoughts: I was very excited to pick up this book because I think it was the first Robin Hood retelling that I read, and though I enjoyed the story itself, I expected much more from it. 
I really liked the main character's arc throughout the story and her evolution. She was a very mysterious and badass protagonist, and there were some moments where I wanted to know what was going to happen to her, but I have to admit that sometimes her interactions (and all of the characters in general) were a bit weird and out of contest, and that made me have a love/hate relationship with all of them.
The romance wasn't bad written, but there was something about it that didn't made me connect with them as much as I wanted. Though it was a pretty slow burning relationship and I love that it was done like that, there were moments where I was a bit let down by them.
But I think my main issue with this novel and what kept me from enjoying it more was the writing style. I don't usually mind that, but in this case I wasn't the biggest fan of it, because it made the story a bit slower paced to me, and frankly honest, a bit boring.
Overall, it was a solid read and I would like to continue reading the rest of the trilogy, because I liked where Scarlet ended, but I had a few problems that made me lowered my rating a bit more.
Will Scarlet is good at two things: stealing from the rich and keeping secrets – skills that are in high demand in Robin Hood's band of thieves, who protect the people of Nottingham from the evil sheriff. Scarlet's biggest secret of all is one only Robin and his men know…that she is posing as a thief; that the slip of a boy who is fast with sharp knives is really a girl.
The terrible events in her past that led Scarlet to hide her real identity are in danger of being exposed when the thief taker Lord Gisbourne arrives in town to rid Nottingham of the Hood and his men once and for all. As Gisbourne closes in a put innocent lives at risk, Scarlet must decide how much the people of Nottingham mean to her, especially John Little, a flirtatious fellow outlaw, and Robin, whose quick smiles have the rare power to unsettle her. There is real honor among these thieves and so much more – making this a fight worth dying for.
Lord of Shadows | Cassandra Clare
My thoughts: I have a review of this book already posted on this blog, so click here in case you want to check it out.

A Shadowhunter's life is bound by duty. Constrained by honor. The word of a Shadowhunter is a solemn pledge, and no vow is more sacred than the vow that binds parabatai, warrior partners—sworn to fight together, die together, but never to fall in love.
Emma Carstairs has learned that the love she shares with her parabatai, Julian Blackthorn, isn't just forbidden—it could destroy them both. She knows she should run from Julian. But how can she when the Blackthorns are threatened by enemies on all sides?
Their only hope is the Black Volume of the Dead, a spell book of terrible power. Everyone wants it. Only the Blackthorns can find it. Spurred on by a dark bargain with the Seelie Queen, Emma; her best friend, Cristina; and Mark and Julian Blackthorn journey into the Courts of Faerie, where glittering revels hide bloody danger and no promise can be trusted. Meanwhile, rising tension between Shadowhunters and Downworlders has produced the Cohort, an extremist group of Shadowhunters dedicated to registering Downworlders and "unsuitable" Nephilim. They'll do anything in their power to expose Julian's secrets and take the Los Angeles Institute for their own.
When Downworlders turn against the Clave, a new threat rises in the form of the Lord of Shadows—the Unseelie King, who sends his greatest warriors to slaughter those with Blackthorn blood and seize the Black Volume. As dangers close in, Julian devises a risky scheme that depends on the cooperation of an unpredictable enemy. But success may come with a price he and Emma cannot even imagine, one that will bring with it a reckoning of blood that could have repercussions for everyone and everything they hold dear.
Sky In The Deep | Adrienne Young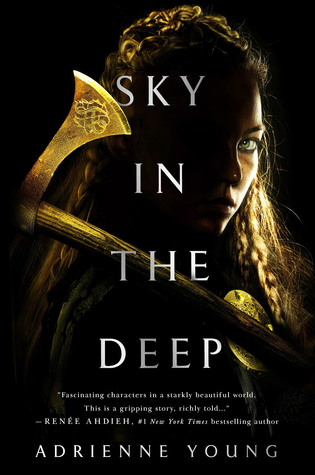 My thoughts: I have a review of this book already posted on this blog, so click here in case you want to check it out.
OND ELDR. BREATHE FIRE.
Raised to be a warrior, seventeen-year-old Eelyn fights alongside her Aska clansmen in an ancient rivalry against the Riki clan. Her life is brutal but simple: fight and survive. Until the day she sees the impossible on the battlefield — her brother, fighting with the enemy — the brother she watched die five years ago.
Faced with her brother's betrayal, she must survive the winter in the mountains with the Riki, in a village where every neighbor is an enemy, every battle scar possibly one she delivered. But when the Riki village is raided by a ruthless clan thought to be a legend, Eelyn is even more desperate to get back to her beloved family.
She is given no choice but to trust Fiske, her brother's friend, who sees her as a threat. They must do the impossible: unite the clans to fight together, or risk being slaughtered one by one. Driven by a love for her clan and her growing love for Fiske, Eelyn must confront her own definition of loyalty and family while daring to put her faith in the people she's spent her life hating.
Empress of a Thousand Skies | Rhoda Belleza
My thoughts: I have a review of this book already posted on this blog, so click here in case you want to check it out.
The only surviving heir to an ancient Kalusian dynasty, Rhee has spent her life training to destroy the people who killed her family. Now, on the eve of her coronation, the time has finally come for Rhee to claim her throne – and her revenge.
Alyosha is a Wraetan who has risen above his war refugee origins to find fame as the dashing star of a DroneVision show. Despite his popularity, Aly struggles with anti-Wraetan prejudices and the pressure of being perfect in the public eye.
Their paths collide with one brutal act of violence: Rhee is attacked, barely escaping with her life. Aly is blamed for her presumed murder.
The princess and her accused killer are forced to go into hiding – even as a war between planets is waged in Rhee's name. But soon, Rhee and Aly discover that the assassination attempt is just one part of a sinister plot. Bound together by an evil that only they can stop, the two fugitives must join forces to save the galaxy.
Reign of Shadows | Sophie Jordan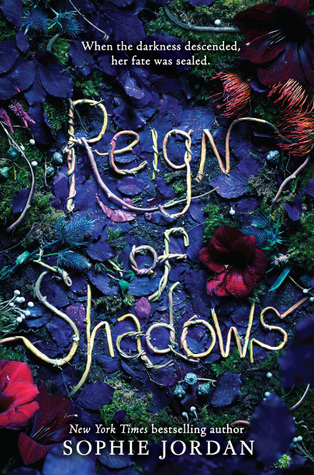 My thoughts: I have a mini review of this book already posted on this blog, so click here in case you want to check it out.
Seventeen years ago, an eclipse cloaked the kingdom of Relhok in perpetual darkness. In the chaos, an evil chancellor murdered the king and queen and seized their throne. Luna, Relhok's lost princess, has been hiding in a tower ever since. Luna's survival depends on the world believing she is dead.
But that doesn't stop Luna from wanting more. When she meets Fowler, a mysterious archer braving the woods outside her tower, Luna is drawn to him despite the risk. When the tower is attacked, Luna and Fowler escape together. But this world of darkness is more treacherous than Luna ever realized.
With every threat stacked against them, Luna and Fowler find solace in each other. But with secrets still unspoken between them, falling in love might be their most dangerous journey yet.
Rise of Fire | Sophie Jordan
My thoughts: I guess I was expecting much more from this sequel. It wasn't the worst book I've read, but I didn't enjoy it as much as I thought I would do.
The main issue I had with Rise of Fire was that there were some questions unanswered. The first quarter of the novel was actually pretty good. I got to know more about the world and the different creatures that were in it. It was action packed and I was having a good time discovering new things that weren't in the first installment, but as I kept reading it became such a mess that I couldn't see past that.
From half the book until the very end it was mostly relationship drama and nothing more. There was practically no plot to follow, and I wasn't enjoying it that much, to be honest. It was mostly unnecessary drama and the characters hadn't the development I expecting to see in this sequel.
The ending was a bit unrealistic and rushed, and I think there were some events that happened in between that were a bit odd and cringy, so overall, I decided to give it 2.25 stars, because it didn't fulfill my expectations.
Luna and Fowler have escaped the kingdom of Relhok, but they haven't escaped the darkness. When a battle against the dark dwellers mortally injures Fowler, Luna is faced with a choice: put their fate in the hands of mysterious strangers or risk losing Fowler forever. Desperate to keep the one bright part of her life alive, Luna accepts the help of soldiers from a nearby kingdom. Lagonia's castle offers reprieve from the dangerous outside world—until the king discovers both Fowler's and Luna's true ties to Relhok and their influence over the throne. Now pawns in each kingdom's political game, Luna and Fowler are more determined than ever to escape and build the life they've been dreaming of. But their own pasts have a tight hold on their hearts and their destinies. Luna must embrace the darkness and fire within her before she loses not only Fowler, but the power she was destined to inherit.

The Traitor's Kiss | Erin Beaty
My thoughts: I have a review of this book already posted on this blog, so click here in case you want to check it out.
An obstinate girl who will not be married. A soldier desperate to prove himself. A kingdom on the brink of war.
With a sharp tongue and an unruly temper, Sage Fowler is not what they'd call a lady―which is perfectly fine with her. Deemed unfit for marriage, Sage is apprenticed to a matchmaker and tasked with wrangling other young ladies to be married off for political alliances. She spies on the girls―and on the soldiers escorting them.
As the girls' military escort senses a political uprising, Sage is recruited by a handsome soldier to infiltrate the enemy ranks. The more she discovers as a spy, the less certain she becomes about whom to trust―and Sage becomes caught in a dangerous balancing act that will determine the fate of her kingdom.
A Court of Frost and Starlight | Sarah J. Maas
My thoughts: I have a review of this book already posted on this blog, so click here in case you want to check it out.
Feyre, Rhys, and their close-knit circle of friends are still busy rebuilding the Night Court and the vastly-changed world beyond. But Winter Solstice is finally near, and with it, a hard-earned reprieve.
Yet even the festive atmosphere can't keep the shadows of the past from looming. As Feyre navigates her first Winter Solstice as High Lady, she finds that those dearest to her have more wounds than she anticipated–scars that will have far-reaching impact on the future of their Court.
The Brightsiders | Jen Wilde
My thoughts: I have a mini review of this book already posted on this blog, so click here in case you want to check it out.
As a rock star drummer in the hit band The Brightsiders, Emmy King's life should be perfect. But there's nothing the paparazzi love more than watching a celebrity crash and burn. When a night of partying lands Emmy in hospital and her girlfriend in jail, she's branded the latest tabloid train wreck.
Luckily, Emmy has her friends and bandmates, including the super-swoonworthy Alfie, to help her pick up the pieces of her life. She knows hooking up with a band member is exactly the kind of trouble she should be avoiding, and yet Emmy and Alfie Just. Keep. Kissing.
Will the inevitable fallout turn her into a clickbait scandal (again)? Or will she find the strength to stand on her own?
Lifel1k3 | Jay Kristoff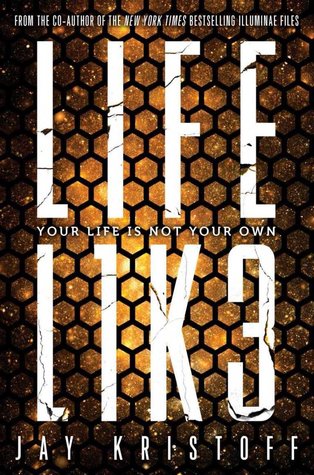 My thoughts: I have a review of this book already posted on this blog, so click here in case you want to check it out.
On a floating junkyard beneath a radiation sky, a deadly secret lies buried in the scrap.
Eve isn't looking for secrets—she's too busy looking over her shoulder. The robot gladiator she's just spent six months building has been reduced to a smoking wreck, and the only thing keeping her Grandpa from the grave was the fistful of credits she just lost to the bookies. To top it off, she's discovered she can destroy electronics with the power of her mind, and the puritanical Brotherhood are building a coffin her size. If she's ever had a worse day, Eve can't remember it.
But when Eve discovers the ruins of an android boy named Ezekiel in the scrap pile she calls home, her entire world comes crashing down. With her best friend Lemon Fresh and her robotic conscience, Cricket, in tow, she and Ezekiel will trek across deserts of irradiated glass, infiltrate towering megacities and scour the graveyard of humanity's greatest folly to save the ones Eve loves, and learn the dark secrets of her past.
Even if those secrets were better off staying buried.
Renegades | Marissa Meyer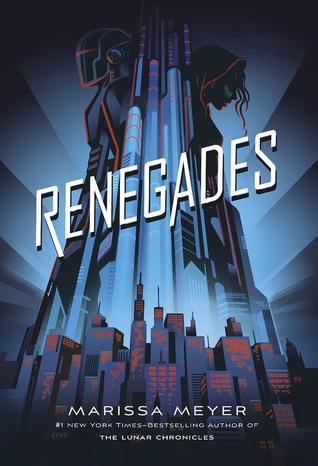 My thoughts: I have a review of this book already posted on this blog, so click here in case you want to check it out.
The Renegades are a syndicate of prodigies — humans with extraordinary abilities — who emerged from the ruins of a crumbled society and established peace and order where chaos reigned. As champions of justice, they remain a symbol of hope and courage to everyone… except the villains they once overthrew.
Nova has a reason to hate the Renegades, and she is on a mission for vengeance. As she gets closer to her target, she meets Adrian, a Renegade boy who believes in justice — and in Nova. But Nova's allegiance is to a villain who has the power to end them both.
Tyler Johnson Was Here | Jay Coles
My thoughts: I have a mini review of this book already posted on this blog, so click here in case you want to check it out.
When Marvin Johnson's twin, Tyler, goes to a party, Marvin decides to tag along to keep an eye on his brother. But what starts as harmless fun turns into a shooting, followed by a police raid.
The next day, Tyler has gone missing, and it's up to Marvin to find him. But when Tyler is found dead, a video leaked online tells an even more chilling story: Tyler has been shot and killed by a police officer. Terrified as his mother unravels and mourning a brother who is now a hashtag, Marvin must learn what justice and freedom really mean.
Royals | Rachel Hawkins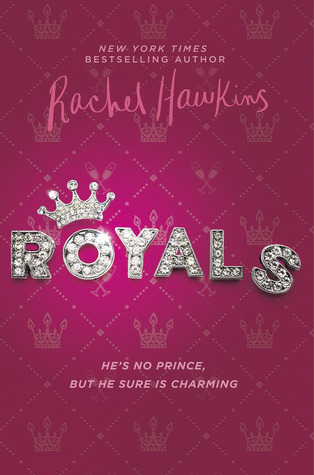 My thoughts: I have a mini review of this book already posted on this blog, so click here in case you want to check it out.
Meet Daisy Winters. She's an offbeat sixteen-year-old Floridian with mermaid-red hair; a part time job at a bootleg Walmart, and a perfect older sister who's nearly engaged to the Crown Prince of Scotland. Daisy has no desire to live in the spotlight, but relentless tabloid attention forces her to join Ellie at the relative seclusion of the castle across the pond.
While the dashing young Miles has been appointed to teach Daisy the ropes of being regal, the prince's roguish younger brother kicks up scandal wherever he goes, and tries his best to take Daisy along for the ride. The crown–and the intriguing Miles–might be trying to make Daisy into a lady . . . but Daisy may just rewrite the royal rulebook to suit herself.
The Surface Breaks | Louise O'Neill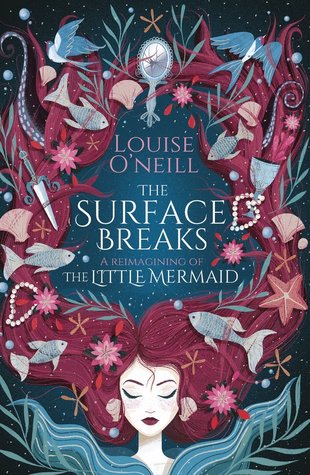 My thoughts: I have a review of this book already posted on this blog, so click here in case you want to check it out.
Deep beneath the sea, off the cold Irish coast, Gaia is a young mermaid who dreams of freedom from her controlling father. On her first swim to the surface, she is drawn towards a human boy. She longs to join his carefree world, but how much will she have to sacrifice? What will it take for the little mermaid to find her voice? Hans Christian Andersen's original fairy tale is reimagined through a searing feminist lens, with the stunning, scalpel-sharp writing and world building that has won Louise her legions of devoted fans. A book with the darkest of undercurrents, full of rage and rallying cries: storytelling at its most spellbinding.

Flame in The Mist | Renée Ahdieh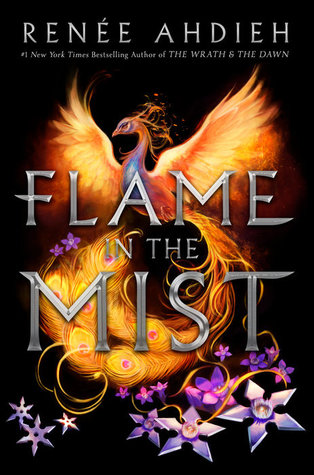 My thoughts: I have a review of this book already posted on this blog, so click here in case you want to check it out.
The only daughter of a prominent samurai, Mariko has always known she'd been raised for one purpose and one purpose only: to marry. Never mind her cunning, which rivals that of her twin brother, Kenshin, or her skills as an accomplished alchemist. Since Mariko was not born a boy, her fate was sealed the moment she drew her first breath.
So, at just seventeen years old, Mariko is sent to the imperial palace to meet her betrothed, a man she did not choose, for the very first time. But the journey is cut short when Mariko's convoy is viciously attacked by the Black Clan, a dangerous group of bandits who've been hired to kill Mariko before she reaches the palace.
The lone survivor, Mariko narrowly escapes to the woods, where she plots her revenge. Dressed as a peasant boy, she sets out to infiltrate the Black Clan and hunt down those responsible for the target on her back. Once she's within their ranks, though, Mariko finds for the first time she's appreciated for her intellect and abilities. She even finds herself falling in love—a love that will force her to question everything she's ever known about her family, her purpose, and her deepest desires.
What books have you read in May? Are any of these ones on your TBR? Let me know in the comments if you've read them as well and what was your favorite read of last month!
Follow me on BlogLovin'
Goodreads | Instagram | Twitter | Contact Me