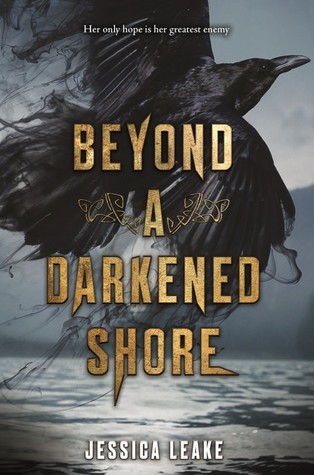 Title: Beyond a Darkened Shore
Author: Jessica Leake
Series: N/A
Genre: Young Adult, Fantasy, High Fantasy, Romance
Publisher: HarperTeen
Publication date: April 10th, 2018
Pages:435
My rating: 
---
The ancient land of Éirinn is mired in war. Ciara, Princess of Mide, has never known a time when Éirinn's kingdoms were not battling for power, or Northmen were not plundering their shores.
The people of Mide have thankfully always been safe because of Ciara's unearthly ability to control her enemies' minds and actions. But lately, a mysterious crow has been appearing to Ciara, whispering warnings of an even darker threat. Although her clansmen dismiss her visions as pagan nonsense, Ciara fears this coming evil will destroy not just Éirinn, but the entire world.
Then the crow leads Ciara to Leif, a young Northman leader. Leif should be Ciara's enemy, but when Ciara discovers that he, too, shares her prophetic visions, she knows he's something more. Leif is mounting an impressive army, and with Ciara's strength in battle the two might have a chance to save their world.
With evil rising around them, they'll do what it takes to defend the land they love…even if it means making the greatest sacrifice of all.
"They're coming, a voice whispered in my mind, and a cold shiver snaked down my back. It wasn't the first time I'd heard the crow's voice, and I knew it warned of only one thing: death."
I don't know why but ever since I heard the premise of this book I knew I had to read it, but I especially wanted to after reading and loving Sky in The Deep. Though they are completely different books, there was something about them that my mind kept linking, so I decided to finally pick it up this month, and I was pleasantly surprised with the whole story.
There were still some minor issues I had with the pacing of the novel at one point of my reading experience, but overall I think it was a very entertaining read, and a solid one, but I think most of the problems I had were because I was in the middle of a reading slump while reading this book, so… Not to blame it.
I think my favorite parts of the whole story was the evolutions of the characters and their interactions. I love books where the characters went through a major and very important thing that made them align themselves with their enemies, and Beyond a Darkened Shore was one of those stories.
The interactions between the characters and their character arcs in general were really well done. They were very complex individuals, and had such an amazing evolution throughout the novel. The romance also was so good, despite some parts being a bit rushed.
"Even as my eyelids drooped closed and I slipped away into sleep, one thing stuck out in my mind: the price of such power must be more terrible than I could imagine."
I absolutely adored the mythology aspect of the story. Though at the beginning I was a bit confused by all that information that was thrown at us, I appreciated the fact that there was a glossary at the end of the book where I could look up everything. But I just love how atmospheric the whole novel was, and how easy it was for me to focus on it.
Though I would consider this book more on the slower paced side, there were still some action packed scenes that kept me at the edge of my seat and made the whole experience much better. I would say the ending wasn't my favorite, but I liked how it all sum up and the fact that it was a standalone.
Some parts were a bit predictable, but overall I enjoyed the journey those characters went through. It was a very interesting story, and I'll definitely will check more of her in the future (if the author publishes more!).
Follow me on BlogLovin'
Goodreads | Instagram | Twitter | Contact Me