Hello bookworms! I'm Nia and today I'm going to be talking about some LGBT+ books I have on my TBR and I'll most likely be reading this summer.
I've been dying to read these books I'll be mentioning in this post, because they've been on my TBR for quite a long time, but somehow I always reach for something else, so hopefully this summer will be the year I'll finally read them *crosses fingers*. They are pretty popular so you most likely have already known them, but oh well.
Side note: I'm so so sorry I haven't been active these past few days or answering any comments. My mental health hasn't been the best and I haven't written anything until today. I'll try to answer those comments this week if I'm able and also be more active with this blog, but I'm so sorry!
If you aren't familiar with Top 5 Wednesday, it is a Goodeads group now currently run by Sam over at ToughtsOfTomes on Youtube, where each week they give you a topic and you talk about 5 books that fit that category. You can join the group here if you want to participate!
Without any further ado, let's start with this week's topic!
Ramona Blue | Julie Murphy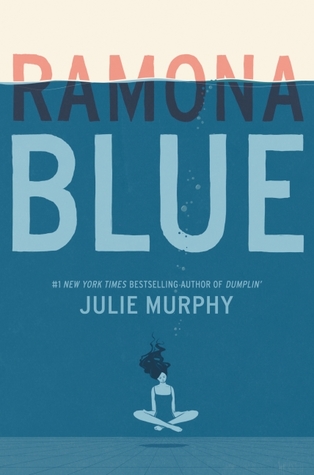 Ramona was only five years old when Hurricane Katrina changed her life forever.
Since then, it's been Ramona and her family against the world. Standing over six feet tall with unmistakable blue hair, Ramona is sure of three things: she likes girls, she's fiercely devoted to her family, and she knows she's destined for something bigger than the trailer she calls home in Eulogy, Mississippi. But juggling multiple jobs, her flaky mom, and her well-meaning but ineffectual dad forces her to be the adult of the family. Now, with her sister, Hattie, pregnant, responsibility weighs more heavily than ever.
The return of her childhood friend Freddie brings a welcome distraction. Ramona's friendship with the former competitive swimmer picks up exactly where it left off, and soon he's talked her into joining him for laps at the pool. But as Ramona falls in love with swimming, her feelings for Freddie begin to shift too, which is the last thing she expected. With her growing affection for Freddie making her question her sexual identity, Ramona begins to wonder if perhaps she likes girls and guys or if this new attraction is just a fluke. Either way, Ramona will discover that, for her, life and love are more fluid than they seem.
How To Make a Whish | Ashley Herrin Blake
All seventeen year-old Grace Glasser wants is her own life. A normal life in which she sleeps in the same bed for longer than three months and doesn't have to scrounge for spare change to make sure the electric bill is paid. Emotionally trapped by her unreliable mother, Maggie, and the tiny cape on which she lives, she focuses on her best friend, her upcoming audition for a top music school in New York, and surviving Maggie's latest boyfriend—who happens to be Grace's own ex-boyfriend's father.
Her attempts to lay low until she graduates are disrupted when she meets Eva, a girl with her own share of ghosts she's trying to outrun. Grief-stricken and lonely, Eva pulls Grace into midnight adventures and feelings Grace never planned on. When Eva tells Grace she likes girls, both of their worlds open up. But, united by loss, Eva also shares a connection with Maggie. As Grace's mother spirals downward, both girls must figure out how to love and how to move on.
The Gallery of Unfinished Girls | Lauren Karcz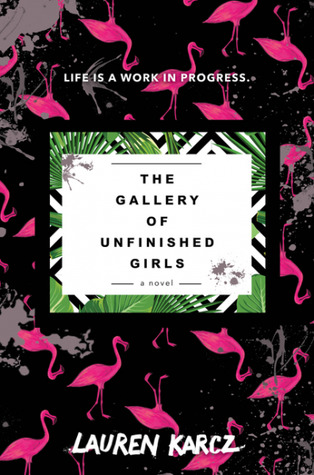 Mercedes Moreno is an artist. At least, she thinks she could be, even though she hasn't been able to paint anything worthwhile in the past year.
Her lack of inspiration might be because her abuela is in a coma. Or the fact that Mercedes is in love with her best friend, Victoria, but is too afraid to admit her true feelings.
Despite Mercedes's creative block, art starts to show up in unexpected ways. A piano appears on her front lawn one morning, and a mysterious new neighbor invites Mercedes to paint with her at the Red Mangrove Estate.
At the Estate, Mercedes can create in ways she hasn't ever before. But Mercedes can't take anything out of the Estate, including her new-found clarity. Mercedes can't live both lives forever, and ultimately she must choose between this perfect world of art and truth and a much messier reality.
Inkmistress | Audrey Coulthurst
Asra is a demigod with a dangerous gift: the ability to dictate the future by writing with her blood. To keep her power secret, she leads a quiet life as a healer on a remote mountain, content to help the people in her care and spend time with Ina, the mortal girl she loves.
But Asra's peaceful life is upended when bandits threaten Ina's village and the king does nothing to help. Desperate to protect her people, Ina begs Asra for assistance in finding her manifest—the animal she'll be able to change into as her rite of passage to adulthood. Asra uses her blood magic to help Ina, but her spell goes horribly wrong and the bandits destroy the village, killing Ina's family.
Unaware that Asra is at fault, Ina swears revenge on the king and takes a savage dragon as her manifest. To stop her, Asra must embark on a journey across the kingdom, becoming a player in lethal games of power among assassins, gods, and even the king himself.
Most frightening of all, she discovers the dark secrets of her own mysterious history—and the terrible, powerful legacy she carries in her blood.
Tash Hearts Tolstoy | Kathryn Ormsbee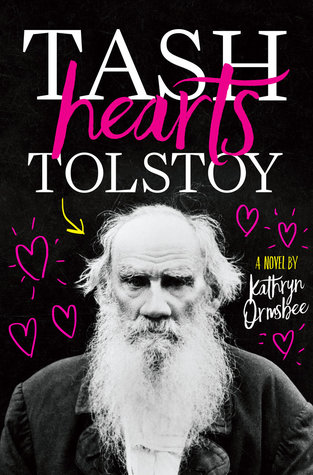 After a shout-out from one of the Internet's superstar vloggers, Natasha "Tash" Zelenka finds herself and her obscure, amateur web series, Unhappy Families, thrust into the limelight: She's gone viral.
Her show is a modern adaptation of Anna Karenina—written by Tash's literary love Count Lev Nikolayevich "Leo" Tolstoy. Tash is a fan of the forty thousand new subscribers, their gushing tweets, and flashy Tumblr GIFs. Not so much the pressure to deliver the best web series ever.
And when Unhappy Families is nominated for a Golden Tuba award, Tash's cyber-flirtation with Thom Causer, a fellow award nominee, suddenly has the potential to become something IRL—if she can figure out how to tell said crush that she's romantic asexual.
Tash wants to enjoy her newfound fame, but will she lose her friends in her rise to the top? What would Tolstoy do?
What LGBT+ books do you have on your TBR? Let me know in the comments and also if you have any good LGBT+ recommendations, 'cause I'll definitely add them to my TBR!
Follow me on BlogLovin'
Goodreads | Instagram | Twitter | Contact Me