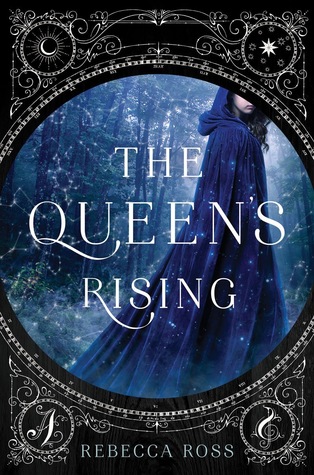 Title: The Queen's Rising
Author: Rebecca Ross
Series: The Queen's Rising #1
Genre: Young Adult, Fantasy, High Fantasy, Romance
Publisher: HarperTeen
Publication date: February 6th, 2018
Pages: 464
My rating: 
---
When her seventeenth summer solstice arrives, Brienna desires only two things: to master her passion and to be chosen by a patron.
Growing up in the southern Kingdom of Valenia at the renowned Magnalia House should have prepared her for such a life. While some are born with an innate talent for one of the five passions—art, music, dramatics, wit, and knowledge—Brienna struggled to find hers until she belatedly chose to study knowledge. However, despite all her preparations, Brienna's greatest fear comes true—the solstice does not go according to plan and she is left without a patron.
Months later, her life takes an unexpected turn when a disgraced lord offers her patronage. Suspicious of his intent, and with no other choices, she accepts. But there is much more to his story, and Brienna soon discovers that he has sought her out for his own vengeful gain. For there is a dangerous plot being planned to overthrow the king of Maevana—the archrival kingdom of Valenia—and restore the rightful queen, and her magic, to the northern throne. And others are involved—some closer to Brienna than she realizes.
With war brewing between the two lands, Brienna must choose whose side she will remain loyal to—passion or blood. Because a queen is destined to rise and lead the battle to reclaim the crown. The ultimate decision Brienna must determine is: Who will be that queen?
"She would return, he knew it. She would return because there was no other way, She would return because she was afraid of her own magic."
I have to say I'm pretty surprised with this book, because well, I wasn't expecting to enjoy it as much as I did. Even though I was very excited for this new release, because the premise sounded right up my alley, I hadn't heard many people talking about The Queen's Rising, and now I know that they should!
Even the beginning was a bit slow, because the author took her time to explain to us what passions were and how everything in that world basically worked, it built up and became a bit more fast paced as I continued with the story. But I was quite surprised by how easy it was to get into the story. Usually with high fantasy books it takes me a few chapters to get to know the world building and everything, and since the first chapters were pretty much the main character explaining to us all of that, I expected it to be a bit harder, but it wasn't.
And I freaking adored that world. For a first installment it was pretty deeply explained, but it was super entertaining and interesting. Though with the magic system there weren't as many details (which I would have loved to read about!), the world building part was pretty much covered.
"If you offend a Valenian, you lose your reputation. But if you offend a Maevan… then you lose your head."
On the other hand, I didn't fully love our main character. Some scenes and behaviors were a bit clichéd and overdone in my opinion, she had a great evolution and dynamics throughout the story. I would say I started to like and connect with her more as I continued reading the book, and as I was reaching the end she grew on me.
The character arcs were pretty good, and though they weren't as unique as I expected, I still had a great time getting to know them. The romance was actually really good; it wasn't the main focused in the first half of the story, but it took a bit more importance in the second half, but still I wasn't mad. I liked the interactions between those characters, so yeah. And also it had an awesome female friendship, so extra kudos to that!
Overall, it was a very interesting and addicting story, and I found myself I couldn't stop reading it. It was a slow burning type of novel, and not an action packed story until the very end, but I really loved the politics and the world, so I had no problem to keep reading it, and I highly recommend it!
Follow me on BlogLovin'
Goodreads | Instagram | Twitter | Contact Me