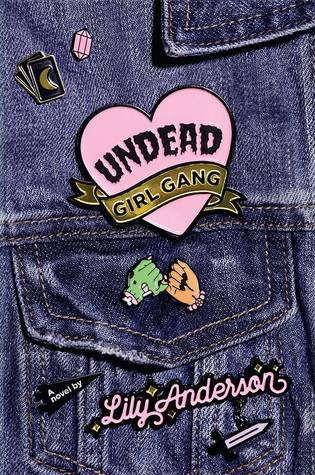 Title: Undead Girl Gang
Author: Lily Anderson
Series: N/A
Genre: Young Adult, Fantasy, Mystery/Thrillers, Paranormal, Feminism
Publisher: Razorbill
Publication date: May 8th, 2018
Pages: 305
My rating: 
---
Mila Flores and her best friend Riley have always been inseparable. There's not much excitement in their small town of Cross Creek, so Mila and Riley make their own fun, devoting most of their time to Riley's favorite activity: amateur witchcraft.
So when Riley and two Fairmont Academy mean girls die under suspicious circumstances, Mila refuses to believe everyone's explanation that her BFF was involved in a suicide pact. Instead, armed with a tube of lip gloss and an ancient grimoire, Mila does the unthinkable to uncover the truth: she brings the girls back to life.
Unfortunately, Riley, June, and Dayton have no recollection of their murders, but they do have unfinished business to attend to. Now, with only seven days until the spell wears off and the girls return to their graves, Mila must wrangle the distracted group of undead teens and work fast to discover their murderer… before the killer strikes again.
"There's hope. For the first time since Riley went down to the creek, something other than darkness cracks open in my chest. "Thanks friend," I whisper."
Ahhh, this was such a great story! The concept was so unique and intriguing, and I cannot tell you how excited I was to read this book! Turns out, I was pleasantly surprised with the story and the characters, and though I had some minor issues, it was such an amazing book and I loved it!
Like I said before, I'm still on the hunt to find the perfect witchy book. I've read a few and some of them were good and others not so much, but I think this one was so interesting and had such a unique and cool concept. Though Undead Girl Gang was mostly focus on the mystery regarding those girls' deaths and the interactions between our protagonists and those characters, I still got to see a bit of magic, and it was just so good!
The characters were so well done, and were so easy to connect to. The protagonist had an odd but funny sense of humor, and there were times where I couldn't stop laughing because those situations were pretty hilarious, but there were others more serious where you could easily see how she was feeling throughout the story. She had a great character arc and development, and something I loved was that this book was purely focused on the friendship than in the romance.
My favorite part was definitely the friendship between Mila and the rest of the girls. It was done so amazingly; it took its time for them to start becoming friends (since they basically hated each other), and it wasn't rushed or came out of nowhere, which was so good. The relationships were so smooth, and I just wish I'd read more about the girl gang and those friendships, because I feel I didn't get much out of it in the story.
"It's more complicated than that. Everything is unfinished. Our whole lives. There's no amount of catching up we could do in seven days, enough to last me forever."
I would say that despite the fact that it was a mystery novel, it was pretty slow paced. There were times where nothing was really happening, and if I wasn't as invested as I was in the characters I would have probably haven't enjoyed it as much as I did. I don't know if that had something to do with the writing or the way the author decided to create the story, but I noticed those things as I kept reading the book.
I also may add that to me the whole mystery was a bit too predictable. Though the mystery was well done in my opinion, with mysteries and thrillers that's what tends to happen to me. I just figure out who the killer is way before it was revealed in the story, and that sometimes is a bump. With this particular book, I couldn't fully connect all of the dots, but I still knew who that person was, and I guess I was expecting to be much more surprised.
Overall, I still think it was a very amazing story despite the minor issues I had. It talked about feminism and female friendship, and I adored those aspects of the book. The characters were quirky and special, and the storyline, despite being a bit slow, was done really well.
Follow me on BlogLovin'
Goodreads | Instagram | Twitter | Contact Me