Hello bookworms! I'm Nia and today I'm going to be talking about my favorite summer books.
To be completely honest, I couldn't think of books that took place in summer that I either adored or were amazing, because I feel most of them are contemporary, and though I tend to read contemporary during the summer, I also read fantasy and thrillers, so this post would be a mix of genres of books that remind me of summer when I first read them.
If you aren't familiar with Top 5 Tuesday, it is a group here on WordPress now currently run by Shanah over at BionicBookWorm, where each week they give you a topic and you talk about 5 books that fit that category.
Without any further ado, let's start with this week's topic!
When It's Real | Erin Watt
My thoughts: I'm pretty sure this book either took place during summer time or some scenes happened in said season, but every time I think about When It's Real, I picture summer time, hence why I'm talking about it in this post. I have a soft spot for books about bands or music or singers in general, and this book was so fun and addicting and right up my alley that I fell in love with it when I read it. If you're looking for a quick and entertaining read for this vacations, I highly recommend it!
Meet Oakley Ford-teen celebrity, renowned pop star, child of famous movie stars, hottie with millions of fangirls… and restless troublemaker. On the surface he has it all, but with his home life disintegrating, his music well suddenly running dry, and the tabloids having a field day over his outrageous exploits, Oakley's team decides it's time for an intervention. The result: an image overhaul, complete with a fake girlfriend meant to show the world he's settled down.
Enter seventeen-year-old Vaughn Bennett-devoted sister, part-time waitress, the definition of "normal." Under ordinary circumstances she'd never have taken this gig, but with her family strapped for cash, she doesn't have much of a choice. And for the money Oakley's team is paying her, she figures she can put up with outlandish Hollywood parties and a team of publicists watching her every move. So what if she thinks Oakley's a shallow, self-centered jerk? It's not like they're going to fall for each other in real life…right?
Daughter of The Burning City | Amanda Foody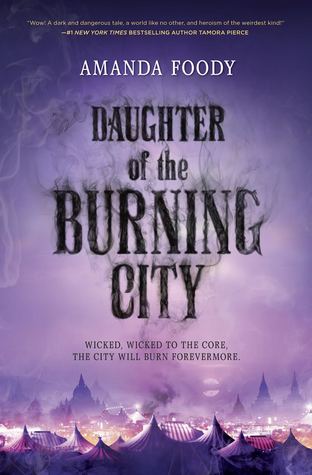 My thoughts: To me this book screams summer! I don't know why (maybe it could be the title), but I just love this book as a summertime read. I love Amanda Foody's writing and the way she creates a story and a character, and this was freaking amazing. Not only it had a carnival/ circus theme, but it also had an incredible and complex plot and unique characters, so I totally recommend you to pick up this book this summer in case you haven't read it yet (also her other book Ace of Shades, it was awesome!).
I have a review of this book, so click here in case you want to know what I thought about it!
Sixteen-year-old Sorina has spent most of her life within the smoldering borders of the Gomorrah Festival. Yet even among the many unusual members of the traveling circus-city, Sorina stands apart as the only illusion-worker born in hundreds of years. This rare talent allows her to create illusions that others can see, feel and touch, with personalities all their own. Her creations are her family, and together they make up the cast of the Festival's Freak Show.
But no matter how lifelike they may seem, her illusions are still just that—illusions, and not truly real. Or so she always believed…until one of them is murdered.
Desperate to protect her family, Sorina must track down the culprit and determine how they killed a person who doesn't actually exist. Her search for answers leads her to the self-proclaimed gossip-worker Luca, and their investigation sends them through a haze of political turmoil and forbidden romance, and into the most sinister corners of the Festival. But as the killer continues murdering Sorina's illusions one by one, she must unravel the horrifying truth before all of her loved ones disappear.
An Ember in The Ashes | Sabaa Tahir
My thoughts: It's been a while since I first read this book, but I remember absolutely loving it. In fact, I plan to do a re-read so I can continue with the rest of the series this summer, because I remember thinking it was the perfect summer book. I usually read more contemporary during the summer, but I also love me some fantasy, so this would be perfect if you're like me. I think it's because the atmosphere and where it took place, and because it's like a summer-y season there that I want to pick it up this season, but I could be wrong. Still, it was a very cool and unique story.
Laia is a slave.
Elias is a soldier.
Neither is free.
Under the Martial Empire, defiance is met with death. Those who do not vow their blood and bodies to the Emperor risk the execution of their loved ones and the destruction of all they hold dear.
It is in this brutal world, inspired by ancient Rome, that Laia lives with her grandparents and older brother. The family ekes out an existence in the Empire's impoverished backstreets. They do not challenge the Empire. They've seen what happens to those who do.
But when Laia's brother is arrested for treason, Laia is forced to make a decision. In exchange for help from rebels who promise to rescue her brother, she will risk her life to spy for them from within the Empire's greatest military academy.
There, Laia meets Elias, the school's finest soldier—and secretly, its most unwilling. Elias wants only to be free of the tyranny he's being trained to enforce. He and Laia will soon realize that their destinies are intertwined—and that their choices will change the fate of the Empire itself.
What I Lost | Alexandra Ballard
My thoughts: If you've been following me for a while, you'll probably have seen this book mentioned in this blog, but in case you don't remember: GO READ THIS BOOK. It was one of my favorites of last year, and I cannot stop recommending it because it was freaking amazing. Be aware that there are some trigger warnings regarding eating disorders, so if you're sensitive just be cautious and know that. But I still think it was such a powerful and raw story that focused on the recovery of an eating disorder.
I have a review of this book here, in case you want to check it out!
What sixteen-year-old Elizabeth has lost so far: forty pounds, four jean sizes, a boyfriend, and her peace of mind. As a result, she's finally a size zero. She's also the newest resident at Wallingfield, a treatment center for girls like her—girls with eating disorders. Elizabeth is determined to endure the program so she can go back home, where she plans to start restricting her food intake again. She's pretty sure her mom, who has her own size 0 obsession, needs treatment as much as she does. Maybe even more. Then Elizabeth begins receiving mysterious packages. Are they from her ex-boyfriend, a secret admirer, or someone playing a cruel trick?
Dangerous Girls | Abigail Haas
My thoughts: I know that this book takes place during spring break, but I don't care, this is a perfect summer time book to me. This book was such an amazing mystery/thriller, and despite knowing the big revelation made towards the end of the story, I still think it was such a clever story and well written, and I highly recommend it if you're looking for a YA thriller for this summer.
I have a review of this book here, in case you want to know all my thoughts!
It's Spring Break of senior year. Anna, her boyfriend Tate, her best friend Elise, and a few other close friends are off on a debaucherous trip to Aruba that promises to be the time of their lives. But when Elise is found brutally murdered, Anna finds herself trapped in a country not her own, fighting against vile and contemptuous accusations.
As Anna sets out to find her friend's killer, she discovers hard truths about her friendships, the slippery nature of truth, and the ache of young love.
As she awaits the judge's decree, it becomes clear that everyone around her thinks she is not just guilty, but dangerous. When the truth comes out, it is more shocking than one could ever imagine…
What are your favorite summer time books? Do you have any recommendations? Let me know in the comments if you've read any of these books or have them on your TBR!
Follow me on BlogLovin'
Goodreads | Instagram | Twitter | Contact Me