Hello bookworms! I'm Nia and today I'm going to be talking about my favorite books that I've read so far this year!
Now I have to say that I've read a LOT of books. So far in 2018 I've read a total of 120 books and have already completed my Goodreads goal, so needless to say I have more than 5 favorites. However, I'm mostly going to talk about the books that I adored out of all of them and that stood out to me the most, despite having already more than 10 favorites.
If you aren't familiar with Top 5 Wednesday, it is a Goodeads group now currently run by Sam over at ToughtsOfTomes on Youtube, where each week they give you a topic and you talk about 5 books that fit that category. You can join the group here if you want to participate!
Without any further ado, let's start with this week's topic!
Ace of Shades | Amanda Foody
My thoughts: This was one of those books I knew I was going to love before I actually read it. Not only the premise sounded right up my alley, but I really enjoyed her previous work. I was still so pleasantly surprised by the characters and the world that I completely fell in love with them right away, and I cannot wait to read King of Fools and discover more about the series!
I have a review of this book here in case you want to check it out!
Enne Salta was raised as a proper young lady, and no lady would willingly visit New Reynes, the so-called City of Sin. But when her mother goes missing, Enne must leave her finishing school—and her reputation—behind to follow her mother's trail to the city where no one survives uncorrupted.
Frightened and alone, her only lead is a name: Levi Glaisyer. Unfortunately, Levi is not the gentleman she expected—he's a street lord and a con man. Levi is also only one payment away from cleaning up a rapidly unraveling investment scam, so he doesn't have time to investigate a woman leading a dangerous double life. Enne's offer of compensation, however, could be the solution to all his problems.
Their search for clues leads them through glamorous casinos, illicit cabarets and into the clutches of a ruthless mafia donna. As Enne unearths an impossible secret about her past, Levi's enemies catch up to them, ensnaring him in a vicious execution game where the players always lose. To save him, Enne will need to surrender herself to the city…
And she'll need to play.
Legendary | Stephanie Garber
My thoughts: This was actually one of the books that surprised me the most, because even though I enjoyed Caraval and was anticipating this release, I didn't know I was going to love it as much as I did. I have a soft stop for books that have tarot cards, fates or anything like that in their premises or plots, so this one was such an entertaining read to me. I adored the world of Caraval, and actually enjoyed the characters a bit more than in the first installment.
A heart to protect. A debt to repay. A game to win.
After being swept up in the magical world of Caraval, Donatella Dragna has finally escaped her father and saved her sister Scarlett from a disastrous arranged marriage. The girls should be celebrating, but Tella isn't yet free. She made a desperate bargain with a mysterious criminal, and what Tella owes him no one has ever been able to deliver: Caraval Master Legend's true name.
The only chance of uncovering Legend's identity is to win Caraval, so Tella throws herself into the legendary competition once more—and into the path of the murderous heir to the throne, a doomed love story, and a web of secrets…including her sister's. Caraval has always demanded bravery, cunning, and sacrifice. But now the game is asking for more. If Tella can't fulfill her bargain and deliver Legend's name, she'll lose everything she cares about—maybe even her life. But if she wins, Legend and Caraval will be destroyed forever.
Welcome, welcome to Caraval…the games have only just begun.
The First Time She Drowned | Kerry Kletter
My thoughts: This was another surprising read to me. To be honest, I didn't expect to love it and hit me as hard as it did, but it was such a raw and beautiful story. It had a few trigger warnings, so be aware of that, but if you're looking for a great book that deals with depression and abuse, I highly recommend you this one. It was hard to read sometimes, but it was so worth it.
I have a review of this book here in case you want to check it out!
Cassie O'Malley has been trying to keep her head above water—literally and metaphorically—since birth. It's been two and a half years since Cassie's mother dumped her in a mental institution against her will, and now, at eighteen, Cassie is finally able to reclaim her life and enter the world on her own terms.
But freedom is a poor match against a lifetime of psychological damage. As Cassie plumbs the depths of her new surroundings, the startling truths she uncovers about her own family narrative make it impossible to cut the tethers of a tumultuous past. And when the unhealthy mother-daughter relationship that defined Cassie's childhood and adolescence threatens to pull her under once again, Cassie must decide: whose version of history is real? And more important, whose life must she save?
Renegades | Marissa Meyer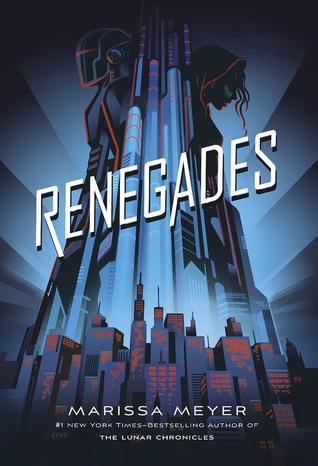 My thoughts: Oh, my God! I totally wasn't expecting to enjoy this book. I haven't heard many people talking about this book right after its release, so I was a bit hesitant and scared to pick it up, but I ended up completely loving it, which was new. It was such a fast paced read with lots of twists and turns, and I adored the cast of characters. I cannot wait for Archenemies to come out so I can finally know what's going to happen after that ending!
I have a review of this book here in case you want to check it out!

The Renegades are a syndicate of prodigies — humans with extraordinary abilities — who emerged from the ruins of a crumbled society and established peace and order where chaos reigned. As champions of justice, they remain a symbol of hope and courage to everyone… except the villains they once overthrew.
Nova has a reason to hate the Renegades, and she is on a mission for vengeance. As she gets closer to her target, she meets Adrian, a Renegade boy who believes in justice — and in Nova. But Nova's allegiance is to a villain who has the power to end them both.
Restore Me | Tahereh Mafi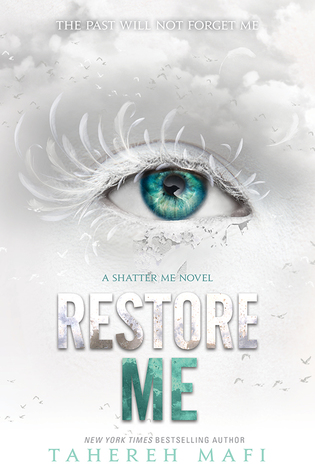 My thoughts: Well, I think this is nothing new since I haven't stop talking about this book ever since I finished it. I was kind of scared because this could either have gone two ways: it could be an amazing sequel or ruined the series to me. Luckily for me, it was the first thing. I adored this installment. The characters and their relationships, the storyline… EVERYTHING, I'm a sucker for Tahereh's writing and this series in general. And this book ruined me and broke my heart into a million pieces.
I have a review of this book here in case you want to check it out!
Juliette Ferrars thought she'd won. She took over Sector 45, was named the new Supreme Commander, and now has Warner by her side. But she's still the girl with the ability to kill with a single touch—and now she's got the whole world in the palm of her hand. When tragedy hits, who will she become? Will she be able to control the power she wields and use it for good?
What are your favorite books that you've read this year? Have you read any of these ones I've mentioned above or do you have them on your TBR? Let me know in the comments if you've set a reading goal and have already completed as well!
Follow me on BlogLovin'
Goodreads | Instagram | Twitter | Contact Me