Hello bookworms! I'm Nia and today I'm going to be talking about the books I've read in June.
June was such a great reading month for me! Not only I completed my Goodreads challenged by reading more than 100 books, but I also ended up finishing a total of 19 books this month. It would have been 20 but there was one novel that I ended up putting down halfway through it because I wasn't really enjoying it, so I'll give it another chance in the future.
I'm going to be leaving links to Goodreads for each book I'm going to mention in case one of them seems interesting to you.
But yeah, without any further ado, let's start with this post!
Brightly Burning | Alexa Donne
⭐️
⭐️
⭐️
My thoughts: I have a review of this book already posted on this blog, so click here if you want to know what I thought about this book!
Seventeen-year-old Stella Ainsley wants just one thing: to go somewhere—anywhere—else. Her home is a floundering spaceship that offers few prospects, having been orbiting an ice-encased Earth for two hundred years. When a private ship hires her as a governess, Stella jumps at the chance. The captain of the Rochester, nineteen-year-old Hugo Fairfax, is notorious throughout the fleet for being a moody recluse and a drunk. But with Stella he's kind.
But the Rochester harbors secrets: Stella is certain someone is trying to kill Hugo, and the more she discovers, the more questions she has about his role in a conspiracy threatening the fleet.
Beyond a Darkened Shore | Jessica Leake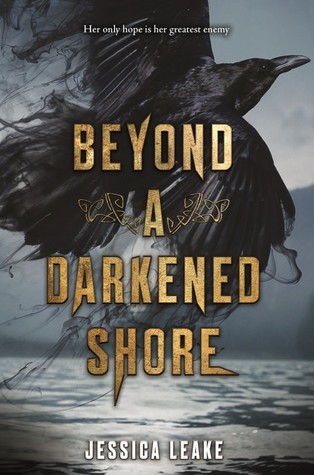 ⭐️⭐️⭐️.75
My thoughts: I have a review of this book already posted on this blog, so click here if you want to know what I thought about this book!
The ancient land of Éirinn is mired in war. Ciara, Princess of Mide, has never known a time when Éirinn's kingdoms were not battling for power, or Northmen were not plundering their shores.
The people of Mide have thankfully always been safe because of Ciara's unearthly ability to control her enemies' minds and actions. But lately, a mysterious crow has been appearing to Ciara, whispering warnings of an even darker threat. Although her clansmen dismiss her visions as pagan nonsense, Ciara fears this coming evil will destroy not just Éirinn, but the entire world.
Then the crow leads Ciara to Leif, a young Northman leader. Leif should be Ciara's enemy, but when Ciara discovers that he, too, shares her prophetic visions, she knows he's something more. Leif is mounting an impressive army, and with Ciara's strength in battle the two might have a chance to save their world.
With evil rising around them, they'll do what it takes to defend the land they love…even if it means making the greatest sacrifice of all.
Lucky In Love | Kasie West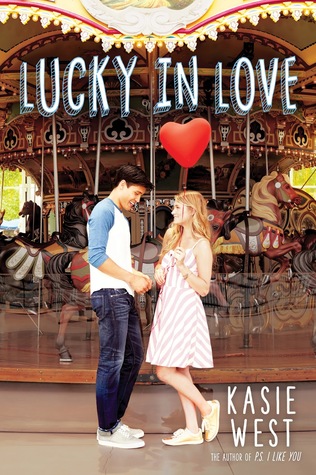 ⭐️.25
My thoughts: I have a review of this book already posted on this blog, as part of a mini review series, so click here if you want to know what I thought about this book!
Maddie's not impulsive. She's all about hard work and planning ahead. But one night, on a whim, she buys a lottery ticket. And then, to her astonishment—
She wins!
In a flash, Maddie's life is unrecognizable. No more stressing about college scholarships. Suddenly, she's talking about renting a yacht. And being in the spotlight at school is fun…until rumors start flying, and random people ask her for loans. Now Maddie isn't sure who she can trust.
Except for Seth Nguyen, her funny, charming coworker at the local zoo. Seth doesn't seem aware of Maddie's big news. And, for some reason, she doesn't want to tell him. But what will happen if he learns her secret?
Pucked | Helena Hunting 
⭐️⭐️⭐️.25
My thoughts: I was super excited to pick up this book because not only I've heard amazing things about this series, but also because I'd read another book by heard and really enjoyed it, and overall it was a solid read, though I didn't love it as much as I wanted to.
The story was okay, and I think I would have enjoyed it more nor I have been in a reading slump at the time, because it was funny and easy to follow. The characters, on another hand, I had some issues with. Though I liked the romance and the main character's development, and how sometimes it was hilarious and I was laughing out loud, there were other times were I had some issues because some of the things they either said or did were a bit problematic.
I also think there were too many sex scenes. I don't mind smut, but I think that became a main focus on the story and left the overall plot left out, and I didn't care that much. Overall, despite those minor issues, it was such a fast paced novel and I had a good time reading it.

With a famous NHL player for a step-brother, Violet Hall is well acquainted with the playboy reputation many hockey stars come with. She's smart enough to steer clear of those hot, well-built boys with unparalleled stamina. That is until she meets the legendary team captain—Alex Waters.
Violet isn't interested in his pretty, beat-up face, or his rock-hard six-pack abs. But when Alex inadvertently obliterates Violet's previous misapprehension regarding the inferior intellect of hockey players, he becomes more than just a hot body with a face to match.
In what can only be considered a complete lapse in judgment, Violet finds out just how good Alex is with the hockey stick in his pants. But what starts out as a one-night stand, quickly turns into something more. Post-night of orgasmic magic, Alex starts to call, and text, and e-mail and send extravagant—and quirky—gifts, making him difficult to ignore, and even more difficult not to like.
The problem is, the media portrays Alex as a total player, and Violet doesn't want to be part of the game.
The Goose Girl | Shannon Hale 
⭐️⭐️.5
My thoughts: I have a review of this book already posted on this blog, as part of a mini review series, so click here if you want to know what I thought about this book!

Ani, Crown Princess of Kildenree, has spent her childhood learning the language of the birds. But though Ani can speak to animals, she is never quite comfortable speaking with people. So when Ani's silver-tongued lady in waiting leads a mutiny during her journey to marry a prince in a foreign land, Ani cannot persuade anyone to help her. She becomes a goose girl and must use her own special powers to fulfill her true destiny.
Shannon Hale's Books of Bayern have become beloved, perennial favorites, finding more and more readers every year since they were published over a decade ago. Now with fresh new covers, the fantastical, romantic, and gorgeously written series that first introduced Hale as a master storyteller is prime to be discovered by the a whole new generation.
Beast: A Tale Of Love and Revenge | Lisa Jensen
⭐️
My thoughts: I have a review of this book already posted on this blog, as part of a mini review series, so click here if you want to know what I thought about this book!
They say Château Beaumont is cursed. But servant-girl Lucie can't believe such foolishness about handsome Jean-Loup Christian Henri LeNoir, Chevalier de Beaumont, master of the estate. But when the chevalier's cruelty is revealed, Lucie vows to see him suffer. A wisewoman grants her wish, with a spell that transforms Jean-Loup into monstrous-looking Beast, reflecting the monster he is inside. But Beast is nothing like the chevalier. Jean-Loup would never patiently tend his roses; Jean-Loup would never attempt poetry; Jean-Loup would never express remorse for the wrong done to Lucie. Gradually, Lucie realizes that Beast is an entirely different creature from the handsome chevalier, with a heart more human than Jean-Loup's ever was. Lucie dares to hope that noble Beast has permanently replaced the cruel Jean-Loup — until an innocent beauty arrives at Beast's château with the power to break the spell.
Pacifica | Kristen Simmons
⭐️⭐️⭐️⭐️
My thoughts: I have a review of this book already posted on this blog, so click here if you want to know what I thought about this book!

Marin is corsario royalty, a pirate like her father and his father before him. Sailing the ocean to chase adventure is in her blood. But these days no one cares that the island town her people call home is named after her grandfather. They have a new leader, one who promises an end to their hunger – and one who thinks that girls are meant for the kitchen or the brothel. Marin knows she's meant for more than that, and with the sudden influx of weapons on the island, and rumors of a pending deal with the enemy oil nation in her wake, she knows a big score to gain the council's favor is the only way to save her people, and herself.
Ross lives a life of privilege. As the president's son he wants for nothing, but he longs for a life of adventure. On a dare, he convinces his best friend Adam to sneak out to the Docks, the site of local race riots between the poor Shorlings and the upper class. But when Adam is arrested along with the other Shorlings, and not even the president is willing to find him, Ross finds himself taking matters into his own hands. He journeys back into the Docks, ready to make deals with anyone, even a beautiful pirate, if it means Adam's safe return.
When Marin and Ross meet in dangerous Shoreling territory he sees a way to get his friend back and she sees her ticket home. The ransom a president's son would command could feed her people for years and restore her family's legacy. But somewhere in the middle of the ocean, Marin must decide if her heart can handle handing over the only person who has ever seen her as more than a pirate.
Storm Siren | Mary Weber
⭐️⭐️⭐️.5
My thoughts: I have a review of this book already posted on this blog, so click here if you want to know what I thought about this book!

In a world at war, a slave girl's lethal curse could become one kingdom's weapon of salvation. If the curse—and the girl—can be controlled.
As a slave in the war-weary kingdom of Faelen, seventeen-year-old Nym isn't merely devoid of rights, her Elemental kind are only born male and always killed at birth — meaning, she shouldn't even exist.
Standing on the auction block beneath smoke-drenched mountains, Nym faces her fifteenth sell. But when her hood is removed and her storm-summoning killing curse revealed, Nym is snatched up by a court advisor and given a choice: be trained as the weapon Faelen needs to win the war, or be killed.
Choosing the former, Nym is unleashed into a world of politics, bizarre parties, and rumors of an evil more sinister than she's being prepared to fight . . . not to mention the handsome trainer whose dark secrets lie behind a mysterious ability to calm every lightning strike she summons.
But what if she doesn't want to be the weapon they've all been waiting for?
Set in a beautifully eclectic world of suspicion, super abilities, and monsters, Storm Siren is a story of power. And whoever controls that power will win.
I See London, I See France | Sarah Mlynowski
⭐️⭐️.5
My thoughts: I've seen this around lately and heard amazing things about it, so I decided that now that summer had arrived it would be the perfect time for me to finally read it. And let me tell you what went wrong.
First of all, I adored the travelling aspect of the story. It was so fun and I got to read and visit a lot of places in Europe and learn a lot of things about them, which was awesome. It brought me back so many great moments and I thoroughly enjoyed those parts of the story.
However, I completely disliked the protagonist's friend. She was such a selfish brat and manipulative and I was so mad at her during more than half of the book. I don't care if she ended up apologizing in the last 10 pages of the story, I was pissed during most of the time I was reading the book. She was so toxic and I was shaking my head the entire time.
I also didn't like how mental health was addressed in the story. I don't want to spoil anything but it left a weird taste in my mouth those parts and nope, I didn't like it.
The romance was okay, and if you're looking for a quick, fast paced, summer traveling book where the characters are a little bit older I would say maybe pick it up, because those parts were awesome, but I had a lot of issues that I couldn't ignore about the rest of the characters.
Nineteen-year-old Sydney has the perfect summer mapped out. She's spending the next four and half weeks traveling through Europe with her childhood best friend, Leela. Their plans include Eiffel-Tower selfies, eating cocco gelato, and making out with très hot strangers. Her plans do not include Leela's cheating ex-boyfriend showing up on the flight to London, falling for the cheating ex-boyfriend's très hot friend, monitoring her mother's spiraling mental health via texts, or feeling like the rope in a friendship tug-of-war.
As Sydney zigzags through Amsterdam, Switzerland, Italy, and France, she must learn when to hold on, when to keep moving, and when to jump into the Riviera…wearing only her polka-dot underpants.
Undead Girl Gang | Lily Anderson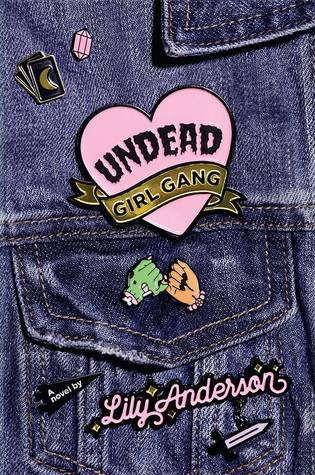 ⭐️⭐️⭐️⭐️.25
My thoughts: I have a review of this book already posted on this blog, so click here if you want to know what I thought about this book!
Mila Flores and her best friend Riley have always been inseparable. There's not much excitement in their small town of Cross Creek, so Mila and Riley make their own fun, devoting most of their time to Riley's favorite activity: amateur witchcraft.
So when Riley and two Fairmont Academy mean girls die under suspicious circumstances, Mila refuses to believe everyone's explanation that her BFF was involved in a suicide pact. Instead, armed with a tube of lip gloss and an ancient grimoire, Mila does the unthinkable to uncover the truth: she brings the girls back to life.
Unfortunately, Riley, June, and Dayton have no recollection of their murders, but they do have unfinished business to attend to. Now, with only seven days until the spell wears off and the girls return to their graves, Mila must wrangle the distracted group of undead teens and work fast to discover their murderer…before the killer strikes again.
Grace and Fury | Tracy Banghart
⭐️⭐️⭐️⭐️.25
My thoughts: I have a review of this book already posted on this blog, so click here if you want to know what I thought about this book!
In a world where women have no rights, sisters Serina and Nomi Tessaro face two very different fates: one in the palace, the other in prison.
Serina has been groomed her whole life to become a Grace–someone to stand by the heir to the throne as a shining, subjugated example of the perfect woman. But when her headstrong and rebellious younger sister, Nomi, catches the heir's eye, it's Serina who takes the fall for the dangerous secret that Nomi has been hiding.
Now trapped in a life she never wanted, Nomi has only one way to save Serina: surrender to her role as a Grace until she can use her position to release her sister. This is easier said than done. A traitor walks the halls of the palace, and deception lurks in every corner. But Serina is running out of time, imprisoned on an island where she must fight to the death to survive and one wrong move could cost her everything.
The Queen's Rising | Rebecca Ross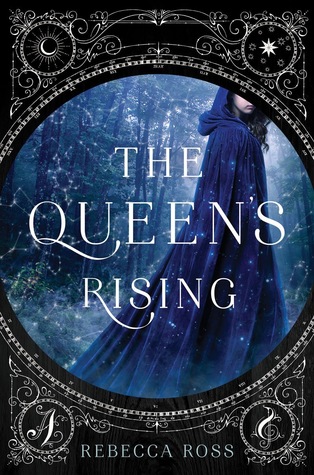 ⭐️⭐️⭐️⭐️
My thoughts: I have a review of this book already posted on this blog, so click here if you want to know what I thought about this book!
When her seventeenth summer solstice arrives, Brienna desires only two things: to master her passion and to be chosen by a patron.
Growing up in the southern Kingdom of Valenia at the renowned Magnalia House should have prepared her for such a life. While some are born with an innate talent for one of the five passions—art, music, dramatics, wit, and knowledge—Brienna struggled to find hers until she belatedly chose to study knowledge. However, despite all her preparations, Brienna's greatest fear comes true—the solstice does not go according to plan and she is left without a patron.
Months later, her life takes an unexpected turn when a disgraced lord offers her patronage. Suspicious of his intent, and with no other choices, she accepts. But there is much more to his story, and Brienna soon discovers that he has sought her out for his own vengeful gain. For there is a dangerous plot being planned to overthrow the king of Maevana—the archrival kingdom of Valenia—and restore the rightful queen, and her magic, to the northern throne. And others are involved—some closer to Brienna than she realizes.
With war brewing between the two lands, Brienna must choose whose side she will remain loyal to—passion or blood. Because a queen is destined to rise and lead the battle to reclaim the crown. The ultimate decision Brienna must determine is: Who will be that queen?
The Exact Opposite of Okay | Laura Steven
⭐️⭐️⭐️⭐️⭐️
My thoughts: I have a review of this book already posted on this blog, so click here if you want to know what I thought about this book!
Izzy O'Neill is an aspiring comic, an impoverished orphan, and a Slut Extraordinaire. Or at least, that's what the malicious website flying round the school says. Izzy can try all she wants to laugh it off – after all, her sex life, her terms – but when pictures emerge of her doing the dirty with a politician's son, her life suddenly becomes the centre of a national scandal. Izzy's never been ashamed of herself before, and she's not going to start now. But keeping her head up will take everything she has…
Tithe | Holly Black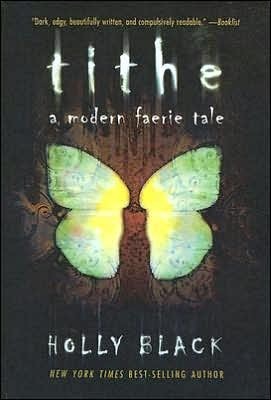 ⭐️⭐️.25
My thoughts: I have a review of this book already posted on this blog, as part of a mini review series, so click here if you want to know what I thought about this book!
Sixteen-year-old Kaye is a modern nomad. Fierce and independent, she travels from city to city with her mother's rock band until an ominous attack forces Kaye back to her childhood home. There, amid the industrial, blue-collar New Jersey backdrop, Kaye soon finds herself an unwilling pawn in an ancient power struggle between two rival faerie kingdoms – a struggle that could very well mean her death.
Starry Eyes | Jen Bennett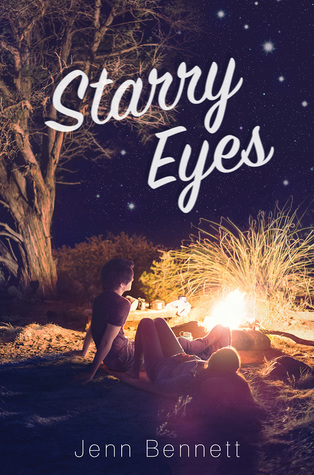 ⭐️⭐️⭐️⭐️.25
My thoughts: I was super excited to read this novel after loving her previous one, and I must say it didn't disappoint me at all. It was such a funny and cute contemporary, and I don't know why but Jenn Bennett's books always have some unique characters.
I really enjoyed the whole journey the characters went through in the book. I don't usually read novels about sports or hiking, but I found I had such a great time with this one, because it wasn't heavy nor I didn't get bored. Quite the opposite, frankly.
The characters were amazing. I loved the lovers-to-enemies-to-lovers trope, and the romance was done so well. I adored the love interest and the interactions between them, and they both had such a great development throughout the book.
It was such an entertaining read, and I flew through it. I couldn't put it down, and I think I made the right decision to read it on summer, because it was perfect.
Ever since last year's homecoming dance, best friends-turned-best enemies Zorie and Lennon have made an art of avoiding each other. It doesn't hurt that their families are the modern day, Californian version of the Montagues and Capulets.
But when a group camping trip goes south, Zorie and Lennon find themselves stranded in the wilderness. Alone. Together.
What could go wrong?
With no one but each other for company, Zorie and Lennon have no choice but to hash out their issues via witty jabs and insults as they try to make their way to safety. But fighting each other while also fighting off the forces of nature makes getting out of the woods in one piece less and less likely.
And as the two travel deeper into Northern California's rugged backcountry, secrets and hidden feelings surface. But can Zorie and Lennon's rekindled connection survive out in the real world? Or was it just a result of the fresh forest air and the magic of the twinkling stars?
Bring Me Their Hearts | Sara Wolf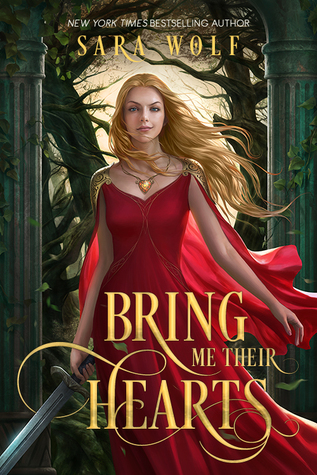 ⭐️⭐️⭐️.5
My thoughts: I have a review of this book already posted on this blog, so click here if you want to know what I thought about this book!
Zera is a Heartless – the immortal, unageing soldier of a witch. Bound to the witch Nightsinger ever since she saved her from the bandits who murdered her family, Zera longs for freedom from the woods they hide in. With her heart in a jar under Nightsinger's control, she serves the witch unquestioningly.
Until Nightsinger asks Zera for a Prince's heart in exchange for her own, with one addendum; if she's discovered infiltrating the court, Nightsinger will destroy her heart rather than see her tortured by the witch-hating nobles.
Crown Prince Lucien d'Malvane hates the royal court as much as it loves him – every tutor too afraid to correct him and every girl jockeying for a place at his darkly handsome side. No one can challenge him – until the arrival of Lady Zera. She's inelegant, smart-mouthed, carefree, and out for his blood. The Prince's honor has him quickly aiming for her throat.
So begins a game of cat and mouse between a girl with nothing to lose and a boy who has it all.
Winner takes the loser's heart.
Literally.
Girl Against the Universe | Paula Stokes 
⭐️⭐️⭐️⭐️.75
My thoughts: Oh, my my! This book was so good and took me completely by surprise because I honestly wasn't expecting to love it as much as I did, and for me to give a contemporary book almost five stars says a lot.
I was blown away by how much I related and connected with the main character. She was such an interesting one, and had an amazing character development. The dynamics between her and the love interest were so well done and gold, and something I adored about this book was that it was focused on coping with her mental illness and trying to find something she loved doing to cope with that.
Despite me not being the biggest fan about books about sports, I found that this one was super entertaining and fun to read. I adored the parts when she was playing tennis, because you could genuinely see that she loved and cared about what she was doing.
It was such a fast paced book that made me not want to put it down, and it took me less than three hours to finish, so that's saying something. I also loved the mental health discussion and the relationship she had with her therapist, and I highly recommend it!
Maguire is bad luck.
No matter how many charms she buys off the internet or good luck rituals she performs each morning, horrible things happen when Maguire is around. Like that time the roller coaster jumped off its tracks. Or the time the house next door caught on fire. Or that time her brother, father, and uncle were all killed in a car crash—and Maguire walked away with barely a scratch.
It's safest for Maguire to hide out in her room, where she can cause less damage and avoid new people who she could hurt. But then she meets Jordy, an aspiring tennis star. Jordy is confident, talented, and lucky, and he's convinced he can help Maguire break her unlucky streak. Maguire knows that the best thing she can do for Jordy is to stay away. But it turns out staying away may be harder than she thought.
Legendary | Stephanie Garber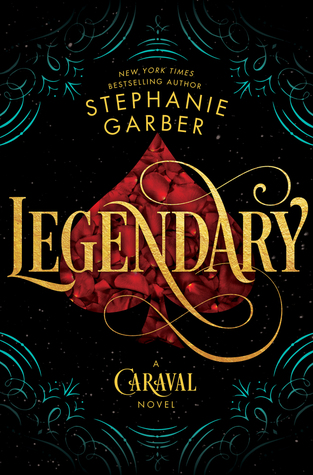 ⭐️⭐️⭐️⭐️⭐️
My thoughts: I have a review of this book already posted on this blog, so click here if you want to know what I thought about this book!
A heart to protect. A debt to repay. A game to win.
After being swept up in the magical world of Caraval, Donatella Dragna has finally escaped her father and saved her sister Scarlett from a disastrous arranged marriage. The girls should be celebrating, but Tella isn't yet free. She made a desperate bargain with a mysterious criminal, and what Tella owes him no one has ever been able to deliver: Caraval Master Legend's true name.
The only chance of uncovering Legend's identity is to win Caraval, so Tella throws herself into the legendary competition once more—and into the path of the murderous heir to the throne, a doomed love story, and a web of secrets…including her sister's. Caraval has always demanded bravery, cunning, and sacrifice. But now the game is asking for more. If Tella can't fulfill her bargain and deliver Legend's name, she'll lose everything she cares about—maybe even her life. But if she wins, Legend and Caraval will be destroyed forever.
Welcome, welcome to Caraval…the games have only just begun.
I'll Meet You There | Heather Demetrios
⭐️⭐️⭐️.75
My thoughts: I don't know why I was expecting to love this book. I've read another book by hers and really enjoyed it, so I had some high expectations going into this one, and though I overall enjoyed it and think it was a great book, I had some issues with some of the characters that were in it and their behaviors.
First of all, I really liked the main character. She had such a great development in the story, and I was happy to read about a main character that was struggling with money and had some family issues. I think those parts were done so realistic and you could feel so frustrated at some of the things that were happening to her.
I also really enjoyed the fact that one of the characters had PTSD after war. It was quite easy to know him more because he had a few POVs where he was kind of explaining what was his life like after everything he had gone trough, and it was hard and raw, but those parts were really well done. Also the strange relationship between them was pretty intriguing and interesting and kept me wanting to continue reading the story.
However, there were some comments the love interest said at the beginning and in the middle of the book that were so problematic and I think they weren't really addressed in the story. I didn't like the homophobic comments thrown at some parts, and that made my reading experience a bit harder.
Overall, it talked about some important topics regarding mental health and war in general, and the story was pretty solid for me, despite having some issues with one of the character's behavior.
If Skylar Evans were a typical Creek View girl, her future would involve a double-wide trailer, a baby on her hip, and the graveyard shift at Taco Bell. But after graduation, the only thing separating Skylar from art school is three months of summer…until Skylar's mother loses her job, and Skylar realizes her dreams may be slipping out of reach.
Josh had a different escape route: the Marines. But after losing his leg in Afghanistan, he returns home, a shell of the cocksure boy he used to be.
What brings Skylar and Josh together is working at the Paradise—a quirky motel off California's Highway 99. Despite their differences, their shared isolation turns into an unexpected friendship and, soon, something deeper.
Compelling and ultimately hopeful, this is a powerful examination of love, loss, and resilience.
What books have you read this month and which one was your most and least favorite read? Let me know if you've read any of these books already or have them on your TBR!
Follow me on BlogLovin'
Goodreads | Instagram | Twitter | Contact Me