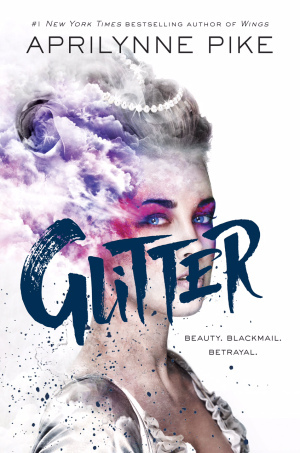 Title: Glitter
Author: Aprilynne Pike
Series: Glitter #1
Genre: Young Adult, Sci-fi, Dystopia, Romance, Futuristic
Publisher: Random House
Publication date: October 25th, 2016
Pages: 384
My rating: 
---
Outside the palace of Versailles, it's modern day. Inside, the people dress, eat, and act like it's the eighteenth century—with the added bonus of technology to make court life lavish, privileged, and frivolous. The palace has every indulgence, but for one pretty young thing, it's about to become a very beautiful prison.
When Danica witnesses an act of murder by the young king, her mother makes a cruel power play . . . blackmailing the king into making Dani his queen. When she turns eighteen, Dani will marry the most ruthless and dangerous man of the court. She has six months to escape her terrifying destiny. Six months to raise enough money to disappear into the real world beyond the palace gates.
Her ticket out? Glitter. A drug so powerful that a tiny pinch mixed into a pot of rouge or lip gloss can make the wearer hopelessly addicted. Addicted to a drug Dani can sell for more money than she ever dreamed.
But in Versailles, secrets are impossible to keep. And the most dangerous secret—falling for a drug dealer outside the palace walls—is one risk she has to take.
"In truth, it oddly anchors me. Maybe it's the pain in my ribs that reminds me I'm alive."
I knew I had to read this book after looking at that cover, because hello: it's gorgeous! That was one of the things I first saw that made me interested in it, but after I read the premise I decided to purchase it and see if it was just as good as it sounded. And though it was an enjoyable read and I overall had a good time reading it, there were a few problems I had that I couldn't look past.
I was already aware before starting this book that the main character was going to be quite annoying and frustrating in the story, not only because it was kind of already implied in the synopsis, but also because that's what most of the people said in their reviews. And yes, she was quite frustrating at times, and she didn't make the greatest of decisions throughout the story. But I don't know, there was something about her that made me want to keep reading the story.
I would say I had a love/hate relationship with her. On one hand, she was quite hypocrite and she ended up doing things that at the beginning of the story she was complaining about, and the decisions she made throughout the story made me want to throw the book against a wall. But on the other hand, she had a good development, and just because she was that unlikeable it made my reading experience much more different, and I kind of enjoyed reading from the perspective of a person with so blurry morals.
"Too late I realized that in my distraction I've allowed my progress to slow. When I next feel a presence at my shoulder, I'm certain I won't be so lucky as to turn and find a friendly face a second time."
I wasn't the biggest fan of the romance. I found it super insta love-y, and also it took too much importance in the story, till the point that the whole plot started focusing more on the drama between those two characters, and I wanted to read more about other things. It was a bit rushed as well, and I think it happened so fast.
Also I was a bit disappointed because the world building was pretty much lacking. I didn't know much about the world before and what happened that created that "utopic" futuristic story. I didn't know how Glitter was created, and I found myself wanting to know more about those things to connect more with the story and the characters.
However, I should say that it was a pretty addicting and fast paced story, and I wanted to keep reading to know what was going to happen next. There was a LOT of drama, so if you're not a fan of that I suggest you skip this title, but I overall enjoyed it, especially after that ending, because oh, my god, it had such a cliffhanger!
Follow me on BlogLovin'
Goodreads | Instagram | Twitter | Contact Me