Hello bookworms! I'm Nia and today I'm going to be doing a tag because it's be the longest ever since I did one of these.
TOMORROW IS MY BIRTHDAY, GUYS! I wanted to post this tag today because I won't be very active tomorrow to write a tag or just to see everything, and since I had a post scheduled for Tuesday, I wanted to post something today!
This is the second year I'm doing this tag, and it was so much fun. Let me know if you would like to see a birthday haul or something like that and I'll definitely do one!
Without any further ado, let's start with the tag!

FLOUR. A book that was a little slow to start off but that really picked up as it went along.
My thoughts: I've already said that in my review, but if you've read this book as well maybe you'll agree with me that the beginning was quite slow and it took a little bit for the plot to start, but once it did, it was such an incredible read to me. I loved that despite being a retelling of the Little Mermaid and having some elements of the original tale, it became its own story, and I adored the character arc. To be honest, To Kill a Kingdom was more on the slower paced side, but I was so happy I've read it.
I have a review of this book here, in case you want to know my thoughts about it.
Princess Lira is siren royalty and the most lethal of them all. With the hearts of seventeen princes in her collection, she is revered across the sea. Until a twist of fate forces her to kill one of her own. To punish her daughter, the Sea Queen transforms Lira into the one thing they loathe most—a human. Robbed of her song, Lira has until the winter solstice to deliver Prince Elian's heart to the Sea Queen or remain a human forever.
The ocean is the only place Prince Elian calls home, even though he is heir to the most powerful kingdom in the world. Hunting sirens is more than an unsavory hobby—it's his calling. When he rescues a drowning woman in the ocean, she's more than what she appears. She promises to help him find the key to destroying all of sirenkind for good—But can he trust her? And just how many deals will Elian have to barter to eliminate mankind's greatest enemy?
MARGARINE
.
A book that had a really rich and great plot.
My thoughts: I freaking loved this book. It was everything I wanted and more. I really enjoyed the plot in this novel and I was so happy to be back into that world, because after finishing Daughter of the Burning City I was craving more. Though I would say this first installment was a bit more focused on the characters, it still had a very interesting and intriguing plot, with lots of twists and turns, and I'm telling you I CANNOT WAIT to read King of Fools and discover more about the world and the game!
I have a review of this book here, in case you want to know my thoughts about it.
Enne Salta was raised as a proper young lady, and no lady would willingly visit New Reynes, the so-called City of Sin. But when her mother goes missing, Enne must leave her finishing school—and her reputation—behind to follow her mother's trail to the city where no one survives uncorrupted.
Frightened and alone, her only lead is a name: Levi Glaisyer. Unfortunately, Levi is not the gentleman she expected—he's a street lord and a con man. Levi is also only one payment away from cleaning up a rapidly unraveling investment scam, so he doesn't have time to investigate a woman leading a dangerous double life. Enne's offer of compensation, however, could be the solution to all his problems.
Their search for clues leads them through glamorous casinos, illicit cabarets and into the clutches of a ruthless mafia donna. As Enne unearths an impossible secret about her past, Levi's enemies catch up to them, ensnaring him in a vicious execution game where the players always lose. To save him, Enne will need to surrender herself to the city…
And she'll need to play.
EGGS.

A

book that you didn't think you were going to like but ended up loving it.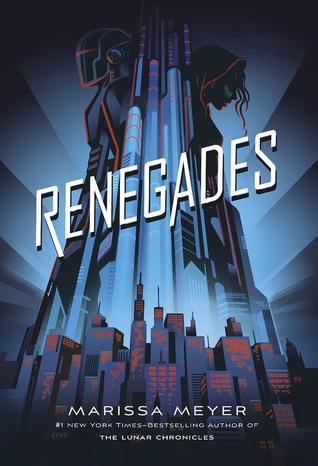 My thoughts: I don't know why but I went with very low expectations into this one. Maybe it was because of the plot and the whole superhero thing, but I wasn't expecting to fall in love with Renegades. And oh, my my, I was completely wrong! It was such a fantastic and fun read and I absolutely adored it. The characters were so well done and have incredible developments, and I actually ended up really enjoying the whole superhero/villain thing. So this was a hit to me!
I have a review of this book here, in case you want to know my thoughts about it.
The Renegades are a syndicate of prodigies — humans with extraordinary abilities — who emerged from the ruins of a crumbled society and established peace and order where chaos reigned. As champions of justice, they remain a symbol of hope and courage to everyone… except the villains they once overthrew.
Nova has a reason to hate the Renegades, and she is on a mission for vengeance. As she gets closer to her target, she meets Adrian, a Renegade boy who believes in justice — and in Nova. But Nova's allegiance is to a villain who has the power to end them both.
SUGAR.

A

sugary sweet book.
My thoughts: Well, this was such an adorable read, and I didn't think I would enjoy it as much as I did. Though the main character had her ups and downs throughout the story, it was such a fluffy and sweet story, and I loved the father figure and the friendship it had. I think it's the perfect summer book if you're looking for something fast and sweet to read this season.
Clara Shin lives for pranks and disruption. When she takes one joke too far, her dad sentences her to a summer working on his food truck, the KoBra, alongside her uptight classmate Rose Carver. Not the carefree summer Clara had imagined. But maybe Rose isn't so bad. Maybe the boy named Hamlet (yes, Hamlet) crushing on her is pretty cute. Maybe Clara actually feels invested in her dad's business. What if taking this summer seriously means that Clara has to leave her old self behind? 

ICING.

A book that covered every aspect that you love.
My thoughts: I was a complete sucker for this book! Okay, here's the thing: I love stories about Fates, tarot cards or anything related to that, so when I saw that this installment had all of that I instantly fell in love. Which was so surprising, because even though I enjoyed Caraval I wasn't expecting to love Legendary as much as I did. But it was such a treat to me, and I book I know for sure I will re-read in the future.
I have a review of this book here, in case you want to know my thoughts about it.
A heart to protect. A debt to repay. A game to win.
After being swept up in the magical world of Caraval, Donatella Dragna has finally escaped her father and saved her sister Scarlett from a disastrous arranged marriage. The girls should be celebrating, but Tella isn't yet free. She made a desperate bargain with a mysterious criminal, and what Tella owes him no one has ever been able to deliver: Caraval Master Legend's true name.
The only chance of uncovering Legend's identity is to win Caraval, so Tella throws herself into the legendary competition once more—and into the path of the murderous heir to the throne, a doomed love story, and a web of secrets…including her sister's. Caraval has always demanded bravery, cunning, and sacrifice. But now the game is asking for more. If Tella can't fulfill her bargain and deliver Legend's name, she'll lose everything she cares about—maybe even her life. But if she wins, Legend and Caraval will be destroyed forever.
Welcome, welcome to Caraval…the games have only just begun.
SPRINKLES. A book series you can turn to whenever you're down to make you feel better

.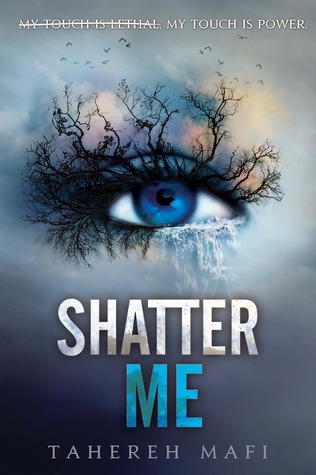 My thoughts: I adore this series! These books were one of the first ones I read back in the day when I started reading for the second time, and I completely fell in love with the characters and their evolution (especially our protagonist). And after I re-read them this year I fell even more in love with them, if that's even possible. I don't know what I'm going to do until the fifth one comes out (probably cry myself to sleep or sell my soul), but yeah, these books make me feel so much better and also break my heart into a million pieces.
I have a review of Restore Me here, in case you want to know my thoughts about it.
Juliette hasn't touched anyone in exactly 264 days.
The last time she did, it was an accident, but The Reestablishment locked her up for murder. No one knows why Juliette's touch is fatal. As long as she doesn't hurt anyone else, no one really cares. The world is too busy crumbling to pieces to pay attention to a 17-year-old girl. Diseases are destroying the population, food is hard to find, birds don't fly anymore, and the clouds are the wrong color.
The Reestablishment said their way was the only way to fix things, so they threw Juliette in a cell. Now so many people are dead that the survivors are whispering war – and The Reestablishment has changed its mind. Maybe Juliette is more than a tortured soul stuffed into a poisonous body. Maybe she's exactly what they need right now.
Juliette has to make a choice: Be a weapon. Or be a warrior.

CHERRY ON TOP. The best book you've read so far this year.
I'm the worst at these things because I've read more than 130 books so far this year and I have more than one favorite read, and it's a bit hard for me to talk about just one, so I'll just leave this space blank and I'll do another post talking about the best books I've read so far in 2018 (if you want to see it!).
What books are the best ones you've read this year? And which one was your most disappointing read of 2018? Let me know in the comments if you've read any of these books or if you have them on your TBR!
Follow me on BlogLovin'
Goodreads | Instagram | Twitter | Contact Me