Hello bookworms! I'm Nia and today I'm going to be talking about some books I need to re-read really soon.
I'm the complete worst when it comes to re-reading books. Even though I'm constantly thinking about books I love that I need to dive back into again, I hardly ever re-read them, because a) my TBR is super super big right now and b) I tend to pick up books I haven't read and then don't have time to re-read my favorites.
Still, these books I'm going to be mentioning in this post are some that I for sure will be reading in the future. I don't know if it's going to be next year or this one, because the next installment of some of these comes out in 2019, but I'm so positive I'll re-read them.
If you aren't familiar with Top 5 Tuesday, it is a group here on WordPress now currently run by Shanah over at BionicBookWorm, where each week they give you a topic and you talk about 5 books that fit that category.
Without any further ado, let's start with this week's topic!
Ace of Shades | Amanda Foody
My thoughts: This is one of my favorite books of this year (like most of the ones I'll be mentioning here, but oh well), and I'm pretty sure I'll be reading it again before King of Fools comes out, because even though I absolutely adored it, I think I won't be remembering all the details I need to dive into the next one. And though that's pretty much my excuse to re-read it, in my brain it makes sense, so I'll probably pick it up next year, so I can remember everything more clearly before the release date of the second installment.
I have a review of this book here, in case you want to know my thoughts about it.
Enne Salta was raised as a proper young lady, and no lady would willingly visit New Reynes, the so-called City of Sin. But when her mother goes missing, Enne must leave her finishing school—and her reputation—behind to follow her mother's trail to the city where no one survives uncorrupted.
Frightened and alone, her only lead is a name: Levi Glaisyer. Unfortunately, Levi is not the gentleman she expected—he's a street lord and a con man. Levi is also only one payment away from cleaning up a rapidly unraveling investment scam, so he doesn't have time to investigate a woman leading a dangerous double life. Enne's offer of compensation, however, could be the solution to all his problems.
Their search for clues leads them through glamorous casinos, illicit cabarets and into the clutches of a ruthless mafia donna. As Enne unearths an impossible secret about her past, Levi's enemies catch up to them, ensnaring him in a vicious execution game where the players always lose. To save him, Enne will need to surrender herself to the city…
And she'll need to play.
Legendary | Stephanie Garber
My thoughts: If you've seen my review already, you'll probably know how much I adored this book, because it was right up my alley, and I've been wanting to re-read it ever since. I love Stephanie Garber's writing and the world she built up, and I don't know, I have a feeling I will be re-reading this one next year before Finale comes out, just to have more of Caraval.
I have a review of this book here, in case you want to know my thoughts about it.
A heart to protect. A debt to repay. A game to win.
After being swept up in the magical world of Caraval, Donatella Dragna has finally escaped her father and saved her sister Scarlett from a disastrous arranged marriage. The girls should be celebrating, but Tella isn't yet free. She made a desperate bargain with a mysterious criminal, and what Tella owes him no one has ever been able to deliver: Caraval Master Legend's true name.
The only chance of uncovering Legend's identity is to win Caraval, so Tella throws herself into the legendary competition once more—and into the path of the murderous heir to the throne, a doomed love story, and a web of secrets…including her sister's. Caraval has always demanded bravery, cunning, and sacrifice. But now the game is asking for more. If Tella can't fulfill her bargain and deliver Legend's name, she'll lose everything she cares about—maybe even her life. But if she wins, Legend and Caraval will be destroyed forever.
Welcome, welcome to Caraval…the games have only just begun.
The Female of the Species | Mindy McGinnis
My thoughts: I'VE BEEN WANTING TO RE-READ THIS EVER SINCE THE MOMENT I FINISHED IT LAST YEAR, but somehow I always end up picking something else. But this is the year this re-read will happen (I'm telling you, brain, don't mess this up). This is, I think, on my top 3 best contemporaries I've ever read, and I lately I've been thinking a lot about it, so… it's now or never!
Alex Craft knows how to kill someone. And she doesn't feel bad about it.
Three years ago, when her older sister, Anna, was murdered and the killer walked free, Alex uncaged the language she knows best—the language of violence. While her own crime goes unpunished, Alex knows she can't be trusted among other people. Not with Jack, the star athlete who wants to really know her but still feels guilty over the role he played the night Anna's body was discovered. And not with Peekay, the preacher's kid with a defiant streak who befriends Alex while they volunteer at an animal shelter. Not anyone.
As their senior year unfolds, Alex's darker nature breaks out, setting these three teens on a collision course that will change their lives forever.
Sadie | Courtney Summers
My thoughts: I know, I know… This books isn't even out yet, but I just finished it a couple of days ago and I absolutely adored it. It was a very tough book with a few trigger warnings (I'll be talking about it in a future review), but it wrecked me and broke my heart into a million pieces, and I know I will want to re-read it in a future, because I absolutely loved the story and the character arcs. I highly suggest you to pick it up once it's out, because Sadie is for sure one of the best books I've read this year.

A missing girl on a journey of revenge and a Serial-like podcast following the clues she's left behind.
Sadie hasn't had an easy life. Growing up on her own, she's been raising her sister Mattie in an isolated small town, trying her best to provide a normal life and keep their heads above water.
But when Mattie is found dead, Sadie's entire world crumbles. After a somewhat botched police investigation, Sadie is determined to bring her sister's killer to justice and hits the road following a few meager clues to find him.
When West McCray—a radio personality working on a segment about small, forgotten towns in America—overhears Sadie's story at a local gas station, he becomes obsessed with finding the missing girl. He starts his own podcast as he tracks Sadie's journey, trying to figure out what happened, hoping to find her before it's too late.
Courtney Summers has written the breakout book of her career. Sadie is propulsive and harrowing and will keep you riveted until the last page.
Restore Me | Tahereh Mafi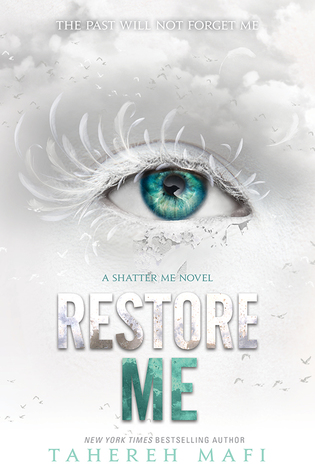 My thoughts: This comes to no surprise, but I want to re-read Restore Me. Well, if everything goes according to plan, I would be re-reading the whole series again before the fifth installment comes out. I just need to. My brain and my broken heart totally agree with me, because I spent weeks thinking about Restore Me after finishing it, so… yeah.
I have a review of this book here, in case you want to check it out!

Juliette Ferrars thought she'd won. She took over Sector 45, was named the new Supreme Commander, and now has Warner by her side. But she's still the girl with the ability to kill with a single touch—and now she's got the whole world in the palm of her hand. When tragedy hits, who will she become? Will she be able to control the power she wields and use it for good?
What books would you like to re-read? Have you read any of these ones I've mentioned above or would you like to? Let me know in the comments so we can chat about them!
Follow me on BlogLovin'
Goodreads | Instagram | Twitter | Contact Me