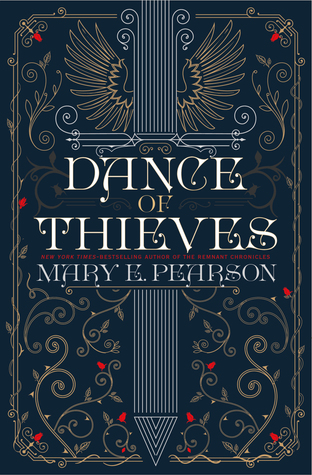 Title: Dance of Thieves
Author: Mary E. Pearson
Series: Dance of Thieves #1
Genre: Young Adult, Fantasy, High Fantasy, Romance
Publisher: Henry Holt
Publication date: August 7th, 2018
Pages: 384
My rating: 
---
When the patriarch of the Ballenger empire dies, his son, Jase, becomes its new leader. Even nearby kingdoms bow to the strength of this outlaw family, who have always governed by their own rules. But a new era looms on the horizon, set in motion by a young queen, which makes her the target of the dynasty's resentment and anger.
At the same time, Kazi, a legendary former street thief, is sent by the queen to investigate transgressions against the new settlements. When Kazi arrives in the forbidding land of the Ballengers, she learns that there is more to Jase than she thought. As unexpected events spiral out of their control, bringing them intimately together, they continue to play a cat and mouse game of false moves and motives in order to fulfill their own secret missions.
"The ghosts, they never go away. They call to you in unexpected moments, their hands lacing with yours and pulling you down paths that lead nowhere. This way. I had learned to mostly shut them down."
Holy smokes, guys! I honestly don't know what I was expecting before I started reading this book, but it ended up being absolutely amazing! I cannot thank the publisher enough for giving me an ARC of this book, because it was one of my most anticipated releases of this year and I couldn't wait to be back in this world. This was a spin-off of The Remnant Chronicles, and it takes place a few years after the third and final installment, but I wouldn't say you need to read that trilogy before going into this one, though it would be so helpful since it talks about quite important things that happened in said trilogy.
Anyways, it was so good to be back into this world! Though at first it took me a while to get into the story, because this story and places were quite different from the ones I'd already knew, I still got to discover new things and places I didn't know and learnt about the people's culture. The world building was amazing and even more complex than her other series, and her writing also had improved in Dance of Thieves, and it was more descriptive and detailed, and I absolutely adored her way of telling a story.
It took my time to finish it, because even though it had some action packed scenes, it was more a slow paced type of story, and since most of the things that were happening were that complex, I had to take my time to fully understand everything that was going on, but I didn't mind the pacing that much because I was so committed to the characters and their interactions.
"Look. Take a good long look and remember the lives lost. Real people that someone loved. Before you go about the task I have given you, see the devastation and remember what they did. What could happen again. Know what is at stake. Dragons eventually wake and crawl from their dark dens."
And let me tell you: I absolutely adored the two main characters. I think they were very different from each other, but since it was told in both POVs (Jase and Kazi), it was so easy to connect and understand them throughout the story and the reasons why they did they things they did. I really enjoyed their relationship and interactions throughout the story, and the dynamics between them were done so smooth and perfect in my opinion.
Both of them had really interesting storylines. With these type of stories that had two very important main characters I tend to be more leaned towards one of the characters storyline more, but I found it didn't happen with Dance of Thieves, because both characters were really well constructed and complex and had very interesting subplots.
I also really enjoyed the romance. Though it happened a bit fast in the story, it wasn't insta love-y or didn't take a major importance within the story, and though there were a few angsty and amazing moments between those characters, it wasn't overwhelming or too much.
Overall, even though I was a bit confused at first with all of the information that was given to us (maybe a map would have totally helped me), it was still a very interesting story and I absolutely adored the cast of characters and their development throughout the story, and I don't know how I'm going to wait another year to read the sequel, because let me tell you: THAT ENDING KILLED ME!
I received an ARC of this book in exchange of an honest review. This doesn't change my opinion whatsoever. All thoughts are my own.
Follow me on BlogLovin'
Goodreads | Instagram | Twitter | Contact Me