Hello bookworms! I'm Nia and today I'm going to be talking about some books that I ended up reading because of social media.
Now I would say that this hasn't happened to me that often. Since I started blogging I've been discovering some new books I want to read before the hype arrives, but it's true that there are some exceptions to this rule, and I have a few that I ended up reading because I saw a lot of positive things about them in social medias (mostly Goodreads!). So I'm going to be talking about those today.
If you aren't familiar with Top 5 Tuesday, it is a group here on WordPress now currently run by Shanah over at BionicBookWorm, where each week they give you a topic and you talk about 5 books that fit that category.
Without any further ado, let's start with this week's topic!
Illuminae | Amy Kaufman & Jay Kristoff
My thoughts: Okay, I admit I was one of the last people to jump on this train, because I feel when I decided to finally pick up Illuminae everyone was already raving about it, and to be honest, that was one of the main things why I decided to read it in the first place, because I don't usually read sci-fi. Turns out, I really enjoyed it. It took me a bit to fully focus on the story, because the format was so different from what I'd read before, but once I did I flew through it and really liked it. It was a sci-fi thriller, which I didn't know, and that was I'm sure one of the things that made me want to continue with the rest of the books.
I have a review of this book here, in case you want to know my thoughts about it!
This morning, Kady thought breaking up with Ezra was the hardest thing she'd have to do. This afternoon, her planet was invaded.
The year is 2575, and two rival megacorporations are at war over a planet that's little more than an ice-covered speck at the edge of the universe. Too bad nobody thought to warn the people living on it. With enemy fire raining down on them, Kady and Ezra—who are barely even talking to each other—are forced to fight their way onto an evacuating fleet, with an enemy warship in hot pursuit.
But their problems are just getting started. A deadly plague has broken out and is mutating, with terrifying results; the fleet's AI, which should be protecting them, may actually be their enemy; and nobody in charge will say what's really going on. As Kady hacks into a tangled web of data to find the truth, it's clear only one person can help her bring it all to light: the ex-boyfriend she swore she'd never speak to again.

Everything Everything | Nicola Yoon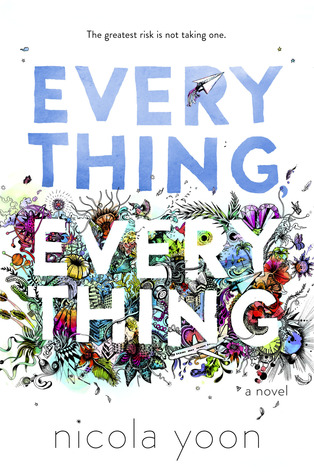 My thoughts: This one was pretty much like Illuminae. I mostly decided to read it because I hadn't seen a negative review and the movie was about to come out a few months after, so that was basically what made me read it in the end. And to be honest, I was expecting so much more and didn't really end up enjoying it. I liked the writing and the way the story was told, but I disliked the big twist at the end and the romance was pretty meh to me.

My disease is as rare as it is famous. Basically, I'm allergic to the world. I don't leave my house, have not left my house in seventeen years. The only people I ever see are my mom and my nurse, Carla.
But then one day, a moving truck arrives next door. I look out my window, and I see him. He's tall, lean and wearing all black—black T-shirt, black jeans, black sneakers, and a black knit cap that covers his hair completely. He catches me looking and stares at me. I stare right back. His name is Olly.
Maybe we can't predict the future, but we can predict some things. For example, I am certainly going to fall in love with Olly. It's almost certainly going to be a disaster.
A Darker Shade of Magic | V. E. Schwab
My thoughts: I'm so glad I decided to read this book after seeing it non-stop on social media, because I absolutely adored it, and because of that I have discovered one of my favorite authors. I think this one deserves everything good that's said about it, and Victoria Schwab's writing just goes so well with the type of stories and characters she writes, so it was an A+ to this one.
Kell is one of the last Antari—magicians with a rare, coveted ability to travel between parallel Londons; Red, Grey, White, and, once upon a time, Black.
Kell was raised in Arnes—Red London—and officially serves the Maresh Empire as an ambassador, traveling between the frequent bloody regime changes in White London and the court of George III in the dullest of Londons, the one without any magic left to see.
Unofficially, Kell is a smuggler, servicing people willing to pay for even the smallest glimpses of a world they'll never see. It's a defiant hobby with dangerous consequences, which Kell is now seeing firsthand.
After an exchange goes awry, Kell escapes to Grey London and runs into Delilah Bard, a cut-purse with lofty aspirations. She first robs him, then saves him from a deadly enemy, and finally forces Kell to spirit her to another world for a proper adventure.
Now perilous magic is afoot, and treachery lurks at every turn. To save all of the worlds, they'll first need to stay alive.
Into the Drowning Deep | Mira Grant
My thoughts: I had this on my TBR ever since I saw so much praise on Goodreads and people adding it on their TBRs or talking about it last year, but it wasn't until recently that I came across with a few reviews that I decided to buy it and read it. And I was a bit scared I wasn't going to like it because it's so out of the genres I typically read, but oh my God, it was absolutely amazing and so interesting, and well, quite horrifying. I'm so glad I discovered it because it's now one of my favorite books I've read this year, and I haven't stop thinking about it ever since I finished it a few days ago.
Review to come very soon!
Seven years ago, the Atargatis set off on a voyage to the Mariana Trench to film a "mockumentary" bringing to life ancient sea creatures of legend. It was lost at sea with all hands. Some have called it a hoax; others have called it a maritime tragedy.
Now, a new crew has been assembled. But this time they're not out to entertain. Some seek to validate their life's work. Some seek the greatest hunt of all. Some seek the truth. But for the ambitious young scientist Victoria Stewart this is a voyage to uncover the fate of the sister she lost.
Whatever the truth may be, it will only be found below the waves. But the secrets of the deep come with a price.
Since You've Been Gone | Morgan Matson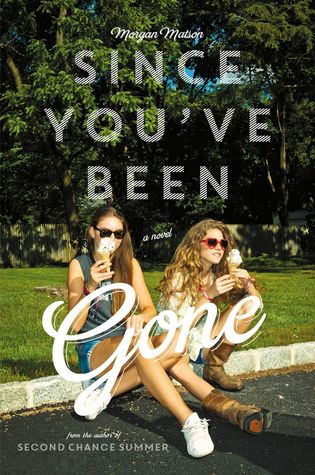 My thoughts: Even though by the time I'm writing this post I'm currently reading this book and haven't finished it yet, I wanted to add it to this list because everyone's been talking about Morgan Matson's books for a few years now, and all of them have many positive reviews, so I ended up picking it up (it was one of the summer books on my TBR!). So far I cannot tell you much, because I'm the type of reader that can't really tell whether has enjoyed a book or not until they have finished it, but so far though it's a bit slow and dragging in some parts, it's not bad!
It was Sloane who yanked Emily out of her shell and made life 100% interesting. But right before what should have been the most epic summer, Sloane just…disappears. All she leaves behind is a to-do list.
On it, thirteen Sloane-inspired tasks that Emily would normally never try. But what if they could bring her best friend back?
Apple picking at night? Okay, easy enough.
Dance until dawn? Sure. Why not?
Kiss a stranger? Um…
Emily now has this unexpected summer, and the help of Frank Porter (totally unexpected), to check things off Sloane's list. Who knows what she'll find?
Go skinny-dipping? Wait…what?
What books have you read because of social medias? Have you read any of these books or do you have them on your TBR? Let me know in the comments!
Follow me on BlogLovin'
Goodreads | Instagram | Twitter | Contact Me