Hello bookworms! I'm Nia and today I'm going to be talking about some new releases that are coming out in August that I'm so excited to read!
I was pretty surprised with the amount of books that are releasing this month. To be honest, since it's summer I wasn't expecting to want to read more than 10, but turns out there are about 19 new books that I cannot wait to read. I'm pretty sure there's just one that I've read already but still wanted to mention in this post because it was one of my most anticipated books of the year.
Without any further ado, let's start with the post!
The Chase | Elle Kennedy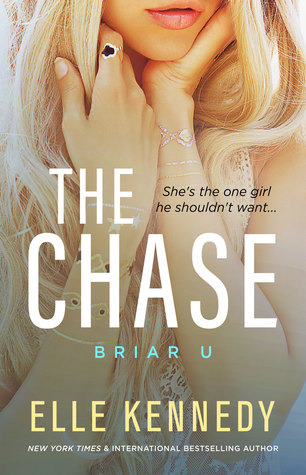 Pub. Date: August 6th
Everyone says opposites attract. And they must be right, because there's no logical reason why I'm so drawn to Colin Fitzgerald. I don't usually go for tattoo-covered, video-gaming, hockey-playing nerd-jocks who think I'm flighty and superficial. His narrow view of me is the first strike against him. It doesn't help that he's buddy-buddy with my brother.
And that his best friend has a crush on me.
And that I just moved in with them.
Oh, did I not mention we're roommates?
I suppose it doesn't matter. Fitzy has made it clear he's not interested in me, even though the sparks between us are liable to burn our house down. I'm not the kind of girl who chases after a man, though, and I'm not about to start. I've got my hands full dealing with a new school, a sleazy professor, and an uncertain future. So if my sexy brooding roomie wises up and realizes what he's missing?
He knows where to find me.
Dance of Thieves | Mary E. Pearson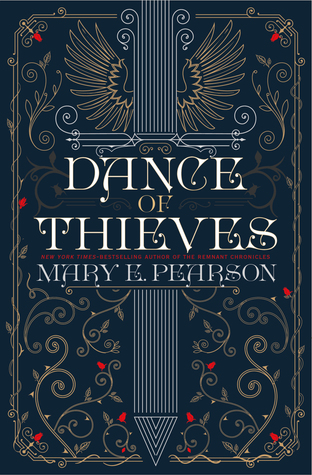 Pub. Date: August 7th
When the patriarch of the Ballenger empire dies, his son, Jase, becomes its new leader. Even nearby kingdoms bow to the strength of this outlaw family, who have always governed by their own rules. But a new era looms on the horizon, set in motion by a young queen, which makes her the target of the dynasty's resentment and anger.
At the same time, Kazi, a legendary former street thief, is sent by the queen to investigate transgressions against the new settlements. When Kazi arrives in the forbidding land of the Ballengers, she learns that there is more to Jase than she thought. As unexpected events spiral out of their control, bringing them intimately together, they continue to play a cat and mouse game of false moves and motives in order to fulfill their own secret missions.
The Forest Queen | Betsy Cornwell
Pub. Date: August 7th
When sixteen-year-old Sylvie's brother takes over management of their family's vast estates, Sylvie feels powerless to stop his abuse of the local commoners. Her dearest friend asks her to run away to the woods with him, and soon a host of other villagers join them. Together, they form their own community and fight to right the wrongs perpetrated by the king and his noblemen.
#MurderTrending | Gretchen McNeil
Pub. Date: August 7th
WELCOME TO THE NEAR FUTURE, where good and honest 8/18 citizens can enjoy watching the executions of society's most infamous convicted felons, streaming live on The Postman app from the suburbanized prison island Alcatraz 2.0.
When eighteen-year-old Dee Guerrera wakes up in a haze, lying on the ground of a dimly lit warehouse, she realizes she's about to be the next victim of the app. Knowing hardened criminals are getting a taste of their own medicine in this place is one thing, but Dee refuses to roll over and die for a heinous crime she didn't commit. Can Dee and her newly formed posse, the Death Row Breakfast Club, prove she's innocent before she ends up wrongfully murdered for the world to see? Or will The Postman's cast of executioners kill them off one by one?
Girl at The Grave | Teri Bailey Black
Pub. Date: August 7th
Valentine has spent years trying to outrun her mother's legacy. But small towns have long memories, and when a new string of murders occurs, all signs point to the daughter of a murderer.
Only one person believes Valentine is innocent—Rowan Blackshaw, the son of the man her mother killed all those years ago. Valentine vows to find the real killer, but when she finally uncovers the horrifying truth, she must choose to face her own dark secrets, even if it means losing Rowan in the end.
Star-Touched Stories | Roshani Chokshi
Pub. Date: August

7th
Death and Night
He was Lord of Death, cursed never to love. She was Night incarnate, destined to stay alone. After a chance meeting, they wonder if, perhaps, they could be meant for more. But danger crouches in their paths, and the choices they make will set them on a journey that will span lifetimes.
Poison and Gold
Now that her wish for a choice has come true, Aasha struggles to control her powers. But when an opportunity to help Queen Gauri and King Vikram's new reign presents itself, she is thrown into the path of the fearsome yet enchanting Spy Mistress. To help her friends, Aasha will have to battle her insecurities and perhaps, along the way, find love.
Rose and Sword
There is a tale whispered in the dark of the Empire of Bharat-Jain. A tale of a bride who loses her bridegroom on the eve of her wedding. But is it a tale or a truth?
These Rebel Waves | Sara Raasch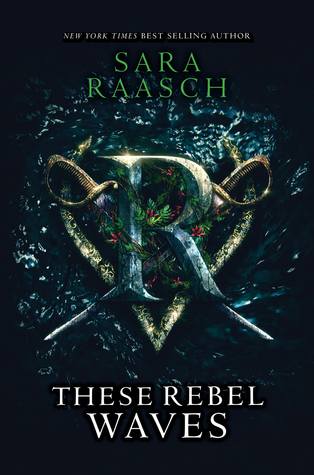 Pub. Date: August 7th
Adeluna is a soldier. Five years ago, she helped the magic-rich island of Grace Loray overthrow its oppressor, Argrid, a country ruled by religion. But adjusting to postwar life has not been easy. When an Argridian delegate vanishes during peace talks with Grace Loray's new Council, Argrid demands brutal justice—but Lu suspects something more dangerous is at work.
Devereux is a pirate. As one of the outlaws called stream raiders who run rampant on Grace Loray, he pirates the island's magic plants and sells them on the black market. But after Argrid accuses raiders of the diplomat's abduction, Vex becomes a target. An expert navigator, he agrees to help Lu find the Argridian—but the truth they uncover could be deadlier than any war.
Benat is a heretic. The crown prince of Argrid, he harbors a secret obsession with Grace Loray's forbidden magic. When Ben's father, the king, gives him the shocking task of reversing Argrid's fear of magic, Ben has to decide if one prince can change a devout country—or if he's building his own pyre.
As conspiracies arise, Lu, Vex, and Ben will have to decide who they really are . . . and what they are willing to become for peace.

The Looking Glass | Janet McNally
Pub. Date: August 

14th
GIRLS IN TROUBLE.
That's what Sylvie Blake's older sister Julia renamed their favorite fairy tale book, way back when they were just girls themselves. Now, Julia has disappeared—and no one knows if she's in trouble.
Sylvie is trying to carry on Julia's impressive legacy at the prestigious National Ballet Theatre Academy, but Julia, ever the star of the show, can't stay hidden forever. And when she sends Sylvie a copy of their old storybook with a mysterious list inside, Sylvie begins to see signs of her sister everywhere she goes. She may be losing her grip on reality, but Sylvie has to find out if the strange, almost magical things she's been seeing have anything to do with Julia's whereabouts.
With the help of her best friend's enigmatic brother and his beat-up car, Sylvie sets out to the beat of a Fleetwood Mac playlist, determined to return to New York with her sister in tow. But what Sylvie doesn't expect to learn is that trouble comes in lots of forms—and that the damsel in distress is often the only one who can save herself.
The Raging Ones | Krista & Becca Ritchie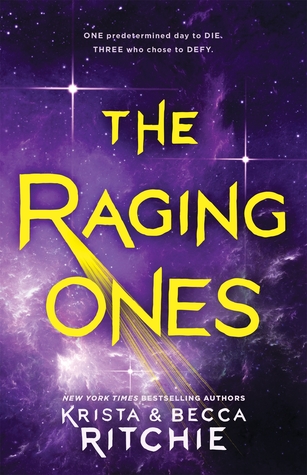 Pub. Date: August

14th
In a freezing world, where everyone knows the day they will die, three teens break all odds.
Franny Bluecastle, a tough city teen, dreams of dying in opulence, to see wealth she's never known. Like the entire world, she believes it's impossible to dodge a deathday.
Until the day she does.
Court Icecastle knows wealth. He also knows pain. Spending five years in Vorkter Prison, a fortress of ice and suffering, he dreams of life beyond the people that haunt him and the world that imprisoned him.
Mykal Kickfall fights for those he loves. The rugged Hinterlander shares a frustrating yet unbreakable connection with Court—which only grows more lawless and chaotic as their senses and emotions connect with Franny.
With the threat of people learning they've dodged their deathdays, they must flee their planet to survive. But to do so, all three will have to hide their shared bond as they vie for a highly sought after spot in the newest mission to space. Against thousands of people far smarter, who'll live longer, and never fear death the way that they do.
A Touch of Gold | Annie Sullivan
Pub. Date: August

14th
King Midas once had the ability to turn all he touched into gold. But after his gift—or curse—almost killed his daughter, Midas relinquished The Touch forever. Ten years later, Princess Kora still bears the consequences of her father's wish: her skin shines golden, rumors follow her everywhere she goes, and she harbors secret powers that are getting harder to hide.
Kora spends her days locked in the palace, concealed behind gloves and veils, trying to ignore the stares and gossip of courtiers. It isn't until a charming young duke arrives that Kora realizes there may be someone out there who doesn't fear her or her curse. But their courtship is disrupted when a thief steals precious items from the kingdom, leaving the treasury depleted and King Midas vulnerable. Thanks to her unique ability to sense gold, Kora is the only one who can track the thief down. As she sails off on her quest, Kora learns that not everything is what it seems—not thieves, not pirates, and not even curses. She quickly discovers that gold—and the power it brings—is more dangerous than she'd ever believed.
Midas learned his lesson at a price. What will Kora's journey cost?
The Glass Butterfly | A. G. Howard
Pub. Date: August

15th
For close to a decade, twenty-five-year-old Felicity Lonsdale has masqueraded as a dowager almost twice her age—selling caterpillars to butterfly consortiums—enabling her to hide an ill-fated past while raising her late brother's daughters. Together, the three live on an isolated Irish estate bequeathed by a dying earl. When the earl's estranged son arrives to claim his inheritance by threatening to expose Felicity's true identity, she longs to pack up her nieces and run. But a ghostly secret within the castle's turret holds her captive.
Nick Thornton—a Roma viscount's heir—is also captive. After a tryst with an investor's wife nearly destroyed his family's holiday resort, Nick forsook everything to elope with her. However, a tragic mistake at his hand led to her and his baby's deaths. Refusing to turn to the family he shamed, Nick travels to seek the countess who once co-wrote a romance with his sister. There's rumor of a special butterfly in her keep—a transparent-winged species with ties to the afterlife. Nick hopes to contact his dead wife and child, for only their forgiveness can free him.
Upon his arrival to Felicity's estate, Nick offers to help her defeat the earl's son, on the condition she allow Nick to investigate her glass butterflies. Felicity agrees, though fears the closer he gets to the ghosts of his past, the closer he'll come to uncovering her own. As Nick spends time with Felicity and her nieces, he realizes the mystery enshrouding this fragile countess and her castle is more intriguing than the ghosts he originally came to find. And perhaps putting his dead to rest and helping her do the same will be his true path to redemption.

The Truth Lies Here | Lindsay Klingele
Pub. Date: August

21st
In small town Michigan, Penny, an aspiring journalist, teams up with the nerdy boy-next-door and the town's star quarterback to find her conspiracy theorist father after he goes missing and several other townspeople turn up dead in the woods.
The deeper she digs, the weirder things start to get. Townspeople repeat the same phrases—verbatim. Men in black suits stroll around Main Street. Chunks of her memory go missing. Pretty soon, Penny's research leads her to the long-ago meteorite crash in Bone Lake's woods, and she's going to have to reconsider her definition of "real" if she wants answers. . . .
Seafire | Natalie C. Parker
Pub. Date: August

28th
After her family is killed by corrupt warlord Aric Athair and his bloodthirsty army of Bullets, Caledonia Styx is left to chart her own course on the dangerous and deadly seas. She captains her ship, the Mors Navis, with a crew of girls and women just like her, whose lives have been turned upside down by Aric and his men. The crew has one misson: stay alive, and take down Aric's armed and armored fleet.
But when Caledonia's best friend and second-in-command just barely survives an attack thanks to help from a Bullet looking to defect, Caledonia finds herself questioning whether or not to let him join their crew. Is this boy the key to taking down Aric Athair once and for all…or will he threaten everything the women of the Mors Navis have worked for?
Mirage | Somaiya Daud
Pub. Date: August

28th
In a star system dominated by the brutal Vathek empire, eighteen-year-old Amani is a dreamer. She dreams of what life was like before the occupation; she dreams of writing poetry like the old-world poems she adores; she dreams of receiving a sign from Dihya that one day, she, too, will have adventure, and travel beyond her isolated moon.
But when adventure comes for Amani, it is not what she expects: she is kidnapped by the regime and taken in secret to the royal palace, where she discovers that she is nearly identical to the cruel half-Vathek Princess Maram. The princess is so hated by her conquered people that she requires a body double, someone to appear in public as Maram, ready to die in her place.
As Amani is forced into her new role, she can't help but enjoy the palace's beauty—and her time with the princess' fiancé, Idris. But the glitter of the royal court belies a world of violence and fear. If Amani ever wishes to see her family again, she must play the princess to perfection…because one wrong move could lead to her death.
City of Ghosts | Victoria Schwab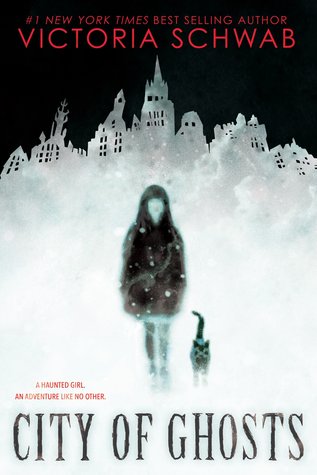 Pub. Date: August

28th
Cassidy Blake's parents are The Inspectres, a (somewhat inept) ghost-hunting team. But Cass herself can REALLY see ghosts. In fact, her best friend, Jacob, just happens to be one.
When The Inspectres head to ultra-haunted Edinburgh, Scotland, for their new TV show, Cass—and Jacob—come along. In Scotland, Cass is surrounded by ghosts, not all of them friendly. Then she meets Lara, a girl who can also see the dead. But Lara tells Cassidy that as an In-betweener, their job is to send ghosts permanently beyond the Veil. Cass isn't sure about her new mission, but she does know the sinister Red Raven haunting the city doesn't belong in her world. Cassidy's powers will draw her into an epic fight that stretches through the worlds of the living and the dead, in order to save herself.
The Sacrifice Box | Martin Stewart
Pub. Date: August

28th
1982, the summer before seventh grade. Five kids with nothing in common–Sep, Arkle, Hadley, Lamb, and Mack–become instant friends. On the last day of summer, they find a stone box buried in the forest, and each places an object inside to seal their friendship. And they make rules:
Never come to the box alone.
Never open it after dark.
Never take back your sacrifice.
1986, the summer before eleventh grade. The five haven't spoken since that day in 1982. Sep has gone through the past four years alone and plans to escape to boarding school. But strange things are happening–mirrors are breaking unexpectedly, electricity is flickering in and out, and people are coming down with inexplicable physical ailments.
Someone has broken the rules. And it seems the five committed more than objects to the box's ancient stone–they gave it their deepest secrets and darkest fears, and now these are being returned in a flood of shambling corpses, murderous toys, and undead pets. The gang must reunite in an attempt to discover the secrets of the sacrifice box–and Sep might be the only one who can stem its tide of evil before it's too late.
Hidden Pieces | Paula Stokes
Pub. Date: August

28th
Embry Woods has secrets. Small ones about her past. Bigger ones about her relationship with town hero Luke and her feelings for someone new. But the biggest secret she carries with her is about what happened that night at the Sea Cliff Inn. The fire. The homeless guy. Everyone thinks Embry is a hero, too, but that couldn't be further from the truth.
Embry thinks she'll have to take the secret to her grave, until she receives an anonymous note—someone else knows the truth. Next comes a series of threatening messages, asking Embry to make impossible choices, forcing her to put her loved ones at risk. Someone is playing a high stakes game where no one in Embry's life is safe. And their last move…is murder.

Toil and Trouble | V.V. A.A
Pub. Date: August

28th
Are you a good witch or a bad witch?
Glinda the Good Witch. Elphaba the Wicked Witch. Willow. Sabrina. Gemma Doyle. The Mayfair Witches. Ursula the Sea Witch. Morgan le Fey. The three weird sisters from Macbeth.
History tells us women accused of witchcraft were often outsiders: educated, independent, unmarried, unwilling to fall in line with traditional societal expectations.
Bold. Powerful. Rebellious.
A bruja's traditional love spell has unexpected results. A witch's healing hands begin to take life instead of giving it when she ignores her attraction to a fellow witch. In a terrifying future, women are captured by a cabal of men crying witchcraft and the one true witch among them must fight to free them all. In a desolate past, three orphaned sisters prophesize for a murderous king. Somewhere in the present, a teen girl just wants to kiss a boy without causing a hurricane.
What are your most anticipated releases of this month? Do you have any of these ones I've mentioned on your list as well, or have you already read them? Let me know in the comments!
Follow me on BlogLovin'
Goodreads | Instagram | Twitter | Contact Me