Hello bookworms! I'm Nia and today I'm going to be talking about the best ARCs I've read so far this year.
Okay, I have to say I've read a fair amount of ARCs this year, but most of them were either average reads to me or were solid reads. There are few of them that I was a die hard fan. But well, there were a few I did really loved and purchased them either when they came out or will purchase them in the future! Also I wanted to add a couple of 5 star ARC predictions to spice things a bit.
If you aren't familiar with Top 5 Tuesday, it is a group here on WordPress now currently run by Shanah over at BionicBookWorm, where each week they give you a topic and you talk about 5 books that fit that category.
Without any further ado, let's start with this week's topic!
Sadie | Courtney Summers
My thoughts: I had a feeling I was going to love this book before I even picked it up, but wow guys, it turned out to be even better than what I was expecting. This book blew my mind the same way The Female of the Species did, and I can totally say right now that it's become one of my all time favorite books. I adore Sadie so much and empathized with her a lot throughout the story, and I think Courtney Summers is an amazing writer and does an incredible job at addressing taboo and tough topics. I highly recommend it if you're interested, and I have a feeling I'm going to be talking more about this book in the future.
I have a review of this book here, in case you want to check it out.
Sadie hasn't had an easy life. Growing up on her own, she's been raising her sister Mattie in an isolated small town, trying her best to provide a normal life and keep their heads above water.
But when Mattie is found dead, Sadie's entire world crumbles. After a somewhat botched police investigation, Sadie is determined to bring her sister's killer to justice and hits the road following a few meagre clues to find him.
When West McCray—a radio personality working on a segment about small, forgotten towns in America—overhears Sadie's story at a local gas station, he becomes obsessed with finding the missing girl. He starts his own podcast as he tracks Sadie's journey, trying to figure out what happened, hoping to find her before it's too late.
Dance of Thieves | Mary E. Pearson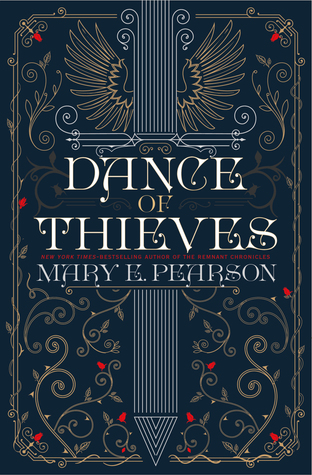 My thoughts: I was super excited to read this book because I really enjoyed her other trilogy, and this one was a spin-off set in the same world, and it turned out to be a very interesting story. I loved the cast of characters and the dynamics between the two most important ones, and though it was more of a slow burning type of story, it felt so good to be back into this world and get to know more about it. And let me tell you, that ending left me wanting to read immediately the next installment!
I have a review of this book here, in case you want to check it out!

When the patriarch of the Ballenger empire dies, his son, Jase, becomes its new leader. Even nearby kingdoms bow to the strength of this outlaw family, who have always governed by their own rules. But a new era looms on the horizon, set in motion by a young queen, which makes her the target of the dynasty's resentment and anger.
At the same time, Kazi, a legendary former street thief, is sent by the queen to investigate transgressions against the new settlements. When Kazi arrives in the forbidding land of the Ballengers, she learns that there is more to Jase than she thought. As unexpected events spiral out of their control, bringing them intimately together, they continue to play a cat and mouse game of false moves and motives in order to fulfill their own secret missions.
Girl Made of Stars | Ashley Herring Blake
My thoughts: I would say it's a bit hard for me to be impressed by a contemporary, because it's a genre that I read a lot and I feel most of the time there's nothing new, but I would say Girl Made of Stars was such a beautifully written, heartbreaking story. I think it's a very important book that everyone should read, and the author did an amazing job at addressing everything in the novel. I loved the female friendship and the characters, and the romance was actually super cute.
I have a review of this book here, in case you want to check it out!

Mara and Owen are about as close as twins can get. So when Mara's friend Hannah accuses Owen of rape, Mara doesn't know what to think. Can the brother she loves really be guilty of such a violent crime? Torn between the family she loves and her own sense of right and wrong, Mara is feeling lost, and it doesn't help that things have been strained with her ex-girlfriend and best friend since childhood, Charlie.
As Mara, Hannah, and Charlie navigate this new terrain, Mara must face a trauma from her own past and decide where Charlie fits in her future. With sensitivity and openness, this timely novel confronts the difficult questions surrounding consent, victim blaming, and sexual assault.
Grace and Fury | Tracy Banghart
My thoughts: I was so pleasantly surprised by this book. To be honest, it was so much different from what I thought it would be, but in a good way. I thought it was going to be a story with magic in it, but it didn't, but the character arcs were so amazingly done that I didn't care. It was more a character driven type of story, but the evolution of the two main characters was so well done, and they both were so complex and well crafted that the more I thought about this book, the more I think I enjoyed it. It was a very atmospheric story, and the ending left me wanting for more, so I'll definitely will be continuing with the series!
I have a review of this book here, in case you want to check it out!

In a world where women have no rights, sisters Serina and Nomi Tessaro face two very different fates: one in the palace, the other in prison.
Serina has been groomed her whole life to become a Grace – someone to stand by the heir to the throne as a shining, subjugated example of the perfect woman. But when her headstrong and rebellious younger sister, Nomi, catches the heir's eye, it's Serina who takes the fall for the dangerous secret that Nomi has been hiding.
Now trapped in a life she never wanted, Nomi has only one way to save Serina: surrender to her role as a Grace until she can use her position to release her sister. This is easier said than done. A traitor walks the halls of the palace, and deception lurks in every corner. But Serina is running out of time, imprisoned on an island where she must fight to the death to survive and one wrong move could cost her everything.
Children of Blood and Bone | Tomi Adeyemi
My thoughts: This book was just so good. I would say I was a bit apprehensive when I first started to read it, because it was so hyped and I was scared I wasn't going to like it as everyone else did, but that was completely wrong. The world was so interesting, and the characters and their interactions throughout the story were so well written. It was a great first book in a series, and after that ending I cannot wait to know what's going to happen in the sequel.
I have a review of this book here, in case you want to check it out!

They killed my mother.
They took our magic.
They tried to bury us.
Now we rise.
Zélie Adebola remembers when the soil of Orïsha hummed with magic. Burners ignited flames, Tiders beckoned waves, and Zélie's Reaper mother summoned forth souls.
But everything changed the night magic disappeared. Under the orders of a ruthless king, maji were killed, leaving Zélie without a mother and her people without hope.
Now Zélie has one chance to bring back magic and strike against the monarchy. With the help of a rogue princess, Zélie must outwit and outrun the crown prince, who is hell-bent on eradicating magic for good.
Danger lurks in Orïsha, where snow leoponaires prowl and vengeful spirits wait in the waters. Yet the greatest danger may be Zélie herself as she struggles to control her powers and her growing feelings for an enemy.
MY TWO 5-STAR PREDICTIONS
Circle of Shadows | Evelyn Skye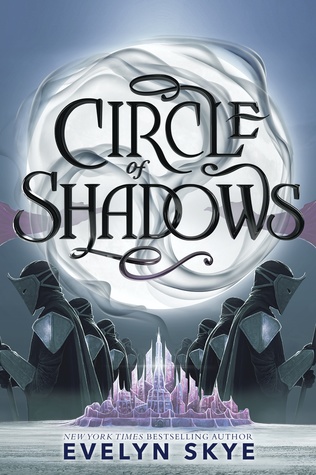 Sora can move as silently as a ghost and hurl throwing stars with lethal accuracy. Her gemina, Daemon, can win any physical fight blindfolded and with an arm tied behind his back. They are apprentice warriors of the Society of Taigas—marked by the gods to be trained in magic and the fighting arts to protect the kingdom of Kichona.
As their graduation approaches, Sora and Daemon look forward to proving themselves worthy of belonging to the elite group—but in a kingdom free of violence since the Blood Rift Rebellion many years ago, it's been difficult to make their mark. So when Sora and Daemon encounter a strange camp of mysterious soldiers while on a standard scouting mission, they decide the only thing to do to help their kingdom is to infiltrate the group.Taking this risk will change Sora's life forever—and lead her on a mission of deception that may fool everyone she's ever loved.
Sherwood | Meagan Spooner
.
Robin of Locksley is dead.
When news comes that he's fallen in battle at the King's side in the Holy Land, Maid Marian doesn't know how she'll go on. Betrothed to Robin, she was free to be herself, to flout the stifling rules of traditional society and share an equal voice with her beloved when it came to caring for the people of her land.
Now Marian is alone, with no voice of her own. The people of Locksley, persecuted by the Sheriff of Nottingham, are doomed to live in poverty or else face death by hanging. The dreadful Guy of Gisborne, the Sherriff's right hand, wishes to step into Robin's shoes as Lord of Locksley, and Marian's fiancé. Society demands that she accept her fate, and watch helplessly as her people starve.
When Marian dons Robin's green cloak, and takes up his sword and bow, she never intended that anyone should mistake her for Robin, returned from the Holy Land as a vigilante. She never intended that the masked, cloaked figure she created should stand as a beacon of hope and justice to peasant and noble alike. She never intended to become a legend.
But all of Nottingham is crying out for a savior. So Marian must choose to make her own fate and become her own hero…

What are your favorite ARCs you've read so far this year, and the ones you're most excited to read that haven't come out yet? Have you read any of these? Let me know in the comments!
Follow me on BlogLovin'
Goodreads | Instagram | Twitter | Contact Me