Hello bookworms! I'm Nia and today I'm going to be talking about books I enjoyed that have some tropes that I don't tend to like.
I had to think about this topic for a while, because though there are some tropes that are so overused and I don't usually enjoy reading about them, and even though I've read a lot of tropey books (some which I enjoyed and others not so much), I struggled a bit to come out with five.
If you aren't familiar with Top 5 Wednesday, it is a Goodeads group now currently run by Sam over at ToughtsOfTomes on Youtube, where each week they give you a topic and you talk about 5 books that fit that category. You can join the group here if you want to participate!
Without any further ado, let's start with this week's topic!
Love Triangle | Clockwork Angel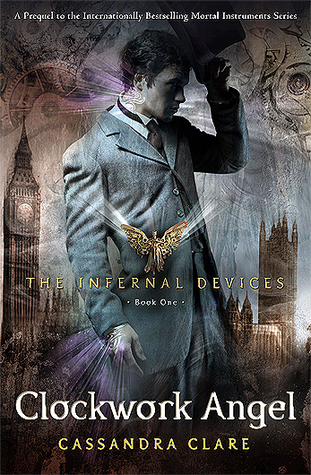 My thoughts: I don't tend to enjoy books that have love triangles in them, because either their romances are quite rushed and insta love-y, everything seems a bit unrealistic, or simply I like one of the love interests more than the other, but I have to say that I absolutely adore The Infernal Devices, and this trilogy is one of my all time favorites (I have a tattoo with a quote that's in one of the books, so that's saying something). I think the love triangle was so well done as the series continue, and I love Jem and Will just the same, and not only that, but I think the romances in the trilogy were quite complex and angsty, hence why I ended up loving The Infernal Devices as much as I did.
In a time when Shadowhunters are barely winning the fight against the forces of darkness, one battle will change the course of history forever. Welcome to the Infernal Devices trilogy, a stunning and dangerous prequel to the New York Times bestselling Mortal Instruments series.
The year is 1878. Tessa Gray descends into London's dark supernatural underworld in search of her missing brother. She soon discovers that her only allies are the demon-slaying Shadowhunters—including Will and Jem, the mysterious boys she is attracted to. Soon they find themselves up against the Pandemonium Club, a secret organization of vampires, demons, warlocks, and humans. Equipped with a magical army of unstoppable clockwork creatures, the Club is out to rule the British Empire, and only Tessa and her allies can stop them…
The "plain" Jane | My Plain Jane
My thoughts: Okay, hear me out. I'm so tired of the plain Jane trope, where an ordinary "plain" girl suddenly catches our love interest's attention (among with other people's attention), and becomes extraordinary. I think it's too overdone, and frankly, I'm not the biggest fan, but wow, I have to say that I really enjoyed this book. Though I haven't read Jane Eyre yet (I know, I know, shame on me…), I absolutely adore the movie, so I had a fair idea of what to expect, but the story was so much fun, and I really enjoyed the cast of characters and the dynamics between them. Jane is our plain girl, and though that trope is not my favorite, I actually really enjoyed how the authors ended up twisting that trope into something else, so yeah. Hit for me.
You may think you know the story. After a miserable childhood, penniless orphan Jane Eyre embarks on a new life as a governess at Thornfield Hall. There, she meets one dark, brooding Mr. Rochester. Despite their significant age gap (!) and his uneven temper (!!), they fall in love—and, Reader, she marries him. (!!!)
Or does she?
Prepare for an adventure of Gothic proportions, in which all is not as it seems, a certain gentleman is hiding more than skeletons in his closets, and one orphan Jane Eyre, aspiring author Charlotte Brontë, and supernatural investigator Alexander Blackwood are about to be drawn together on the most epic ghost hunt this side of Wuthering Heights.
The Chosen One | Snow Like Ashes
My thoughts: Okay, I actually enjoy stories about "the chosen ones". They are usually hit or miss to me, but I tend to be interest in those types of tropes, but I would say Snow Like Ashes was actually a really amazing book that had that trope and actually did an amazing job at exploring it. Though the second book in the series is a bit weaker and not as good as the other two, I really enjoyed the trilogy as a whole and the seeing the character's evolution throughout the books.
I have a review of Ice Like Fire here, in case you want to check it out.
Sixteen years ago the Kingdom of Winter was conquered and its citizens enslaved, leaving them without magic or a monarch. Now, the Winterians' only hope for freedom is the eight survivors who managed to escape, and who have been waiting for the opportunity to steal back Winter's magic and rebuild the kingdom ever since.
Orphaned as an infant during Winter's defeat, Meira has lived her whole life as a refugee, raised by the Winterians' general, Sir. Training to be a warrior—and desperately in love with her best friend, and future king, Mather — she would do anything to help her kingdom rise to power again.
So when scouts discover the location of the ancient locket that can restore Winter's magic, Meira decides to go after it herself. Finally, she's scaling towers, fighting enemy soldiers, just as she's always dreamed she would. But the mission doesn't go as planned, and Meira soon finds herself thrust into a world of evil magic and dangerous politics – and ultimately comes to realize that her destiny is not, never has been, her own.
Unlikeable Protagonist | The Cruel Prince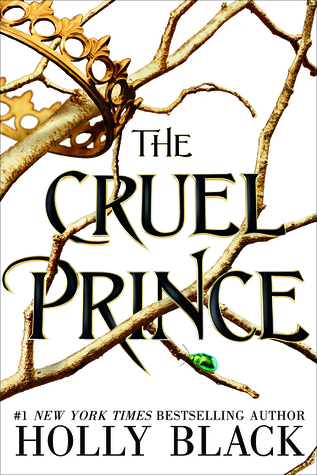 My thoughts: Admit it: sometimes we all hate unlikeable main characters. They are just so annoying and they don't make the greatest of decisions, and frankly, they are a struggle to read from their POVs, but I must admit that with The Cruel Prince, it was exactly the opposite what happened to me. Neither of the cast of characters were actually good people, and well, Jude did not so great things throughout the story, but I was blown away by how much I actually loved her character and her evolution throughout the story. She was intelligent and ruthless, and I devoured the book because I wanted to know more about everything regarding those characters.
I have a review of this book here, in case you want to check it out!
Jude was seven when her parents were murdered and she and her two sisters were stolen away to live in the treacherous High Court of Faerie. Ten years later, Jude wants nothing more than to belong there, despite her mortality. But many of the fey despise humans. Especially Prince Cardan, the youngest and wickedest son of the High King.
To win a place at the Court, she must defy him–and face the consequences.
As Jude becomes more deeply embroiled in palace intrigues and deceptions, she discovers her own capacity for trickery and bloodshed. But as betrayal threatens to drown the Courts of Faerie in violence, Jude will need to risk her life in a dangerous alliance to save her sisters, and Faerie itself.
Insta Love | The Night Circus
My thoughts: For the ones of you who don't know already, The Night Circus is one of my all-time favorite books. I've already talked about it a lot in this blog, and probably will be in the future. Now I cannot really tell you if it was a pure insta-love romance, because I read it a few years ago and don't remember all the details, but there was a bit of insta-love in this story. But I didn't mind at all, because everything in the story was so whimsical and beautiful, and the writing was incredible that I hardly paid any attention to that trope. I loved the characters and their dynamics between them, and their evolution so much that I cannot recommend it enough, even if you're not the biggest fan of that trope.
The circus arrives without warning. No announcements precede it. It is simply there, when yesterday it was not. Within the black-and-white striped canvas tents is an utterly unique experience full of breathtaking amazements. It is called Le Cirque des Rêves, and it is only open at night.
But behind the scenes, a fierce competition is underway—a duel between two young magicians, Celia and Marco, who have been trained since childhood expressly for this purpose by their mercurial instructors. Unbeknownst to them, this is a game in which only one can be left standing, and the circus is but the stage for a remarkable battle of imagination and will. Despite themselves, however, Celia and Marco tumble headfirst into love—a deep, magical love that makes the lights flicker and the room grow warm whenever they so much as brush hands.
True love or not, the game must play out, and the fates of everyone involved, from the cast of extraordinary circus performers to the patrons, hang in the balance, suspended as precariously as the daring acrobats overhead. 
What books did you love that have tropes you hate? Have you read any of these books? Let me know in the comments!
Follow me on BlogLovin'
Goodreads | Instagram | Twitter | Contact Me