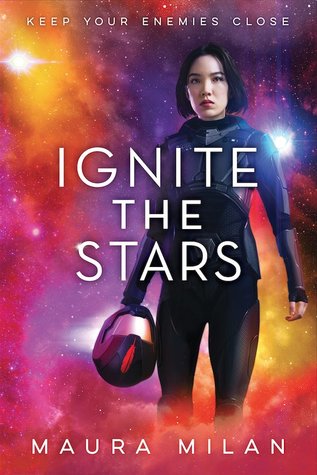 Title: Ignite the Stars
Author: Laura Milan
Series: N/A
Genre: Young Adult, Sci-fi, Romance
Publisher: Albert Whitman & Company
Publication date: September 4th, 2018
Pages: 400
My rating: 
---
Everyone in the universe knows his name. Everyone in the universe fears him. But no one realizes that notorious outlaw Ia Cocha is a seventeen-year-old girl.
A criminal mastermind and unrivaled pilot, Ia has spent her life terrorizing the Olympus Commonwealth, the imperialist nation that destroyed her home. When the Commonwealth captures her and her true identity is exposed, they see Ia's age and talent as an opportunity: by forcing her to serve them, they will prove that no one is beyond their control.
Soon, Ia is trapped at the Commonwealth's military academy, desperately plotting her escape. But new acquaintances—including Brinn, a seemingly average student with a closely-held secret, and their charming Flight Master, Knives—cause Ia to question her own alliances. Can she find a way to escape the Commonwealth's clutches before these bonds deepen?
In this exhilarating edge-of-your-seat sci-fi adventure—perfect for fans of The Lunar Chronicles—debut author Maura Milan introduces our world to a thrilling new heroine.
"She was a dark star, a black hole in the endless sky, and if he got too close, he would surely disappear. He knew all this, but even then, he couldn't turn away from her."
Wow, I was so pleasantly surprised by this book. To be honest, even though I was excited to read Ignite the Stars, I admit I went with pretty low expectations because I hadn't heard anyone talking about it, and though part of me was expecting to like it, I didn't know I was going to enjoy it as much as I did. And I was so happy I decided to pick this book up, because it ended up being amazing.
I was blown away by how easy it was to get into the story. Usually with sci-fi it takes me a few chapters to understand the world or the story itself, but with this particular book I found it extremely easy to understand everything that was going on. The information given to us at the beginning about the world building and the society wasn't confusing or boring, and I as kept reading the story things became better and better.
I would say, that though it had a nice and interesting plot, it was more a character driven type of story, because the book was more focused on the relationships and interactions between the characters and their overall development, which was pretty well done in my opinion. I adored the cast of characters and their evolution throughout the story, so I didn't mind a weaker plot.
"But chaos could take other faces and other forms. And when that happened, Brinn would be ready. She would know how to face down the darkness, because she had already stared right into its frightening black eyes."
Like I was saying, the characters were the strongest part of the novel. Our main character Ia was such a great and badass protagonist, and I absolutely adored her even from the beginning. The relationship she had with her roommate was so well written, and I actually really enjoyed the dynamics and interactions they had going on during the book, and how her friendship evolved and became a much stronger one at the end of the novel.
Though I feel the romance was a bit to rushed, I was glad to see that it wasn't the main focus of Ignite the Stars whatsoever. I liked the relationship between these two characters, and how the grew and changed as I kept reading the story, and mostly that it was a nice addition to everything that was going on in the book.
There were a few twists and turns from the middle to the end of the book, and though there were some that I was shocked and pretty surprised to read, I admit there were others that were a bit more predictable, but nonetheless it was still a very fast paced story with lots of action packed scenes.
Overall, I really enjoyed Ignite the Stars and would highly recommend if you want a very quick and fast paced story. The characters were great and the story was so entertaining and fun.
I received an ARC of this book in exchange for an honest review. This doesn't change my opinion whatsoever. All thoughts are my own.
Follow me on BlogLovin'
Goodreads | Instagram | Twitter | Contact Me