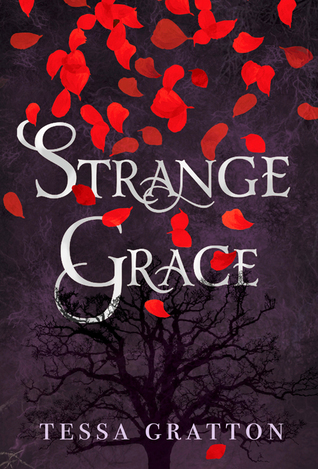 Title: Strange Grace
Author: Tessa Gratton
Series: N/A
Genre: Young Adult, Fantasy, High Fantasy, LGBT+, Romance, Paranormal
Publisher: Margaret K. McElderry
Publication date:September 18th, 2018
Pages: 320
My rating: 
---
Long ago, a village made a bargain with the devil: to ensure their prosperity, when the Slaughter Moon rises, the village must sacrifice a young man into the depths of the Devil's Forest.
Only this year, the Slaughter Moon has risen early.
Bound by duty, secrets, and the love they share for one another, Mairwen, a spirited witch; Rhun, the expected saint; and Arthur, a restless outcast, will each have a role to play as the devil demands a body to fill the bargain. But the devil these friends find is not the one they expect, and the lies they uncover will turn their town—and their hearts—inside out.
"Every seven years their best boy is sent into the forest from sundown to sunrise, on the night of the Slaughter Moon. He will live or die on his own mettle, and for his sacrifice the devil blesses Three Witches."
I cannot tell you how excited I was of this upcoming release, because not only the premise sounded epic and totally right up my alley, but also the reviews I saw about it were very positive and amazing, so I had such high hopes and I was expecting to adore it, and though when I think about it I've come to the conclusion that I enjoyed it, I found the journey of reading the actual book so tough and not as enjoyable as I hoped to.
The main issue that I had with this book wasn't related to the story itself, but more it was because of the format that I read it. I had an e-arc of Strange Grace, and there were some parts that either repeated words or chapters' names, or there were some blank gaps in between conversations or descriptions, and though when I first started I didn't really mind, as I kept reading the book I found myself struggling a lot to continue reading the novel because of said format and problems, so that had a lot to do with my lack of enjoyment regarding Strange Grace.
The characters were okay. I had a love/hate relationship with them throughout the story, because even though they had such an incredible development from the beginning of the book, there were times were I didn't connect with them as much as I wanted to, and that was because of their personalities. Something I adored seeing in a YA book was a polyamorous romance; I think that was so unique and well written and I loved the dynamics these three characters had, but it's true that during some scenes they behaved a bit oddly and that didn't make a lot of sense to me.
"Someday, Arthur thinks as he stares with burning blue eyes at the forest. Someday he'll run inside that forest and offer his heart to the devil."
Like I said before, the plot was actually very interesting and unique, but I struggle a lot with the pacing of the story. The beginning and first half of the book was pretty slow and it took me a while to really get into the book and feel captivated by the story, and the second half was quite rush in my opinion and there were so many things happening suddenly. I was a bit confused sometimes with everything that was going on.
On a more positive note, I really loved the ending. Despite the second part being a bit fast, I have to say that the ending redeemed the story a bit for me. The revelations made and the dynamics between the characters were so good, and I was pretty surprised by how much I enjoyed it considering that I wasn't the biggest fan of Strange Grace until then.
I've been thinking about this novel ever since I finished it, and I've come to the conclusion that I'll probably buy a finish copy and re-read it again, just to see if my opinion would change, because I know that when I think about Strange Grace I find elements that I loved, and I want to give it a second chance.
I received an ARC of this book in exchange for an honest review. This doesn't change my opinion whatsoever. All thoughts are my own.
Follow me on BlogLovin'
Goodreads | Instagram | Twitter | Contact Me