Hello bookworms! I'm Nia and today I'm going to be talking about some of my favorite LGBT+ books.
Thinking about this topic made me realice that I haven't read as many LGBT books as I want to, and though I own some releases I'm excited to read I still have to read them, so I hope that in the future I'll do a recommendation's posts or talk more about them. However, it's true that I have a few favorite that made to this list. And those ones I'm going to be talking about in this post.
If you aren't familiar with Top 5 Tuesday, it is a group here on WordPress now currently run by Shanah over at BionicBookWorm, where each week they give you a topic and you talk about 5 books that fit that category.
Without any further ado, let's start with this week's topic!
Far From You | Tess Sharpe
I have a review of this book here, in case you want to check it out!
Sophie Winters nearly died. Twice.
The first time, she's fourteen, and escapes a near-fatal car accident with scars, a bum leg, and an addiction to Oxy that'll take years to kick.
The second time, she's seventeen, and it's no accident. Sophie and her best friend Mina are confronted by a masked man in the woods. Sophie survives, but Mina is not so lucky. When the cops deem Mina's murder a drug deal gone wrong, casting partial blame on Sophie, no one will believe the truth: Sophie has been clean for months, and it was Mina who led her into the woods that night for a meeting shrouded in mystery.
After a forced stint in rehab, Sophie returns home to a chilly new reality. Mina's brother won't speak to her, her parents fear she'll relapse, old friends have become enemies, and Sophie has to learn how to live without her other half. To make matters worse, no one is looking in the right places and Sophie must search for Mina's murderer on her own. But with every step, Sophie comes closer to revealing all: about herself, about Mina and about the secret they shared.
The Song of Aquilles | Madeline Miller
Greece in the age of heroes. Patroclus, an awkward young prince, has been exiled to the court of King Peleus and his perfect son Achilles. By all rights their paths should never cross, but Achilles takes the shamed prince as his friend, and as they grow into young men skilled in the arts of war and medicine their bond blossoms into something deeper – despite the displeasure of Achilles' mother Thetis, a cruel sea goddess. But then word comes that Helen of Sparta has been kidnapped. Torn between love and fear for his friend, Patroclus journeys with Achilles to Troy, little knowing that the years that follow will test everything they hold dear.
Profoundly moving and breathtakingly original, this rendering of the epic Trojan War is a dazzling feat of the imagination, a devastating love story, and an almighty battle between gods and kings, peace and glory, immortal fame and the human heart.
Daughter of the Burning City | Amanda Foody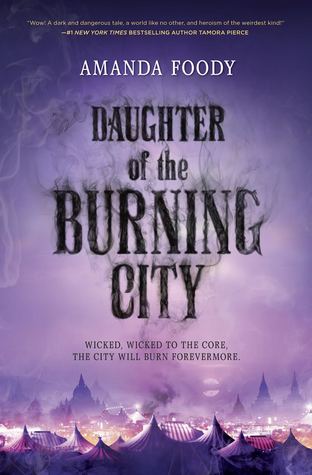 I have a review of this book here, in case you want to check it out!
Sixteen-year-old Sorina has spent most of her life within the smoldering borders of the Gomorrah Festival. Yet even among the many unusual members of the traveling circus-city, Sorina stands apart as the only illusion-worker born in hundreds of years. This rare talent allows her to create illusions that others can see, feel and touch, with personalities all their own. Her creations are her family, and together they make up the cast of the Festival's Freak Show.
But no matter how lifelike they may seem, her illusions are still just that—illusions, and not truly real. Or so she always believed…until one of them is murdered.
Desperate to protect her family, Sorina must track down the culprit and determine how they killed a person who doesn't actually exist. Her search for answers leads her to the self-proclaimed gossip-worker Luca, and their investigation sends them through a haze of political turmoil and forbidden romance, and into the most sinister corners of the Festival. But as the killer continues murdering Sorina's illusions one by one, she must unravel the horrifying truth before all of her loved ones disappear.
Girl Made of Stars | Ashley Herring Blake
I have a review of this book here, in case you want to check it out!
Mara and Owen are about as close as twins can get. So when Mara's friend Hannah accuses Owen of rape, Mara doesn't know what to think. Can the brother she loves really be guilty of such a violent crime? Torn between the family she loves and her own sense of right and wrong, Mara is feeling lost, and it doesn't help that things have been strained with her ex-girlfriend and best friend since childhood, Charlie.
As Mara, Hannah, and Charlie navigate this new terrain, Mara must face a trauma from her own past and decide where Charlie fits in her future. With sensitivity and openness, this timely novel confronts the difficult questions surrounding consent, victim blaming, and sexual assault.
Into the Drowning Deep | Mira Grant
I have a review of this book here, in case you want to check it out!
Seven years ago, the Atargatis set off on a voyage to the Mariana Trench to film a "mockumentary" bringing to life ancient sea creatures of legend. It was lost at sea with all hands. Some have called it a hoax; others have called it a maritime tragedy.
Now, a new crew has been assembled. But this time they're not out to entertain. Some seek to validate their life's work. Some seek the greatest hunt of all. Some seek the truth. But for the ambitious young scientist Victoria Stewart this is a voyage to uncover the fate of the sister she lost.
Whatever the truth may be, it will only be found below the waves. But the secrets of the deep come with a price.
What are your favorite LGBT+ books? Do you have any recommendations for me? Please let me know in the comments so I can add them to my TBR!
Follow me on BlogLovin'
Goodreads | Instagram | Twitter | Contact Me