Hello bookworms! I'm Nia and today I'm going to be talking about some of my favorite books that deal with mental health.
Though technically this post is about a class about mental health, I think I'll be doing a more in depth post in the future where I'll be talking about my favorite mental health novels, but for now I wanted to mentioned 5 of my favorites.
If you aren't familiar with Top 5 Wednesday, it is a Goodeads group now currently run by Sam over at ToughtsOfTomes on Youtube, where each week they give you a topic and you talk about 5 books that fit that category. You can join the group here if you want to participate!
Without any further ado, let's start with this week's topic!

Eliza and Her Monsters | Francesca Zappia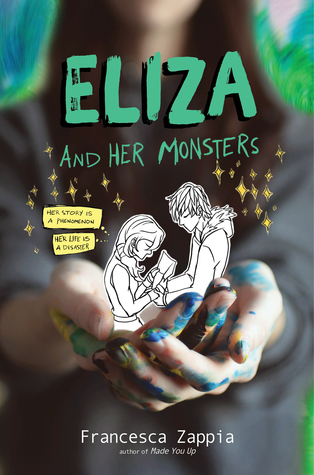 My thoughts: I adored this book back when I read it last year. I think it was a very unique story, with an incredible plot and I absolutely loved our main character, Eliza. The reason why I wanted to mention this book in this post is because Eliza has anxiety, and as a person who also deals with anxiety in my everyday life, I have to say that it was a very accurate representation. I'm not completely sure if she also had social anxiety (I read it a long time ago and can't remember many details), but if you're looking for a fast paced book or want to learn more about anxiety, maybe this'll be for you.
I have a review of this book here, in case you want to check it out.
Her story is a phenomenon. Her life is a disaster.
In the real world, Eliza Mirk is shy, weird, and friendless. Online, she's LadyConstellation, the anonymous creator of the wildly popular webcomic Monstrous Sea. Eliza can't imagine enjoying the real world as much as she loves the online one, and she has no desire to try.
Then Wallace Warland, Monstrous Sea's biggest fanfiction writer, transfers to her school. Wallace thinks Eliza is just another fan, and as he draws her out of her shell, she begins to wonder if a life offline might be worthwhile.
But when Eliza's secret is accidentally shared with the world, everything she's built—her story, her relationship with Wallace, and even her sanity—begins to fall apart.
Girl Against the Universe | Paula Stokes
My thoughts: Even though it hasn't been long ever since I finished this book, I highly recommend it because it was just so good. I really loved the story and the evolution these characters had, and I feel I haven't talked enough about it, so this is its moment to shine! This book has a main character with PTSD and anxiety, and I loved how the author handled everything. Something that I appreciated is that the main plot of the story was our protagonist going to therapy and trying to get better, and that's something that I don't usually come across in mental health stories.
Sixteen-year-old Maguire knows the universe is against her. No matter how many charms she buys off the internet or good luck rituals she performs each morning, horrible things happen when she's around. Like that time the roller coaster jumped off its tracks. Or the time the house next door caught on fire. Or the time her brother, father, and uncle were all killed in a car crash–and Maguire walked away with barely a scratch.
Despite what her therapist tells her, Maguire thinks it's best to hide out in her room, far away from anyone she might accidentally hurt. But then she meets Jordy, an aspiring tennis star who wants to help her break her unlucky streak. Maguire knows that the best thing she can do for him is to stay away, but it turns out staying away might be harder than she thought.
Sadie | Courtney Summers
My thoughts: Surprise, surprise! Quite shocking I'm mentioning this book again, right? I feel I haven't shut up talking about this book ever since I read it, but it's just because it was freaking amazing and it broke my heart into a million pieces, and this is my way to cope. I don't want to talk too much about it because it hasn't come out, but it was tough to read, but brilliantly written, and of course, it dealt with mental health. That was the main reason why I wanted to mention it in here, but if you're curious about this story I highly recommend you to read it when it comes out (it comes out in September, so super soon!).
I have a review of this book here, in case you want to check it out.
Sadie hasn't had an easy life. Growing up on her own, she's been raising her sister Mattie in an isolated small town, trying her best to provide a normal life and keep their heads above water.
But when Mattie is found dead, Sadie's entire world crumbles. After a somewhat botched police investigation, Sadie is determined to bring her sister's killer to justice and hits the road following a few meagre clues to find him.
When West McCray—a radio personality working on a segment about small, forgotten towns in America—overhears Sadie's story at a local gas station, he becomes obsessed with finding the missing girl. He starts his own podcast as he tracks Sadie's journey, trying to figure out what happened, hoping to find her before it's too late.
The First Time She Drowned | Kerri Kletter
My thoughts: I was pleasantly surprised with this book, because I didn't expect to love it as much as I did. It was a very sad and heartbreaking book, that dealt with depression and abuse, so be aware of that if you're going to pick it up. However, I think it was so well written and I empathized and connected so much to our main character that it almost felt like I was inside the book. It is a very underrated book in my opinion, and I highly recommend it.
I have a review of this book here, in case you want to check it out.
Cassie O'Malley has been trying to keep her head above water—literally and metaphorically—since birth. It's been two and a half years since Cassie's mother dumped her in a mental institution against her will, and now, at eighteen, Cassie is finally able to reclaim her life and enter the world on her own terms.
But freedom is a poor match against a lifetime of psychological damage. As Cassie plumbs the depths of her new surroundings, the startling truths she uncovers about her own family narrative make it impossible to cut the tethers of a tumultuous past. And when the unhealthy mother-daughter relationship that defined Cassie's childhood and adolescence threatens to pull her under once again, Cassie must decide: whose version of history is real? And more important, whose life must she save?
The Kiss Quotient | Helen Hoang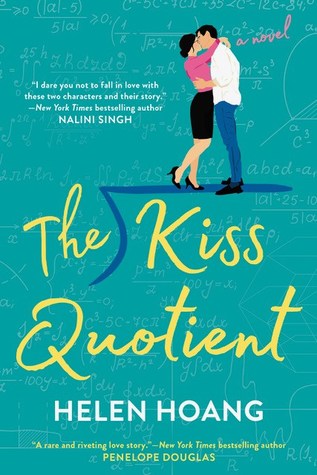 My thoughts: I loved this book so much. I know this is a very hyped novel and everyone's been raving about it lately, and though there were some problematic things towards the end of the story, I had such a great time reading it, and overall really enjoyed it. Our main character in this story had asperger, so this book was mainly about her trying to become more intimate in her relationships. Now this book contains some explicit sexual scenes, so if you're a younger bookworm, I would say wait a few years, but overall it was a very cute story.
Stella Lane thinks math is the only thing that unites the universe. She comes up with algorithms to predict customer purchases–a job that has given her more money than she knows what to do with, and way less experience in the dating department than the average thirty-year-old.
It doesn't help that Stella has Asperger's and French kissing reminds her of a shark getting its teeth cleaned by pilot fish. Her conclusion: she needs lots of practice–with a professional. Which is why she hires escort Michael Phan. The Vietnamese and Swedish stunner can't afford to turn down Stella's offer, and agrees to help her check off all the boxes on her lesson plan–from foreplay to more-than-missionary position…
Before long, Stella not only learns to appreciate his kisses, but to crave all the other things he's making her feel. Soon, their no-nonsense partnership starts making a strange kind of sense. And the pattern that emerges will convince Stella that love is the best kind of logic…
Do you have any recommendations about mental health related stories? Have you read any of these books? Let me know in the comments so we can talk about them!
Follow me on BlogLovin'
Goodreads | Instagram | Twitter | Contact Me