Hello bookworms! I'm Nia and today I'm going to be talking about the books that I read this past month of August!
August was such an incredible reading month for me I cannot believe it. I ended up reading a total of 24 books this month, which is the best and longest number of books read in a month, and I'm so proud of myself for reaching that number. Though some weren't as good as I wanted, there were others that I loved, so it wasn't that bad. I'm still super happy with everything, and hopefully this month will be as good.
Without any further ado, let's start with the post!
I participated in the BookTubeAThon at the beginning of the month, and I read a total of eight books. I've already posted a full blog about my experience plus wrap up, so if you are curious in what books I'd read that week, click here to know more!
Song of the Current | Sarah Tolcser
⭐️⭐️⭐️.5
My thoughts: I was so excited to read this book because lately I've been in the hunt for a good pirate book and the premise of this one sounded really good, so I went with pretty high expectations. However, though I overall enjoyed the story, I had a few issues with it that made me not rate it as high as I wanted to.
One of the things that threw me off a bit was the writing style. I was a bit confused with the descriptions and the slang, and it took me almost half of the book to start enjoying the story and getting into it. Though I think it was a very atmospheric read and it definitely made me feel like I was in the ocean, it took me a long to finish Song of The Current.
The characters weren't bad, and the plot was quite interesting. I enjoyed the relationship between our main character and the love interest, and their interactions were really well done. They both have a solid evolution, and the romance was actually very well done and slow paced, which was honestly one of the things that I loved the most about it.
The plot started to be more interesting as I kept reading the book and reached the half mark, because like I said before, I was a bit confused with what was going on and the world building and it took me more than 120 pages to fully be interested in what I was reading. I really enjoyed the twists and turns, and though there were a few revelations made towards the end that were a bit predictable to me, I was pretty satisfied with the journey the characters went through.
Overall, I think my main issue with the book was the writing style, and because of it, it took me a bit longer to enjoy the plot and characters more.
Caroline Oresteia is destined for the river. For generations, her family has been called by the river god, who has guided their wherries on countless voyages throughout the Riverlands. At seventeen, Caro has spent years listening to the water, ready to meet her fate. But the river god hasn't spoken her name yet—and if he hasn't by now, there's a chance he never will. Caro decides to take her future into her own hands when her father is arrested for refusing to transport a mysterious crate. By agreeing to deliver it in exchange for his release, Caro finds herself caught in a web of politics and lies, with dangerous pirates after the cargo—an arrogant courier with a secret—and without the river god to help her. With so much at stake, Caro must choose between the life she always wanted and the one she never could have imagined for herself.
From debut author Sarah Tolcser comes an immersive and romantic fantasy set along the waterways of a magical world with a headstrong heroine determined to make her mark.
Ignite the Stars | Maura Milan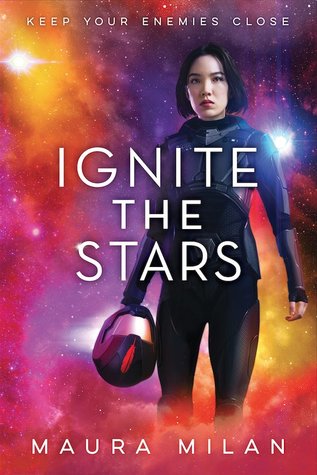 ⭐️⭐️⭐️⭐️
My thoughts: I have already posted a review of this book, so click here if you want to know my thoughts about it.
Everyone in the universe knows his name. Everyone in the universe fears him. But no one realizes that notorious outlaw Ia Cocha is a seventeen-year-old girl. A criminal mastermind and unrivaled pilot, Ia has spent her life terrorizing the Olympus Commonwealth, the imperialist nation that destroyed her home. When the Commonwealth captures her and her true identity is exposed, they see Ia's age and talent as an opportunity: by forcing her to serve them, they will prove that no one is beyond their control.
Soon, Ia is trapped at the Commonwealth's military academy, desperately plotting her escape. But new acquaintances—including Brinn, a seemingly average student with a closely-held secret, and their charming Flight Master, Knives—cause Ia to question her own alliances. Can she find a way to escape the Commonwealth's clutches before these bonds deepen?
A Study in Charlotte | Britney Cavallaro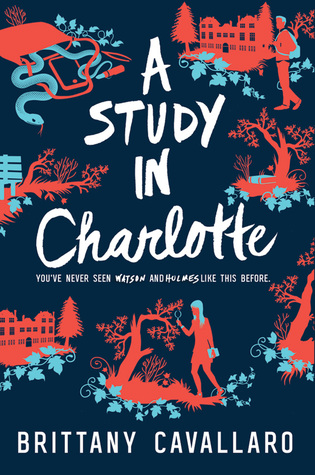 ⭐️⭐️⭐️.75
My thoughts: Even though I haven't read the original books this one is based on, I had a fair idea of what they were about (mostly because I watched the TV show Sherlock), and really enjoyed the concept, so I was pretty intrigued with A Study in Charlotte and decided to pick it up and see if it was just as good as it sounded.
Let me start by saying that when I first started reading this book I hated the characters that were in it. Charlotte was so obnoxious and annoying and Jamie was quite plain. However, since I was very interesting in the plot and thought it was mysterious and well written, I decided to continue reading it, and I was so glad I did, because I ended up really enjoying the whole story and connecting with the characters much more, till the point I liked them once I finished.
Charlotte ended up being a much more complex character than what I thought, and her interactions and dynamics with Jamie became a bit more realistic and smoother than they were at the beginning. Even though I'm still not sure if I ship the pair, I was pleasantly surprised.
The plot itself was so well done and kept me wanting to continue reading until the very end. It was a very atmospheric read and it felt as if you were inside the book as well, and though some of the things that happened towards the ending weren't as surprising as I wanted, I was still happy about how things solved up.
The last thing Jamie Watson wants is a rugby scholarship to Sherringford, a Connecticut prep school just an hour away from his estranged father. But that's not the only complication: Sherringford is also home to Charlotte Holmes, the famous detective's great-great-great-granddaughter, who has inherited not only Sherlock's genius but also his volatile temperament. From everything Jamie has heard about Charlotte, it seems safer to admire her from afar. From the moment they meet, there's a tense energy between them, and they seem more destined to be rivals than anything else. But when a Sherringford student dies under suspicious circumstances, ripped straight from the most terrifying of the Sherlock Holmes stories, Jamie can no longer afford to keep his distance. Jamie and Charlotte are being framed for murder, and only Charlotte can clear their names. But danger is mounting and nowhere is safe—and the only people they can trust are each other.
Rule | Ellen Goodlett
⭐️⭐️⭐️
My thoughts: I have already posted a review of this book, so click here if you want to know my thoughts about it. 
Three girls with three deadly secrets. Only one can wear the crown.
The king
s heir has just been murdered, and rebellion brews in the east. But the kingdom of Kolonya and the outer Reaches has one last option before it descends into leaderless chaos.
Or rather, three unexpected options.
Zofi has spent her entire life trekking through the outer Reaches with her band of Travelers. She would do anything to protect the band, her family. But no one can ever find out how far she's already gone.
Akeylah was raised in the Eastern Reach, surrounded by whispers of rebellion and abused by her father. Desperate to escape, she makes a decision that threatens the whole kingdom.
Ren grew up in Kolonya, serving as a lady's maid and scheming her way out of the servants' chambers. But one such plot could get her hung for treason if anyone ever discovers what she's done.
When the king summons the girls, they arrive expecting arrest or even execution. Instead they learn the truth: they are his illegitimate daughters, and one must become his new heir. But someone in Kolonya knows their secrets, and that someone will stop at nothing to keep the sisters from their destiny… to rule.
Little Do We Know | Tamara Ireland Stone
⭐️⭐️⭐️⭐️.25
My thoughts: This was my first Tamara Ireland Stone book that I picked up, and I was so excited because I've heard amazing things about her books in general, so I had a feeling I was going to enjoy Little Do We Know. Turns out, I did, even though I was expecting something completely different, but I think it was a beautifully done book.
My favorite part of this novel was how amazingly well crafted the relationships between the characters were. They were so real and true that it almost felt as if I were one of those characters experiencing what they were going through in this story, and not only that, but the complexity of their friendship and overall the romances were so so good. Even though during more than half of the book these two main girls weren't friends, it was so clear how much they still cared for each other and thought about their relationship and what went wrong. I don't know, everything was so raw and amazing, that I couldn't help but appreciate those little details.
The romance was actually so amazing as well. Though these two characters had their ups and downs throughout the story, I still really enjoyed their relationship and dynamics and how they tried to help and be supportive towards the other, and I was so happy to see that in a YA book.
One thing that really surprised me is that in this novel religion was a very important part, and I'm still don't know if I truly loved that or not, because I feel maybe it was a bit too much focused on that, though I understand why it was. However, it was a beautiful and real story and I highly recommend it.
Next-door neighbors and ex-best friends Hannah and Emory haven't spoken in months. Not since the fight—the one where they said things they couldn't take back.Now, Emory is fine-tuning her UCLA performing arts application and trying to make the most of the months she has left with her boyfriend, Luke, before they head off to separate colleges. Meanwhile, Hannah's strong faith is shaken when her family's financial problems come to light, and she finds herself turning to unexpected places—and people—for answers to the difficult questions she's suddenly facing.
No matter how much Hannah and Emory desperately want to bridge the thirty-six steps between their bedroom windows, they can't. Not anymore.
Until their paths cross unexpectedly when, one night, Hannah finds Luke doubled over in his car outside her house. In the aftermath of the accident, all three struggle to understand what happened in their own ways. But when a devastating secret about Hannah and Emory's argument ultimately comes to light, they must all reexamine the things they hold true.

For a Muse of Fire | Heidi Heilig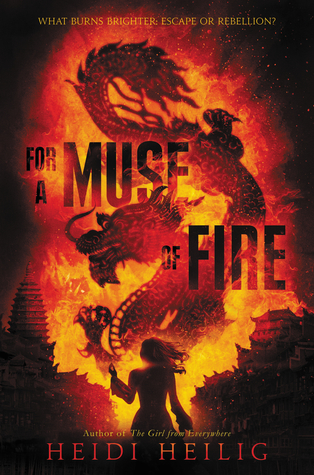 ⭐️⭐️⭐️.75
My thoughts: This book was one of my most anticipated releases of this year, and I was so excited to pick it up because it sounded epic, and though I had some issues with it that mostly were caused by my high expectations, I overall really enjoyed it and would for sure continue with the sequel.
It took me a bit to get into the story, because I was a bit confused with everything that was going on at the very beginning of the novel, and all the information that was given to us about the world building and the society, but as I kept reading For a Muse of Fire, I became more and more invested in the plot and the characters, and I couldn't stop reading until I finished.
When it comes to the characters, I overall enjoyed their journey and development. It took me a while to see a smooth evolution in our main character, but I really enjoyed her personality and dynamics not only with her parents but with the rest of the characters, and I was so interested in her magic because it was such a cool addition. They became more and more complex as the story progressed, and I adored seeing her become stronger. The romance was the slow burning type, and it was so well done and I absolutely loved it.
Even though the pacing of the book was more on the slower side, and there weren't many action packed scenes until the last quarter of the novel, I still enjoyed the plot and think it turned more complex as the story continued, and the twists and turns were pretty amazing, even though I predicted a couple of them, but nonetheless, it was a very intriguing first installment and I cannot wait to know what will happen next.
I received an ARC of this book in exchange for an honest review. This doesn't change my opinion whatsoever. All thoughts are my own.
Jetta's family is famed as the most talented troupe of shadow players in the land. With Jetta behind the scrim, their puppets seem to move without string or stick—a trade secret, they say. In truth, Jetta can see the souls of the recently departed and bind them to the puppets with her blood. But the old ways are forbidden ever since the colonial army conquered their country, so Jetta must never show, never tell. Her skill and fame are her family's way to earn a spot aboard the royal ship to Aquitan, where shadow plays are the latest rage, and where rumor has it the Mad King has a spring that cures his ills. Because seeing spirits is not the only thing that plagues Jetta. But as rebellion seethes and as Jetta meets a young smuggler, she will face truths and decisions that she never imagined—and safety will never seem so far away.
Keeper of the Bees | Meg Kassel
⭐️⭐️⭐️
My thoughts: I was pretty intrigued by the premise of this book, because even though the companion novel wasn't my favorite when I read it last year, I adored the beekeeper that was introduced in that story, so I was so excited when I saw that this author was coming out with a book about a beekeeper.
I would say, that I have mixed feelings when it comes to this novel. On one hand, I really enjoyed the story and I think the mystery wasn't bad written and kept me wanting to know what was going to happen and how things would end. Though the big revelation was a bit anticlimactic to me, I still enjoyed the journey of trying to find out what was all about and who the murderer was.
But on the other hand, I found the characters extremely unremarkable. I didn't really like the romance, and I feel it was introduced to us so early (the main character was already meeting the love interest in the first scene of the book), and the relationship between those characters, though it wasn't bad or anything, it wasn't my favorite. I didn't really clicked with Essie as a character, and though I sometimes enjoyed Dresden's point of views, I found them so underdeveloped and plain that I was a bit bored during some parts of the book.
The ending was just so weird and confusing and a bit too convenient. I didn't really understand what was going on, and there wasn't really explained in the story, so I was a bit disappointed about that.
Overall, it was a fun and entertaining story, and it took me a couple of hours to finish, which surprised me because I thought it would be a much slower paced romance, and though I had some issues with the characters and their relationship throughout the story, I enjoyed the plot and the mystery.
I received an ARC of this book in exchange for an honest review. This doesn't change my opinion whatsoever. All thoughts are my own.
Dresden is cursed. His chest houses a hive of bees that he can't stop from stinging people with psychosis-inducing venom. His face is a shifting montage of all the people who have died because of those stings. And he has been this way for centuries—since he was eighteen and magic flowed through his homeland, corrupting its people.
He follows harbingers of death, so at least his curse only affects those about to die anyway. But when he arrives in a Midwest town marked for death, he encounters Essie, a seventeen-year-old girl who suffers from debilitating delusions and hallucinations. His bees want to sting her on sight. But Essie doesn't see a monster when she looks at Dresden.
Essie is fascinated and delighted by his changing features. Risking his own life, he holds back his bees and spares her. What starts out as a simple act of mercy ends up unraveling Dresden's solitary life and Essie's tormented one. Their impossible romance might even be powerful enough to unravel a centuries-old curse.
A Curious Beginning | Deanna Rayburn
⭐️⭐️⭐️⭐️
My thoughts: I decided to pick this book on a whim because it was on my TBR for quite a while, and the premise sounded super interesting, and I ended up loving it more than I thought I would be.
This was such a well written mystery novel. It's true that it was a bit slow paced and took me a bit to get into the story, but since that usually happens to me with adult books, I'm not blaming it on this particular one. Still I think the plot was quite complex and it kept me interested and on the edge of my seat for the entire story, and I think the plot built up to have a really good ending, which is what usually worries me with mystery/thriller books.
The characters were so well crafted, and I absolutely adored them. They were so complex and their relationship were the slow burning type, and I was dying throughout the whole book. The relationships and the romance were so well written, and the chemistry was so incredible, that it made me want to continue with the rest of the books.
The ending was very good and left a lasting impression on me. Though I was so proud I could predict one of the twists, there were still some of them that surprised me and kept me wanting to know what was going to happen next.
London, 1887. After burying her spinster aunt, orphaned Veronica Speedwell is free to resume her world travels in pursuit of scientific inquiry—and the occasional romantic dalliance. As familiar with hunting butterflies as with fending off admirers, Veronica intends to embark upon the journey of a lifetime.
But fate has other plans when Veronica thwarts her own attempted abduction with the help of an enigmatic German baron, who offers her sanctuary in the care of his friend Stoker, a reclusive and bad-tempered natural historian. But before the baron can reveal what he knows of the plot against her, he is found murdered—leaving Veronica and Stoker on the run from an elusive assailant as wary partners in search of the villainous truth.
The Lantern's Ember | Colleen Houck
⭐️
My thoughts: I have already posted a review of this book, so click here if you want to know my thoughts about it. 
Welcome to a world where nightmarish creatures reign supreme.
Five hundred years ago, Jack made a deal with the devil. It's difficult for him to remember much about his mortal days. So, he focuses on fulfilling his sentence as a Lantern—one of the watchmen who guard the portals to the Otherworld, a realm crawling with every nightmarish creature imaginable. Jack has spent centuries jumping from town to town, ensuring that nary a mortal—or not-so-mortal—soul slips past him. That is, until he meets beautiful Ember O'Dare.
Seventeen, stubborn, and a natural-born witch, Ember feels a strong pull to the Otherworld. Undeterred by Jack's warnings, she crosses into the forbidden plane with the help of a mysterious and debonair vampire—and the chase through a dazzling, dangerous world is on. Jack must do everything in his power to get Ember back where she belongs before both the earthly and unearthly worlds descend into chaos.
The Song of Achilles | Madeline Miller
⭐️⭐️⭐️⭐️⭐️
My thoughts: I have already posted a review of this book, so click here if you want to know my thoughts about it. 
Greece in the age of heroes. Patroclus, an awkward young prince, has been exiled to the court of King Peleus and his perfect son Achilles. By all rights their paths should never cross, but Achilles takes the shamed prince as his friend, and as they grow into young men skilled in the arts of war and medicine their bond blossoms into something deeper – despite the displeasure of Achilles' mother Thetis, a cruel sea goddess. But then word comes that Helen of Sparta has been kidnapped. Torn between love and fear for his friend, Patroclus journeys with Achilles to Troy, little knowing that the years that follow will test everything they hold dear.
The Cheerleaders | Kara Thomas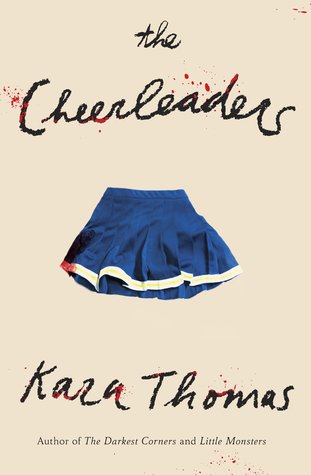 ⭐️⭐️⭐️.75
My thoughts: I cannot tell you how excited I was to read this book. Last year I read another book by Kara Thomas and really enjoyed it, so needless to say this one was one of my most anticipated releases of the year, and though I overall really enjoyed it, there were some things that weren't as good as I expected, and that made me lower my rating a bit.
Kara Thomas is so good at writing books with stereotypical characters that end up being more complex and have darker secrets than you expect them to, and adding a mind blowing twist at the very end, and this book was no different. Though some of these characters were very unlikeable and weren't my cup of tea, their interactions and development throughout the story were very well written, and I had to appreciate that. There were little glimpses of our main character's sister while she was alive, and I think that was a very interesting addition to the plot itself.
The book was super fast paced and I was constantly wanting to know what was going to happen, and that is usually one of the things that I want my thrillers to do to me, and this one did, so I'm happy.
However, I found the entire plot very predictable, and I was hoping to be a bit more surprised by it. That is totally my fault because I tend to predict these type of twists in mysteries and thrillers, but I guess I wanted to be surprised. Still I think that last chapter was so good and I absolutely loved it.
There are no more cheerleaders in the town of Sunnybrook.
First there was the car accident—two girls gone after hitting a tree on a rainy night. Not long after, the murders happened. Those two girls were killed by the man next door. The police shot him, so no one will ever know why he did it. Monica's sister was the last cheerleader to die. After her suicide, Sunnybrook High disbanded the cheer squad. No one wanted to be reminded of the girls they lost.
That was five years ago. Now the faculty and students at Sunnybrook High want to remember the lost cheerleaders. But for Monica, it's not that easy. She just wants to forget. Only, Monica's world is starting to unravel. There are the letters in her stepdad's desk, an unearthed, years-old cell phone, a strange new friend at school. . . . Whatever happened five years ago isn't over. Some people in town know more than they're saying. And somehow Monica is at the center of it all.
There are no more cheerleaders in Sunnybrook, but that doesn't mean anyone else is safe.
Sea Witch | Sarah Henning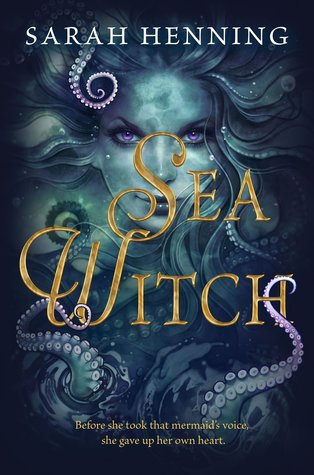 ⭐️
My thoughts: I have already posted a review of this book, so click here if you want to know my thoughts about it. 
Everyone knows what happens in the end. A mermaid, a prince, a true love's kiss. But before that young siren's tale, there were three friends. One feared, one royal, and one already dead.
Ever since her best friend, Anna, drowned, Evie has been an outcast in her small fishing town. A freak. A curse. A witch.
A girl with an uncanny resemblance to Anna appears offshore and, though the girl denies it, Evie is convinced that her best friend actually survived. That her own magic wasn't so powerless after all. And, as the two girls catch the eyes—and hearts—of two charming princes, Evie believes that she might finally have a chance at her own happily ever after.
But her new friend has secrets of her own. She can't stay in Havnestad, or on two legs, unless Evie finds a way to help her. Now Evie will do anything to save her friend's humanity, along with her prince's heart—harnessing the power of her magic, her ocean, and her love until she discovers, too late, the truth of her bargain.
The Deepest Roots | Miranda Asebero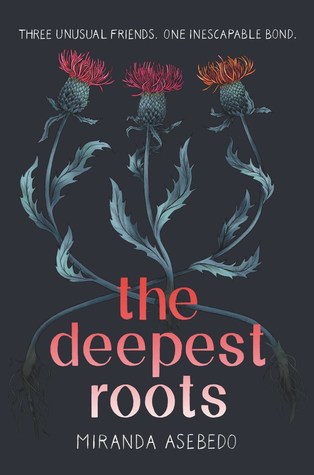 ⭐️⭐️⭐️.5
My thoughts: I was super interested in the premise of the book, and though it is labelled as a magical realism story, I would say it was more of a YA contemporary with snippets of magic than that, because it didn't read like a magical realism type of book.
I would say that even though when I first started The Deepest Roots I wasn't the biggest fan of the cast of characters, I ended up really enjoying their evolution throughout the story. One of my favorite parts of this book was the friendship between these three girls, and how despite them being apart in some parts of the story didn't affect how much they cared about the other. The dynamics between them were very well crafted and real and I loved how the main focus of the story was the relationship between them.
The only thing that I didn't like that much and found a bit unnecessary was the romance. Though it wasn't bad or anything, I feel it didn't add much to the story and was there for the mere purpose of adding it so more people could enjoy it.
The plot was actually very interesting and made me want to know more about the magic and those characters. The magic system wasn't really explain and was a bit confusing, and I would have loved to see it being addressed more throughout the book, there were some twists and turns that I really enjoyed, and though the ending was very predictable and I knew it was going to happen, I still had a great time reading The Deepest Roots.
Overall, it was a very interesting and unique story, and even though there were some elements that I didn't love, I enjoyed the friendship and plot very much.
Cottonwood Hollow, Kansas, is a strange place. For the past century, every girl has been born with a special talent, like the ability to Fix any object, Heal any wound, or Find what is missing.
Best friends Rome, Lux, and Mercy all have similar talents, but to them, their abilities often feel like a curse. Rome may be able to Fix anything she touches, but that won't help her mom pay rent or make it any easier to confide in Lux and Mercy about what's going on at home. And Rome isn't the only one. Lux has been hiding bigger, more dangerous secrets.
As Rome struggles to keep her friendships close, she discovers the truth about life in Cottonwood Hollow—that friends are stronger than curses, that trust is worth the risk, and sometimes, what you've been looking for has been under your feet the whole time.
Roomies | Christina Lauren
⭐️⭐️⭐️⭐️
My thoughts: This was the first Christina Lauren book I read and it made me want to continue reading more of their books. It was a very fun and entertaining read and since I was on a reading slump when I picked it up it was the perfect book I needed.
Like most of NA contemporaries, it was a super fast paced read and it took me a couple of hours to finish it. It was easy to get into, and I overall had a good time getting to know those characters.
Though I feel it wasn't as focused on Broadway and the musicals as I would have loved, I still enjoyed the relationship between our main character and the love interest, and though I had some issues with their interactions throughout the story, I still enjoyed the chemistry and dynamics they had going on.
Rescued by Calvin McLoughlin from a would-be subway attacker, Holland Bakker pays the brilliant musician back by pulling some of her errand-girl strings and getting him an audition with a big-time musical director. When the tryout goes better than even Holland could have imagined, Calvin is set for a great entry into Broadway—until he admits his student visa has expired and he's in the country illegally.
Holland impulsively offers to wed the Irishman to keep him in New York, her growing infatuation a secret only to him. As their relationship evolves from awkward roommates to besotted lovers, Calvin becomes the darling of Broadway. In the middle of the theatrics and the acting-not-acting, what will it take for Holland and Calvin to realise that they both stopped pretending a long time ago?
The Jewel | Amy Ewing
⭐️⭐️⭐️.25
My thoughts: I was pretty intrigued by the premise of this book, and finally decided to pick it up after having it on my TBR for quite a long time, and though I overall enjoyed it and think it was a very interesting first installment, there were some issues I had with the characters and the plot itself that made me not loving it as much as I expected to.
The thing about this book is that it is okay. The plot isn't that complex and the characters are quite plain and not that remarkable, but it was a nice and solid book. I enjoyed seeing our main character's development, and though at times she was a bit annoying, it was still a nice evolution. I also really enjoyed her interactions with the rest of the girls and the friendship that was in The Jewel, but there was something about the romance that didn't make me head over heals with it.
The world building wasn't as complex as I expected, and though we still had a fair picture of what the world and society was in the story, I guess I would have loved to see something much more complex that what it was, and this happened to me as well with the characters.
I feel I would have enjoyed this book more if I was younger and started reading, because it had potential, but the structure and the way the characters were crafted was like the old YA, and after reading a lot of books, I wasn't mind blown.
The Jewel means wealth. The Jewel means beauty. The Jewel means royalty. But for girls like Violet, the Jewel means servitude. Not just any kind of servitude. Violet, born and raised in the Marsh, has been trained as a surrogate for the royalty—because in the Jewel the only thing more important than opulence is offspring.
Purchased at the surrogacy auction by the Duchess of the Lake and greeted with a slap to the face, Violet (now known only as #197) quickly learns of the brutal truths that lie beneath the Jewel's glittering facade: the cruelty, backstabbing, and hidden violence that have become the royal way of life.
Violet must accept the ugly realities of her existence… and try to stay alive. But then a forbidden romance erupts between Violet and a handsome gentleman hired as a companion to the Duchess's petulant niece. Though his presence makes life in the Jewel a bit brighter, the consequences of their illicit relationship will cost them both more than they bargained for.
The White Rose | Amy Ewing
⭐️⭐️.5
My thoughts: After finishing The Jewel and reading about that cliffhanger towards the end, I decided to marathon this book as well, and I think that wasn't the best idea, because all the issues I had with the first installment were bigger in the sequel.
Something that I enjoyed seeing was that there was some type of explanation about why these girls had the powers they had, and how they appear and all that stuff. I was pretty satisfied with all the revelations about the "magic", and though I'm still not sure if I'm enjoying the path this story is taking, that was one of the things that kept me wondering the most in The Jewel.
However, I feel not much was happening in this installment. I was pretty bored and didn't care much about what was happening to the characters, and though their evolution still was nice and there, there was something about the plot that didn't kept me wanting to keep reading. I feel there were a lot of unnecessary things going on that didn't add much to the original plot, and I didn't know what to think about them.
Though it was a very fast paced book and I finished it in less than three hours, and had another cliffhanger ending, I'm not sure if I'll be reading the third book. I guess I still have to think about The White Rose a bit more to decide that.
Violet is on the run. After the Duchess of the Lake catches Violet with Ash, the hired companion at the Palace of the Lake, Violet has no choice but to escape the Jewel or face certain death. So along with Ash and her best friend, Raven, Violet runs away from her unbearable life of servitude.
But no one said leaving the Jewel would be easy. As they make their way through the circles of the Lone City, Regimentals track their every move, and the trio barely manages to make it out unscathed and into the safe haven they were promised—a mysterious house in the Farm.
But there's a rebellion brewing, and Violet has found herself in the middle of it. Alongside a new ally, Violet discovers her Auguries are much more powerful than she ever imagined. But is she strong enough to rise up against the Jewel and everything she has ever known?
What books did you read this past month? Have you read any of these ones or do you have them on your TBR? Let me know in the comments so we can talk about them!
Follow me on BlogLovin'Goodreads | Instagram | Twitter | Contact Me