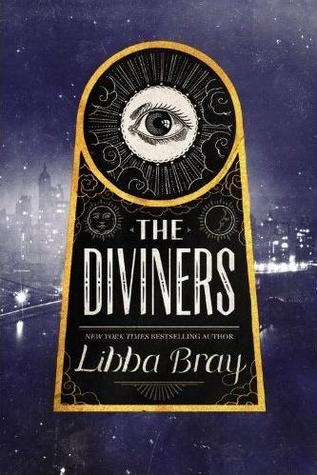 Title: The Diviners
Author: Libba Bray
Series: The Diviners #1
Genre: Young Adult, Historical Fiction, Paranormal, Romance
Publisher: Little Brown Books
Publication date: September 12th, 2012
Pages: 578
My rating: 
---
Evie O'Neill has been exiled from her boring old hometown and shipped off to the bustling streets of New York City—and she is pos-i-tute-ly ecstatic. It's 1926, and New York is filled with speakeasies, Ziegfeld girls, and rakish pickpockets. The only catch is that she has to live with her uncle Will and his unhealthy obsession with the occult.
Evie worries he'll discover her darkest secret: a supernatural power that has only brought her trouble so far. But when the police find a murdered girl branded with a cryptic symbol and Will is called to the scene, Evie realizes her gift could help catch a serial killer.
As Evie jumps headlong into a dance with a murderer, other stories unfold in the city that never sleeps. A young man named Memphis is caught between two worlds. A chorus girl named Theta is running from her past. A student named Jericho hides a shocking secret. And unknown to all, something dark and evil has awakened.
"We are the Diviners. We hace been and we will be. […] We see the dead. We speak to restless spirits. We walk in dreams. We read the meaning from every held things."
This is one of those books that I've been circulating Goodreads and everywhere in general for the longest time and been wanting to read for forever, but I was super intimidated by it, but since fall and Halloween are super close, I finally decided to pick it up. And I was so glad I did it, because I've just discovered a new favorite series of mine.
I would say that it took me a few chapters to finally get into the story and what was happening, because the writing at first kind of threw me off a bit, but as I kept reading I got used to the character's personalities and the author's writing style, and I completely fell in love with the plot and the book in general. It is one of those atmospheric eerie books that you can't help but love, and I cannot wait to read Lair of Dreams.
The plot of The Diviners was so interesting and complex that once I reach a certain amount of pages I couldn't put it down. It was just so spooky and amazing that I was hooked. I love the mystery surrounding the whole premise and trying to decipher it along the cast of characters. It was equal parts atmospheric and whimsical, with the perfect amount of scary elements (especially given the fact that I'm a chicken when it comes to anything related to ghosts).
"He became obsessed with good and evil, and with the idea that this was a country haunted by ghosts. That there was something beyond what we see. He spent his life — and his fortune — trying to prove it."
The book also has an incredible and very different cast of characters. I would say that at the beginning I wasn't the biggest fan of Evie, and it took me about a hundred pages to finally understand her personality and humor, but as I continued reading the novel I found myself become closer and closer to those characters, till the point they became my little babies, and I need them protected and saved.
The dynamics between those characters were so well written and done in a very realistic way, and it was very cool and interesting to read from each POV while wishing them to finally meet. I think the character development and the interactions were so well flashed out and even though it was the slow burning type of story, we still got to see a fair picture of those characters' back stories and what they went through.
And let me tell you, that ending killed me. To be honest I was a bit scared the ending wasn't going to be as good as the story was being so fast, because that usually happens to me with mysteries or thrillers, but I feel the climax of the story was incredible. I was so blown away by how much I adored that ending, and how creeped out I was reading The Diviners (if you're a chicken like me I wouldn't recommend to read it at night, especially once you reach the part where they go inside the house), but the whole story left a lasting impression on my, till the point that it put me in a reading slump where I wanted to read nothing but the next book.
Overall, it was an incredible first installment, and after loving it so much I cannot wait to pick up Lair of Dreams and discover what was going to happen next!
Follow me on BlogLovin'
Goodreads | Instagram | Twitter | Contact Me