Hello bookworms! I'm Nia and today I'm going to be talking about some books that I adore, but when I started them I contemplated DNFing them.
Okay, this topic was pretty tough to me because I hardly DNF books. I could at some point contemplate DNFing them, but I try my best to push trough to the very end, mostly because I'm the type of reader that thinks that a book could get better at the end, even though most of the books that I wasn't a fan of didn't. But still, there are cases like the ones I'm going to talk about in this post that were a complete hit for me, and I'm so glad I decided to continue reading them, because some of them have become some of my favorites.
If you aren't familiar with Top 5 Tuesday, it is a group here on WordPress now currently run by Shanah over at BionicBookWorm, where each week they give you a topic and you talk about 5 books that fit that category.
Without any further ado, let's start with this week's topic!
A Darker Shade of Magic | V. E. Schwab
My thoughts: I admit it, when I first started this book it was more than two years ago and I didn't use to read that many adult books, so this was a confusing story to me. Mostly because it was a very slow book and I felt it wasn't as action packed as I firstly expected, but I'm glad I continued reading the story, because I ended up falling in love with Victoria Schwab's writing and her way to tell a story.
Kell is one of the last Antari—magicians with a rare, coveted ability to travel between parallel Londons; Red, Grey, White, and, once upon a time, Black.
Kell was raised in Arnes—Red London—and officially serves the Maresh Empire as an ambassador, traveling between the frequent bloody regime changes in White London and the court of George III in the dullest of Londons, the one without any magic left to see.
Unofficially, Kell is a smuggler, servicing people willing to pay for even the smallest glimpses of a world they'll never see. It's a defiant hobby with dangerous consequences, which Kell is now seeing firsthand.
After an exchange goes awry, Kell escapes to Grey London and runs into Delilah Bard, a cut-purse with lofty aspirations. She first robs him, then saves him from a deadly enemy, and finally forces Kell to spirit her to another world for a proper adventure.
Now perilous magic is afoot, and treachery lurks at every turn. To save all of the worlds, they'll first need to stay alive.
Illuminae | Amy Kaufman & Jay Kristoff
My thoughts: Okay, so technically I didn't think of DNFing this book, because I thought the format was super interesting and unique, but it's true that I was pretty confused and it took me a while to finally get into the story, so I still wanted to mention it in this post mostly because even though I ended up really enjoying it, it's true that it took me a while to understand what was going on.
I have a review of this book here, in case you want to check it out.
This morning, Kady thought breaking up with Ezra was the hardest thing she'd have to do. This afternoon, her planet was invaded.
The year is 2575, and two rival megacorporations are at war over a planet that's little more than an ice-covered speck at the edge of the universe. Too bad nobody thought to warn the people living on it. With enemy fire raining down on them, Kady and Ezra—who are barely even talking to each other—are forced to fight their way onto an evacuating fleet, with an enemy warship in hot pursuit.
But their problems are just getting started. A deadly plague has broken out and is mutating, with terrifying results; the fleet's AI, which should be protecting them, may actually be their enemy; and nobody in charge will say what's really going on. As Kady hacks into a tangled web of data to find the truth, it's clear only one person can help her bring it all to light: the ex-boyfriend she swore she'd never speak to again.
The Diviners | Libba Bray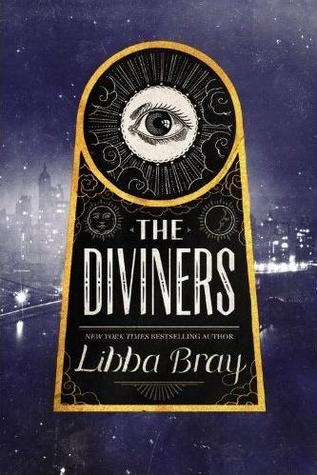 My thoughts: Oh my god! This is one of those books that I'm so happy I decided to kept reading, because this series has become an all-time favorite of mine. My issue when I first started The Diviners was that one of the characters was a bit eccentric, and the writing style was so different from what I'm used to read that I was a bit thrown off by all of that, but as I kept reading the book I started to become more and more invested in the story and the characters, till the point I fell in love completely with this world.
I have a review of this book here, in case you want to check it out!
Evie O'Neill has been exiled from her boring old hometown and shipped off to the bustling streets of New York City—and she is pos-i-tute-ly ecstatic. It's 1926, and New York is filled with speakeasies, Ziegfeld girls, and rakish pickpockets. The only catch is that she has to live with her uncle Will and his unhealthy obsession with the occult.
Evie worries he'll discover her darkest secret: a supernatural power that has only brought her trouble so far. But when the police find a murdered girl branded with a cryptic symbol and Will is called to the scene, Evie realizes her gift could help catch a serial killer.
As Evie jumps headlong into a dance with a murderer, other stories unfold in the city that never sleeps. A young man named Memphis is caught between two worlds. A chorus girl named Theta is running from her past. A student named Jericho hides a shocking secret. And unknown to all, something dark and evil has awakened.
And I Darken | Kiersten White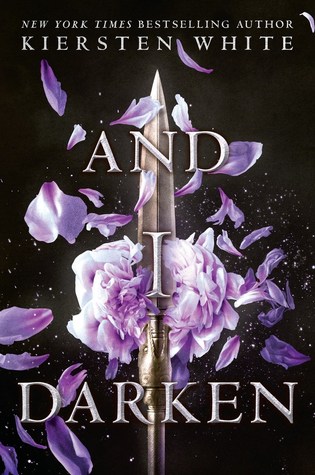 My thoughts: This was a similar case to the previous ones that I've talked about. The beginning was super slow and nothing was pretty much happening, and I think that's a theme throughout the entire trilogy, because I feel these books focused more on the political parts rather in the action packed scenes (even though you still had a few of those as well), but as I continued reading the book I became more intrigued and invested in those characters, and I found them so complex and real that I devoured the novels.
I have a review of And I Darken and Now I Rise, so click in the previous links if you want to know my thoughts.
No one expects a princess to be brutal. And Lada Dragwlya likes it that way. Ever since she and her gentle younger brother, Radu, were wrenched from their homeland of Wallachia and abandoned by their father to be raised in the Ottoman courts, Lada has known that being ruthless is the key to survival. She and Radu are doomed to act as pawns in a vicious game, an unseen sword hovering over their every move. For the lineage that makes them special also makes them targets.
Lada despises the Ottomans and bides her time, planning her vengeance for the day when she can return to Wallachia and claim her birthright. Radu longs only for a place where he feels safe. And when they meet Mehmed, the defiant and lonely son of the sultan, Radu feels that he's made a true friend—and Lada wonders if she's finally found someone worthy of her passion.
But Mehmed is heir to the very empire that Lada has sworn to fight against—and that Radu now considers home. Together, Lada, Radu, and Mehmed form a toxic triangle that strains the bonds of love and loyalty to the breaking point.
Little Monsters | Kara Thomas
My thoughts: Okay, this was a pretty different situation, because I believe I didn't think about DNFing this particular one. What happened to me was that when I first read this book, I enjoyed it but I didn't really love it, but as I kept thinking about it days and weeks after finishing it, I started to process all the information given to us at the very end, and thinking about the issues I had, and I ended up enjoying more than when I first finished it. So even though it's not technically a "I was thinking of dropping this book because it wasn't my cup of tea", it's a bit different.
I have a review of this book here, in case you want to check it out!
Kacey is the new girl in Broken Falls. When she moved in with her father, she stepped into a brand-new life. A life with a stepbrother, a stepmother, and strangest of all, an adoring younger half sister.
Kacey's new life is eerily charming compared with the wild highs and lows of the old one she lived with her volatile mother. And everyone is so nice in Broken Falls—she's even been welcomed into a tight new circle of friends. Bailey and Jade invite her to do everything with them.
Which is why it's so odd when they start acting distant. And when they don't invite her to the biggest party of the year, it doesn't exactly feel like an accident.
But Kacey will never be able to ask, because Bailey never makes it home from that party. Suddenly, Broken Falls doesn't seem so welcoming after all—especially once everyone starts looking to the new girl for answers.
Kacey is about to learn some very important lessons: Sometimes appearances can be deceiving. Sometimes when you're the new girl, you shouldn't trust anyone.
What books did you consider DNFing, but kept pushing through and ended up loving? Do you like to DNF books? Let me know in the comments so we can chat about it!
Follow me on BlogLovin'
Goodreads | Instagram | Twitter | Contact Me