Hello bookworms! I'm Nia and today I'm going to be talking about some big books that I have on my TBR.
I'm very intimidated by large books. I can't control that, but I tend to leave them behind because they take me quite a long to read. So in this post I'm going to mention 4 books that I already own and one that it's coming out later in the year that I'm so anticipating and will probably read it as soon as I have it in my hands.
If you aren't familiar with Top 5 Wednesday, it is a Goodeads group now currently run by Sam over at ToughtsOfTomes on Youtube, where each week they give you a topic and you talk about 5 books that fit that category. You can join the group here if you want to participate!
Without any further ado, let's start with this week's topic!
Kingdom of Ash | Sarah J. Maas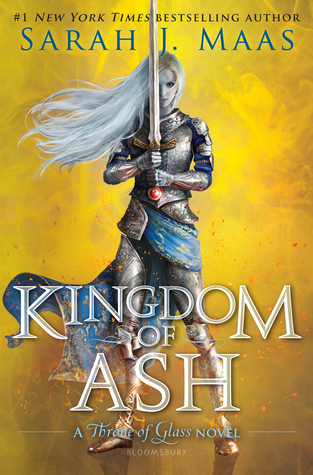 Aelin has risked everything to save her people―but at a tremendous cost. Locked within an iron coffin by the Queen of the Fae, Aelin must draw upon her fiery will as she endures months of torture. Aware that yielding to Maeve will doom those she loves keeps her from breaking, though her resolve begins to unravel with each passing day…
With Aelin captured, Aedion and Lysandra remain the last line of defense to protect Terrasen from utter destruction. Yet they soon realize that the many allies they've gathered to battle Erawan's hordes might not be enough to save them. Scattered across the continent and racing against time, Chaol, Manon, and Dorian are forced to forge their own paths to meet their fates. Hanging in the balance is any hope of salvation―and a better world.
And across the sea, his companions unwavering beside him, Rowan hunts to find his captured wife and queen―before she is lost to him forever.
Queen of Air and Darkness | Cassandra Clare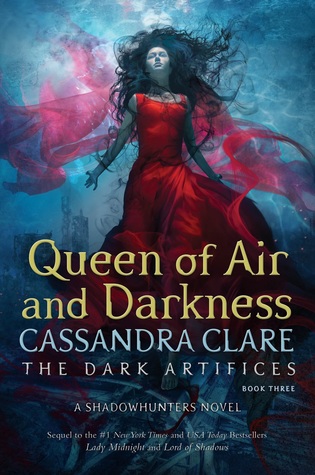 What if damnation is the price of true love?
Innocent blood has been spilled on the steps of the Council Hall, the sacred stronghold of the Shadowhunters. In the wake of the tragic death of Livia Blackthorn, the Clave teeters on the brink of civil war. One fragment of the Blackthorn family flees to Los Angeles, seeking to discover the source of the blight that is destroying the race of warlocks.
Meanwhile, Julian and Emma take desperate measures to put their forbidden love aside and undertake a perilous mission to Faerie to retrieve the Black Volume of the Dead. What they find in the Courts is a secret that may tear the Shadow World asunder and open a dark path into a future they could never have imagined. Caught in a race against time, Emma and Julian must save the world of Shadowhunters before the deadly power of the parabatai curse destroys them and everyone they love.
A Conjuring of Light | V. E. Schwab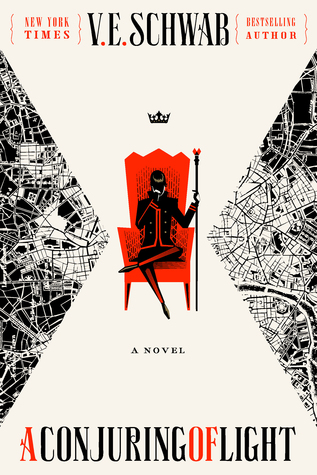 Witness the fate of beloved heroes – and enemies.
THE BALANCE OF POWER HAS FINALLY TIPPED…
The precarious equilibrium among four Londons has reached its breaking point. Once brimming with the red vivacity of magic, darkness casts a shadow over the Maresh Empire, leaving a space for another London to rise.
WHO WILL CRUMBLE?
Kell – once assumed to be the last surviving Antari – begins to waver under the pressure of competing loyalties. And in the wake of tragedy, can Arnes survive?
WHO WILL RISE?
Lila Bard, once a commonplace – but never common – thief, has survived and flourished through a series of magical trials. But now she must learn to control the magic, before it bleeds her dry. Meanwhile, the disgraced Captain Alucard Emery of the Night Spire collects his crew, attempting a race against time to acquire the impossible.
WHO WILL TAKE CONTROL?
And an ancient enemy returns to claim a crown while a fallen hero tries to save a world in decay.
Before the Devil Breaks You | Libba Bray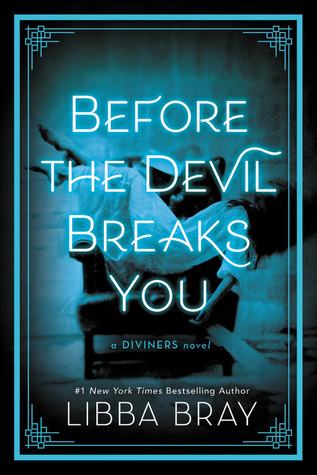 New York City.
1927.
Lights are bright.
Jazz is king.
Parties are wild.
And the dead are coming…
After battling a supernatural sleeping sickness that early claimed two of their own, the Diviners have had enough of lies. They're more determined than ever to uncover the mystery behind their extraordinary powers, even as they face off against an all-new terror. Out on Ward's Island, far from the city's bustle, sits a mental hospital haunted by the lost souls of people long forgotten–ghosts who have unusual and dangerous ties to the man in the stovepipe hat, also known as the King of Crows.
With terrible accounts of murder and possession flooding in from all over, and New York City on the verge of panic, the Diviners must band together and brave the sinister ghosts invading the asylum, a fight that will bring them fact-to-face with the King of Crows. But as the explosive secrets of the past come to light, loyalties and friendships will be tested, love will hang in the balance, and the Diviners will question all that they've ever known. All the while, malevolent forces gather from every corner in a battle for the very soul of a nation–a fight that could claim the Diviners themselves.
The Final Empire | Brandon Sanderson
In a world where ash falls from the sky, and mist dominates the night, an evil cloaks the land and stifles all life. The future of the empire rests on the shoulders of a troublemaker and his young apprentice. Together, can they fill the world with colour once more?

In Brandon Sanderson's intriguing tale of love, loss, despair and hope, a new kind of magic enters the stage— Allomancy, a magic of the metals.
What are the largest books that you have on your TBR? Have you read any of these ones? Let me know in the comments!
Follow me on BlogLovin'
Goodreads | Instagram | Twitter | Contact Me