Hello bookworms! I'm Nia and today I'm going to be talking about the books that I've read this past month of October.
I know this is a tiny bit late, but I like I mentioned in my September wrap up, I wanted to do two separate posts talking about the books that I read in September and October, because there were a lot, so here we are now. So yeah, October was a pretty good reading month, considering that I was in London the last week and couldn't read anything. I read a total of 20 books, which is usual for me, but I'm pretty happy about that. There were a few amazing reads and others that I didn't like as much, but oh well, that's normal.
Without any further ado, let's begin with the post!
Escaping From Houdini | Kerri Maniscalco
⭐️⭐️⭐️.5
My thoughts: A review of this book will soon be posted on this blog, so stay tuned if you want to check out what I thought about it.
Audrey Rose Wadsworth and her partner-in-crime-investigation, Thomas Cresswell, are en route to New York to help solve another blood-soaked mystery. Embarking on a week-long voyage across the Atlantic on the opulent RMS Etruria, they're delighted to discover a traveling troupe of circus performers, fortune tellers, and a certain charismatic young escape artist entertaining the first-class passengers nightly.
But then, privileged young women begin to go missing without explanation, and a series of brutal slayings shocks the entire ship. The strange and disturbing influence of the Moonlight Carnival pervades the decks as the murders grow ever more freakish, with nowhere to escape except the unforgiving sea. It's up to Audrey Rose and Thomas to piece together the gruesome investigation as even more passengers die before reaching their destination. But with clues to the next victim pointing to someone she loves, can Audrey Rose unravel the mystery before the killer's horrifying finale?
What if It's Us | Adam Silvera & Becky Albertalli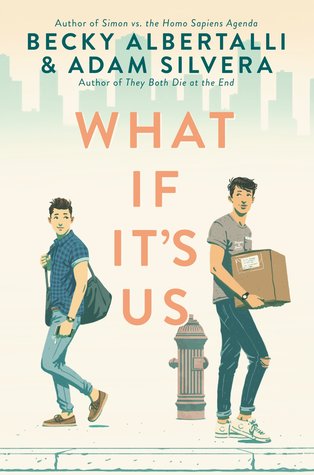 ⭐️⭐️.5
My thoughts: This was a super hyped book in the book community ever since it was announced, so needless to say I went with very high expectations, since I've previously read some of these authors' books and enjoyed them, and even though it was an okay read to me after finishing it, as I kept thinking about it I found more and more things that I didn't enjoyed that much, so I was a bit disappointing with it.
The main thing was that I found the story so unremarkable. I didn't think at all about it since I finished reading it a few weeks ago, and it didn't resonate with me as much as I wanted to. Though the characters were okay and I overall enjoyed the times they interact throughout the story, some of the dynamics between them were a bit forced and even appeared quite juvenile to me, and I don't know if that was due to the writing or the characters' personalities, but I didn't love neither of the characters in the story.
The pacing of the relationship was quite rushed, and even though it was clear from the very beginning that these two characters would have a romantic relationship at some point in the book, the entire romance came a bit out of nowhere, and had a few problematic elements that I didn't like that much.
I had a lot of issues with the writing style. I can't point exactly what they were, but as I kept reading the story there were a few times where there were some conversations that I found unnecessary and that didn't add much to the plot. Also, there were A LOT of musical references (especially Hamilton and Dear Evan Hansen ones), and there came a time where they bugged me because they were so constant and repetitive that I was bored.
Overall, it was a very fast paced book and it took me less than three hours to finish, but I didn't enjoy the story as much as I wanted to, and was pretty disappointed with the romantic relationship and the characters in general.
Arthur is only in New York for the summer, but if Broadway has taught him anything, it's that the universe can deliver a showstopping romance when you least expect it.
Ben thinks the universe needs to mind its business. If the universe had his back, he wouldn't be on his way to the post office carrying a box of his ex-boyfriend's things.
But when Arthur and Ben meet-cute at the post office, what exactly does the universe have in store for them?
Maybe nothing. After all, they get separated.
Maybe everything. After all, they get reunited.
But what if they can't quite nail a first date . . . or a second first date . . . or a third?
What if Arthur tries too hard to make it work . . . and Ben doesn't try hard enough?
What if life really isn't like a Broadway play?
But what if it is?
The Diabolic | S. J. Kinkaid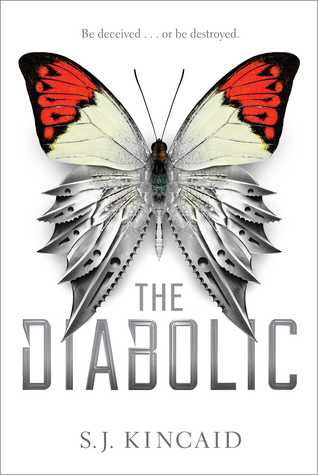 ⭐️⭐️⭐️⭐️
My thoughts: I have to admit I was pretty surprised with how much I ended up enjoying this story, because even though I was pretty excited to read it, I hadn't heard many people talking about this series, so I didn't know what to expect, but I found this book super entertaining and cannot wait to know what is going to happen next.
I feel that this book was a more character driven type of story. Though it's true that it had a nice and solid plot and there were a few twists that kept me on the edge of my seat, there came a point in the story where we were following more the different characters and their interactions and evolutions throughout the novel, which was so intriguing and I was thoroughly enjoying, so I had no problems whatsoever.
Nemesis was such an interesting and unique protagonist. There were a few tropes that were pretty well known in the YA genre, but I think reading from her point of view was a very cool experience, because not only we discover along with her the world and the society, but also we get to know firsthand her feelings about everything that was going on.
There was something about the romance that didn't made me go head over heals about those two characters, and I can't pinpoint what exactly that was, but I enjoyed the friendship and the interactions between those two characters. Also one of my favorite parts was the relationship between Nemesis and Sidonia, because let me tell you, that was such a pure and beautiful friendship.
Overall, it was a very interesting first installment, where we knew a bit about the world and the politics and had a lot of twists and turns that kept me wanting to know what was going to happen next, and the characters were nice and had a great development, so I'm interested to know what awaits us in the sequel.
A Diabolic is ruthless. A Diabolic is powerful. A Diabolic has a single task: Kill in order to protect the person you've been created for. Nothing else.
For Nemesis, that person is Sidonia, heir to the galactic Senate. The two grew up side by side, and there's no one Nemesis wouldn't kill to keep her safe. But when the power-mad Emperor summons Sidonia to the Imperial Court as a hostage, there is only one way for Nemesis to protect Sidonia.
She must become her.
Now one of the galaxy's most dangerous weapons is masquerading in a world of corrupt politicians and two-faced Senators' children, and Nemesis must find within herself the one thing she's been told she doesn't have—humanity. With the Empire beginning to fracture and rebellion looming, that could be the one thing that saves her and the Empire itself.
Sawkill Girls | Claire Legrand
⭐️⭐️⭐️⭐️
My thoughts: I was equal parts excited and terrified to pick up this book, because the premise of this novel sounded like the perfect creepy eerie book for the fall time, but I was unsure if I was going to love it because back this year I read another book by her and didn't really enjoy it, so I didn't know how I was going to feel about this particular one. Luckily for me, this was such a surprising read, and I ended up adoring it.
The atmosphere of this story was so eerie and magical, but the plot was super creepy and had a lot of elements that kept me on the edge of my seat at certain points of the story, and that was one of my favorite things. I love how mysterious everything was, and how you were trying to discover what was going on at the same time as these characters, and basically how the different points of view gave us some different vibes and elements.
Another thing that I also really enjoyed was the interactions between these three girls. Not only I adored the f/f romance that happened at a certain point in the novel, and found it so fluffy and adorable (even when the plot was so dark and twisted), but also I loved the friendship and the dynamics between the girls. They were so different, but their personalities somehow fit really well with each other.
My only complain regarding Sawkill Girls was everything regarding the secret society that was introduced to us more at the end of the novel. I'm not going to talk about it that much because I want to keep it spoiler free, but I feel that it came out of nowhere and it wasn't really that well explained to the reader, and added only so there would be an explanation to why those things were happening.
Overall, I really enjoyed how creepy and whimsical everything was and everything about the magic system, and the characters were amazing and had an incredible development.
Beware of the woods and the dark, dank deep.
He'll follow you home, and he won't let you sleep.
Who are the Sawkill Girls?
Marion: the new girl. Awkward and plain, steady and dependable. Weighed down by tragedy and hungry for love she's sure she'll never find.
Zoey: the pariah. Luckless and lonely, hurting but hiding it. Aching with grief and dreaming of vanished girls. Maybe she's broken—or maybe everyone else is.
Val: the queen bee. Gorgeous and privileged, ruthless and regal. Words like silk and eyes like knives, a heart made of secrets and a mouth full of lies.
Their stories come together on the island of Sawkill Rock, where gleaming horses graze in rolling pastures and cold waves crash against black cliffs. Where kids whisper the legend of an insidious monster at parties and around campfires.
Where girls have been disappearing for decades, stolen away by a ravenous evil no one has dared to fight… until now.
Slasher Girls and Monster Boys | V.V. A.A.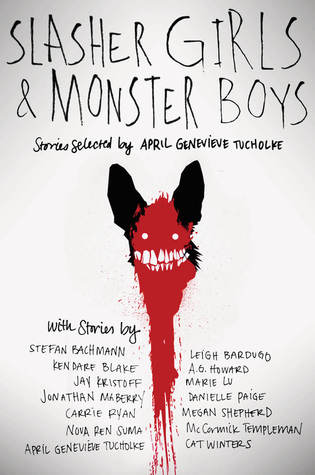 ⭐️⭐️⭐️.5
My thoughts: I was pretty excited about this anthology because even though I'm a chicken and don't watch horror movies at all, I've heard amazing things about this book and some of the short stories in there, so I decided to give it a go since most of the stories are more on the mystery side.
Overall, they were all pretty solid. There were a couple that gave me the chills and I absolutely adored, but I think for the most part they were okay but didn't blow my mind they way I expected them to. I think that if you're a fan of horror movies or psychological thrillers, you'll probably love them, because all of them were inspired in original horror movies, and since I wasn't familiar with any of them, the impact or love wasn't the same.
Still, I will recommend it if you're looking for a spooky collection for fall or Halloween, because it was such a fast paced book and I flew through it.
A host of the smartest young adult authors come together in this collection of scary stories and psychological thrillers curated by Between the Devil and the Deep Blue Sea's April Genevieve Tucholke.
Each story draws from a classic tale or two—sometimes of the horror genre, sometimes not—to inspire something new and fresh and terrifying. There are no superficial scares here; these are stories that will make you think even as they keep you on the edge of your seat. From bloody horror to supernatural creatures to unsettling, all-too-possible realism, this collection has something for any reader looking for a thrill.
Nowhere But Here | Katy McGarry
⭐️⭐️⭐️.5
My thoughts: I decided to pick this book up on a whim, because even though I hadn't heard anything about it lately, I've been eyeing this novel for a while, and since I needed a break from fantasy, I ended up reading Nowhere But Here, and overall I enjoyed it despite having some minor issues with it.
The two main characters of the story were okay and overall they both have a nice development as individuals and as a couple, but there was something about their personalities that was kind of clichéd and didn't make me love them as much as I thought I would do. I feel the book had too much angst and drama for my liking, and sometimes it was a bit unnecessary and made the characters quite annoying.
The romance was actually pretty cute, and though there were some teeny tiny problematic things that happened at certain points of the story, I enjoyed the relationship these two characters had and how it was progressive and not very rushed.
Apart from that, I found that this book despite from its length was a super fast paced story, and I flew through it and wanted to keep reading until the very end, which was a positive thing I have to give to this contemporary novel.
Seventeen-year-old Emily likes her life the way it is: doting parents, good friends, good school in a safe neighborhood. Sure, she's curious about her biological father—the one who chose life in a motorcycle club, the Reign of Terror, over being a parent—but that doesn't mean she wants to be a part of his world. But when a reluctant visit turns to an extended summer vacation among relatives she never knew she had, one thing becomes clear: nothing is what it seems. Not the club, not her secret-keeping father and not Oz, a guy with suck-me-in blue eyes who can help her understand them both.
Oz wants one thing: to join the Reign of Terror. They're the good guys. They protect people. They're…family. And while Emily—the gorgeous and sheltered daughter of the club's most respected member—is in town, he's gonna prove it to her. So when her father asks him to keep her safe from a rival club with a score to settle, Oz knows it's his shot at his dream. What he doesn't count on is that Emily just might turn that dream upside down.
No one wants them to be together. But sometimes the right person is the one you least expect, and the road you fear the most is the one that leads you home.
Wildcard | Marie Lu
⭐️⭐️⭐️.5
My thoughts: A review of this book will soon be posted on this blog, so stay tuned if you want to check out what I thought about it. 
Emika Chen barely made it out of the Warcross Championships alive. Now that she knows the truth behind Hideo's new NeuroLink algorithm, she can no longer trust the one person she's always looked up to, who she once thought was on her side.
Determined to put a stop to Hideo's grim plans, Emika and the Phoenix Riders band together, only to find a new threat lurking on the neon-lit streets of Tokyo. Someone's put a bounty on Emika's head, and her sole chance for survival lies with Zero and the Blackcoats, his ruthless crew. But Emika soon learns that Zero isn't all that he seems–and his protection comes at a price.
Caught in a web of betrayal, with the future of free will at risk, just how far will Emika go to take down the man she loves?
In Her Skin | Kim Savage
⭐️⭐️
My thoughts: Boy, wasn't this book a disappointment. I was super excited for this book because it sounded incredible and right up my alley, so after months and months of not reading it and looking at it, I finally decided to pick it up. And let me tell you it was a struggle.
One of the main problems I had with the entire novel was that it took me a long time to get used to the writing style, because even though it is quite a short book and I was expecting to read it in one sitting, I struggled a lot with the writing because it was so juvenile and confusing, and I wasn't the biggest fan of it.
Apart from all my issues with the writing, which I can look past in most of the novels, another thing that made me lower my rating that much was because of how predictable the story was. I tend to be the type of person who usually figures out the main plot twist or the big mystery in these type of stories, but I could tell everything that was going to happen since page 20, which was ridiculous. Nothing that happened in the story got to surprise me, and given that it is a mystery story, that was something.
Also I have to say that since I wasn't thrilled or invested in the novel, I got pretty bored and made me pushed through just to see if it would get better towards the end. And though it technically did and I enjoyed the ending a bit more, it didn't redeem the story in my case.
The characters were pretty average and simple, and I feel the author didn't risk a lot at creating them, because they felt quite one layered and plain, and barely any of them had any development throughout the story. The relationships were pretty awkward and odd, and kind of stiff sometimes, and some of the conversations were there just to fill space because they didn't add anything.
So yeah, despite my high hopes and how amazing this premise sounded, it wasn't a book for me and though towards the end it got a bit better, I was pretty bored and neither of the twists managed to surprise me.
Sixteen-year-old con artist Jo Chastain is about to take on the biggest scam of her life: impersonating a missing girl. Life on the streets of Boston these past few years hasn't been easy, and Jo is hoping to cash in on a little safety, a little security. She finds her opportunity in the Lovecrafts, a wealthy family with ties to the unsolved disappearance of Vivienne Weir, who vanished when she was nine.
When Jo takes on Vivi's identity and stages the girl's miraculous return, the Lovecrafts welcome her back with open arms. They give her everything she could want: love, money, and proximity to their intoxicating and unpredictable daughter, Temple. But nothing is as it seems in the Lovecraft household—and some secrets refuse to stay buried. As hidden crimes come to the surface, and lines of deception begin to blur, Jo must choose to either hold onto an illusion of safety, or escape the danger around her before it's too late.
Nuts | Alice Clayton
⭐️⭐️.5
My thoughts: I've been having this book on my TBR since forever, so I finally decided to pick it up because I was in the middle of a reading slump, and I admit I was  pretty excited to read it because I really enjoyed the other book I read by this author, but unfortunately this was a miss for me.
The main issue I had with this particular story was that I couldn't care less about the characters. I came to enjoyed them at some point, but for the most of the novel they were pretty boring and didn't stand out to me. The relationship between them was okay, but there was kind of a "plot twist" at some point of the story that I hate reading about, so needless to say I wasn't the biggest fan of it.
I enjoyed how passionate our main character was about cooking and everything related to that in the story, because I find that super interesting to read.
The book was super fast paced, like all new adult books tend to be, and though it had some redeemable qualities in it, but after reading a lot of NA novels, I have to say that there are others that I've enjoyed a lot more.
Roxie Callahan is a private chef to some of Hollywood's wealthiest, and nastiest, calorie-counting wives. After a dairy disaster implodes her carefully crafted career in one fell ploop, she finds herself back home in upstate New York, bailing out her hippie mother and running the family diner.
When gorgeous local farmer Leo Maxwell delivers her a lovely bunch of organic walnuts, Roxie wonders if a summer back home isn't such a bad idea after all. Leo is heavily involved in the sustainable slow food movement, and he likes to take his time. In all things. Roxie is determined to head back to the west coast as soon as summer ends, but will the pull of lazy fireflies and her very own Almanzo Wilder be enough to keep her home for good?
Salty. Spicy. Sweet. Nuts. Go on, grab a handful.
Kiss The Sky | Krista & Becca Ritchie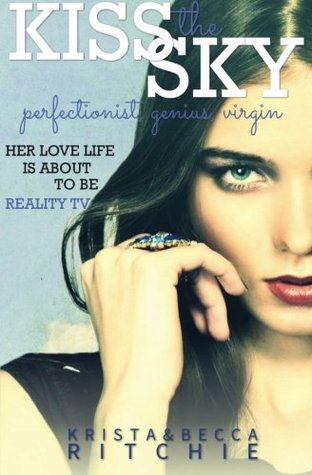 ⭐️⭐️⭐️.5
My thoughts: I was weak and decided to pick up this book because I've enjoyed the other books I've read by these two authors, and despite not reading the original trilogy this spin-off was based about and sometimes being a bit confused about some of the things that happened in this novel that were in some type related to the other trilogy, I enjoyed this novel.
I know that there is a note in the synopsis saying that this book had some alpha males in it, but your girl didn't read it, and guess what she found problematic in the story? You're right, the alpha male and how possessive they were with their girls, and the other way around.
It's true that despite that I found the story super addictive and I couldn't put it down, because the plot seemed like some type of reality show, and though I hated with all my might a certain character that was in this particular story, I still had a good time getting to know the characters and seeing all the drama surrounding them.
I would say that there came a point where the drama was a bit too much for my liking, but overall I was so engrossed in the story that I could look past that, so yeah.
Virgin. Sex addict. Daredevil. Alcoholic. Smartass … Jackass. Her five friends are about to be filmed. Reality TV, be prepared.
Rose Calloway thought she had everything under control. At twenty-three, she's a Princeton graduate, an Academic Bowl champion, a fashion designer and the daughter of a Fortune 500 mogul. But with a sex addict as a sister and roommate, nothing comes easy.
After accepting help from a producer, Rose agrees to have her life filmed for a reality television show. The Hollywood exec is her last chance to revive her struggling fashion line, and boundaries begin to blur as she's forced to make nice with a man who always has his way.
Twenty-four-year-old Connor Cobalt is a guy who bulldozes weak men. He's confident, smart-as-hell and lives with his equally ambitious girlfriend, Rose Calloway. Connor has to find a way to protect Rose without ruining the show. Or else the producer will get what Connor has always wanted—Rose's virginity. 
Lair of Dreams | Libba Bray
⭐️⭐️⭐️⭐️⭐️
My thoughts: A review of this book will soon be posted on this blog, so stay tuned if you want to check out what I thought about it. 
After a supernatural showdown with a serial killer, Evie O'Neill has outed herself as a Diviner. With her uncanny ability to read people's secrets, she's become a media darling, earning the title "America's Sweetheart Seer." Everyone's in love with the city's newest It Girl…everyone except the other Diviners.
Piano-playing Henry DuBois and Chinatown resident Ling Chan are two Diviners struggling to keep their powers a secret—for they can walk in dreams. And while Evie is living the high life, victims of a mysterious sleeping sickness are turning up across New York City.
As Henry searches for a lost love and Ling strives to succeed in a world that shuns her, a malevolent force infects their dreams. And at the edges of it all lurks a man in a stovepipe hat who has plans that extend farther than anyone can guess…As the sickness spreads, can the Diviners descend into the dreamworld to save the city?
The Dark Descent of Elizabeth Frankenstein | Kiersten White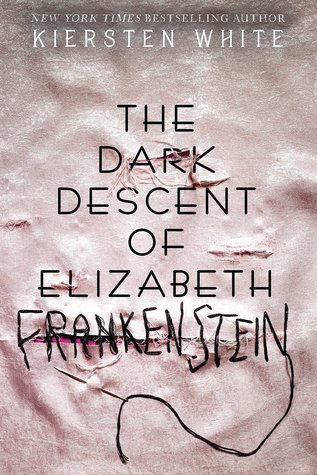 ⭐️⭐️⭐️.75
My thoughts: I couldn't tell you how excited I was of this book, because even though I haven't read the original story this is based from, I was well aware of it and the synopsis sounded like it was going to be the perfect book for Halloween, which it indeed was.
The main problem that I had with this particular book and the main reason why I haven't given it a higher rating was the pacing. It was a freaking slow book, and though there were certain scenes where I could see a development and the plot appearing, for the most part of the story I feel nothing was actually happening. I enjoyed the flashbacks because we got to see the relationship between Victor and Elizabeth and the different personalities and dynamics between them, but when we were in the "present", there was only a lot of anticipation, but for the most part that was just it until the last 80 pages, where everything started to tied up together.
With that being said, I completely adored the cast of characters that were in it. Not only they were so complex and it was so interesting to get to know them, but I also loved how the interactions between the different characters were written. Elizabeth was such an interesting, manipulative and complex character that had a lot of layers, and her development was just so well done that she became a favorite of mine. Not only she was a very strong and intelligent individual, but also her relationship with Justine was just so precious and beautiful.
Victor was actually a very intriguing character as well, and a great villain. Overall I really enjoyed seeing him interact with Elizabeth and though their relationship wasn't the healthiest, they were both such interesting characters that I very much loved reading about their interactions.
Overall, even though I had some issues with the pacing and the plot, the characters redeemed the story in my opinion, and I would recommend it just for them alone.
Elizabeth Lavenza hasn't had a proper meal in weeks. Her thin arms are covered with bruises from her "caregiver," and she is on the verge of being thrown into the streets . . . until she is brought to the home of Victor Frankenstein, an unsmiling, solitary boy who has everything–except a friend.
Victor is her escape from misery. Elizabeth does everything she can to make herself indispensable–and it works. She is taken in by the Frankenstein family and rewarded with a warm bed, delicious food, and dresses of the finest silk. Soon she and Victor are inseparable.
But her new life comes at a price. As the years pass, Elizabeth's survival depends on managing Victor's dangerous temper and entertaining his every whim, no matter how depraved. Behind her blue eyes and sweet smile lies the calculating heart of a girl determined to stay alive no matter the cost . . . as the world she knows is consumed by darkness.
Walk the Edge | Katy McGarry
⭐️⭐️⭐️⭐️
My thoughts: Since I was in the middle of a reading slump by the time (I know, I hate them, too), I decided to read another contemporary romance and picked this one up, because the first installment was super fast paced and easy to read, and I have to say this was no different. 
I would say I liked this one even more than Nowhere But Here, since the characters were more interesting and their relationship was so much complex, in my opinion. They weren't as annoying and I actually really loved the interactions between them throughout the story and their whole relationship. They were both more complex characters, and overall their evolution was pretty solid.
My main complain with Walk the Edge was that there were some very dramatic things that weren't fully addressed properly or the way I expected, and were a bit forgotten with other stuff. Some important or shocking factors were pretty predictable, which was kind of a bummer.
Still, it was a nice story and like its other installment, it was a very fast paced and addicting story and I devoured it.
One moment of recklessness will change their worlds.
Smart. Responsible. That's seventeen-year-old Breanna's role in her large family, and heaven forbid she put a toe out of line. Until one night of shockingly un-Breanna-like behavior puts her into a vicious cyber-bully's line of fire—and brings fellow senior Thomas "Razor" Turner into her life.
Razor lives for the Reign of Terror motorcycle club, and good girls like Breanna just don't belong. But when he learns she's being blackmailed over a compromising picture of the two of them—a picture that turns one unexpected and beautiful moment into ugliness—he knows it's time to step outside the rules.
And so they make a pact: he'll help her track down her blackmailer, and in return she'll help him seek answers to the mystery that's haunted him—one that not even his club brothers have been willing to discuss. But the more time they spend together, the more their feelings grow. And suddenly they're both walking the edge of discovering who they really are, what they want, and where they're going from here.

Between the Devil and the Deep Blue Sea | April Genevieve Tucholke
⭐️
My thoughts: Oh boy, how much I hated this book! I was pretty curious to read this novel because it sounded like the perfect book for October and Halloween, but not only my expectations weren't reached, but I had so many issues with the characters and the whole story that this will be pretty much a rant review.
Let me start by saying that there was hardly any plot, and if you asked me right now what the book was about, well… I have to say that I have no idea, because it was pretty much focused on the characters and the romance, and pretty much nothing else. Nothing happened until the last 40 pages of the story, where I feel everything started to make sense and I could see a plot starting to develop, but apart from that, I felt as if nothing important was happening throughout the rest of the novel.
I couldn't for the life of me understand the main character. Not only she was so annoying and whinny the whole entire time, but she kept contradicting herself during the entirety of the book, and it was very confusing. The relationship with her brother and her "friend" were so forced and oddly written, and in one page she was saying how much she hated her brother and how that friend wasn't actually her friend because she didn't know her very well, and in the other she was saying the complete opposite.
The romance was a bit nope for me as well. There was barely any chemistry between our main character and the love interest, and not only that romance came completely out of nowhere, but also it was so toxic and problematic and I hated it. Which leads me to the next thing I disliked about Between the Devil and the Deep Blue Sea.
The consent in this story was barely addressed. There was a rape in this story and neither of the characters said anything about it during the rest of the book. Basically there were a lot of details where some things like that happened that were looked past and that got me the wrong way, so thank you, next.
You stop fearing the devil when you're holding his hand…
Nothing much exciting rolls through Violet White's sleepy, seaside town… until River West comes along. River rents the guest house behind Violet's crumbling estate, and as eerie, grim things start to happen, Violet begins to wonder about the boy living in her backyard.
Is River just a crooked-smiling liar with pretty eyes and a mysterious past? Or could he be something more?
Violet's grandmother always warned her about the Devil, but she never said he could be a dark-haired boy who takes naps in the sun, who likes coffee, who kisses you in a cemetery… who makes you want to kiss back.
Violet's already so knee-deep in love, she can't see straight. And that's just how River likes it.

The Duet | R. S. Grey
⭐️⭐️⭐️
My thoughts: I decided to pick this book on a whim, because even though I'd heard nothing about it, the premise sounded interesting enough, and if you know me, you'll probably  can tell already that I have a soft spot for books about music or singers and bands, so that was pretty much the reason I read this book, and overall I had a good time reading it, though it wasn't my favorite.
It was a very addicting and fast paced story, and I ended up finishing it in one sitting, which surprised me a bit, because that doesn't usually happen.
The characters and the story were okay, and I enjoyed reading about them interact throughout the entire book. I enjoyed the hate-to-love romance and the dynamics between them, and overall I feel that the relationship between them was done pretty smoothly and it didn't seemed to me like it was rushed or came out of nowhere, which was a good sign.
There were some parts of the novel that got me laughing out loud, because the situations were hilarious, and the conversations between them were pretty fun.
When 27-year-old pop sensation Brooklyn Heart steps in front of a microphone, her love songs enchant audiences worldwide. But when it comes to her own love life, the only spell she's under is a dry one. So when her label slots her for a Grammy performance with the sexy and soulful Jason Monroe, she can't help but entertain certain fantasies… those in which her G-string gets more play than her guitars'. Only one problem. Jason is a lyrical lone wolf that isn't happy about sharing the stage–nor his ranch — with the sassy singer. But while it may seem like a song entitled 'Jason Monroe Is an Arrogant Ho' basically writes itself, their label and their millions of fans are expecting recording gold… They're expecting The Duet. A fun & sexy Romantic Comedy.
Hothouse Flower | Krista & Becca Ritchie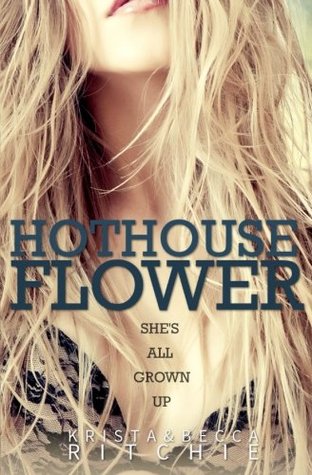 ⭐️⭐️⭐️⭐️
My thoughts: After having such a great time with the first book in this series, I decided to pick up its sequel, because I was super curious about the two characters this novel would follow, and I ended up enjoying Hothouse Flower even more than the companion.
First of all, I loved Ryke and Daisy as characters. They had such a strong chemistry and the dynamics between them were done really well and I really enjoyed them. It's true that this book had also a few problematic themes and alpha male characters, but it didn't bother me as much as in the first novel. I enjoyed the character arcs a bit more and their interactions throughout the story.
I adored the relationship between the two main characters. We got to know more about them in this book, because in the first one they were pretty much a mystery, and though there was some drama involved in their relationship, I feel that the romance was very well written, and you could see how much they cared for each other. It felt pretty good to read a romance where they both addressed their feelings and talked about them to each other, and tried to solved things together rather than keeping the other in the dark.
The main problem with the novel was the length. I feel it was pretty long and there were some things that weren't that important or nothing was really happening, and it dragged a bit sometimes, but it was an addicting read and like it happened to me in the first one, I couldn't put it down.
Ryke Meadows, meet Daisy Calloway … she's all grown up.
Twenty-five-year-old Ryke Meadows knows he's hard to love. With a billion-dollar inheritance, a track-star resume, and an alpha-male personality—he redefines the term likable asshole. But he's not living to make friends. Or enemies. He just wants to free climb three of the toughest mountains in Yosemite without drama or interruption.
And then he receives a distressed call from a girl in Paris—a girl that he has never been allowed to have.
Daisy Calloway is eighteen. Finally. With her newfound independence, she can say goodbye to her overbearing mother and continue her modeling career. Next stop, Paris. Fashion Week begins with a bang, and Daisy uncovers the ugly reality of the industry. She wants to prove to her family that she can live on her own, but when everything spirals out of control, she turns to Ryke to keep her secrets.
As Daisy struggles to make sense of this new world and her freedom, she pushes the limits and fearlessly rides the edge. Ryke knows there's deep hurt beneath every impulsive action. He must keep up with Daisy, and if he lets her go, her favorite motto—"live as if you'll die today"—may just come true.
The Chase | Elle Kennedy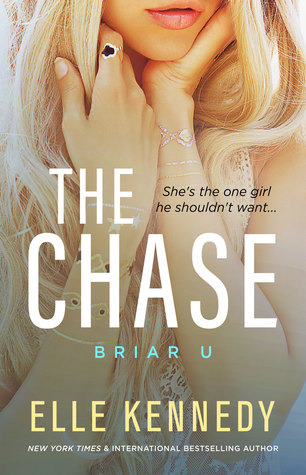 ⭐️⭐️⭐️
My thoughts: I was super excited to read this book because I heard incredible things about it, and since I really enjoyed her other series and this was a spin-off, I decided to finally pick it up, and though I overall enjoyed it I had a few issues with it that I couldn't see past. 
The main problem that I had with The Chase was that I hated the male interest. He redeemed himself a bit towards the end, and I didn't totally hated when I finished the novel, but he was such an asshole. We're supposed to feel some sympathy towards him and everything he was going through and understood the reasons why he didn't start a relationship with the main character, but that was bullshit, because he was an ass with her and with his best friend. I feel all that drama could have been solved out if he admitted some stuff and talked to the girl. Hunter (one of his best friends) literally asked him if he wanted something with Summer, and he told him no, and later got upset because his friend tried to start a relationship with her because he liked her. Ugh, boy, nope.
Apart from that, I really enjoyed Summer as a main character. She was funny and interesting protagonist, and though I didn't fully loved the relationship between her and Colin, it ended up being not that bad once they were together and I enjoyed the interactions between them as I kept reading. Also I really enjoyed the friendship between Summer and this other girl (sorry I'm the worst but I can't remember her name), so that was a nice addition to the story.
Overall, despite having my issues with the male character, it was a very fast paced read and I enjoyed the interactions and relationships between the different characters in this story, and I'm curious to see what the companion will be about.
Everyone says opposites attract. And they must be right, because there's no logical reason why I'm so drawn to Colin Fitzgerald. I don't usually go for tattoo-covered, video-gaming, hockey-playing nerd-jocks who think I'm flighty and superficial. His narrow view of me is the first strike against him. It doesn't help that he's buddy-buddy with my brother.
And that his best friend has a crush on me.
And that I just moved in with them.
Oh, did I not mention we're roommates?
I suppose it doesn't matter. Fitzy has made it clear he's not interested in me, even though the sparks between us are liable to burn our house down. I'm not the kind of girl who chases after a man, though, and I'm not about to start. I've got my hands full dealing with a new school, a sleazy professor, and an uncertain future. So if my sexy brooding roomie wises up and realizes what he's missing?
He knows where to find me.
The Light Between Worlds | Laura E. Weymouth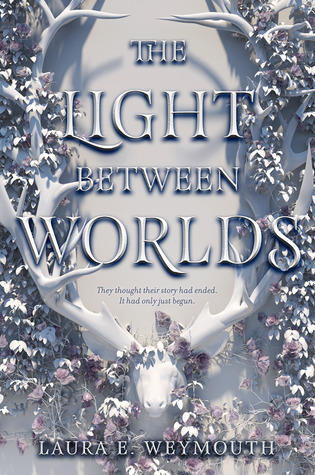 ⭐️⭐️.5
My thoughts: This is one of those cases where it's not you, it's me, because even though the synopsis of this book sounded absolutely incredible to me and like it was going to be an incredible story, I feel it didn't fulfill all the expectations I had.
Let me start by saying that I absolutely adored the writing style, and will pick up other books that she'll write in the future, because it was so magical and beautiful. It fit so well the tone of the story, and the details in the descriptions made me feel like I was inside the book living and seeing those things, which was one of my favorite parts.
I also enjoyed the two different sisters. I feel that I enjoyed one perspective a bit more than the other, and since the book was split between these two points of views, there was one part where I was a bit more bored than the other. I would have also loved to read more about the relationship between the two sisters, because even though we got a fair picture of their interactions and dynamics throughout the story, I feel it wasn't what I expected.
Another thing that I felt was a bit missing was the magical world. The entire world is purely focused on our two characters' mental health after being in this world for years, and though there were some parts where we got some glimpses at it, I would have loved to learn more about the society and the magic system and how everything worked or how they lived in it.
The ending was a bit anticlimactic for me, since I was expecting a much grander finale, and it was kind of a disappointing one. Still, though this book had a lot of things that I enjoyed, it didn't reach all the expectations I had, and after hyping it up in my mind, I expected much more from it.
Five years ago, Evelyn and Philippa Hapwell cowered from air strikes in a London bomb shelter. But that night took a turn when the sisters were transported to another realm called the Woodlands. In a forest kingdom populated by creatures out of myth and legend, they found temporary refuge.
When they finally returned to London, nothing had changed at all—nothing, except themselves.
Now, Ev spends her days sneaking into the woods outside her boarding school, wishing for the Woodlands. Overcome with longing, she is desperate to return no matter what it takes.
Philippa, on the other hand, is determined to find a place in this world. She shields herself behind a flawless exterior and countless friends, and moves to America to escape the memory of what was.
But when Evelyn goes missing, Philippa must confront the depth of her sister's despair and the painful truths they've been running from. As the weeks unfold, Philippa wonders if Ev truly did find a way home, or if the weight of their worlds pulled her under.
Evenfall | Gaja J. Kos & Boris Kos
⭐️⭐️
My thoughts: I was pretty excited about this book, because not only the cover was absolutely stunning, but the premise sounded like a book that was totally right up my alley, so I went with high expectations into it, and unfortunately for me, I didn't enjoy it as much as I hoped I would.
My main issue with this story was how convenient everything that happened was. There were a lot of scenes where there were some things explained to us that suddenly changed at other point of the story just so the characters' path could change and the plot continue, and they didn't make the most sense to me.
The story started okay to me, and I was pretty excited to continue reading, but there came a point where it just purely was focusing on the romance that the plot got lost in it. Nothing interesting was actually happening till that point, and the dynamics between the characters felt a bit forced.
I have to say that there were a lot of convenient things throughout the story, but another things that I completely hated was the romance. It was so rushed and came completely out of nowhere. There were times in our protagonist inner monologues where she was just thinking about the love interest and those thoughts were so cringy and awkward that I didn't enjoy them. Also the interactions between those two characters not only were quite forced most of the times, but the relationship they developed at certain point of the story didn't make sense, because they'd only crossed paths twice.
Overall, I found the premise to be quite interesting, but the magic system and the world building was pretty vague and not that complex, and the characters weren't my cup of tea, so unfortunately, the good parts didn't redeemed the whole book to me.
A monster does not deserve the intimacy of a name.
As if waking up in an unfamiliar world isn't enough of a surprise, Ember gains a new title to her name. Savior.
Hunted by the Crescent Prince and his lethal shadows, she accepts a young Mage's help to navigate the land of blood magic and its many illusions. But where Ada sees the good in her power, Ember discovers something else.
An icy darkness, designed to take lives, not save them.
The only thing worse than not being able to rely on her senses—or the reality she had once believed to be true—is knowing that she cannot trust her heart. Especially as it seems to draw her to the one person in whose hands she can never fall… 
What books did you read this past month of October and which one was your most and least favorite read? Have you read any of these books or do you have them on your TBR? Let me know in the comments!
Follow me on BlogLovin'
Goodreads | Instagram | Twitter | Contact Me