Hello bookworms! I'm Nia and today I'm going to be talking about the books I read in November.
I have to say that November wasn't the best reading month for me. I had a pretty busy month and did a lot of things, so I didn't have as much time to read as the past months, and not only that but also I was in the middle of a reading slump, which was kind of a bummer.
However, I managed to read a total of 16 books, which wasn't bad. There are a few books that I'll be posting reviews in the next weeks, so if you're curious to know what I think about them, stay tuned!
Without any further ado, let's start with my October wrap up!
Give the Dark My Love | Beth Revis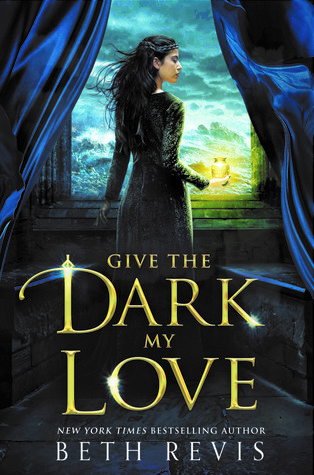 My thoughts: A review of this book will soon be posted on this blog, so stay tuned if you want to check out what I thought about it.
When seventeen-year-old Nedra Brysstain leaves her home in the rural, northern territories of Lunar Island to attend the prestigious Yugen Academy, she has only one goal in mind: learn the trade of medicinal alchemy. A scholarship student matriculating with the children of Lunar Island's wealthiest and most powerful families, Nedra doesn't quite fit in with the other kids at Yugen, who all look down on her.
All, except for Greggori "Grey" Astor. Grey is immediately taken by the brilliant and stubborn Nedra, who he notices is especially invested in her studies. And that's for a good reason: a deadly plague has been sweeping through the North, and it's making its way toward the cities. With her family's life–and the lives of all of Lunar Island's citizens–on the line, Nedra is determined to find a cure for the plague.
Grey and Nedra continue to grow closer, but as the sickness spreads and the body count rises, Nedra becomes desperate to find a cure. Soon, she finds herself diving into alchemy's most dangerous corners–and when she turns to the most forbidden practice of all, necromancy, even Grey might not be able to pull her from the darkness.
Fire & Heist | Sarah Beth Durst
My thoughts: I was pretty disappointed with this story, mostly because the synopsis sounded absolutely amazing and brilliant and like it was going to be an incredible story, but for me it went completely downhill as I kept reading the novel.
The story seemed like it was going to go one way, but then something happened in the middle of the book that completely changed the tone and ruined the book to me. I liked the heist's parts, where our main character was trying to accomplish, but I had a lot of issues with the characters and the fantasy elements in general that I ended up not enjoying Fire & Heist at all.
First of all, I didn't understand the characters at all. They were constantly contradicting each other, and not only their actions were so immature and juvenile, but also the interactions between our protagonist and the rest of the characters were so forced and akward. There was a lot of unnecessary dialogues and conversations throughout the book that didn't add anything to the story, and I feel the characters hardly had any development, because they were the same in the beginning and in the end.
I got super excited about the dragons, but that ended up being such a disappointment as well. The magic system and the fantasy world building had barely any descriptions that could help the reader understand the dragon's society. There were a couple of scenes where we learnt just a tiny bit about that world, but it was pretty choppy and could have been more complex.
Overall, the story itself was so lineal and it didn't have many action packed scenes, considering the premise and what the book was about. The ending was so anticlimactic and boring, and the characters were so weird and juvenile and badly written that I couldn't really understand them or their motivations.
In Sky Hawkins's family, leading your first heist is a major milestone–even more so than learning to talk, walk, or do long division. It's a chance to gain power and acceptance within your family, and within society. But stealing your first treasure can be complicated, especially when you're a wyvern–a human capable of turning into a dragon.
Embarking on a life of crime is never easy, and Sky discovers secrets about her mother, who recently went missing, the real reason her boyfriend broke up with her, and a valuable jewel that could restore her family's wealth and rank in their community.
With a handpicked crew by her side, Sky knows she has everything she needs to complete her first heist, and get her boyfriend and mother back in the process. But then she uncovers a dark truth about were-dragon society–a truth more valuable and dangerous than gold or jewels could ever be.
Evermore | Sarah Holland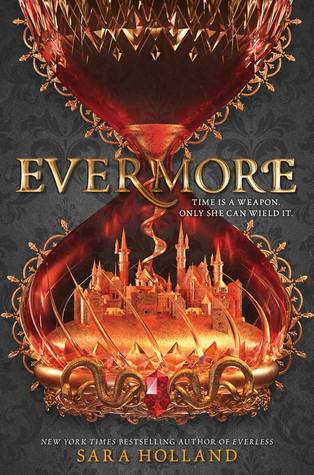 ⭐️⭐️⭐️.5
My thoughts: I was so excited to read this book and was so happy when I got an ARC of it, because after the ending of the first installment I needed to know what was going to happen in this sequel, and I have to say that I overall really enjoyed this installment, though there were some things that I wish I'd seen in it that I didn't.
The main issue I had with this book and the reason why I didn't enjoy it as much as I hoped was that the tone of the story completely changed, and it seemed like I was reading a completely different story from Everless. Evermore, the sequel focused more on the character dynamics and the history and relationship between the Alchemist and the Sorceress, and though I found that pretty interesting and I enjoyed knowing more about them (because in Everless is was a mystery), I feel that it dragged a bit sometimes and mainly focused on those things in this installment, and not in other things that happened in the first book that I really enjoyed reading about and found pretty unique, like blood time being the main theme of the novel.
The characters overall had I good evolution from the first book, and I found the relationships in Evermore to be more complex and intricate. There was a romance going on in this story that I think it was quite rushed and didn't add much to the story, and felt quite unnecessary, but I think that there were some interactions between certain characters that I was super excited to see in this sequel, and I was so happy when I did.
It was a very fast paced story and I found it quite easy to get into. Even though I enjoyed how the book ended, I'm still not sure if there's going to be another installment in the series or this was the conclusion, but if that is the case, I wished I'd seen some more things in the series, because there were a few plot holes and questions unanswered that I would have loved to have known.
I received an ARC of this book in exchange for an honest review. This doesn't change my opinion whatsoever. All thoughts are my own.
Jules Ember was raised hearing legends of the ancient magic of the wicked Alchemist and the good Sorceress. But she has just learned the truth: not only are the stories true, but she herself is the Alchemist, and Caro—a woman who single-handedly murdered the Queen and Jules's first love, Roan, in cold blood—is the Sorceress.
The whole kingdom believes that Jules is responsible for the murders, and a hefty bounty has been placed on her head. And Caro is intent on destroying Jules, who stole her heart twelve lifetimes ago. Jules must delve into the stories that she now recognizes are accounts of her own past. For it is only by piecing together the mysteries of her lives that Jules will be able to save the person who has captured her own heart in this one.
Kiss Collector | Wendy Higgins
⭐️⭐️.75
My thoughts: I was pretty intrigued by the premise of this novel, because it sounded super interesting and like it was going to be a very fun and entertaining story, and I had pretty high expectations because I enjoyed the other book I read by this author, and though it was a very lighthearted read, I expected so much more from it, and it didn't reach those expectations. 
The main problem that I had with Kiss Collector was that I found the characters extremely unremarkable. They were very plain and simple, and I feel I read about those type of characters in multiple YA contemporary romances before. I really loved the female friendship in the book, because I think it was so precious and seeing girls supporting each other and relying in her friends is always a bonus, and I think those relationships were so well done.
However, I wasn't the biggest fan of the romance, and that was mainly the 80% of the story. There wasn't anything wrong about the way it was written, but more a personal preference. I'm quite picky with my romances, and though there were some parts that I enjoyed and I could see the chemistry between the characters, I feel there was too much angst for the lighthearted tone the book set at the beginning of the story that could have been easily avoided had the characters actually had a conversation.
It was a very fast paced and fun book that didn't take me long to finish, which is something that I like in contemporary books, and overall, despite not being the best book I've read and the main character being a bit annoying sometimes, it had some redeemable qualities and I enjoyed other parts.
I received an ARC of this book in exchange for an honest review. This doesn't change my opinion whatsoever. All thoughts are my own.
When seventeen-year-old Zae Monroe gets cheated on by the only guy she's ever loved, then watches her parents' marriage crumble, she decides to forget about relationships and turn the tables on the boys of the world. It's time to take what she wants, and what she wants are kisses. Athletes, musicians, poets, and bad boys—their lips are all on her agenda, and it's time to collect.
Zae proposes a contest with her friends to see who can kiss the most boys during spring break. But what starts as a harmless competition leads to a downward spiral she can't seem to break free of. As family, academic, friend, and guy drama come to a head, Zae is forced to face the reasons behind her boy angst, and starts to wonder if she was wrong about the male race…or at least some of them.
A Curse so Dark and Lonely | Brigid Kemmerer
⭐️⭐️⭐️⭐️.5
My thoughts: A review of this book will soon be posted on this blog, so stay tuned if you want to check out what I thought about it.
Fall in love, break the curse.
It once seemed so easy to Prince Rhen, the heir to Emberfall. Cursed by a powerful enchantress to repeat the autumn of his eighteenth year over and over, he knew he could be saved if a girl fell for him. But that was before he learned that at the end of each autumn, he would turn into a vicious beast hell-bent on destruction. That was before he destroyed his castle, his family, and every last shred of hope.
Nothing has ever been easy for Harper Lacy. With her father long gone, her mother dying, and her brother barely holding their family together while constantly underestimating her because of her cerebral palsy, she learned to be tough enough to survive. But when she tries to save someone else on the streets of Washington, DC, she's instead somehow sucked into Rhen's cursed world.
Break the curse, save the kingdom.
A prince? A monster? A curse? Harper doesn't know where she is or what to believe. But as she spends time with Rhen in this enchanted land, she begins to understand what's at stake. And as Rhen realizes Harper is not just another girl to charm, his hope comes flooding back. But powerful forces are standing against Emberfall . . . and it will take more than a broken curse to save Harper, Rhen, and his people from utter ruin.
99 Percent Mine | Sally Thorne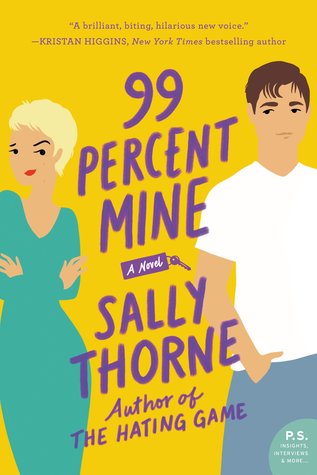 ⭐️⭐️.5
My thoughts: I'd been hyping this book up in my mind ever since I finished The Hating Game, because I despite the mixed reviews, I really enjoyed her debut novel and thought that it was such a fun story, so I expected the same about it, and overall I have to admit that I was pretty disappointed with 99 Percent Mine, because it wasn't as good as I thought it was going to be. 
One of the problems that I had with this book was the writing style. I'm pretty sure I had a similar problem while reading The Hating Game, but with this particular book I think it was a lot harder for me to focus on the story, and I kept forgetting things that happened in the book because I wasn't connecting with the writing.
However, that's not what made me give such a lower rating and not enjoyed it as much as I hoped to. I felt that it took a while for the romance to actually start, and there was more than 75% of the novel building up that romance, and creating tension and angst between these two characters that I have the feeling nothing really happened in those parts and everything was super rushed towards the end, and that made some things quite repetitive and dragged a little.
I also wasn't the biggest fan of the characters. There was nothing particularly wrong with them, because they were well written and I enjoyed the chemistry and the interactions they shared throughout the book, but there were some problematic scenes where they were a bit possessive towards the other, and I wasn't the biggest fan of those parts. However, it's true that overall the romance was really cute and they had great dynamics.
So, to sum up my review, I have to say that I went with pretty high expectations into 99 Percent Mine, and unfortunately it didn't reach them. Though the romance was actually pretty good, it dragged a lot and became quite repetitive, and I didn't fully love the character arcs.
I received an ARC of this book in exchange for an honest review. This doesn't change my opinion whatsoever. All thoughts are my own.
If Darcy Barrett hadn't met her dream man when she was eight years old, the rest of the male population wouldn't be such a let-down. No one measures up to Tom Valeska, aka the best man on Earth, not in looks, brain or heart. Even worse is the knowledge that her twin brother Jamie saw him first, and claimed him forever as his best friend.
Tom's off limits and loyal to her brother, 99%. One percent of Tom has had to be enough for Darcy, and her adoration has been sustained by his shy kindness. And if she's honest, his tight t-shirts.
Now Darcy's got three months left to get her life together before her twin insists on selling the tumble-down cottage they inherited from their grandmother. By night, she's working in a seedy bar, shooting down lame pickups from bikers. By day, she's sewing underwear for her best friend and wasting her award-winning photography skills on website shots of pens and novelty mugs. She's enjoying living the messy life, and a glass of wine or ten… until that one night, when she finds a six-foot-six perfect package on her porch.
Tom's here, he's bearing power tools—and he's single for the first time in a decade.
As a house flipper extraordinaire, Tom has been dispatched by Jamie to give the cottage a drastic facelift that will result in a ton of cash. Darcy doesn't appreciate Tom's unsentimental approach to knocking down walls, and he really, really doesn't approve of her current burnout boyfriend. They can't be in the same room together without sparks flying- and it's not the faulty wiring. One bedroom wall separates them at night, and even that's looking flimsy.
Will Tom ever see Darcy as anything other than a little-sister obstacle to get around? And can she stand up to her most formidable opponent—her twin? This time around, she's determined to make Tom Valeska 99 percent hers, and he's never managed to say no to her yet…
The Caged Queen | Kristen Ciccarelli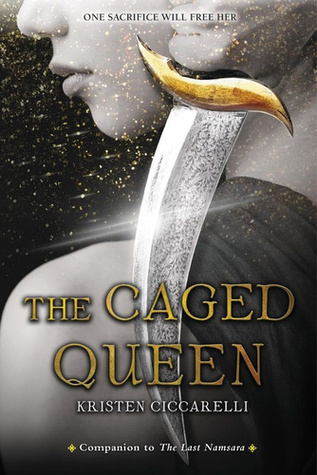 ⭐️⭐️⭐️⭐️
My thoughts: I was super excited to read this book, because I really enjoyed the first installment in the trilogy when I read it last year, and the premise of this book sounded absolutely amazing, so needless to say I went with very high expectations, and overall I have to say that I really enjoyed The Caged Queen.
One of the things that I loved the most about this book was the sisterhood. I adored the bond these two sisters shared and how connected they were throughout the story, and not only that but how much you could see they cared about the story, and I think the author did such a great job at creating that relationship and showing it to the reader.
I also really enjoyed the cast of characters that were in the story. It's true that I found the plot very predictable because it followed some very well known YA tropes, but still it was very fun and entertaining and I enjoyed the relationships between the different characters and their interactions throughout the story. The romance was quite angsty, let me tell you, but I think it was really well written and I adored these two characters and the dynamics they shared, and how slow burn everything regarding that relationship was.
However, since it had been a year since I read the other book, I struggled a bit with the worldbuilding and placing everything, because there were a few things that took place in the first book and I couldn't remember them, so it took me a bit longer to understand what was going on.
Overall, it was a very fun book and it was super easy to get through. It was super fast paced and I enjoyed the plot line the characters were following, and the relationships formed in this installment.
Once there were two sisters born with a bond so strong that it forged them together forever. When they were angry, mirrors shattered, and when they were happy, flowers bloomed. It was a magic they cherished—until the day a terrible accident took Essie's life and trapped her soul in this world.
Dax—the heir to Firgaard's throne—was responsible for the accident. Roa swore to hate him forever. But eight years later he returned, begging for her help. He was determined to dethrone his cruel father, under whose oppressive reign Roa's people had suffered. Roa made him a deal: she'd give him the army he needed if he made her queen.
Together with Dax and his sister, Asha, Roa and her people waged war and deposed a tyrant. But now Asha is on the run, hiding from the price on her head. And Roa is an outlander queen, far from home and married to her enemy. Worst of all: Dax's promises go unfulfilled. Roa's people continue to suffer.
Then a chance to right every wrong arises—an opportunity for Roa to rid herself of this enemy king and rescue her beloved sister. During the Reliquishing, when the spirits of the dead are said to return, Roa can reclaim her sister for good.
All she has to do is kill the king.
Shadow of the Fox | Julie Kagawa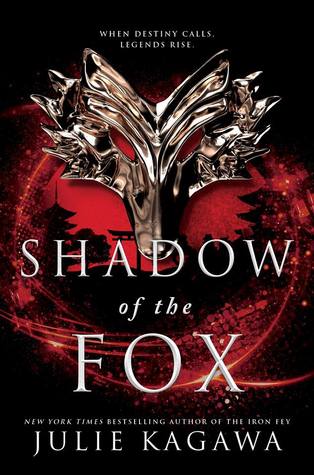 ⭐️⭐️⭐️.75
My thoughts: A review of this book will soon be posted on this blog, so stay tuned if you want to check out what I thought about it.
Now, for whoever holds the Scroll of a Thousand Prayers, a new wish will be granted. A new age is about to dawn.
Raised by monks in the isolated Silent Winds temple, Yumeko has trained all her life to hide her yokai nature. Half kitsune, half human, her skill with illusion is matched only by her penchant for mischief. Until the day her home is burned to the ground, her adoptive family is brutally slain and she is forced to flee for her life with the temple's greatest treasure—one part of the ancient scroll.
There are many who would claim the dragon's wish for their own. Kage Tatsumi, a mysterious samurai of the Shadow Clan, is one such hunter, under orders to retrieve the scroll…at any cost. Fate brings Kage and Yumeko together. With a promise to lead him to the scroll, an uneasy alliance is formed, offering Yumeko her best hope for survival. But he seeks what she has hidden away, and her deception could ultimately tear them both apart.
With an army of demons at her heels and the unlikeliest of allies at her side, Yumeko's secrets are more than a matter of life or death. They are the key to the fate of the world itself.
Darkfever | Karen Marie Moning
⭐️⭐️
My thoughts: Even though this book had been on my TBR for a very long time, I finally decided to pick it up on a whim, and… let's say that I was pretty disappointed.
Hear me out. I'll read pretty much anything that has faeries in the title or in the description, so this books was one of those I finally decided to pick it up. And I didn't really enjoy it, which that could be potentially because of my reading slump at the time, and some of the things that I didn't really like.
The thing is, the book started out pretty good and I was enjoying it, but it went downhill to me. As I kept reading I got really bored and confused and I didn't really care about anything that was happening, and mostly I was continuing just to see if it got better. And I totally think that maybe the sequels will be better, because Darkfever felt more like a prologue of what was going to happen in the next books, but I feel that it dragged a lot and nothing interesting happened.
Also I didn't particularly like the characters. The protagonist was pretty annoying and she had barely any development throughout the story, and though I know there is going to be a romance happening in the next novels between two characters, I didn't really like the chemistry between them in this one, because at times it felt quite forced.
Anyways, I was pretty excited about Darkfever and I thought I was going to enjoy it, but I was pretty disappointed overall.
When MacKayla's sister was murdered, she left a single clue to her death, a cryptic message on Mac's cell phone. Journeying to Ireland in search of answers, Mac is soon faced with an even greater challenge: staying alive long enough to master a power she had no idea she possessed – a gift that allows her to see beyond the world of man, into the dangerous realm of the Fae.
As Mac delves deeper into the mystery of her sister's death, her every move is shadowed by the dark, mysterious Jericho…while at the same time, the ruthless V'lane – an alpha Fae who makes sex an addiction for human women – closes in on her. As the boundary between worlds begins to crumble, Mac's true mission becomes clear: to find the elusive Sinsar Dubh before someone else claims the all-powerful Dark Book – because whoever gets to it first holds nothing less than complete control both worlds in their hands.
Circle of Shadows | Evelyn Skye
⭐️⭐️⭐️.75
My thoughts: A review of this book will soon be posted on this blog, so stay tuned if you want to check out what I thought about it.

Sora can move as silently as a ghost and hurl throwing stars with lethal accuracy. Her gemina, Daemon, can win any physical fight blindfolded and with an arm tied behind his back. They are apprentice warriors of the Society of Taigas—marked by the gods to be trained in magic and the fighting arts to protect the kingdom of Kichona.
As their graduation approaches, Sora and Daemon look forward to proving themselves worthy of belonging to the elite group—but in a kingdom free of violence since the Blood Rift Rebellion many years ago, it's been difficult to make their mark. So when Sora and Daemon encounter a strange camp of mysterious soldiers while on a standard scouting mission, they decide the only thing to do to help their kingdom is to infiltrate the group. Taking this risk will change Sora's life forever—and lead her on a mission of deception that may fool everyone she's ever loved.
An Assassin's Guide to Love and Treason | Virginia Boecker
⭐️⭐️
My thoughts: Boy, oh boy… wasn't I disappointed with this book! The premise of this story sounded incredible and like it was going to be a super fun and fast paced read with a cute romance and spies and murder, but it wasn't. It was super boring!
My main issue with this book is that the whole plot was so slow that I had the feeling that nothing was actually happening and it was all about characters talking with each other and planning and planning and nothing else. I think that it had a very interesting premise but it lacked a lot in its execution, because I kept contemplating DNFing it multiple times during the story.
Also I wasn't the biggest fan of the characters. Their inner monologues were just so boring and I couldn't care less about what happened to them, not to mention they hardly had any evolution throughout the story, and were the same since the very beginning. I was so underwhelmed by them, and I feel they were pretty simple and unexplored, and their relationship was a bit awkward and forced, and their interactions pointless at times.
Overall, I think this is one of those books where the premise sounded incredible and amazing but the actual book turned out to be pretty boring, and nothing interesting really happened. Though I enjoyed the writing style, unfortunately that didn't redeem the book in my case.
When Lady Katherine's father is killed for being an illegally practicing Catholic, she discovers treason wasn't the only secret he's been hiding: he was also involved in a murder plot against the reigning Queen Elizabeth I. With nothing left to lose, Katherine disguises herself as a boy and travels to London to fulfill her father's mission, and to take it one step further–kill the queen herself.
Katherine's opportunity comes in the form of William Shakespeare's newest play, which is to be performed in front of Her Majesty. But what she doesn't know is that the play is not just a play–it's a plot to root out insurrectionists and destroy the rebellion once and for all.
The mastermind behind this ruse is Toby Ellis, a young spy for the queen with secrets of his own. When Toby and Katherine are cast opposite each other as the play's leads, they find themselves inexplicably drawn to one another. But the closer they grow, the more precarious their positions become. And soon they learn that star-crossed love, mistaken identity, and betrayal are far more dangerous off the stage than on.
Archenemies | Marissa Meyer
⭐️⭐️⭐️⭐️.5
My thoughts: A review of this book will soon be posted on this blog, so stay tuned if you want to check out what I thought about it.
Nova's double life is about to get a lot more complicated:
As Insomnia, she is a full-fledged member of the Renegades, a syndicate of powerful and beloved superheroes. She works with Adrian's patrol unit to protect the weak and maintain order in Gatlon City.
As Nightmare, she is an Anarchist—a group of villains who are determined to destroy the Renegades. Nova wants vengeance against the so-called heroes who once failed her when she needed them the most.
But as Nova, her feelings for Adrian are deepening, despite the fact that he is the son of her sworn enemies and, unbeknownst to Nova, he has some dangerous secrets of his own.
In this second installment of the Renegades trilogy, Nova, Adrian, and the rest of their crew—Ruby, Oscar, and Danna—are faced with escalating crime in Gatlon City, while covert weapons and conflicting missions have Nova and Adrian questioning not only their beliefs about justice but also the feelings they have for each other.
The line between good and evil has been blurred, but what's clear to them both is that too much power could mean the end of their City—and the world—as they know it.
Girls of Paper and Fire | Natasha Ngan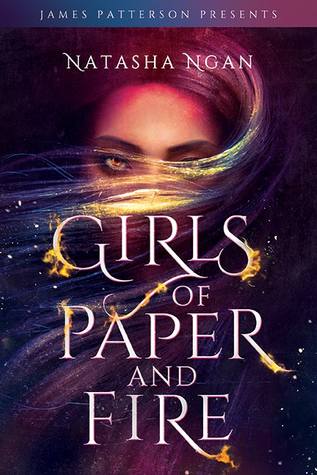 ⭐️⭐️⭐️⭐️.5
My thoughts: A review of this book will soon be posted on this blog, so stay tuned if you want to check out what I thought about it.
In this lush fantasy, Lei is a member of the Paper caste, the lowest and most oppressed class in Ikhara. She lives in a remote village with her father, where the decade-old trauma of watching her mother snatched by royal guards still haunts her. Now, the guards are back, and this time it's Lei they're after–the girl whose golden eyes have piqued the king's interest.
Over weeks of training in the opulent but stifling palace, Lei and eight other girls learn the skills and charm that befit being a king's consort. But Lei isn't content to watch her fate consume her. Instead, she does the unthinkable–she falls in love. Her forbidden romance becomes enmeshed with an explosive plot that threatens the very foundation of Ikhara, and Lei, still the wide-eyed country girl at heart, must decide just how far she's willing to go for justice and revenge.

Empress of All Seasons | Emiko Jean
⭐️⭐️⭐️
My thoughts: I was super excited to read this book and I'd been hyping it up in my mind so much, due to the amazing praise it'd been receiving and because I was pretty intrigued by the synopsis, and though I enjoyed the story, I have to say I was expecting much more from it, and unfortunately it ended up being not as good as I thought it would be.
The thing is, the premise of Empress of All Seasons made me think this book was going to be about something that happened in the first 120 pages of the book, which was Mari going to the palace and trying to conquer the different seasons in the rooms, and those parts were what I enjoyed the most, and I was super invested and intrigued about them.
However, once those parts ended, I was pretty bored and not as invested in the story. I feel not much was actually happening, and though the story redeemed itself a bit towards the very end and I enjoyed the last few pages, I feel it dragged a lot in other parts and I didn't really enjoyed what was happening in them.
The book was told in three POVs, and I enjoyed reading from our protagonist's perspective, but sadly I didn't care much about the other two. It's true they added more information about the magic system and the society to the story, but their inner monologues were just so uninteresting and boring that I couldn't care less about them.
Another thing that I didn't really like was the romance. Even though it was pretty clear that there was going to be some type of romance in Empress of All Seasons, the relationship between the main character and her love interest came completely out of nowhere, and they had no chemistry at all, and it seemed quite forced to me. I think the romance was completely unnecessary and didn't add much to the book.
Overall, I have a lot of mixed feelings about the book. Though I really loved some parts and the writing was absolutely gorgeous, there were some other scenes that dragged a lot and nothing was actually happening, and they characters weren't as good as I thought they would be.
Each generation, a competition is held to find the next empress of Honoku. The rules are simple. Survive the palace's enchanted seasonal rooms. Conquer Winter, Spring, Summer, and Fall. Marry the prince. All are eligible to compete—all except yōkai, supernatural monsters and spirits whom the human emperor is determined to enslave and destroy.
Mari has spent a lifetime training to become empress. Winning should be easy. And it would be, if she weren't hiding a dangerous secret. Mari is a yōkai with the ability to transform into a terrifying monster. If discovered, her life will be forfeit. As she struggles to keep her true identity hidden, Mari's fate collides with that of Taro, the prince who has no desire to inherit the imperial throne, and Akira, a half-human, half-yōkai outcast.
Torn between duty and love, loyalty and betrayal, vengeance and forgiveness, the choices of Mari, Taro, and Akira will decide the fate of Honoku in this beautifully written, edge-of-your-seat YA fantasy.
Even if I fall | Abigail Johnson
⭐️⭐️⭐️⭐️
My thoughts: I didn't know what to expect when I first started this book, because even though the synopsis sounded pretty interesting when I read it for the first time, I completely forgot about it when I decided to pick it up, and I must say I ended up being pleasantly surprised with this book, and at how much I enjoyed it.
The author did such an incredible job at writing the portrayal of loss and grief. I haven't experience any of the things these characters were going through, but it felt so real to me reading about that in this story, and I think that was so well done and you could see a clear picture of what both families were going through and how they dealt with all those feelings.
I also really enjoyed the relationship between the two characters. Their dynamics were complex and realistic, and I liked how slow paced it was, and how it was a progressive relationship and romance, and not a rushed one. Their connection was so pure and beautiful, and I adored how they relied and found some type of solace in the other.
Another thing that I liked seeing in the book and added a more realistic touch to it was the relationship between our main character's family. You could see glimpses of the interactions between the boy's family, but since it was told from the point of view of Brooke, we had a more clear view of what her family was going through. I loved the development of the relationship between Brooke and her sister, and how each member of the family dealt differently with everything that happened, and I think that was a nice touch.
Overall, I think Even if I Fall was a very raw and beautiful story that dealt with loss and grief in a very realistic way. I really enjoyed the character arcs and their interactions throughout the story, and the progress and evolution of their relationships.
I received an ARC of this book in exchange for an honest review. This doesn't change my opinion whatsoever. All thoughts are my own.
A year ago, Brooke Covington lost everything when her beloved older brother, Jason, confessed to the murder of his best friend, Calvin. Brooke and her family became social pariahs, broken and unable to console one another. Brooke's only solace remains the ice-skating rink, where she works but no longer lets herself dream about a future skating professionally.
When Brooke encounters Calvin's younger brother, Heath, on the side of the road and offers him a ride, everything changes. She needs someone to talk to…and so does Heath. No one else understands what it's like. Her brother, alive but gone; his brother, dead but everywhere. Soon, they're meeting in secret, despite knowing that both families would be horrified if they found out. In the place of his anger and her guilt, something frighteningly tender begins to develop, drawing them ever closer together.
But when a new secret comes out about the murder, Brooke has to choose whose pain she's willing to live with—her family's or Heath's. Because she can't heal one without hurting the other.
A Kiss in the Dark | Gina Ciocca 
⭐️.5
My thoughts: I was pretty curious with the premise of the book, so I decided to pick this book up since I felt I was in the middle of a tiny reading slump and wanted something quick an easy to get into, and till this point I don't know if I regret that decision, because I didn't like this book at all. I had such high expectations and I ended up pretty disappointed.
Hear me out. The main issue why I disliked the story and made me lower my rating that much was because I hate seeing this trope in any type of book. I don't like where I see in a book that our main character is head over heals in love with her love interest and suddenly something happened in the story in the last 30 pages that made her suddenly realice she loved the other guy who's been in love with her throughout the entire novel. And this book was just about that. The entire time.
So yeah, apart from that I wasn't the biggest fan of the cast of characters that were introduced. Neither of them stood out to me and the interactions between them sometimes felt quite forced and their conversations were a bit unrealistic and mindless, and they didn't add much to the story.
I also didn't like the use of a character being gay as a shocking factor, and this one did that at a particular moment of the story, so that made me not enjoy the book as much as I expected.
The book was told in present and past tense, having flashbacks so the reader could understand what happened in junior year that affected those characters, but I was pretty confused the entire time and I couldn't distinguish sometimes when I was reading the flashbacks and when I wasn't, so there were a few times where I was mixing both.
Overall, I think the premise of the novel seemed pretty interesting but I came to the conclusion that it wasn't a book for me, because I had issues with the story and the characters, and despite being quite a fast paced book, that didn't redeemed everything that I didn't like.
When the lights go out at a Georgia high school football game, Macy Atwood finds herself in the arms of a boy who kisses her senseless – but is gone by the time the lights come back on. All she knows is that there was something special – and oddly familiar – about her mystery kisser.
Noah Granger, Ridgedale's resident bad boy and newest transfer student, has no problem taking credit for the kiss, but Macy can't shake the feeling that he's lying. Especially since a photograph of Macy and former star football player Joel Hargrove resurfaced online moments before the blackout, a not-so random reminder of how hard she fell for Joel last year. And how doing so ultimately sent her lifelong friendships with Meredith Kopala and Ben Collins up in literal smoke.
Soon junior year's wounds begin to reopen as Macy realizes the events that unfolded are somehow tied to her mystery kisser. Discovering how means finally facing what really went wrong with Meredith, Ben, and Joel – and finding out what Noah is covering up.
But the closer Macy gets to figuring it all out, the more she starts to worry that the boy who kissed her in the dark and the boy who is stealing her heart might be two very different people.
What books did you read this past month of November? Have you read any of the ones I've mentioned above or do you have them on your TBR? Let me know in the comments!
Follow me on BlogLovin'
Goodreads | Instagram | Twitter | Contact Me