Hello bookworms! I'm Nia and today I'm going to be doing a tag, because it's been a long time since I've done one of these.
Since I can say that we are officially in Winter, I decided to do a tag related to Christmas or wintertime. I have to say that I don't know who the creator of this tag was, and I think I saw it on BooksAmino more than a year ago and forgot to write down the creator, so if you know them let me know so I can tag them in here.
Without any further ado, let's start the Winter Wonderland Tag!
What book is so happy and sweet that it warms your heart?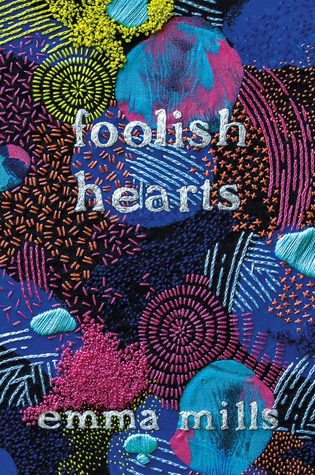 My thoughts: This has been a recent read of mine, but I absolutely adored it and I think it was a super sweet and adorable read. I think it was a very personal experience, but back when I read it my mental health wasn't the best and I related a lot with the main character and I had so much fun reading the story. It warmed my heart and I adored it, so I think it's the perfect match for this question.
The day of the last party of the summer, Claudia overhears a conversation she wasn't supposed to. Now on the wrong side of one of the meanest girls in school, Claudia doesn't know what to expect when the two are paired up to write a paper—let alone when they're both forced to try out for the school production ofA Midsummer Night's Dream.
But mandatory participation has its upsides—namely, an unexpected friendship, a boy band obsession, and a guy with the best dimpled smile Claudia's ever seen. As Claudia's world starts to expand, she finds that maybe there are some things worth sticking her neck out for.
What is your favorite book with a white cover?
My thoughts: I know I haven't read this book, but when I saw this cover I completely fell in love with it and immediately added to my TBR. I don't own nor have seen a lot of pure white covers, and I think that this one is so simple yet so beautiful, so I have to choose it for this one.
Last night I dreamt I went to Manderley again . . .
The novel begins in Monte Carlo, where our heroine is swept off her feet by the dashing widower Maxim de Winter and his sudden proposal of marriage. Orphaned and working as a lady's maid, she can barely believe her luck. It is only when they arrive at his massive country estate that she realizes how large a shadow his late wife will cast over their lives–presenting her with a lingering evil that threatens to destroy their marriage from beyond the grave.
You're sitting in a nice comfy chair, wearing a onesie, with a lovely warm hot chocolate but what MONSTER read are you reading?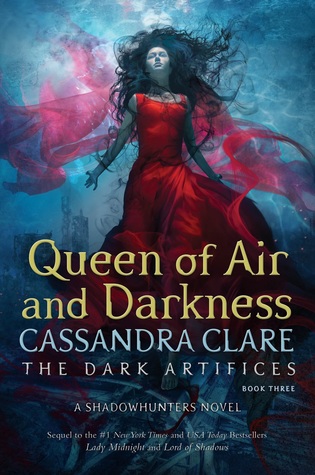 My thoughts: This hasn't happened yet because my copy of QoAaD is yet to arrive, but I totally see it happening in the near future, because not only this is a monster of a book, but also it's one of my most anticipated releases of this year and I need to read it ASAP, so since it's winter already, that's exactly what I'm going to be doing. Except the onesie, because I don't own one.
What if damnation is the price of true love?
Innocent blood has been spilled on the steps of the Council Hall, the sacred stronghold of the Shadowhunters. In the wake of the tragic death of Livia Blackthorn, the Clave teeters on the brink of civil war. One fragment of the Blackthorn family flees to Los Angeles, seeking to discover the source of the blight that is destroying the race of warlocks.
Meanwhile, Julian and Emma take desperate measures to put their forbidden love aside and undertake a perilous mission to Faerie to retrieve the Black Volume of the Dead. What they find in the Courts is a secret that may tear the Shadow World asunder and open a dark path into a future they could never have imagined. Caught in a race against time, Emma and Julian must save the world of Shadowhunters before the deadly power of the parabatai curse destroys them and everyone they love.
It started snowing so you decided to have a snowball fight! What fictional character would you love to have the snowball fight with?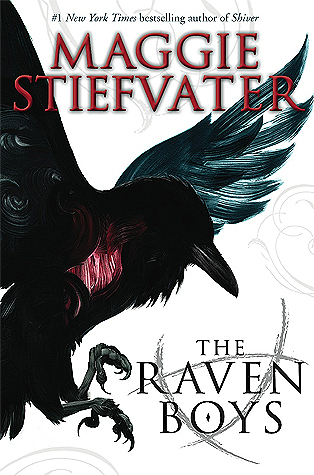 My thoughts: Not just one but the whole Raven Boys crew! I think it would be such a fun experience to have a snowball fight with all of them, and maybe join their group as well, because they have such great dynamics and a pure friendship, and I love my boys so much. Plus it would be great for them to do mundane things.
It is freezing in the churchyard, even before the dead arrive.
Every year, Blue Sargent stands next to her clairvoyant mother as the soon-to-be dead walk past. Blue herself never sees them—not until this year, when a boy emerges from the dark and speaks directly to her.
His name is Gansey, and Blue soon discovers that he is a rich student at Aglionby, the local private school. Blue has a policy of staying away from Aglionby boys. Known as Raven Boys, they can only mean trouble.
But Blue is drawn to Gansey, in a way she can't entirely explain. He has it all—family money, good looks, devoted friends—but he's looking for much more than that. He is on a quest that has encompassed three other Raven Boys: Adam, the scholarship student who resents all the privilege around him; Ronan, the fierce soul who ranges from anger to despair; and Noah, the taciturn watcher of the four, who notices many things but says very little.
For as long as she can remember, Blue has been warned that she will cause her true love to die. She never thought this would be a problem. But now, as her life becomes caught up in the strange and sinister world of the Raven Boys, she's not so sure anymore. 
Sadly, your fire is beginning to go out. So what book would you tear the last few chapters out to throw into the fire?
My thoughts: If you've read the series you'll probably know the reason why I chose it, but… that ending was shit and I totally hated it, so I wouldn't even be sad about ripping those pages and throwing them at the fire. At least they'll be good for something.
Katniss Everdeen, girl on fire, has survived, even though her home has been destroyed. Gale has escaped. Katniss's family is safe. Peeta has been captured by the Capitol. District 13 really does exist. There are rebels. There are new leaders. A revolution is unfolding.
It is by design that Katniss was rescued from the arena in the cruel and haunting Quarter Quell, and it is by design that she has long been part of the revolution without knowing it. District 13 has come out of the shadows and is plotting to overthrow the Capitol. Everyone, it seems, has had a hand in the carefully laid plans–except Katniss.
The success of the rebellion hinges on Katniss's willingness to be a pawn, to accept responsibility for countless lives, and to change the course of the future of Panem. To do this, she must put aside her feelings of anger and distrust. She must become the rebels' Mockingjay–no matter what the personal cost.
What book is so close to your heart that you would gift to someone this Christmas who hasn't read before but wants to get into reading?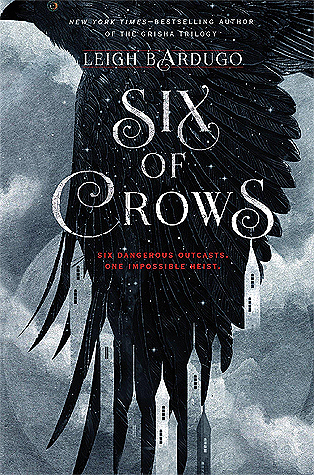 My thoughts: I feel this is such a generic question, because each person is different, and I know my reading taste is not the same as everyone else's. But I decided to choose Six of Crows, because it's what I tend to recommend to friends that are starting reading, and that book has been such a successful recommendation, because all the people that have read it because of me have told me how much they loved it. So… yup.
Ketterdam: a bustling hub of international trade where anything can be had for the right price–and no one knows that better than criminal prodigy Kaz Brekker. Kaz is offered a chance at a deadly heist that could make him rich beyond his wildest dreams. But he can't pull it off alone…
A convict with a thirst for revenge.
A sharpshooter who can't walk away from a wager.
A runaway with a privileged past.
A spy known as the Wraith.
A Heartrender using her magic to survive the slums.
A thief with a gift for unlikely escapes.
Six dangerous outcasts. One impossible heist. Kaz's crew is the only thing that might stand between the world and destruction—if they don't kill each other first.
Do you agree with all my answers? Have you read any of these books or do you have them on your TBR? Let me know in the comments!
Follow me on BlogLovin'
Goodreads | Instagram | Twitter | Contact Me