Hello bookworms! I'm Nia and today I'm going to recommend you some books that I think are perfect to read this time of the year, especially if you're looking for a whimsical and fuzzy book.
I love me a good warm and magical book to read this time of the year, so feel free to recommend me your favorites or ones you think I'm going to enjoy. I have a few of them that are some of my favorites and I love them so much, so I'm going to be talking about those today.
Without any further ado, let's start with the recommendations!
The Night Circus | Erin Morgenstern
My thoughts: I know I've recommend this book multiple times ever since I started my blog, but it's one of my favorites, guys. And I think it is the perfect transition between fall and winter. It's a super magical and beautifully written story, and I have to recommend it again. I've been wanting to re-read it ever since I finished it, so hopefully this year will be the time for that.
The circus arrives without warning. No announcements precede it. It is simply there, when yesterday it was not. Within the black-and-white striped canvas tents is an utterly unique experience full of breathtaking amazements. It is called Le Cirque des Rêves, and it is only open at night.
But behind the scenes, a fierce competition is underway—a duel between two young magicians, Celia and Marco, who have been trained since childhood expressly for this purpose by their mercurial instructors. Unbeknownst to them, this is a game in which only one can be left standing, and the circus is but the stage for a remarkable battle of imagination and will. Despite themselves, however, Celia and Marco tumble headfirst into love—a deep, magical love that makes the lights flicker and the room grow warm whenever they so much as brush hands.
True love or not, the game must play out, and the fates of everyone involved, from the cast of extraordinary circus performers to the patrons, hang in the balance, suspended as precariously as the daring acrobats overhead. 
Hunted | Meagan Spooner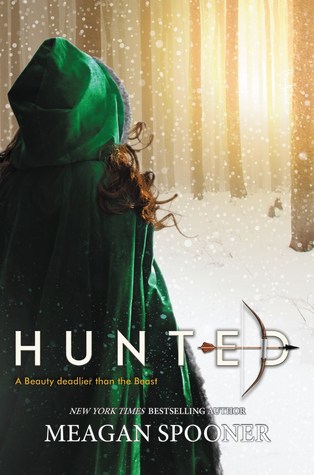 My thoughts: Hunted is one of my all time favorite books, and I think it's the perfect pick for this time of the year. Not only it takes place in Russia and has a very cold and whimsical atmosphere, but I feel retellings are such a great choice to read during winter, and this book has both of those things.
I have a review of this book here, in case you want to know my thoughts.
Beauty knows the Beast's forest in her bones—and in her blood. Though she grew up with the city's highest aristocrats, far from her father's old lodge, she knows that the forest holds secrets and that her father is the only hunter who's ever come close to discovering them.
So when her father loses his fortune and moves Yeva and her sisters back to the outskirts of town, Yeva is secretly relieved. Out in the wilderness, there's no pressure to make idle chatter with vapid baronessas…or to submit to marrying a wealthy gentleman. But Yeva's father's misfortune may have cost him his mind, and when he goes missing in the woods, Yeva sets her sights on one prey: the creature he'd been obsessively tracking just before his disappearance.
Deaf to her sisters' protests, Yeva hunts this strange Beast back into his own territory—a cursed valley, a ruined castle, and a world of creatures that Yeva's only heard about in fairy tales. A world that can bring her ruin or salvation. Who will survive: the Beauty, or the Beast?
The Bear and the Nightingale | Katherine Arden
My thoughts: This is a recent read of mine, but I totally agree with all the people that have been recommending it to me for this time of the year, because it was the definition of winter. Like Hunted, that I've mentioned above, this one had a very whimsical a fuzzy atmosphere, and since it took place in Russia and had a fairytale vibe and some folklore, I think it's the perfect read for Winter, just to read on the couch with some blankets and a cup of tea or coffee.
At the edge of the Russian wilderness, winter lasts most of the year and the snowdrifts grow taller than houses. But Vasilisa doesn't mind–she spends the winter nights huddled around the embers of a fire with her beloved siblings, listening to her nurse's fairy tales. Above all, she loves the chilling story of Frost, the blue-eyed winter demon, who appears in the frigid night to claim unwary souls. Wise Russians fear him, her nurse says, and honor the spirits of house and yard and forest that protect their homes from evil.
After Vasilisa's mother dies, her father goes to Moscow and brings home a new wife. Fiercely devout, city-bred, Vasilisa's new stepmother forbids her family from honoring the household spirits. The family acquiesces, but Vasilisa is frightened, sensing that more hinges upon their rituals than anyone knows.
And indeed, crops begin to fail, evil creatures of the forest creep nearer, and misfortune stalks the village. All the while, Vasilisa's stepmother grows ever harsher in her determination to groom her rebellious stepdaughter for either marriage or confinement in a convent.
As danger circles, Vasilisa must defy even the people she loves and call on dangerous gifts she has long concealed–this, in order to protect her family from a threat that seems to have stepped from her nurse's most frightening tales.
From Lukov with Love | Mariana Zapata
My thoughts: This would be the perfect read if you're looking for something light and slow burn, or if you need a break of fantasy, because it was a super fast paced and angsty book, but I think it's a perfect read for the wintertime, since the main focus of the novel apart from the romance, was them being ice skaters. Even though it was pretty long, I really enjoyed it and had so much fun, and I think the romance was super cute.
If someone were to ask Jasmine Santos to describe the last few years of her life with a single word, it would definitely be a four-letter one.
After seventeen years—and countless broken bones and broken promises—she knows her window to compete in figure skating is coming to a close.
But when the offer of a lifetime comes in from an arrogant idiot she's spent the last decade dreaming about pushing in the way of a moving bus, Jasmine might have to reconsider everything.
Including Ivan Lukov.
A Curse so Dark and Lonely | Brigid Kemmerer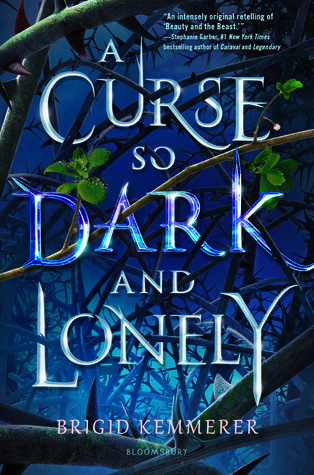 My thoughts: I would actually recommend any Brigid Kemmerer books if you're more interested in this author, because I've really enjoyed the other two books I've read by her and I think she is an incredible storyteller. But I wanted to recommend this particular novel because I think it's the most whimsical out of the three, and I really enjoyed it. This may not be everyone's cup of tea, because it had a very unlikeable main character, but I still have to recommend it, because even though it's not clear if it's winter or not in the story, it gave me all the whimsical and winter-y vibes.
Fall in love, break the curse.
It once seemed so easy to Prince Rhen, the heir to Emberfall. Cursed by a powerful enchantress to repeat the autumn of his eighteenth year over and over, he knew he could be saved if a girl fell for him. But that was before he learned that at the end of each autumn, he would turn into a vicious beast hell-bent on destruction. That was before he destroyed his castle, his family, and every last shred of hope.
Nothing has ever been easy for Harper Lacy. With her father long gone, her mother dying, and her brother barely holding their family together while constantly underestimating her because of her cerebral palsy, she learned to be tough enough to survive. But when she tries to save someone else on the streets of Washington, DC, she's instead somehow sucked into Rhen's cursed world.
Break the curse, save the kingdom.
A prince? A monster? A curse? Harper doesn't know where she is or what to believe. But as she spends time with Rhen in this enchanted land, she begins to understand what's at stake. And as Rhen realizes Harper is not just another girl to charm, his hope comes flooding back. But powerful forces are standing against Emberfall . . . and it will take more than a broken curse to save Harper, Rhen, and his people from utter ruin.
Truly Devious | Maureen Johnson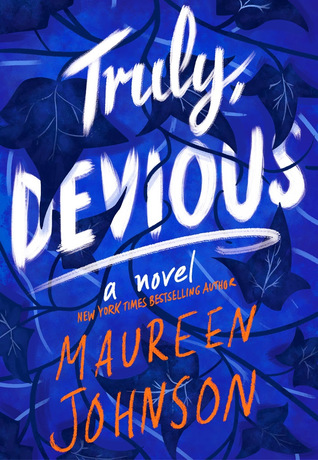 My thoughts: I really enjoyed this book, which was super surprising because the other book by this author that I read previously I wasn't the biggest fan. But I also think this is one of those books that are perfect to read this time of the year, if you need a break from fantasy. Mystery and thrillers are such a perfect genre to pick up during fall/winter, and Truly Devious has such an eerie atmosphere that would fit so well with a snowy or rainy day.
I have a review of this book here, in case you want to know my thoughts. 
Ellingham Academy is a famous private school in Vermont for the brightest thinkers, inventors, and artists. It was founded by Albert Ellingham, an early twentieth century tycoon, who wanted to make a wonderful place full of riddles, twisting pathways, and gardens. "A place" he said, "where learning is a game."
Shortly after the school opened, his wife and daughter were kidnapped. The only real clue was a mocking riddle listing methods of murder, signed with the frightening pseudonym, Truly Devious. It became one of the great unsolved crimes of American history.
True-crime aficionado Stevie Bell is set to begin her first year at Ellingham Academy, and she has an ambitious plan: She will solve this cold case. That is, she will solve the case when she gets a grip on her demanding new school life and her housemates: the inventor, the novelist, the actor, the artist, and the jokester. But something strange is happening. Truly Devious makes a surprise return, and death revisits Ellingham Academy. The past has crawled out of its grave. Someone has gotten away with murder.
What are your winter recommendations? Have you read any of these books, or are you interested in any of them? Let me know in the comments!
Follow me on BlogLovin'
Goodreads | Instagram | Twitter | Contact Me