Hello bookworms! I'm Nia and today I'm going to be talking about the books I want to read in January.
I have a fairly ambitious TBR for this month. I'm going to be participating in the Bianual Bibliothon, but I'm not going to talk about the books I want to read for that readathon because I haven't yet decided all the books that could fit the challenges. Still, I'm going to be talking about the ones I really want to read this month and hopefully will read.
Without any further ado, let's start with my January TBR.
Kingdom of the Blazing Phoenix | Julie C. Dao
This fairy tale retelling lives in a mystical world inspired by the Far East, where the Dragon Lord and the Serpent God battle for control of the earthly realm; it is here that the flawed heroine of Forest of a Thousand Lanterns finally meets her match. An epic fantasy finale to the Rise of the Empress novels.
Princess Jade has grown up in exile, hidden away in a monastery while her stepmother, the ruthless Xifeng, rules as empress of Feng Lu. But the empire is in distress and its people are sinking into poverty and despair. Even though Jade doesn't want the crown, she knows she is the only one who can dethrone the empress and set the world right. Ready to reclaim her place as rightful heir, Jade embarks on a quest to raise the Dragon Lords and defeat Xifeng and the Serpent God once and for all. But will the same darkness that took Xifeng take Jade, too? Or will she find the strength within to save herself, her friends, and her empire?
Set in an East Asian-inspired fantasy world filled with breathtaking pain and beauty, Kingdom of the Blazing Phoenix is filled with dazzling magic, powerful prose, and characters readers won't soon forget.
The Wicked King | Holly Black
You must be strong enough to strike and strike and strike again without tiring.
The first lesson is to make yourself strong.
After the jaw-dropping revelation that Oak is the heir to Faerie, Jude must keep her younger brother safe. To do so, she has bound the wicked king, Cardan, to her, and made herself the power behind the throne. Navigating the constantly shifting political alliances of Faerie would be difficult enough if Cardan were easy to control. But he does everything in his power to humiliate and undermine her even as his fascination with her remains undiminished.
When it becomes all too clear that someone close to Jude means to betray her, threatening her own life and the lives of everyone she loves, Jude must uncover the traitor and fight her own complicated feelings for Cardan to maintain control as a mortal in a Faerie world.
Poison Study | Maria V. Snyder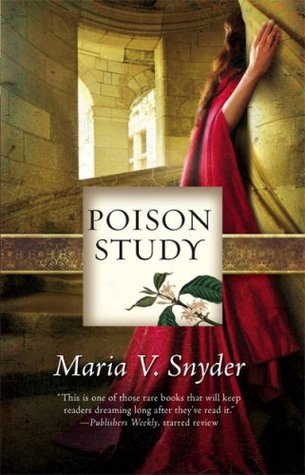 About to be executed for murder, Yelena is offered an extraordinary reprieve. She'll eat the best meals, have rooms in the palace—and risk assassination by anyone trying to kill the Commander of Ixia.
And so Yelena chooses to become a food taster. But the chief of security, leaving nothing to chance, deliberately feeds her Butterfly's Dust—and only by appearing for her daily antidote will she delay an agonizing death from the poison.
As Yelena tries to escape her new dilemma, disasters keep mounting. Rebels plot to seize Ixia and Yelena develops magical powers she can't control. Her life is threatened again and choices must be made. But this time the outcomes aren't so clear…
We Set the Dark on Fire | Tehlor Kay Mejia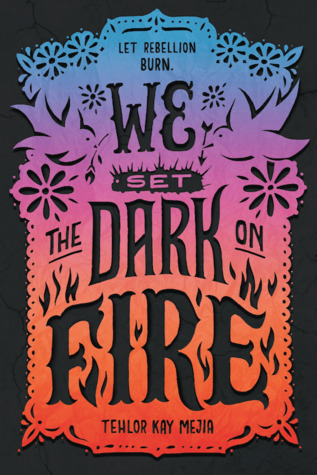 At the Medio School for Girls, distinguished young women are trained for one of two roles in their polarized society. Depending on her specialization, a graduate will one day run a husband's household or raise his children, but both are promised a life of comfort and luxury, far from the frequent political uprisings of the lower class. Daniela Vargas is the school's top student, but her bright future depends upon no one discovering her darkest secret—that her pedigree is a lie. Her parents sacrificed everything to obtain forged identification papers so Dani could rise above her station. Now that her marriage to an important politico's son is fast approaching, she must keep the truth hidden or be sent back to the fringes of society, where famine and poverty rule supreme.
On her graduation night, Dani seems to be in the clear, despite the surprises that unfold. But nothing prepares her for all the difficult choices she must make, especially when she is asked to spy for a resistance group desperately fighting to bring equality to Medio. Will Dani cling to the privilege her parents fought to win for her, or to give up everything she's strived for in pursuit of a free Medio—and a chance at a forbidden love?
Summer of Salt | Katrina Leno
A magic passed down through generations . . .
Georgina Fernweh waits with growing impatience for the tingle of magic in her fingers—magic that has been passed down through every woman in her family. Her twin sister, Mary, already shows an ability to defy gravity. But with their eighteenth birthday looming at the end of this summer, Georgina fears her gift will never come.
An island where strange things happen . . .
No one on the island of By-the-Sea would ever call the Fernwehs what they really are, but if you need the odd bit of help—say, a sleeping aid concocted by moonlight—they are the ones to ask.
No one questions the weather, as moody and erratic as a summer storm.
No one questions the (allegedly) three-hundred-year-old bird who comes to roost on the island every year.
A summer that will become legend . . .
When tragedy strikes, what made the Fernweh women special suddenly casts them in suspicion. Over the course of her last summer on the island—a summer of storms, of love, of salt—Georgina will learn the truth about magic, in all its many forms.
Rhythm, Chord and Malykhin | Mariana Zapata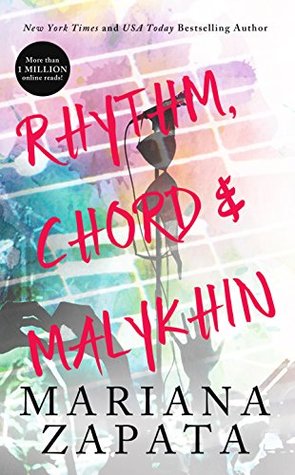 Twenty-six-year-old Gaby Barreto might be a lot of things (loyal, sarcastic, one of the guys and a pain in the butt depending on which family member you ask), but dumb isn't one of them. When her twin brother invites her to go on tour as his band's merch girl, she isn't exactly screaming at the top of her lungs with joy.
With no job opportunities pounding on her door, an ex-boyfriend she would still like to castrate, and no end in sight to moving out of her parents' house in Dallas… it would be dumb to say no to the chance of a lifetime. Two bands, three continents, one tour. Spending the next ninety-plus days with three beloved idiots and eight complete strangers shouldn't be a big deal, right?
If only the singer of the headlining band didn't have tattoos… a great personality… a fantastic body… and if he wasn't so funny….
Let's be real: Gaby never had a chance against Sacha Malykhin.
Sherwood | Meagan Spooner
Robin of Locksley is dead.
When news comes that he's fallen in battle at the King's side in the Holy Land, Maid Marian doesn't know how she'll go on. Betrothed to Robin, she was free to be herself, to flout the stifling rules of traditional society and share an equal voice with her beloved when it came to caring for the people of her land.
Now Marian is alone, with no voice of her own. The people of Locksley, persecuted by the Sheriff of Nottingham, are doomed to live in poverty or else face death by hanging. The dreadful Guy of Gisborne, the Sherriff's right hand, wishes to step into Robin's shoes as Lord of Locksley, and Marian's fiancé. Society demands that she accept her fate, and watch helplessly as her people starve.
When Marian dons Robin's green cloak, and takes up his sword and bow, she never intended that anyone should mistake her for Robin, returned from the Holy Land as a vigilante. She never intended that the masked, cloaked figure she created should stand as a beacon of hope and justice to peasant and noble alike. She never intended to become a legend.
But all of Nottingham is crying out for a savior. So Marian must choose to make her own fate and become her own hero…
Robin Hood.
Spinning Silver | Naomi Novik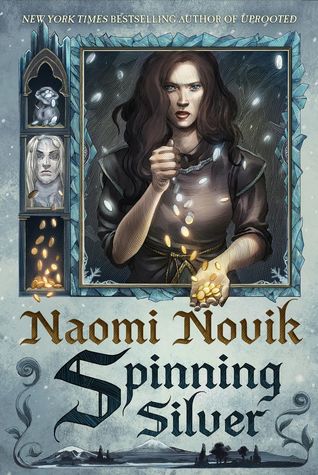 Miryem is the daughter and granddaughter of moneylenders… but her father isn't a very good one. Free to lend and reluctant to collect, he has loaned out most of his wife's dowry and left the family on the edge of poverty–until Miryem steps in. Hardening her heart against her fellow villagers' pleas, she sets out to collect what is owed–and finds herself more than up to the task. When her grandfather loans her a pouch of silver pennies, she brings it back full of gold.
But having the reputation of being able to change silver to gold can be more trouble than it's worth–especially when her fate becomes tangled with the cold creatures that haunt the wood, and whose king has learned of her reputation and wants to exploit it for reasons Miryem cannot understand.
Dark of the West | Joanna Hathaway
Aurelia Isendare is a princess of a small kingdom in the North, raised in privilege but shielded from politics as her brother prepares to step up to the throne. Halfway around the world, Athan Dakar, the youngest son of a ruthless general, is a fighter pilot longing for a life away from the front lines. When Athan's mother is shot and killed, his father is convinced it's the work of his old rival, the Queen of Etania—Aurelia's mother. Determined to avenge his wife's murder, he devises a plot to overthrow the Queen, a plot which sends Athan undercover to Etania to gain intel from her children.
Athan's mission becomes complicated when he finds himself falling for the girl he's been tasked with spying upon. Aurelia feels the same attraction, all the while desperately seeking to stop the war threatening to break between the Southern territory and the old Northern kingdoms that control it—a war in which Athan's father is determined to play a role. As diplomatic ties manage to just barely hold, the two teens struggle to remain loyal to their families and each other as they learn that war is not as black and white as they've been raised to believe.
The Waking Forest | Alyssa Wees
The waking forest has secrets. To Rhea, it appears like a mirage, dark and dense, at the very edge of her backyard. But when she reaches out to touch it, the forest vanishes. She's desperate to know more—until she finds a peculiar boy who offers to reveal its secrets. If she plays a game.
To the Witch, the forest is her home, where she sits on her throne of carved bone, waiting for dreaming children to beg her to grant their wishes. One night, a mysterious visitor arrives and asks her what she wishes for, but the Witch sends him away. And then the uninvited guest returns.
The strangers are just the beginning. Something is stirring in the forest, and when Rhea's and the Witch's paths collide, a truth more treacherous and deadly than either could ever imagine surfaces. But how much are they willing to risk to survive?
Scythe | Neal Shusterman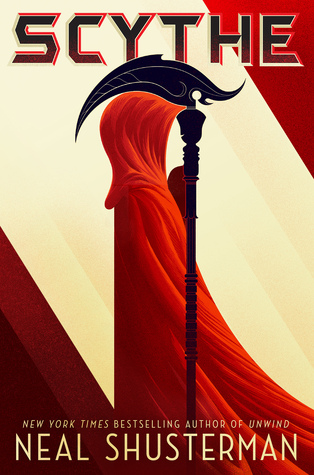 Thou shalt kill.
A world with no hunger, no disease, no war, no misery. Humanity has conquered all those things, and has even conquered death. Now scythes are the only ones who can end life—and they are commanded to do so, in order to keep the size of the population under control.
Citra and Rowan are chosen to apprentice to a scythe—a role that neither wants. These teens must master the "art" of taking life, knowing that the consequence of failure could mean losing their own.
What books do you want to get on Christmas? Let me know if you've read any of the books I've mentioned and if you enjoyed them or not!
Follow me on BlogLovin'
Goodreads | Instagram | Twitter | Contact Me