Hell bookworms! I'm Nia and today I'm going to be talking about some books that I need to read ASAP.
I have a pretty large TBR, I'm not going to lie. And though I'm excited to read all of those books that I've purchased in the past and I'm still interested in, I have some that I'm more excited to read than others, and today I'll be talking about those.
If you aren't familiar with Top 5 Wednesday, it is a Goodeads group now currently run by Sam over at ToughtsOfTomes on Youtube, where each week they give you a topic and you talk about 5 books that fit that category. You can join the group here if you want to participate!
Without any further ado, let's start with this week's topic!
Seeds of Iniquity | J. A. Redmerski
Victor Faust's new Order is growing. Business is good as there is no rest for the wicked in an underground world of hardcore criminals and contract killing. Relationships among the operatives have changed little over the past year—but things are about to change now, and all six high-ranking members of the new Order will be blindsided by an unlikely enemy.
Loved ones whose only ties to Victor's organization are their relationships with its members, are abducted. The price to get them back safely—the six must confess their deepest, darkest secret to this mysterious young woman named Nora, who is as deadly as she is beautiful, and who seems to know more about each of them than they know about each other. And although no one has any clue about who Nora really is, it becomes clear that she also isn't who she appears to be.
So much more is at stake than secrets and the lives of innocent loved ones; with each member that Nora forces to confess, the truth about their dark pasts and their present objectives will cast suspicion, pit some against each other, and may tear others apart.
Before the game is over everyone will know who this woman is and why she is here, but the damage she will leave in her wake could be the beginning of the new Order's destruction.
Whose dark secret will be the darkest of all? And can Victor's Order survive any of them?
The Gilded Wolves | Roshani Chokshi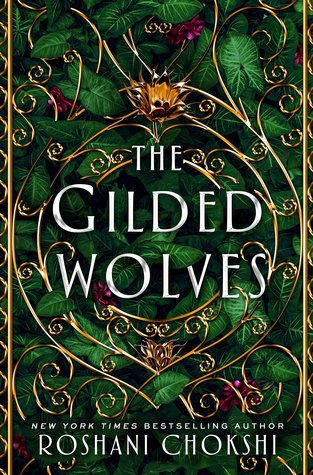 Paris, 1889: The world is on the cusp of industry and power, and the Exposition Universelle has breathed new life into the streets and dredged up ancient secrets. In this city, no one keeps tabs on secrets better than treasure-hunter and wealthy hotelier, Séverin Montagnet-Alarie. But when the all-powerful society, the Order of Babel, seeks him out for help, Séverin is offered a treasure that he never imagined: his true inheritance.
To find the ancient artifact the Order seeks, Séverin will need help from a band of experts: An engineer with a debt to pay. A historian who can't yet go home. A dancer with a sinister past. And a brother in all but blood, who might care too much.
Together, they'll have to use their wits and knowledge to hunt the artifact through the dark and glittering heart of Paris. What they find might change the world, but only if they can stay alive.
Before the Devil Breaks You | Libba Bray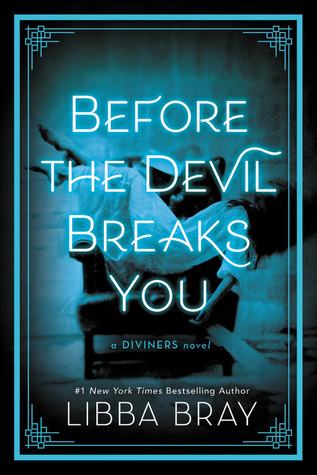 After battling a supernatural sleeping sickness that early claimed two of their own, the Diviners have had enough of lies. They're more determined than ever to uncover the mystery behind their extraordinary powers, even as they face off against an all-new terror. Out on Ward's Island, far from the city's bustle, sits a mental hospital haunted by the lost souls of people long forgotten–ghosts who have unusual and dangerous ties to the man in the stovepipe hat, also known as the King of Crows.
With terrible accounts of murder and possession flooding in from all over, and New York City on the verge of panic, the Diviners must band together and brave the sinister ghosts invading the asylum, a fight that will bring them fact-to-face with the King of Crows. But as the explosive secrets of the past come to light, loyalties and friendships will be tested, love will hang in the balance, and the Diviners will question all that they've ever known. All the while, malevolent forces gather from every corner in a battle for the very soul of a nation–a fight that could claim the Diviners themselves.
Famous in a Small Town | Emma Mills
For Sophie, small-town life has never felt small. She has the Yum Yum Shoppe, with its famous fourteen flavors of ice cream; her beloved marching band, the pride and joy of Acadia High (even if the football team disagrees); and her four best friends, loving and infuriating, wonderfully weird and all she could ever ask for.
Then August moves in next door. A quiet guy with a magnetic smile, August seems determined to keep everyone at arm's length. Sophie in particular.
Country stars, revenge plots, and a few fake kisses (along with some excellent real ones) await Sophie in this hilarious, heartfelt story.
Strange the Dreamer | Laini Taylor
The dream chooses the dreamer, not the other way around—and Lazlo Strange, war orphan and junior librarian, has always feared that his dream chose poorly. Since he was five years old he's been obsessed with the mythic lost city of Weep, but it would take someone bolder than he to cross half the world in search of it. Then a stunning opportunity presents itself, in the person of a hero called the Godslayer and a band of legendary warriors, and he has to seize his chance or lose his dream forever.
What happened in Weep two hundred years ago to cut it off from the rest of the world? What exactly did the Godslayer slay that went by the name of god? And what is the mysterious problem he now seeks help in solving?
The answers await in Weep, but so do more mysteries—including the blue-skinned goddess who appears in Lazlo's dreams. How did he dream her before he knew she existed? And if all the gods are dead, why does she seem so real?
Welcome to Weep.
What books do have on the top of your TBR? Have you read any of these ones or do you also have yet to read them like me? Let me know in the comments!
Follow me on BlogLovin'
Goodreads | Instagram | Twitter | Contact Me