Hello bookworms! I'm Nia and today I'm going to be talking about some new releases that are coming out this month that I'm super excited to pick up and read.
I cannot believe we're already in February, guys! It seems like last month it was December, and now we're almost in March, and spring is about to come. Well, anyways, back to the post, haha.
Now I have to say that February is such an incredible month for new releases, because there are A LOT. Some of them I have already read and really enjoyed, hence why I still want to talk about them, and others I've already pre-ordered and cannot wait to pick them up once I received them.
Without any further ado, let's start with my February new releases!
Lady Smoke | Laura Sebastian
Pub. Date: February 5th
The Kaiser murdered Theodosia's mother, the Fire Queen, when Theo was only six. He took Theo's country and kept her prisoner, crowning her Ash Princess–a pet to toy with and humiliate for ten long years. That era has ended. The Kaiser thought his prisoner weak and defenseless. He didn't realize that a sharp mind is the deadliest weapon.
Theo no longer wears a crown of ashes. She has taken back her rightful title, and a hostage–Prinz Soren. But her people remain enslaved under the Kaiser's rule, and now she is thousands of miles away from them and her throne.
To get them back, she will need an army. Only, securing an army means she must trust her aunt, the dreaded pirate Dragonsbane. And according to Dragonsbane, an army can only be produced if Theo takes a husband. Something an Astrean Queen has never done.
Theo knows that freedom comes at a price, but she is determined to find a way to save her country without losing herself.



The Deceivers | Kristen Simmons
Pub. Date: February 4th
Welcome to Vale Hall, the school for aspiring con artists.
When Brynn Hilder is recruited to Vale, it seems like the elite academy is her chance to start over, away from her mom's loser boyfriend and her rundown neighborhood. But she soon learns that Vale chooses students not so much for their scholastic talent as for their extracurricular activities, such as her time spent conning rich North Shore kids out of their extravagant allowances.
At first, Brynn jumps at the chance to help the school in its mission to rid the city of corrupt officials–because what could be better than giving entitled jerks what they deserve? But that's before she meets her mark–a senator's son–and before she discovers the school's headmaster has secrets he'll stop at nothing to protect. As the lines between right and wrong blur, Brynn begins to realize she's in way over head.



Vortex Visions | Elise Kova
Pub. Date: February 4th
Vi Solaris is the heir to an Empire she's barely seen. Her parents sacrificed a life with her to quell a rebellion and secure peace with a political alliance. Now, three years past when her wardship should've ended, Vi will do anything to be reunited with her family.
The Empire is faltering beneath the burden of political infighting and a deadly plague. Yet, Vi can't help but wonder if her inability to control her magic is the true reason her parents haven't brought her home. Suspicion becomes reality when she unleashes powers she's not supposed to have.
Powers that might well cost her the throne.
As Vi fights to get her magic under control, a mysterious stranger appears from across the world. He holds the keys to unlocking her full potential, but the knowledge has an unspeakable price — some truths, once seen, cannot be ignored.
All eyes are on her and Vi must make the hardest choice of her life: Play by the rules and claim her throne. Or, break them and save the world.



On the Come Up | Angie Thomas 
Pub. Date: February 5th
Sixteen-year-old Bri wants to be one of the greatest rappers of all time. Or at least make it out of her neighborhood one day. As the daughter of an underground rap legend who died before he hit big, Bri's got big shoes to fill. But now that her mom has unexpectedly lost her job, food banks and shutoff notices are as much a part of Bri's life as beats and rhymes. With bills piling up and homelessness staring her family down, Bri no longer just wants to make it—she has to make it.
On the Come Up is Angie Thomas's homage to hip-hop, the art that sparked her passion for storytelling and continues to inspire her to this day. It is the story of fighting for your dreams, even as the odds are stacked against you; of the struggle to become who you are and not who everyone expects you to be; and of the desperate realities of poor and working-class black families.
Courting Darkness | Robin LaFevers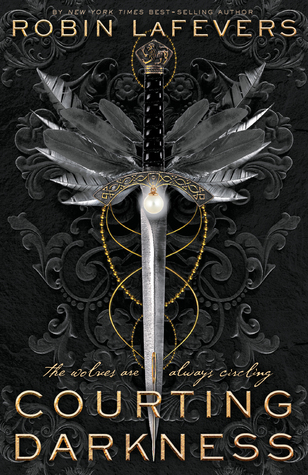 Pub. Date: February 5th
Death wasn't the end, it was only the beginning…
Sybella has always been the darkest of Death's daughters, trained at the convent of Saint Mortain to serve as his justice. But she has a new mission now. In a desperate bid to keep her two youngest sisters safe from the family that nearly destroyed them all, she agrees to accompany the duchess to France, where they quickly find themselves surrounded by enemies. Their one ray of hope is Sybella's fellow novitiates, disguised and hidden deep in the French court years ago by the convent—provided Sybella can find them.
Genevieve has been undercover for so many years, she struggles to remember who she is or what she's supposed to be fighting for. Her only solace is a hidden prisoner who appears all but forgotten by his guards. When tragedy strikes, she has no choice but to take matters into her own hands—even if it means ignoring the long awaited orders from the convent.
As Sybella and Gen's paths draw ever closer, the fate of everything they hold sacred rests on a knife's edge. Will they find each other in time, or will their worlds collide, destroying everything they care about?



Dark of The West | Joanna Hathaway
Pub. Date: February 5th
Aurelia Isendare is a princess of a small kingdom in the North, raised in privilege but shielded from politics as her brother prepares to step up to the throne. Halfway around the world, Athan Dakar, the youngest son of a ruthless general, is a fighter pilot longing for a life away from the front lines. When Athan's mother is shot and killed, his father is convinced it's the work of his old rival, the Queen of Etania—Aurelia's mother. Determined to avenge his wife's murder, he devises a plot to overthrow the Queen, a plot which sends Athan undercover to Etania to gain intel from her children.
Athan's mission becomes complicated when he finds himself falling for the girl he's been tasked with spying upon. Aurelia feels the same attraction, all the while desperately seeking to stop the war threatening to break between the Southern territory and the old Northern kingdoms that control it—a war in which Athan's father is determined to play a role. As diplomatic ties manage to just barely hold, the two teens struggle to remain loyal to their families and each other as they learn that war is not as black and white as they've been raised to believe.
Enchantée | Gita Trelease
Pub. Date: February 5th
Paris in 1789 is a labyrinth of twisted streets, filled with beggars, thieves, revolutionaries—and magicians…
When smallpox kills her parents, Camille Durbonne must find a way to provide for her frail, naive sister while managing her volatile brother. Relying on petty magic—la magie ordinaire—Camille painstakingly transforms scraps of metal into money to buy the food and medicine they need. But when the coins won't hold their shape and her brother disappears with the family's savings, Camille must pursue a richer, more dangerous mark: the glittering court of Louis XVI and Marie Antoinette.
With dark magic forbidden by her mother, Camille transforms herself into the 'Baroness de la Fontaine' and is swept up into life at the Palace of Versailles, where aristocrats both fear and hunger for la magie. There, she gambles at cards, desperate to have enough to keep herself and her sister safe. Yet the longer she stays at court, the more difficult it becomes to reconcile her resentment of the nobles with the enchantments of Versailles. And when she returns to Paris, Camille meets a handsome young balloonist—who dares her to hope that love and liberty may both be possible.
But la magie has its costs. And when Camille loses control of her secrets, the game she's playing turns deadly. Then revolution erupts, and she must choose—love or loyalty, democracy or aristocracy, freedom or magic—before Paris burns…
BloodWitch | Susan Dennard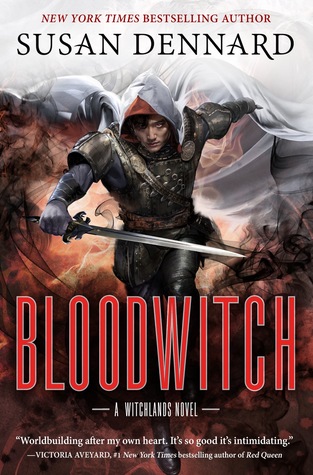 Pub. Date: February 12th
High in a snowy mountain range, a monastery that holds more than just faith clings to the side of a cliff. Below, thwarted by a lake, a bloodthirsty horde of raiders await the coming of winter and the frozen path to destroy the sanctuary and its secrets.
The Bloodwitch Aeduan has teamed up with the Threadwitch Iseult and the magical girl Owl to stop the destruction. But to do so, he must confront his own father, and his past.



Crown of Feathers | Nicki Pau Preto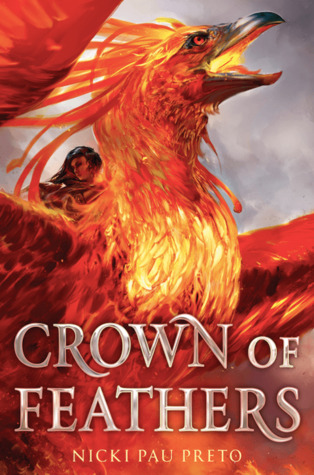 Pub. Date: February 12th
I had a sister, once…
In a world ruled by fierce warrior queens, a grand empire was built upon the backs of Phoenix Riders—legendary heroes who soared through the sky on wings of fire—until a war between two sisters ripped it all apart.
I promised her the throne would not come between us.
Sixteen years later, Veronyka is a war orphan who dreams of becoming a Phoenix Rider from the stories of old. After a shocking betrayal from her controlling sister, Veronyka strikes out alone to find the Riders—even if that means disguising herself as a boy to join their ranks.
But it is a fact of life that one must kill or be killed. Rule or be ruled.
Just as Veronyka finally feels like she belongs, her sister turns up and reveals a tangled web of lies between them that will change everything. And meanwhile, the new empire has learned of the Riders' return and intends to destroy them once and for all.
Sometimes the title of queen is given. Sometimes it must be taken.



Spectacle | Jodie Lynn Zdrok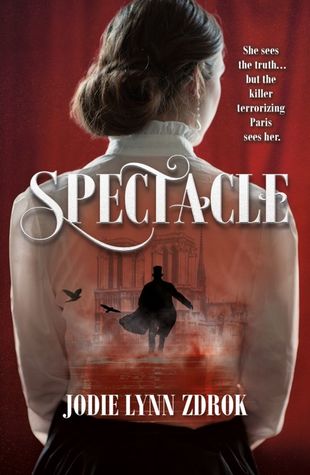 Pub. Date: February 12th
Paris, 1887.
Sixteen-year-old Nathalie Baudin writes the daily morgue column for Le Petit Journal. Her job is to summarize each day's new arrivals, a task she finds both fascinating and routine. That is, until the day she has a vision of the newest body, a young woman, being murdered–from the perspective of the murderer himself.
When the body of another woman is retrieved from the Seine days later, Paris begins to buzz with rumors that this victim may not be the last. Nathalie's search for answers sends her down a long, twisty road involving her mentally ill aunt, a brilliant but deluded scientist, and eventually into the Parisian Catacombs. As the killer continues to haunt the streets of Paris, it becomes clear that Nathalie's strange new ability may make her the only one who can discover the killer's identity–and she'll have to do it before she becomes a target herself.



The Triumphant | Lesley Livingston
Pub. Date: February 12th
In the wake of their victorious fight to win back the Ludus Achillea, Fallon and her gladiatrix sisters have become the toast of the Republic. Only for Fallon, glory turns to ashes when she learns that Cai has been stripped of his Decurion rank and declared infamia, cast down to serve as one of Caesar's gladiators. All because he chose his love for her over the life of his treacherous father during the ludus uprising.
But treachery in Rome runs far deeper than Fallon ever suspected. While she is fighting for Cai's freedom, the unthinkable happens and the Republic begins to tear itself apart at the seams. In the chaos that follows, the Achillea gladiatrices lose any protection they might have had once and for all. They're not the only ones.
When Fallon discovers that Cleopatra is in grave danger, she and her sister Sorcha rally their war band in an attempt to spirit the Queen of Aegypt out of Rome, embarking on a remarkable journey that will take them to Alexandria—the wonder of the ancient world—and beyond. Far beyond. Along the way, Fallon will have to decide where her heart truly lies, as well as what—and who—she is willing to sacrifice to get there.



Soul in Darkness | Windy Higgins
Pub. Date: February 12th
People travel from afar to the small isle in the Aegean Sea hoping for a single glimpse of Princess Psyche. Their adoration for the mortal woman is so all-consuming that citizens begin to shower her with the very gifts and offerings they once left at the alter of Venus, goddess of love and beauty.
But gods are known for their jealousy.
Cupid, the god of love, takes pleasure in causing strife and mischief in the lives of humans. He uses love as a weapon, humoring in the weakness of people at the whims of their feelings. When his mother Venus approaches him about punishing the human girl who dares to steal her offerings and affections from the people, Cupid gladly accepts.
Psyche's punishment is to be given to a mysterious creature who only comes to her in the dark of night under the pact that she will never lay eyes on him. She is terrified of this stranger, who the oracle described as a serpent. Her mate, however, is masterful in his dealings with his bride. He takes his time, morphing her fears into different sensations completely.



The Risk | Elle Kennedy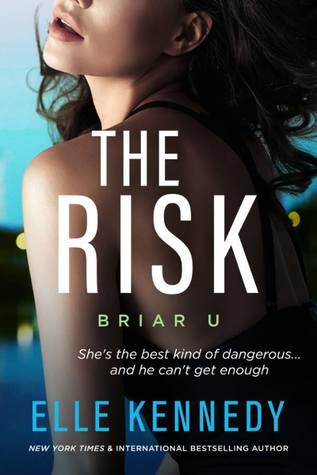 Pub. Date: February 18th
A sexy standalone novel from New York Times and international bestselling author Elle Kennedy. THE RISK takes you back to the world of hot hockey players, feisty heroines, bro banter, and steamy scenes.



The Art of Losing | Lizzy Mason
Pub. Date: February 19th
On one terrible night, 17-year-old Harley Langston's life changes forever. At a party she discovers her younger sister, Audrey, hooking up with her boyfriend, Mike—and she abandons them both in a rage. When Mike drunkenly attempts to drive Audrey home, he crashes and Audrey ends up in a coma. Now Harley is left with guilt, grief, pain and the undeniable truth that her ex-boyfriend (who is relatively unscathed) has a drinking problem. So it's a surprise that she finds herself reconnecting with Raf, a neighbor and childhood friend who's recently out of rehab and still wrestling with his own demons. At first Harley doesn't want to get too close to him. But as Audrey awakens and slowly recovers, Raf starts to show Harley a path forward that she never would have believed possible—one guided by honesty, forgiveness, and redemption.



The Afterward | E. K. Johnston
Pub. Date: February 19th
It has been a year since the mysterious godsgem cured Cadrium's king and ushered in what promised to be a new golden age. The heroes who brought the gem home are renowned in story and song, but for two fellows on the quest, peace and prosperity do not come easily.
Apprentice Knight Kalanthe Ironheart wasn't meant for heroism this early in life, and while she has no intention of giving up the notoriety she has earned, her reputation does not pay her bills. With time running out, Kalanthe may be forced to betray not her kingdom or her friends, but her own heart as she seeks a stable future for herself and those she loves.
Olsa Rhetsdaughter was never meant for heroism at all. Beggar, pick pocket, thief, she lived hand to mouth on the city streets until fortune–or fate–pulled her into Kalanthe's orbit. And now she's quite reluctant to leave it. Even more alarmingly, her fame has made her recognizable, which makes her profession difficult, and a choice between poverty and the noose isn't much of a choice at all.
Both girls think their paths are laid out, but the godsgem isn't quite done with them and that new golden age isn't a sure thing yet.
In a tale both sweepingly epic and intensely personal, Kalanthe and Olsa fight to maintain their newfound independence and to find their way back to each other.
Four Dead Queens | Astrid Scholte
Pub. Date: February 26th
Get in quick, get out quicker.
These are the words Keralie Corrington lives by as the preeminent dipper in the Concord, the central area uniting the four quadrants of Quadara. She steals under the guidance of her mentor Mackiel, who runs a black market selling their bounty to buyers desperate for what they can't get in their own quarter. For in the nation of Quadara, each quarter is strictly divided from the other. Four queens rule together, one from each region:
Toria: the intellectual quarter that values education and ambition
Ludia: the pleasure quarter that values celebration, passion, and entertainment
Archia: the agricultural quarter that values simplicity and nature
Eonia: the futurist quarter that values technology, stoicism and harmonious community
When Keralie intercepts a comm disk coming from the House of Concord, what seems like a standard job goes horribly wrong. Upon watching the comm disks, Keralie sees all four queens murdered in four brutal ways. Hoping that discovering the intended recipient will reveal the culprit – information that is bound to be valuable bartering material with the palace – Keralie teams up with Varin Bollt, the Eonist messenger she stole from, to complete Varin's original job and see where it takes them.



The Priory of the Orange Tree | Samantha Shannon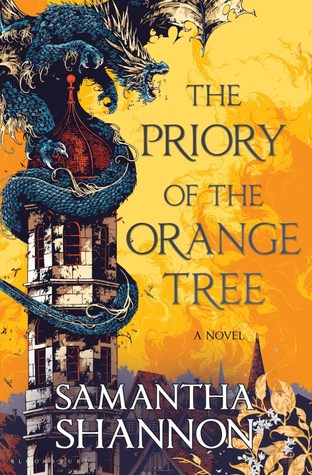 Pub. Date: February 26th
A world divided.
A queendom without an heir.
An ancient enemy awakens.
The House of Berethnet has ruled Inys for a thousand years. Still unwed, Queen Sabran the Ninth must conceive a daughter to protect her realm from destruction—but assassins are getting closer to her door.
Ead Duryan is an outsider at court. Though she has risen to the position of lady-in-waiting, she is loyal to a hidden society of mages. Ead keeps a watchful eye on Sabran, secretly protecting her with forbidden magic.
Across the dark sea, Tané has trained all her life to be a dragonrider, but is forced to make a choice that could see her life unravel.
Meanwhile, the divided East and West refuse to parley, and forces of chaos are rising from their sleep.
We Set the Dark on Fire | Tehlor Kay Mejia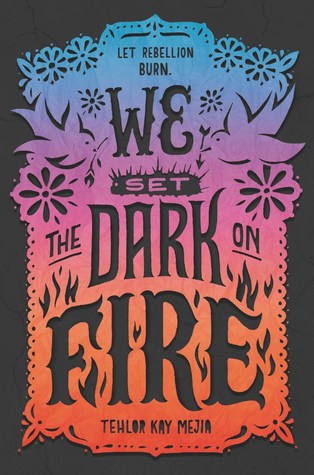 Pub. Date: February 26th
At the Medio School for Girls, distinguished young women are trained for one of two roles in their polarized society. Depending on her specialization, a graduate will one day run a husband's household or raise his children. Both paths promise a life of comfort and luxury, far from the frequent political uprisings of the lower class.
Daniela Vargas is the school's top student, but her pedigree is a lie. She must keep the truth hidden or be sent back to the fringes of society.
And school couldn't prepare her for the difficult choices she must make after graduation, especially when she is asked to spy for a resistance group desperately fighting to bring equality to Medio.
Will Dani cling to the privilege her parents fought to win for her, or will she give up everything she's strived for in pursuit of a free Medio—and a chance at a forbidden love?
Last of Her Name | Jessica Khoury
Pub. Date: February 26th
Sixteen years ago, rebellion swept the galaxy known as the Belt of Jewels. Every member of the royal family was murdered–down to their youngest child, Princess Anya–and the Union government rose in its place. But Stacia doesn't think much about politics. She spends her days half-wild, rambling her father's vineyard with her closest friends, Clio and Pol.
That all changes the day a Union ship appears in town, carrying the leader of the Belt himself, the Direktor Eminent. The Direktor claims that Princess Anya is alive, and that Stacia's sleepy village is a den of empire loyalists, intent on hiding her. When Stacia is identified as the lost princess, her provincial home explodes into a nightmare.
Pol smuggles her away to a hidden escape ship in the chaos, leaving Clio in the hands of the Union. With everything she knows threading away into stars, Stacia sets her heart on a single mission. She will find and rescue Clio, even with the whole galaxy on her trail.
Warrior of the Wild | Tricia Levenseller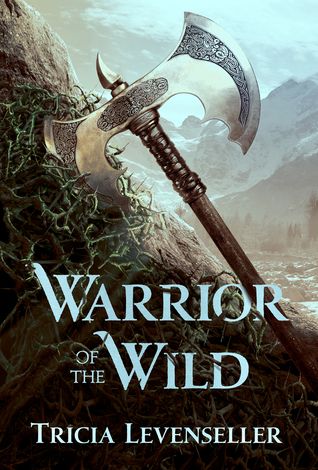 Pub. Date: February 26th
How do you kill a god?
As her father's chosen heir, eighteen-year-old Rasmira has trained her whole life to become a warrior and lead her village. But when her coming-of-age trial is sabotaged and she fails the test, her father banishes her to the monster-filled wilderness with an impossible quest: to win back her honour, she must kill the oppressive god who claims tribute from the villages each year or die trying.
An Affair of Poisons | Addie Thorley
Pub. Date: February 26th
After unwittingly helping her mother poison King Louis XIV, seventeen-year-old alchemist Mirabelle Monvoisin is forced to see her mother's Shadow Society in a horrifying new light: they're not heroes of the people, as they've always claimed to be, but murderers. Herself included. Mira tries to ease her guilt by brewing helpful curatives, but her hunger tonics and headache remedies cannot right past wrongs or save the dissenters her mother vows to purge.
Royal bastard Josse de Bourbon is more kitchen boy than fils de France. But when the Shadow Society assassinates the Sun King and half the royal court, he must become the prince he was never meant to be in order to save his injured sisters and the petulant Dauphin. Forced to hide in the derelict sewers beneath the city, any hope of reclaiming Paris seems impossible—until Josse's path collides with Mirabelle's, and he finds a surprising ally in his sworn enemy.
She's a deadly poisoner. He's a bastard prince. Together, they form a tenuous pact to unite the commoners and former nobility against the Shadow Society. But can a rebellion built on mistrust ever hope to succeed?
What are your most anticipated February releases? Have you read any of the ones I've mentioned above or do you have them on your TBR like me? Let me know in the comments!
Follow me on BlogLovin'
Goodreads | Instagram | Twitter | Contact Me