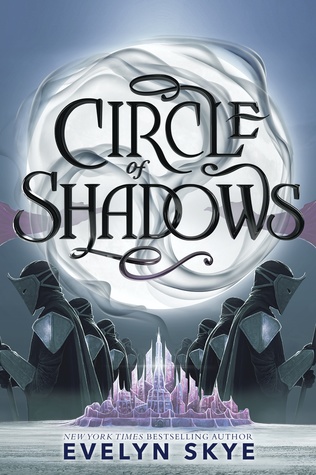 Title: Circle of Shadows
Author: Evelyn Skye
Series: Circle of Shadows #1
Genre: Fantasy, High Fantasy, Young Adult, Romance
Pub. Date: January 22nd, 2019
Pages: 400
My rating:
---
Sora can move as silently as a ghost and hurl throwing stars with lethal accuracy. Her gemina, Daemon, can win any physical fight blindfolded and with an arm tied behind his back. They are apprentice warriors of the Society of Taigas—marked by the gods to be trained in magic and the fighting arts to protect the kingdom of Kichona.
As their graduation approaches, Sora and Daemon look forward to proving themselves worthy of belonging to the elite group—but in a kingdom free of violence since the Blood Rift Rebellion many years ago, it's been difficult to make their mark. So when Sora and Daemon encounter a strange camp of mysterious soldiers while on a standard scouting mission, they decide the only thing to do to help their kingdom is to infiltrate the group.Taking this risk will change Sora's life forever—and lead her on a mission of deception that may fool everyone she's ever loved.
"She and Daemon had been looking forward to the first mission for different reasons—Daemon, for a chance to prove himself; Sora, for a glimpse into the future, where she wouldn't be constricted by school rules."
I was beyond excited to pick up this book because not only the premise sounded incredibly interesting and like a book right up my alley, but also because I really enjoyed this author's previous works, so I had high expectations going into this one, and overall I have to say that even though it was pretty interesting and had some elements that I really enjoyed, there were some things that I didn't really like and found a bit boring, and the hasn't resonated with me as much as I thought it would.
The thing about this book, and what made me not give it a higher rating is that I feel nothing really happened until the last 100 pages of the novel, and it was quite a long book. The first two thirds of the story were more focused on the world building and creating relationships between the different characters from the book, and though I found that it was a very complex and diverse history and society, it came a point where nothing was actually happening and I was a bit bored.
I also really enjoyed the relationship between the two main characters. I enjoyed their inner monologues and the journey they went through, and basically trying to figure out what was actually happening at the same time they were, but there was something missing between them that I can't' really point out. Though their dynamics and interactions were good and made sense, there came a point in the book where I didn't really understand Daemon, because he was such a mess. There was this weird love triangle going on at the very end of the book that completely came out of nowhere, and I wasn't the biggest fan of, along with other things that happened throughout the story between the two of them.
So even though the story was pretty fast paced and I overall found some things that I really enjoyed about either the characters or the world building and the magic, the plot was quite simple and lineal and there was something about the characters that didn't keep me as engaged in the book as I wanted.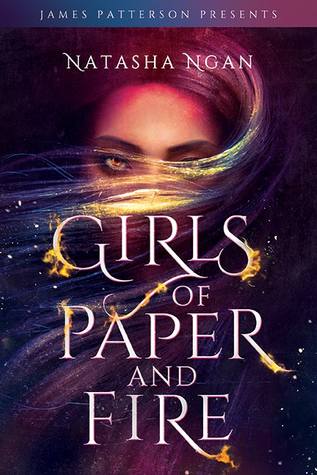 Title: Girls of Paper and Fire
Author: Natasha Ngan
Series: Girls of Paper and Fire #1
Genre: Fantasy, High Fantasy, LGBT+, Romance, Mental Health
Pub. Date: November 6th, 2018
Pages: 400 
My rating:
---
In this lush fantasy, Lei is a member of the Paper caste, the lowest and most oppressed class in Ikhara. She lives in a remote village with her father, where the decade-old trauma of watching her mother snatched by royal guards still haunts her. Now, the guards are back, and this time it's Lei they're after–the girl whose golden eyes have piqued the king's interest.
Over weeks of training in the opulent but stifling palace, Lei and eight other girls learn the skills and charm that befit being a king's consort. But Lei isn't content to watch her fate consume her. Instead, she does the unthinkable–she falls in love. Her forbidden romance becomes enmeshed with an explosive plot that threatens the very foundation of Ikhara, and Lei, still the wide-eyed country girl at heart, must decide just how far she's willing to go for justice and revenge.
TW: violence and sexual abuse.
"When the world denies you choices, you make your own."
I have to admit that even though this book was one of my most anticipated releases of this past year, I was pretty scared I wasn't going to enjoy it as much as everyone else, because that's a usual thing that tends to happen to me at times where I read really hyped books, but luckily I ended up loving so much this book, and it fulfill all the expectations I had.
First of all, I want to say that I adored the writing. It was so lyrical and flushed and beautiful, and fit so well with the tone of the story. I'm not the type of person who always pays attention to the writing, but sometimes I'm surprised by something like this, where the descriptions are so intricate and detailed, and I cannot help but fall in love more with the story.
I also really enjoyed the world building. For a first book in a series I found that it was quite complex and we got a fair glimpse at the society and what was happening, and though I would say the world and society in general were more complex when it came to the palace and its surroundings, I was still pretty surprised.
The characters, let me tell you, were absolutely amazing. Girls of Paper and Fire was more a character driven type of book, so even though the plot wasn't that deep or complex, the characters and their interactions totally were, and I loved getting to know them more and see their flaws and imperfections.
Lei was such an incredible and strong main character, and there were times where I was dreading to read what was going to happen next, because I had this sense of anticipating something bad was going to happen, and that progressed as I kept reading the story, and I didn't want anything to happen to her.
And let me tell you, THAT ROMANCE. I really love that forbidden love trope in YA, but this one was even better. I love the dynamics and the overall relationship between Lei and Wren, and it became more and more intricate as the story continued.
Overall, I think that Girls of Paper and Fire was such a powerful story, that focused on trauma and recovering, and reclaiming your body and making choices, and I think the author did an incredible job, and I cannot wait to pick up the sequel and see these ladies save the world.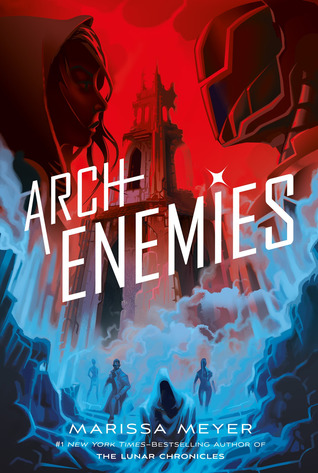 Title: Archenemies
Author: Marissa Meyer
Series: Renegades #2
Genre: Young Adult, Sci-Fi, Dystopia, Romance
Pub. Date: November 6th, 2018
Pages: 560
My rating:
---
Time is running out.
Together, they can save the world.
But they each other's worst nightmare.
In Renegades, Nova and Adrian (aka Insomnia and Sketch) fought the battle of their lives against the Anarchist known as the Detonator. It was a short-lived victory.
The Anarchists still have a secret weapon, one that Nova believes will protect her. The Renegades also have a strategy for overpowering the Anarchists, but both Nova and Adrian understand that it could mean the end of Gatlon City – and the world – as they know it.
"Once we have total power, what's to keep us from becoming villains ourselves?"
After the ending of Renegades I couldn't wait to pick up Archenemies, because not only I was obsessed with the first installment, but also I needed to know what was going to happen next, so I did, and though I would say Renegades still remains my favorite in the series, I'm loving the path the series is taking, and everything that happened in this sequel was super interesting.
The main reason why I said I prefer Renegades over Archenemies is because I feel this second book was much slower than the first one, and less action packed. Though there were still some pretty incredible action scenes in this novel, this focused more on plotting rather than acting, so it was a bit slower pacing than the other, and it took me a bit longer to get into it.
However, with that being said, I still think it was such a great sequel, mostly because there were so many things going on that I feel will lead to a lot of paths in the last installment, and were introduced to us in Archenemies. There were a lot of moral issues that were handled so well and made the reader ask themselves questions and whether the heroes in the story were the Renegades or the Anarchists, and I love how thought provoking the entire book was.
We also learnt more about the character and their complex relationships with one another, which was something that I was pretty excited to see. The whole dynamics between the entire cast of characters were so flushed and well written, and there was a lot of information regarding their back stories, though I still have a couple of questions I need answers for.
Overall, I really enjoyed this second installment and how blurred the lines became, and to be honest I cannot wait for the last book to come out to finally see how everything is going to sum up.
Follow me on BlogLovin'
Goodreads | Instagram | Twitter | Contact Me