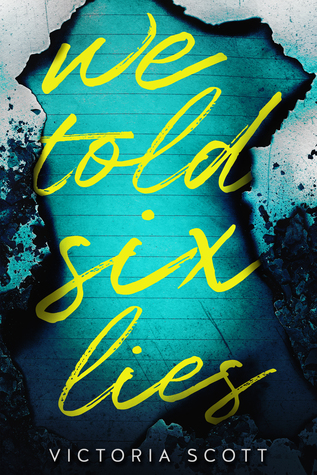 Title: We Told Six Lies
Author: Victoria Scott
Series: N/A
Genre: Young Adult, Contemporary, Mystery/Thrillers, Romance
Pub. Date: February 5th, 2019
Pages: 352
My rating:
---
Remember how many lies we told, Molly? It's enough to make my head spin. You were wild when I met you, and I was mad for you. But then something happened. And now you're gone.
But don't worry. I'll find you. I just need to sift through the story of us to get to where you might be. I've got places to look, and a list of names.
The police have a list of names, too. See now? There's another lie. There is only one person they're really looking at, Molly.
And that's yours truly.
"Did you know it, then, that I already belonged to you? Because I did, you beautiful, wicked girl."
Even though the synopsis seemed a bit vague, I was incredibly excited to read this book, because I really enjoyed the other book I read by this author, and the premise was pretty mysterious and I wanted to know what was going to happen and what the book was about, but overall I was so disappointed with the story and everything, and unfortunately for me it didn't fulfill my expectations.
Starting with the things I enjoyed, I think the tone of the story was so fitting. It was very dark and the author did a great job at creating this sense of anticipation and dread to the reader, and I really enjoyed the feeling and chills it gave me when I was reading this novel, and the mystery, though it was pretty simple, kept me interesting and engrossed in the book and wanting to know what was going to happen next and how everything was going to end.
My main issue was regarding the characters. I didn't like any of them. They were the type of characters that were pretty dull and simple but acted so edgy and brooding, and they kept contradicting themselves throughout the entire book. Their interactions were so forced and cringy, and I didn't like their dynamics or inner monologues, and found that they shared no chemistry whatsoever, despite what the author was trying to tell us.
The plot twist and the big revelation made at the very end of the book was such a disappointed to me. I hate seeing that twist or trope in a mystery, and though it made sense once I thought about it, I feel the reader didn't have a lot of information and it seemed very convenient.
Overall, though the concept was pretty interesting and I was so excited to read it, the characters weren't my favorite and the big reveal at the end was pretty disappointing, so I didn't really enjoyed the story, despite the mystery being pretty fun to follow.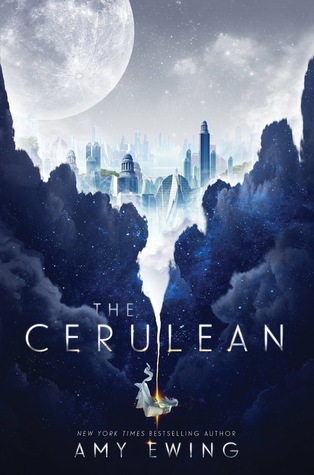 Title: The Cerulean
Author: Amy Ewing
Series: Untitled Duology #1
Genre: Young Adult, Fantasy, Sci-Fi, Romance
Pub. Date: February 5th, 2019
Pages: 496
My rating:
---
Sera has always felt as if she didn't belong among her people, the Cerulean. She is curious about everything and can't stop questioning her three mothers, her best friend, Leela, and even the High Priestess. Sera has longed for the day when the tether that connects her City Above the Sky to the earthly world below finally severs and sends the Cerulean to a new planet.
But when Sera is chosen as the sacrifice to break the tether, she doesn't know what to feel. To save her City, Sera must throw herself from its edge and end her own life. But something goes wrong and she survives the fall, landing in a place called Kaolin. She has heard tales about the humans there, and soon learns that the dangers her mothers warned her of are real. If Sera has any hope to return to her City, she'll have to find the magic within herself to survive.
"We are the Cerulean. Our blood is magic. 

The words held a new and terrible meaning for her now. Her blood meant death."
Okay, this was pretty disappointing, to be honest. I was so excited to pick up this book because the premise sounded gay and incredible, and I had such high expectations, but unfortunately this book didn't do it for me, though the concept was so interesting.
One of the main issues I had with this book is that a lot happened in so little time, and it was kind of confusing to me. The world building and magic system were pretty much lacking throughout the entire story, and I wanted to know more about the society and overall what was going to happen, and I feel that I didn't really have that. The explanations about the magic system were a bit convenient and confusing, and I feel I didn't get enough information about neither of those things to create a picture in my mind, and that's one of the problems I was having during the entire time I was reading The Cerulean, and that made my reading experience worse.
The characters were okay but weren't very remarkable. Our main character was a bit dull during most of the time, and though she had a nice development, her inner monologues weren't interesting enough to keep me engaged. The point of view that I really enjoyed was one of the girls who was in the City, because I think that plot line was pretty mysterious and I wanted to know what was going on.
Another thing I was a bit disappointed was that I expected a queer f/f romance, and though there were few glimpses of one that will probably happen in the next installment, it wasn't what I thought was going to happen, especially after reading the synopsis, and I was pretty sad, mostly because the romances weren't the strongest thing in the novel.
Overall, it had a very intriguing and cool concept and I was expecting so much from it, but the pacing was a bit off and there were a lot of things that were simple and non remarkable and that made me quite disappointed.
Title: Stolen Time
Author: Danielle Rollins
Series: Dark Stars #1
Genre: Young Adult, Sci-fi, Dystopia, Time Travel, Romance
Pub. Date: February 5th, 2019
Pages: 416
My rating:
---
Seattle, 1913 // Dorothy is trapped. Forced into an engagement to a wealthy man just so she and her mother can live comfortably for the rest of their days, she'll do anything to escape. Including sneaking away from her wedding and bolting into the woods to disappear.
New Seattle, 2077 // Ash is on a mission. Rescue the professor—his mentor who figured out the secret to time travel—so together they can put things right in their devastated city. But searching for one man means endless jumps through time with no guarantee of success.
When Dorothy collides with Ash, she sees it as her chance to start fresh—she'll stow away in his plane and begin a new life wherever they land. Then she wakes up in a future that's been ripped apart by earthquakes and floods; where vicious gangs rule the submerged city streets and a small group of intrepid travelers from across time are fighting against the odds to return things to normal. What Dorothy doesn't know is that she could hold the key to unraveling the past—and her arrival may spell Ash's ultimate destruction.
"You won't die today, he thought. You might be badly maimed. Blinded. Arms and legs might be ripped from your body. But you won't die."
I admit I was pretty excited for this new release. The concept sounded so unique and interesting, and since I enjoyed most of the time travel books I've read in the past I went with such high hopes, and though there were some things that I really enjoyed about Stolen Time, there were others that I had a lot of issues with.
Like I mentioned before, the plot seemed very interesting to follow, but I found it was quite confusing. I don't know why but every time a book tries to explain to me how they travel through time, I don't understand anything, and this one was no different. All the explanations about time travel were told mostly from the point of view of a doctor, and his inner monologues were pretty boring, so maybe that was one of the reasons why I found all those explanations confusing. Who knows.
The characters, though overall had a nice evolution throughout the story, were all pretty dull and simple, and I didn't connect with them as much as I wanted to. Their interactions sometimes felt quite forced and awkward, and the romance between the two characters was quite cringy and came out of nowhere, and they had no chemistry whatsoever. It's true that I started to enjoyed the dynamics between them as I was reaching the ending, but I think they could have been much more complex.
And like it happened with the characters, I started to enjoy the plot more and more in the last 100 pages. Though the major plot twist or reveal that was made at the very end was quite predictable to me, and I saw that coming, I still think it was quite nice and interesting how it was done, and it peeked my interest as to wanting to know what was going to happen in the sequel.
Overall, though the premise sounded incredibly intriguing and unique, the characters were a bit dull and their interactions sometimes a bit forced, and though the time travel aspect of the story was super fun and the story quite fast paced, I feel the story wasn't as remarkable as I expected it to be.
Follow me on BlogLovin'
Goodreads | Instagram | Twitter | Contact Me