Hello bookworms! I'm Nia and today I'm going to be talking about the books that I read this past month.
Though January wasn't as great of a reading month as December was, I still managed to read a total of 19 books, which wasn't bad now that I think of it. There were some amazing books that I adored, and there were some flops that I wasn't the biggest fan of, but still, I'm going to be either talking about them here or will be doing reviews with all my thoughts!
Without any further ado, let's begin with my January wrap up!
Rhythm, Chord and Malykhin | Mariana Zapata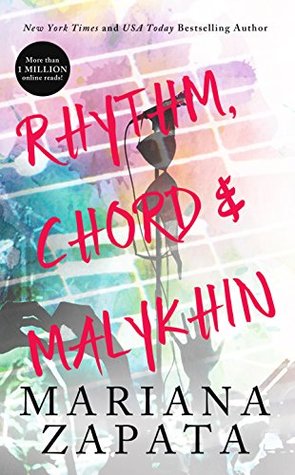 ⭐️⭐️⭐️
My thoughts: I decided to pick this book after reading another book by Mariana Zapata and really enjoyed it, so needless to say I went with pretty high expectations onto this one, and I knew that it was going to be pretty slow burned when it came to the romance, but I have to say that I didn't enjoy it as much as the other one I read by her, though I'm still interested in reading more by this author.
Basically, even though I have a soft spot when it comes to books about musicians or music in general, I got pretty bored during some parts of this book, because I felt nothing was really happening and I lost track of the story. Though I overall enjoyed the relationship between the two main characters and how long it take for them to get together, there was something about them that didn't make me go head over heals over that.
There were some things that could have been edited out because this book felt quite long and uneventful, and I know that after reading the synopsis what I was supposed to expect, but still there were some conversations or behaviors between some characters that didn't sit well with me, so yeah.
Twenty-six-year-old Gaby Barreto might be a lot of things (loyal, sarcastic, one of the guys and a pain in the butt depending on which family member you ask), but dumb isn't one of them. When her twin brother invites her to go on tour as his band's merch girl, she isn't exactly screaming at the top of her lungs with joy.
With no job opportunities pounding on her door, an ex-boyfriend she would still like to castrate, and no end in sight to moving out of her parents' house in Dallas… it would be dumb to say no to the chance of a lifetime. Two bands, three continents, one tour. Spending the next ninety-plus days with three beloved idiots and eight complete strangers shouldn't be a big deal, right?
If only the singer of the headlining band didn't have tattoos… a great personality… a fantastic body… and if he wasn't so funny….
Let's be real: Gaby never had a chance against Sacha Malykhin.
The Wicked King | Holly Black
⭐️⭐️⭐️⭐️⭐️
My thoughts: I'll be posting a review of this book soon, so stay tuned if you want to know my thoughts about it!
You must be strong enough to strike and strike and strike again without tiring.
The first lesson is to make yourself that strong.
Jude has bound the wicked king, Cardan, to her, and made herself the power behind the throne. Navigating the constantly shifting political alliances of Faerie would be difficult enough if Cardan were biddable. But he does everything in his power to humiliate and undermine her, even as his fascination with her remains undiminished.
When it becomes all too clear that someone close to Jude means to betray her, threatening her life and the lives of everyone she loves, Jude must uncover the traitor and fight her own complicated feelings for Cardan to maintain control as a mortal in a faerie world.
Poison Study | Maria V. Snyder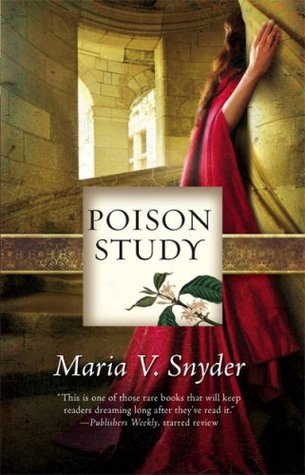 ⭐️⭐️⭐️⭐️
My thoughts: I have already posted a review of this book, so click here in case you want to know all my thoughts about it.
Choose: A quick death…Or slow poison…
About to be executed for murder, Yelena is offered an extraordinary reprieve. She'll eat the best meals, have rooms in the palace—and risk assassination by anyone trying to kill the Commander of Ixia.
And so Yelena chooses to become a food taster. But the chief of security, leaving nothing to chance, deliberately feeds her Butterfly's Dust—and only by appearing for her daily antidote will she delay an agonizing death from the poison.
As Yelena tries to escape her new dilemma, disasters keep mounting. Rebels plot to seize Ixia and Yelena develops magical powers she can't control. Her life is threatened again and choices must be made. But this time the outcomes aren't so clear…
Dark of the West | Joanna Hathaway
⭐️⭐️⭐️
.5
My thoughts: I was super excited to pick up this book because I'd heard incredible things about it, and it was one of my most anticipated releases of this after hearing it being compared with The Winner's Curse, and though I can totally see why people enjoyed it and it had some interesting concepts and I liked some parts, there were other things that I wasn't the biggest fan of, and it ended up being not as good as I thought it would be.
The thing about this book is that it was super slow. Now I don't mind slow books as long as I enjoy the characters or the plot we're following, and though I admit that the plot wasn't bad whatsoever, I feel that nothing was happening during the major part of the novel, and this was more an introduction to the next installments than a first book in  a series.
The world building was pretty complex, and there were a lot of scenes  where we get to know what the society was like and what was the political conflict between these different kingdoms, so I feel that as a first book we got to know a lot about the world and the different characters' personalities and relationships.
I overall enjoyed the cast of characters introduced in this story. I liked our main female character, and I think she was super intelligent and strong. However, I wasn't the biggest fan of the romance. It became one of the main focuses of the book really fast and I feel it was a bit insta love-y, and there was something about the interactions of these two characters that was super awkward and not too realistic.
I also found that the pacing was a bit off. There were a couple of action packed scenes where I found myself super engrossed in the story, but overall there were a lot of parts where nothing was actually going on and they were super slow pacing that I got bored and wanted them to be over. So overall, I have mixed feelings about it, and even though I think that maybe the second book will be much better, this first installment wasn't what I expected.
I received an ARC of this book in exchange for an honest review. This doesn't change my opinion whatsoever. All thoughts are my own.
Aurelia Isendare is a princess of a small kingdom in the North, raised in privilege but shielded from politics as her brother prepares to step up to the throne. Halfway around the world, Athan Dakar, the youngest son of a ruthless general, is a fighter pilot longing for a life away from the front lines. When Athan's mother is shot and killed, his father is convinced it's the work of his old rival, the Queen of Etania—Aurelia's mother. Determined to avenge his wife's murder, he devises a plot to overthrow the Queen, a plot which sends Athan undercover to Etania to gain intel from her children.
Athan's mission becomes complicated when he finds himself falling for the girl he's been tasked with spying upon. Aurelia feels the same attraction, all the while desperately seeking to stop the war threatening to break between the Southern territory and the old Northern kingdoms that control it—a war in which Athan's father is determined to play a role. As diplomatic ties manage to just barely hold, the two teens struggle to remain loyal to their families and each other as they learn that war is not as black and white as they've been raised to believe.
The Waking Forest | Alyssa Wees
⭐️⭐️
My thoughts: This book was one of my most anticipated releases of this year, and I was super excited to read it, so I went with very high expectations, that unfortunately for me, weren't fulfilled after finishing the novel.
I think that this book had such a cool and interesting concept but a very poor execution. The problem that I had with The Waking Forest was that there were a lot of things happening at once, and none of them were really explored or detailed that it was so underwhelming for me to read. I really enjoyed the parts where we got to know more about the witch of the forest, but again, they weren't very well done, and it only made the story less engaging and me disconnect more with it.
The writing was pretty lineal, and the magic system or world building weren't really explored nor addressed, and it seemed more as if you're thrown into this magical world expecting to know what was going on, and that was super confusing. Also the way these three storylines connected was so forced and confusing, because throughout the entire book it felt more as three different plots.
Overall, though The Waking Forest had a very interesting and unique concept, the characters were pretty flat and had no discernible personalities, and the plot needed a lot of work for it to have more sense.
I received an ARC of this book in exchange for an honest review. This doesn't change my opinion whatsoever. All thoughts are my own.
The waking forest has secrets. To Rhea, it appears like a mirage, dark and dense, at the very edge of her backyard. But when she reaches out to touch it, the forest vanishes. She's desperate to know more–until she finds a peculiar boy who offers to reveal its secrets. If she plays a game.
To the Witch, the forest is her home, where she sits on her throne of carved bone, waiting for dreaming children to beg her to grant their wishes. One night, a mysterious visitor arrives and asks her what she wishes for, but the Witch sends him away. And then the uninvited guest returns.
The strangers are just the beginning. Something is stirring in the forest, and when Rhea's and the Witch's paths collide, a truth more treacherous and deadly than either could ever imagine surfaces. But how much are they willing to risk to survive?
Elite | Rachel Van Dyken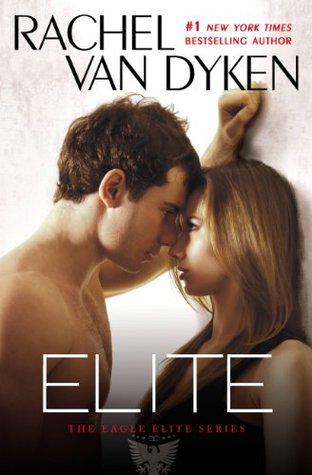 ⭐️⭐️
My thoughts: After hearing good things about this book I decided to pick it up, and to be honest I didn't know what to expect but went ahead to see what this was going to be about, and I kid you not, I'm pretty sure I've read this as a Harry Styles fanfic.
The thing about this book is that it was super choppy. It needed a lot of editing and the writing wasn't great. The dialogues were super cringy, and basically the whole character arc was as well. And it felt as if I was reading a Wattpad fanfiction about Harry Styles.
I wasn't the biggest fan of the characters. They were all pretty dull and "edgy", and so one dimensional, and I feel their interactions were so cringy and forced sometimes, and unrealistic.
However, the reason why I didn't give it 1 star is because it was pretty addicting. I mean, there were a lot of things I wasn't the biggest fan about and the romance was problematic and kind of toxic, but it reminded me of those days when I was younger and reading Wattpad fanfiction, so even though I had my issues, I enjoyed that feeling.
For Tracey Rooks, life with her grandparents on a Wyoming farm has always been simple. But after her grandmother's death, Tracey is all her grandfather has. So when Eagle Elite University announces its annual scholarship lottery, Tracey jumps at the opportunity to secure their future and enters. She isn't expecting much-but then she wins. And life as she knows it will never be same . . .
The students at Eagle Elite are unlike any she's ever met . . . and they refuse to make things easy for her. There's Nixon, gorgeous, irresistible, and leader of a group that everyone fears: The Elect. Their rules are simple. 1. Do not touch The Elect. 2. Do not look at The Elect. 3. Do not speak to The Elect. No matter how hard she tries to stay away, The Elect are always around her and it isn't long until she finds out the reason why they keep their friends close and their enemies even closer. She just didn't realize she was the enemy — until it was too late. 
Elect | Rachel Van Dyken
⭐️
⭐️.5
My thoughts: Surprise, surprise! Me reading the sequel of a book I wasn't the biggest fan. What's new?
No, but really. Since I was in the middle of a reading slump by the time I read these books, I found that contemporary romances were the perfect reads for me, and since I already had the sequel, I said why not? And though it was a bit better than the first installment, it wasn't my favorite book.
One thing I noticed about this book was that the writing had improved a bit. It still felt like I was reading fan fiction, but at least there were a few more descriptions and the dialogues weren't as bad as in the first novel. The characters had a solid development and overall I had a nice time reading it and I feel it did its job.
I still think I've read better contemporary romances than this series, and I'm not sure if I'll be continuing with the rest of the series because there were a couple of things that I wasn't the biggest fan of and I feel there will appear in the next books, but oh well.
Would you die for the one you love?
Nixon Abandonato made his choice. And now he has to pay the price. Tracey is the love of his life, but being with him has made her a target of his family's enemies. The only way to keep Trace alive is convince the world she means nothing to him.
Trace Rooks has fallen irrevocably in love with the son of her family's sworn rival, and she knows in her bones nothing can tear them apart. Until Nix suddenly pushes her away and into the arms of his best friend… But Trace isn't ready to give up on a future with Nix–and if he won't fight for them, she will.
In the end, a sacrifice must be made. A life for a life. For what better way to cover a multitude of sins than with the blood of a sinner . . .
Scythe | Neal Shusterman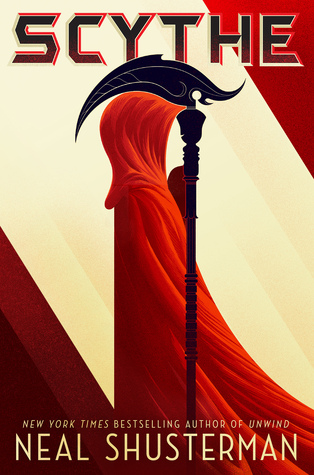 ⭐️⭐️⭐️⭐️
My thoughts: I have already posted a review of this book, so click here in case you want to know all my thoughts about it.
Thou shalt kill.
A world with no hunger, no disease, no war, no misery. Humanity has conquered all those things, and has even conquered death. Now scythes are the only ones who can end life—and they are commanded to do so, in order to keep the size of the population under control.
Citra and Rowan are chosen to apprentice to a scythe—a role that neither wants. These teens must master the "art" of taking life, knowing that the consequence of failure could mean losing their own.
Soul in Darkness | Wendy Higgins
⭐️⭐️⭐️
.75
My thoughts: I have already posted a review of this book, so click here in case you want to know all my thoughts about it.

People travel from afar to the small isle in the Aegean Sea hoping for a single glimpse of Princess Psyche. Their adoration for the mortal woman is so all-consuming that citizens begin to shower her with the very gifts and offerings they once left at the alter of Venus, goddess of love and beauty.
But gods are known for their jealousy.
Cupid, the god of love, takes pleasure in causing strife and mischief in the lives of humans. He uses love as a weapon, humoring in the weakness of people at the whims of their feelings. When his mother Venus approaches him about punishing the human girl who dares to steal her offerings and affections from the people, Cupid gladly accepts.
Psyche's punishment is to be given to a mysterious creature who only comes to her in the dark of night under the pact that she will never lay eyes on him. She is terrified of this stranger, who the oracle described as a serpent. Her mate, however, is masterful in his dealings with his bride. He takes his time, morphing her fears into different sensations completely. 
Killing Sarai | J. A. Redmerski
⭐️⭐️⭐️⭐️
My thoughts: I decided to re-read this series after being a couple of years, because my opinion about this type of genre has changed ever since, and I was hearing a lot of people talking about how the series got better as you kept reading, and I'm so glad I did because I absolutely loved this book so much, and oh, did I continue with the rest!
It was super weird because this is one of the books that I remember the most about while I was reading it again. Usually there are a lot of things that I forget and that's one of the reasons why I re-read them, but with this one it felt as if I read it for the first time a few months prior, and not almost two years, so that was cool.
I think I even enjoyed it more than the first time. I connected with the characters a lot more and I was super engaged with the plot and the story overall, so I'm so happy I decided to read it again.
Sarai was only fourteen when her mother uprooted her to live in Mexico with a notorious drug lord. Over time she forgot what it was like to live a normal life, but she never let go of her hope to escape the compound where she has been held for the past nine years.
Victor is a cold-blooded assassin who, like Sarai, has known only death and violence since he was a young boy. When Victor arrives at the compound to collect details and payment for a hit, Sarai sees him as her only opportunity for escape. But things don't go as planned and instead of finding transport back to Tucson, she finds herself free from one dangerous man and caught in the clutches of another.
While on the run, Victor strays from his primal nature as he succumbs to his conscience and resolves to help Sarai. As they grow closer, he finds himself willing to risk everything to keep her alive; even his relationship with his devoted brother and liaison, Niklas, who now like everyone else wants Sarai dead.
As Victor and Sarai slowly build a trust, the differences between them seem to lessen, and an unlikely attraction intensifies. But Victor's brutal skills and experience may not be enough in the end to save her, as the power she unknowingly holds over him may ultimately be what gets her killed.
This is their story…
Summer of Salt | Katrina Leno
⭐️⭐️
⭐️.5
My thoughts: I was so incredibly excited to read this book because I've been hearing incredible things about it, and since I've never read anything by this author before, and overall I ended up really enjoying it, but I guess I was expecting something so much different and it didn't reach all my expectations.
The writing was absolutely gorgeous, full of detailed and flushed descriptions that it made the story so atmospheric and whimsical, and the characters were so complex and had great dynamics. The interactions between them were interesting, and the relationship between the two sisters was so pure and heartbreakingly beautiful, and not only that but the evolution they had throughout the story was so well done.
My main issue with the story was regarding the pacing. There were times where nothing was really going on and I was a bit bored, and suddenly a lot of things were happening in the next two pages, and I feel there was an inconsistency between those two that made me not enjoy the story as much as I expected.
Overall, I really enjoyed the plot and the characters of the story, and I feel that though the ending was a bit predictable in my case, it was worth it just because of the characters and their friendship.

Georgina Fernweh waits impatiently for the tingle of magic in her fingers—magic that has touched every woman in her family. But with her eighteenth birthday looming, Georgina fears her gift will never come.
Over the course of her last summer on the island—a summer of storms, falling in love, and the mystery behind one rare three-hundred-year-old bird—Georgina will learn the truth about magic, in all its many forms.
In Summer of Salt, Katrina Leno weaves another gorgeously original novel of magical realism and coming-of-age. Fans of April Genevieve Tucholke and Anna-Marie McLemore will be swept away.
Reviving Izabel | J. A. Redmerski
⭐️⭐️⭐️⭐️
My thoughts: Like it happened with the first book, I decided to re-read this one so I could decide if I wanted to continue with the rest of the series, but unlike with Killing Sarai, I didn't remember as much when I picked it up, but I ended up enjoying it so much more than when I read it for the first time, and pretty much became obsessed with the series.
There were a lot of scenes that I didn't remember and I was glad I re-read them because they were pretty important things that could appear in the next installments, but something that I noticed that I didn't the last time was how great the protagonist's evolution was, and how good the dynamics between her and Victor were written.
So yeah, I'm so in love with the series and they are such dark contemporaries, so if you're looking for something like that, definitely pick them up because they are so good.
Determined to live a dark life in the company of the assassin who freed her from bondage, Sarai sets out on her own to settle a score with an evil sadist. Unskilled and untrained in the art of killing, the events that unfold leave her hanging precariously on the edge of death when nothing goes as planned.
Sarai's reckless choices send her on a path she knows she can never turn back from and so she presents Victor with an ultimatum: help her become more like him and give her a fighting chance, or she'll do it alone no matter the consequences. Knowing that Sarai cannot become what she wants to be overnight, Victor begins to train her and inevitably their complicated relationship heats up.
As Arthur Hamburg's right-hand man, Willem Stephens, closes in on his crusade to destroy Sarai, she is left with the crushing realization that she may have bitten off more than she can chew. But Sarai, taking on the new and improved role of Izabel Seyfried, still has a set of deadly skills of her own that will prove to be all she needs to secure her place beside Victor.
But there is one test that Izabel must face that has the potential to destroy everything she is working so hard to achieve. One final test that will not only make her question her decision to want this dangerous life, but will make her question everything she has come to trust about Victor Faust.
Never- Contented Things | Sarah Porter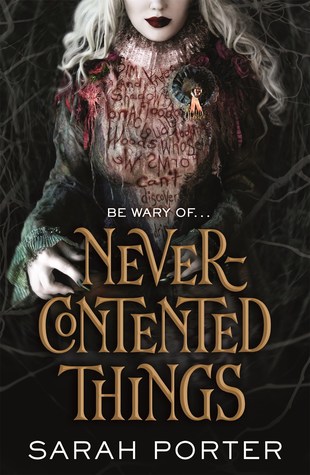 ⭐️⭐️⭐️
.25
My thoughts: Okay, I was so pumped to read this book, because lately I've been so obsessed with faeries and anything that have to do with them, so when I knew that this book was about faeries I immediately added it to my TBR, and it became one of my most anticipated releases of this year, and I have to say that it was so much different from what I expected.
The thing about this book was that when I initially picked it up, I expected a story like The Cruel Prince, and I ended up pretty disappointed because it had nothing to do with it. In fact, it was entirely different. Though this book had very wicked faeries in it, it was more focused on the two main characters' relationship and the toxicity of that love, and how these two characters grew throughout the story, and I really enjoyed that.
However, I had a lot of issues with the writing. There was something about this particular author's writing that made me feel disconnected to the story, and though I was actually enjoying reading about these characters, I was engaged enough with it to fully love it. There was a big difference between the dialogues and the descriptions, and that made the characters at times seemed pretty juvenile, because even though the descriptions were flushed and creepy and so atmospheric, the dialogues were so plain and awkward, and even forced at times, and that created a huge gap between those two things, and that was one of the reasons why I lowered my rating.
Still, I adored our female protagonist. I couldn't care less about the male character, but I think that our main character was so complex and interesting, and had such a great character arc and evolution throughout the story that even though there were things I didn't enjoy, I was still interested in continuing with the book because of her.
Overall, this book had its pros and its cons. The characters and their interactions and relationships in the book were very complex and real, but at the same time the writing was a bit odd and I feel we didn't get a lot of information about the faerie or the fae world, and that was one of the things that I was the most intrigued about.
I received an ARC of this book in exchange for an honest review. This doesn't change my opinion whatsoever. All thoughts are my own.
Seductive. Cruel. Bored
Be wary of…
Prince and his fairy courtiers are staggeringly beautiful, unrelentingly cruel, and exhausted by the tedium of the centuries―until they meet foster-siblings Josh and Ksenia. Drawn in by their vivid emotions, undying love for each other, and passion for life, Prince will stop at nothing to possess them.
First seduced and then entrapped by the fairies, Josh and Ksenia learn that the fairies' otherworldly gifts come at a terrible price―and they must risk everything in order to reclaim their freedom.
We Set the Dark on Fire | Tehlor Kay Mejia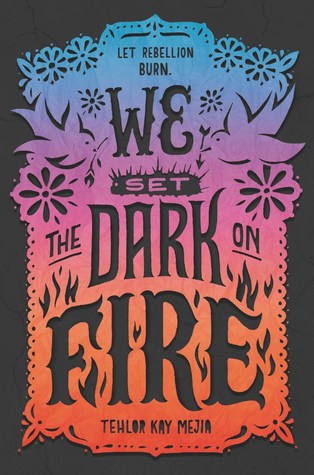 ⭐️⭐️⭐️⭐️
My thoughts: After reading a short story by this author in an anthology book, I was so excited to pick up and read her first novel, because her way of telling a story was so interesting and beautiful, so I was so excited to read We Set the Dark on Fire, and overall I ended up really enjoying this first book, and will definitely be continuing with the next installment because the ending left me wanting for more.
The story itself was so fast paced and easy to get into. It always takes me a few chapters to finally understand what is going on with the world and the magic and everything, but I feel that with this book it wasn't hard at all and I immediately became immersed in this world. There were still a couple of things regarding the world building that I feel needed a bit more work on because they weren't really addressed, but overall I got a fair idea of this world after finishing this installment.
I think, however, that the strongest part of the book was the characters. Though there was a plot going on and it was interesting, I feel that the story focused a lot more on the characters and their mental health, especially the two main female characters. I really enjoyed their dynamics and interactions throughout the story, and they had such great chemistry that I was so down for that romance.
While I was reading We Set the Dark on Fire, I got this sense of dread because that world wasn't ideal for females, and there were some parts that angered me and made me cry, and I think that was just what the author was trying to do.
Overall, I think this was a very interesting though terrifying debut novel, with incredible characters that I hope will take over the world, and though it was a bit predictable and I knew what those little twists were before they happened, I still think it was such an addicting story.
I received an ARC of this book in exchange for an honest review. This doesn't change my opinion whatsoever. All thoughts are my own.
At the Medio School for Girls, distinguished young women are trained for one of two roles in their polarized society. Depending on her specialization, a graduate will one day run a husband's household or raise his children. Both paths promise a life of comfort and luxury, far from the frequent political uprisings of the lower class.
Daniela Vargas is the school's top student, but her pedigree is a lie. She must keep the truth hidden or be sent back to the fringes of society.
And school couldn't prepare her for the difficult choices she must make after graduation, especially when she is asked to spy for a resistance group desperately fighting to bring equality to Medio.
Will Dani cling to the privilege her parents fought to win for her, or will she give up everything she's strived for in pursuit of a free Medio—and a chance at a forbidden love?
Heroine | Mindy McGinnis
⭐️⭐️⭐️⭐️⭐️
My thoughts: Heroine was one of my most anticipated releases of this year, and I was super excited to read it because Mindy McGinnis is one of my favorite authors and I've loved everything I read by her, so I went with very high expectations into this one, and I have to say I ended up absolutely loving it.
I think Mindy McGinnis has such a way with words and with writing this type of stories, because her writing fit so well with the tone of the story that it almost felt as if I was reading a true story about an addict. It was raw, real and sometimes quite hard to read, but I think she did an amazing job at portraying addiction in a very realistic way without making the reader disconnect and not empathize with the characters and what they were going through.
Heroine was such an interesting story to follow, and though it was quite graphic sometimes, I think that overall it was a slow burning book and you had that sense of dread and anticipation the whole entire time. I think the characters were really well crafted and the descriptions very vivid, that it almost felt like I was living it.
Mickey was a very real and complex character, and we got to see that throughout the book. The way she thought and acted made it quite easy to empathize and understand her reasons. Her progression was very fascinating, and I really enjoyed how she realized what she was getting into and eventually acted upon it. The descriptions were very dark but atmospheric, and I was blown away by how engaged I was in this story.
So overall, I was so pleasantly surprised with this story, because it ended up being something entirely different from what I pictured, but in a good way.
I received an ARC of this book in exchange for an honest review. This doesn't change my opinion whatsoever. All thoughts are my own.
When a car crash sidelines Mickey just before softball season, she has to find a way to hold on to her spot as the catcher for a team expected to make a historic tournament run. Behind the plate is the only place she's ever felt comfortable, and the painkillers she's been prescribed can help her get there.
The pills do more than take away pain; they make her feel good.
With a new circle of friends—fellow injured athletes, others with just time to kill—Mickey finds peaceful acceptance, and people with whom words come easily, even if it is just the pills loosening her tongue.
But as the pressure to be Mickey Catalan heightens, her need increases, and it becomes less about pain and more about want, something that could send her spiraling out of control.
You | Caroline Kepnes
⭐️⭐️⭐️
.25
My thoughts: I decided after years of having this book on my TBR to pick it up, because the show had just been released and I think it was about damn time for me to read it, and I think I set my expectations very high, because even though I ended up enjoying it and I can see why people loved it so much, I thought I was going to like it more than I did.
The thing about this book was that I thought it was super unique. The concept and the way it was written was very fascinating and interesting, and probably one of the reasons why I wanted to read it in the first place. I think that the characters were pretty complex and we got to see a lot of their personalities and interactions in this story, but I didn't connect with them as much as I wanted to, and I think it was because of the writing.
Joe was such an odd character, and though I didn't like him, there came a point in the book where I almost pitied him and understood him, and that was just so weird. I think that because we only got to see his perspective of things and no one else, I empathized a lot with him and what was happening, even though I knew it was wrong.
Still, I wasn't the biggest fan of the writing. Joe's inner monologues were a bit boring, and there came a point in the story where nothing was actually happening and I got so bored that I disconnected a little with the story.
Overall, I think it was a very interesting story, and done in such a unique way, but I think my expectations were too high and that's why I didn't enjoy it as much as I expected.
When a beautiful, aspiring writer strides into the East Village bookstore where Joe Goldberg works, he does what anyone would do: he Googles the name on her credit card.
There is only one Guinevere Beck in New York City. She has a public Facebook account and Tweets incessantly, telling Joe everything he needs to know: she is simply Beck to her friends, she went to Brown University, she lives on Bank Street, and she'll be at a bar in Brooklyn tonight—the perfect place for a "chance" meeting.
As Joe invisibly and obsessively takes control of Beck's life, he orchestrates a series of events to ensure Beck finds herself in his waiting arms. Moving from stalker to boyfriend, Joe transforms himself into Beck's perfect man, all while quietly removing the obstacles that stand in their way—even if it means murder.
The Swan and The Jackal | J. A. Redmerski
⭐️⭐️⭐️⭐️
.25
My thoughts: I told myself to wait a bit more until I pick up the next installment, but I couldn't stop thinking about the series so I ended up reading it way before I planned, and I didn't know what to expect because this installment followed a different character and story, but I ended up really enjoying it.
I loved Fredrik's character arc and basically his story and plot. He was quite different from the other characters I knew in the series, but the plot of this book was super interesting and had a lot of ups and downs that kept me at the edge of my seat wanting to see what was going to happen.
Fredrik Gustavsson never considered the possibility of love, or that anyone could ever understand or accept his dark and bloody lifestyle—until he met Seraphina, a woman as vicious and blood-thirsty as Fredrik himself. They spent two short but unforgettable years together, full of lust and killing and the darkest kind of love that two people can share.
And then Seraphina was gone.
It's been six years since Fredrik's lover and sadistic partner in crime turned his world upside-down. Seraphina went into hiding and has eluded him ever since. Now, he's getting closer to finding her, and an innocent woman named Cassia is the key to drawing Seraphina from the shadows. But Cassia—after sustaining injuries from a fire that Seraphina ignited—suffers from amnesia and can't give Fredrik the information he desperately seeks. Having no other choice, Fredrik has been keeping Cassia locked in his basement as he not only tries to get her to recall her past—because she and Seraphina share it—but also to protect her from Seraphina, who clearly wants her dead.
But Cassia is a light in the darkness that Fredrik never believed existed. After a year subjected to her kindness and compassion, he finds himself struggling with his love for Seraphina, and his growing feelings for Cassia—because he knows that to love one, the other must die.
Will light win out over darkness, or will something more powerful than either further destroy an already tortured soul?
Seeds of Iniquity | J. A. Redmerski
⭐️⭐️⭐️⭐️⭐️
My thoughts: Holy shit this book, guys! I honestly wasn't expecting to love it as much as I did, but I think this series is getting better and better as they come. I kept telling myself not to rush these books because there's no publication date for the eighth one, but I just couldn't help myself and picked it up right after I finished the third one. And I have to say, I don't regret a thing.
I feel the plot in this particular installment was pretty different from the past books, because we dwelled more into the characters' pasts and their secrets, which let me tell you, was a roller coaster of a ride. I loved the dark tone Seeds of Iniquity had, and basically how for once this group of characters didn't know what to do.
I also really enjoyed the introduction of Nora, and basically her character itself. She was fucking crazy, let me tell you, but I don't know, it was a nice and different touch to the OG.
It was an incredibly fast paced story, where I wanted to keep reading until I knew what was going to happen and how it was going to end, and there were some revelations that had me shook. I honestly can't get enough of these characters, and hopefully the next book in the series will be released soon so I don't have to wait years to read it.
Victor Faust's new Order is growing. Business is good as there is no rest for the wicked in an underground world of hardcore criminals and contract killing. Relationships among the operatives have changed little over the past year—but things are about to change now, and all six high-ranking members of the new Order will be blindsided by an unlikely enemy.
Loved ones whose only ties to Victor's organization are their relationships with its members, are abducted. The price to get them back safely—the six must confess their deepest, darkest secret to this mysterious young woman named Nora, who is as deadly as she is beautiful, and who seems to know more about each of them than they know about each other. And although no one has any clue about who Nora really is, it becomes clear that she also isn't who she appears to be.
So much more is at stake than secrets and the lives of innocent loved ones; with each member that Nora forces to confess, the truth about their dark pasts and their present objectives will cast suspicion, pit some against each other, and may tear others apart.
Before the game is over everyone will know who this woman is and why she is here, but the damage she will leave in her wake could be the beginning of the new Order's destruction.
Whose dark secret will be the darkest of all? And can Victor's Order survive any of them?
Thief of Lies | Brenda Drake
⭐️
.5
My thoughts: Okay, even though I had a feeling this wasn't going to be my new favorite book, I was still intrigued enough to pick it up because it sounded like an entertaining book, but I was so disappointed by how it turned out to be because it had nothing to do with the synopsis or what it was said in the premise.
First of all, I was so underwhelmed by the lack of plot throughout the story. There was a tiny bit of information regarding this secret magical world, but it was quite choppy and not enough for the reader to make a picture in our minds. The magic system was barely explained and it only made me more confused by what was going on or everything regarding our main character, and barely any of my questions were answered.
The characters were so dull and unremarkable, and I didn't like any of them, sadly. They were all super annoying and frustrating, and the relationships that were formed in the story felt super forced and awkward. Neither of them had any chemistry whatsoever, and that only made the romance much more unrealistic and stupid. And not only that, but in the middle of the book there was a love triangle that literally came out of nowhere.
So yeah, sadly this book wasn't what I thought it was going to be. Not only I found the plot very simple and boring, but the characters were so annoying and had barely any connection with the other.

Gia Kearns would rather fight with boys than kiss them. That is, until Arik, a leather-clad hottie in the Boston Athenaeum, suddenly disappears. While examining the book of world libraries he abandoned, Gia unwittingly speaks the key that sucks her and her friends into a photograph and transports them into a Paris library, where Arik and his Sentinels—magical knights charged with protecting humans from the creatures traveling across the gateway books—rescue them from a demonic hound.
Jumping into some of the world's most beautiful libraries would be a dream come true for Gia, if she weren't busy resisting her heart or dodging an exiled wizard seeking revenge on both the Mystik and human worlds. Add a French flirt obsessed with Arik and a fling with a young wizard, and Gia must choose between her heart and her head, between Arik's world and her own, before both are destroyed.
What books did you read in January? Have you read any of these ones or do you have them on your TBR? Let me know in the comments!

Follow me on BlogLovin'
Goodreads | Instagram | Twitter | Contact Me