Hello bookworms! I'm Nia and today I'm going to be talking about some books that I think would be perfect to read in Spring.
Now I have to say that I've discovered that I tend to read certain books during certain seasons, and in summer I read more contemporary and during winter I usually read more high fantasy or whimsical books, but I would say Spring is usually a season that I read a good variety of them, so I will be talking about some different genres.
If you aren't familiar with Top 5 Wednesday, it is a Goodeads group now currently run by Sam over at ToughtsOfTomes on Youtube, where each week they give you a topic and you talk about 5 books that fit that category. You can join the group here if you want to participate!
Without any further ado, let's start with this week's topic!
Always Never Yours | Emily Wibberley & Austin Siegemund-Broka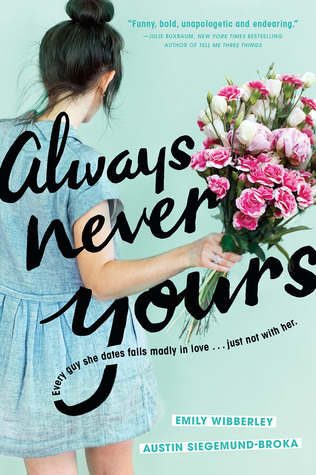 Shouldn't a girl get to star in her own love story?
Seventeen-year-old Megan Harper is about due for her next sweeping romance. It's inevitable—each of her relationships starts with the perfect guy and ends with him falling in love . . . with someone else. But instead of feeling sorry for herself, Megan focuses on pursuing her next fling, directing theater, and fulfilling her dream college's acting requirement in the smallest role possible.
So when she's cast as Juliet (yes, that Juliet) in her high school's production, it's a complete nightmare. Megan's not an actress, and she's used to being upstaged—both in and out of the theater. In fact, with her mom off in Texas and her dad remarried and on to baby #2 with his new wife, Megan worries that, just like her exes, her family is moving on without her.
Then she meets Owen Okita, an aspiring playwright inspired by Rosaline from Shakespeare's R+J. A character who, like Megan, knows a thing or two about short-lived relationships. Megan agrees to help Owen with his play in exchange for help catching the eye of a sexy stagehand/potential new boyfriend. Yet Megan finds herself growing closer to Owen, and wonders if he could be the Romeo she never expected.
Sherwood | Meagan Spooner
Robin of Locksley is dead.
Maid Marian doesn't know how she'll go on, but the people of Locksley town, persecuted by the Sheriff of Nottingham, need a protector. And the dreadful Guy of Gisborne, the Sheriff's right hand, wishes to step into Robin's shoes as Lord of Locksley and Marian's fiancé.
Who is there to stop them?
Marian never meant to tread in Robin's footsteps—never intended to stand as a beacon of hope to those awaiting his triumphant return. But with a sweep of his green cloak and the flash of her sword, Marian makes the choice to become her own hero: Robin Hood.
Scythe | Neal Shusterman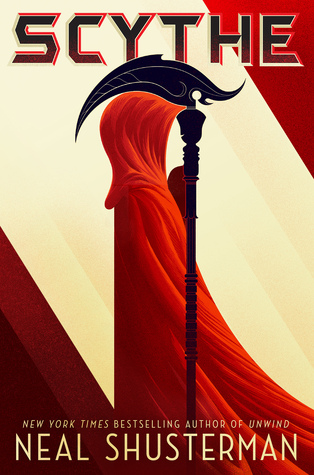 Thou shalt kill.
A world with no hunger, no disease, no war, no misery. Humanity has conquered all those things, and has even conquered death. Now scythes are the only ones who can end life—and they are commanded to do so, in order to keep the size of the population under control.
Citra and Rowan are chosen to apprentice to a scythe—a role that neither wants. These teens must master the "art" of taking life, knowing that the consequence of failure could mean losing their own.
Heroine | Mindy McGinnis
When a car crash sidelines Mickey just before softball season, she has to find a way to hold on to her spot as the catcher for a team expected to make a historic tournament run. Behind the plate is the only place she's ever felt comfortable, and the painkillers she's been prescribed can help her get there.
The pills do more than take away pain; they make her feel good.
With a new circle of friends—fellow injured athletes, others with just time to kill—Mickey finds peaceful acceptance, and people with whom words come easily, even if it is just the pills loosening her tongue.
But as the pressure to be Mickey Catalan heightens, her need increases, and it becomes less about pain and more about want, something that could send her spiraling out of control.
Killing November | Adriana Mather
It's a school completely off the grid, hidden by dense forest and surrounded by traps. There's no electricity, no internet, and an eye-for-an-eye punishment system. Classes include everything from Knife-Throwing and Poisons to the Art of Deception and Historical Analysis. And all of the students are children of the world's most elite strategists—training to become assassins, counselors, spies, and master impersonators. Into this world walks November Adley, who quickly discovers that friends are few in a school where personal revelations are discouraged and competition is everything. When another student is murdered, all eyes turn to November, who must figure out exactly how she fits into the school's bizarre strategy games before she is found guilty of the crime…or becomes the killer's next victim.
What books do you think are perfect to read during Spring? Do you have any recommendations or do you have these ones on your TBR? Let me know in the comments!
Follow me on BlogLovin'
Goodreads | Instagram | Twitter | Contact Me