Hello bookworms! I'm Nia and tiday I'm going to talk about some of my favorite romances that I've read lately or a few months ago.
Now some of these would probably sound familar because I've already talked about them, but I still wanted to mention them in this post because I just adored the romances.
If you aren't familiar with Top 5 Tuesday, it is a group here on WordPress now currently run by Shanah over at BionicBookWorm, where each week they give you a topic and you talk about 5 books that fit that category.
Without any further ado, let's start with this week's topic!
Always Never Yours | Emily Wibberley & Austin Siegemund-Broka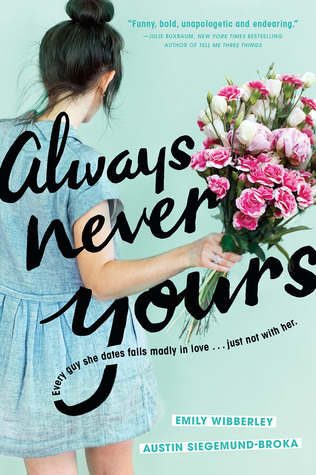 Shouldn't a girl get to star in her own love story?
Seventeen-year-old Megan Harper is about due for her next sweeping romance. It's inevitable—each of her relationships starts with the perfect guy and ends with him falling in love . . . with someone else. But instead of feeling sorry for herself, Megan focuses on pursuing her next fling, directing theater, and fulfilling her dream college's acting requirement in the smallest role possible.
So when she's cast as Juliet (yes, that Juliet) in her high school's production, it's a complete nightmare. Megan's not an actress, and she's used to being upstaged—both in and out of the theater. In fact, with her mom off in Texas and her dad remarried and on to baby #2 with his new wife, Megan worries that, just like her exes, her family is moving on without her.
Then she meets Owen Okita, an aspiring playwright inspired by Rosaline from Shakespeare's R+J. A character who, like Megan, knows a thing or two about short-lived relationships. Megan agrees to help Owen with his play in exchange for help catching the eye of a sexy stagehand/potential new boyfriend. Yet Megan finds herself growing closer to Owen, and wonders if he could be the Romeo she never expected.
Foolish Hearts | Emma Mills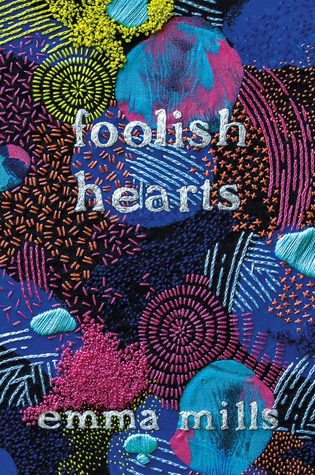 The day of the last party of the summer, Claudia overhears a conversation she wasn't supposed to. Now on the wrong side of one of the meanest girls in school, Claudia doesn't know what to expect when the two are paired up to write a paper—let alone when they're both forced to try out for the school production of A Midsummer Night's Dream.
But mandatory participation has its upsides—namely, an unexpected friendship, a boy band obsession, and a guy with the best dimpled smile Claudia's ever seen. As Claudia's world starts to expand, she finds that maybe there are some things worth sticking her neck out for.
A Nordic King | Karina Halle

When I first applied for the job I thought it would be like all the others: working as a nanny for an aristocratic family.
Then I got the job and found out how wrong I was.
Now I'm the new nanny for two adorable little girls who happen to be princesses.
Their father is the widowed King of Denmark.
And my new home? The royal palace in Copenhagen.
Adjusting to my new life isn't easy but the hardest part hasn't been the girls who still grieve over the loss of their mother.
It's their father.
Cold, mysterious and moody, with an icy stare that seems to penetrate your soul, King Aksel may have hired me to take care of his daughters but he wants as little to do with me as possible.
Yet the longer I share these palace walls with this man, the more that I'm drawn to him. His chiseled face and sexual swagger are only part of the package. It's in the long, intense glances at the dinner table, the way we'll brush up against each other in the halls, the rare glimpses of the man deep inside, like the sun passing through clouds.
But no matter how I feel about him, we can never be together.
You think it's bad enough being in love with your boss?
Try falling in love with a king.
Killing Sarai | J. A. Redmerski
Sarai was only fourteen when her mother uprooted her to live in Mexico with a notorious drug lord. Over time she forgot what it was like to live a normal life, but she never let go of her hope to escape the compound where she has been held for the past nine years.
Victor is a cold-blooded assassin who, like Sarai, has known only death and violence since he was a young boy. When Victor arrives at the compound to collect details and payment for a hit, Sarai sees him as her only opportunity for escape. But things don't go as planned and instead of finding transport back to Tucson, she finds herself free from one dangerous man and caught in the clutches of another.
While on the run, Victor strays from his primal nature as he succumbs to his conscience and resolves to help Sarai. As they grow closer, he finds himself willing to risk everything to keep her alive; even his relationship with his devoted brother and liaison, Niklas, who now like everyone else wants Sarai dead.
As Victor and Sarai slowly build a trust, the differences between them seem to lessen, and an unlikely attraction intensifies. But Victor's brutal skills and experience may not be enough in the end to save her, as the power she unknowingly holds over him may ultimately be what gets her killed.
This is their story…
 

Starry Eyes | Jenn Bennett
Ever since last year's homecoming dance, best friends-turned-best enemies Zorie and Lennon have made an art of avoiding each other. It doesn't hurt that their families are the modern-day Californian version of the Montagues and Capulets.
But when a group camping trip goes south, Zorie and Lennon find themselves stranded in the wilderness. Alone. Together.
What could go wrong?
With no one but each other for company, Zorie and Lennon have no choice but to hash out their issues via witty jabs and insults as they try to make their way to safety. But fighting each other while also fighting off the forces of nature makes getting out of the woods in one piece less and less likely.
And as the two travel deeper into Northern California's rugged backcountry, secrets and hidden feelings surface. But can Zorie and Lennon's rekindled connection survive out in the real world? Or was it just a result of the fresh forest air and the magic of the twinkling stars.
What are your favorite romancw books or some that you've read lately and really enjoyed? Have you read any of these ones or do you have them on your TBR? Let me know in the comments!
Follow me on BlogLovin'
Goodreads | Instagram | Twitter | Contact Me