Hello bookworms! I'm Nia and today I'm going to be talking about the books that I read in February.
Now I know it's pretty late because it's April right now, but I didn't have time to write this wrap up until now, so.. I'm going to be posting it anyways. I still wanted to talk about the books I read in February because there were some gems and books that I really enjoyed, and others that not so much.
Without any further ado, let's start with my February wrap up!
To Best the Boys | Mary Webber
⭐️⭐️⭐️⭐️
At first I have to admit that I was pretty skeptical about this book because I didn't enjoy very much the other book I read by this author, but after reading the premise I got very excited and decided to give it a try and see what I thought about it, and I was so glad I did that because I ended up really enjoying the story.
The story was super easy to get into and it didn't take me long to immerse myself in this plot. I enjoyed the little twists and turns and I think it was such a fast paced and fun story to follow. The only downside that I had with To Best the Boys was that the world building was a bit lacking and there wasn't a lot of information regarding the society nor the magical elements that were present in the novel.
However, though the plot was a bit simple it was the characters that made the cut in my opinion. Not only it had a very different cast of characters, but I really enjoyed their personalities and the dynamics between them throughout the story. It's true that some of the revelations that were made were a bit predictable, but I liked our main character and her journey, and the female friendship present in the novel.
Overall, I was so pleasantly surprised by this book, even though I still had some minor issues with it, but I look past that because it was a very entertaining story and super fast paced and full of action packed scenes.
I received an ARC of this book from HarperCollins in exchange for an honest review. All thoughts are my own.
Every year for the past fifty-four years, the residents of Pinsbury Port receive a mysterious letter inviting all eligible-aged boys to compete for an esteemed scholarship to the all-male Stemwick University. Every year, the poorer residents look to see that their names are on the list. The wealthier look to see how likely their sons are to survive. And Rhen Tellur opens it to see if she can derive which substances the ink and parchment are created from, using her father's microscope.
In the province of Caldon, where women are trained in wifely duties and men are encouraged into collegiate education, sixteen-year-old Rhen Tellur wants nothing more than to become a scientist. As the poor of her seaside town fall prey to a deadly disease, she and her father work desperately to find a cure. But when her Mum succumbs to it as well? Rhen decides to take the future into her own hands—through the annual all-male scholarship competition.
With her cousin, Seleni, by her side, the girls don disguises and enter Mr. Holm's labyrinth, to best the boys and claim the scholarship prize. Except not everyone's ready for a girl who doesn't know her place. And not everyone survives the maze.
Grave Mercy | Robin LaFevers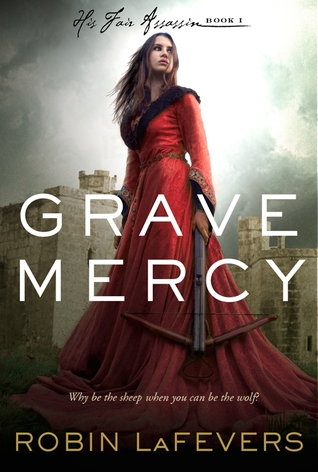 ⭐️⭐️⭐️⭐️
I honestly don't know how I waited that long to read this book, because it's been on my shelves for over a year now, and it wasn't until recently that I ended up picking it up, but I'm very glad I ended up doing so because I really enjoyed it, and will definitely continuing with the rest of the trilogy.
Now, historical fiction isn't a genre I tend to reach for that often, but in this particular case I found the premise so interesting I couldn't help myself. It's true that it took me a few chapters to understand everything that was going on and who exactly were all those characters that were introduced to us, but once I past that part I ended up really enjoying the story and I flew through it. The plot, even though it was more on the slower side and there were times where not much action was happening and it was more plotting than anything, was super interesting, and I found myself immerse in it and wanting to know how things were going to turn.
The characters were also super interesting. They were so unique and different from the other, but somehow they had really great dynamics and interactions throughout the story. I liked the character development not only as individuals but also as a group, and also the romance was pretty adorable, not going to lie there.
The downside was that it was very long. I don't know if it felt that way because it was more politically driven and had less action packed scenes than what I expected, but I think there were times where nothing was really happening, and I found myself disconnect a bit with the story. Some things could have been edited out, and though that wasn't enough for me to fully disconnect with the plot, I still wanted to address that.
Overall, I was pretty impressed with this first installment, and I enjoyed it more than I thought I would, and definitely will be picking up the rest of the series (also I'm super excited for that spin-off duology).
Why be the sheep, when you can be the wolf?
Seventeen-year-old Ismae escapes from the brutality of an arranged marriage into the sanctuary of the convent of St. Mortain, where the sisters still serve the gods of old. Here she learns that the god of Death Himself has blessed her with dangerous gifts—and a violent destiny. If she chooses to stay at the convent, she will be trained as an assassin and serve as a handmaiden to Death. To claim her new life, she must destroy the lives of others.
Ismae's most important assignment takes her straight into the high court of Brittany—where she finds herself woefully under prepared—not only for the deadly games of intrigue and treason, but for the impossible choices she must make. For how can she deliver Death's vengeance upon a target who, against her will, has stolen her heart?
Monstrous Beauty | Elizabeth Fama
⭐️
I admit I was pretty intrigued by this book, because in my head I picture it as a Little Mermaid retelling, and though it ended up being completely different from what I had in mind when I first started it, I didn't like it at all, and was super disappointed with it overall.
The thing about Monstrous Beauty is that I felt like it had no coherence at all. I debated DNFing it multiple times because I didn't know what was going on, and the plot was so lacking that I couldn't tell what the story was about, and it seemed like I was reading two different stories instead of one.
The characters were so flat and had barely any personality at all, I couldn't care less about them. Maybe that was one of the reasons why I felt so disconnected with the story. They didn't really have any evolution throughout the story, and frankly, the interactions and dynamics between them were so awkward and forced that it was a bit uncomfortable to read.
I don't know, I found this book so underwhelming. I went with pretty high expectations into it, and I thought I was going to love it because mermaids are some of my favorite creatures, but I think it needs a lot more editing and the characters' arc need to be a bit better constructed.
Fierce, seductive mermaid Syrenka falls in love with Ezra, a young naturalist. When she abandons her life underwater for a chance at happiness on land, she is unaware that this decision comes with horrific and deadly consequences.
Almost one hundred forty years later, seventeen-year-old Hester meets a mysterious stranger named Ezra and feels overwhelmingly, inexplicably drawn to him. For generations, love has resulted in death for the women in her family. Is it an undiagnosed genetic defect . . . or a curse? With Ezra's help, Hester investigates her family's strange, sad history. The answers she seeks are waiting in the graveyard, the crypt, and at the bottom of the ocean—but powerful forces will do anything to keep her from uncovering her connection to Syrenka and to the tragedy of so long ago.
Cress | Marissa Meyer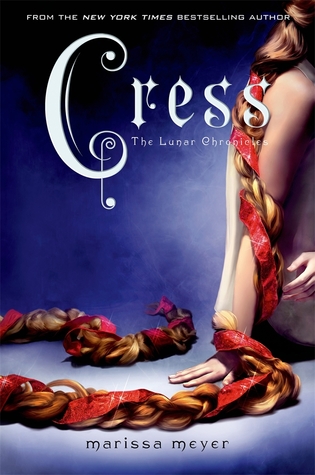 ⭐️⭐️⭐️⭐️
Even though it'd been a while ever since I read the first two installments of these series and I've been meaning to continue reading the rest of the books so I can finally know how everything ends, it wasn't until now that I was participating in a readathon that I decided to finally pick it up and see if I enjoyed it as much as when I read the other installments in the saga, and turns out that I was so pleasantly surprised because even though it had quite a slow start and it took me a few chapters to get into the story, it ended up being super fast paced and entertaining.
Not only I enjoyed the new characters that were introduced to us in this installment, but I was living to the scenes of Thorne and Cress in the dessert (even though not much was happening plot wise). They were so angsty and dramatic and fast paced that I wanted to read about them the entire time.
Still, I also enjoyed the other POVs. I feel they added some complexity to the plot and revealed a few things that made it continue being interesting and fast paced, and made the reader want to keep reading to know what was going to happen.
Overall, I was so happy I decided to continue with the series. It's true it took me a while to remember everything that happened in previous novels, but I remembered a lot of things about them, so even though it's been years, it wasn't hard for me to follow the story.
In this third book in the Lunar Chronicles, Cinder and Captain Thorne are fugitives on the run, now with Scarlet and Wolf in tow. Together, they're plotting to overthrow Queen Levana and her army.
Their best hope lies with Cress, a girl imprisoned on a satellite since childhood who's only ever had her netscreens as company. All that screen time has made Cress an excellent hacker. Unfortunately, she's just received orders from Levana to track down Cinder and her handsome accomplice.
When a daring rescue of Cress goes awry, the group is separated. Cress finally has her freedom, but it comes at a higher price. Meanwhile, Queen Levana will let nothing prevent her marriage to Emperor Kai. Cress, Scarlet, and Cinder may not have signed up to save the world, but they may be the only hope the world has.
Echo North | Joanna Ruth Meyer
⭐️⭐️⭐️⭐️.25
This book was one of my most anticipated releases of this year, and I was so excited to pick it up and read it because it was the second "East of the Sun, West of the Moon" retelling I've come across, so I went with very high expectations, and I have to say that I was so pleasantly surprised with how much I enjoyed it, despite being quite familiar with the story and know a lot of it.
I loved the writing style of the book. The descriptions were so flushed and vivid, and the progression of the plot and the development o the characters was so smooth and well done. It didn't felt weird like other times I've read a similar retelling, and I enjoyed how that writing fit so well with the tone of the story, and added a little extra something to the plot that made me fall in love with it even more.
The only issue I had with the book and the main reason why I didn't give it a higher rating was that the magic of this world wasn't really explained, not the world building, and I feel that if we got to know more about how it worked or the society it would have made the book a bit more complex and unique.
Still, I really loved the characters and how they were built in the novel. They were pretty real and were so easy to relate to, and not only that but I actually adored the romance. I'm a sucker for an hate to love romance, and I think that this particular one was so slow burning and angsty and checked all the marks I like in that type of romances. Their interactions were so interesting, and though some of the revelations made towards the end were a bit too predictable, I still enjoyed the journey they went through.
Overall, I highly recommend this story if you're looking for a different Beauty and the Beast retelling, because I was so pleasantly surprised with how much I enjoyed it.
Echo Alkaev's safe and carefully structured world falls apart when her father leaves for the city and mysteriously disappears. Believing he is lost forever, Echo is shocked to find him half-frozen in the winter forest six months later, guarded by a strange talking wolf—the same creature who attacked her as a child. The wolf presents Echo with an ultimatum: If she lives with him for one year, he will ensure her father makes it home safely. But there is more to the wolf than Echo realizes.
In his enchanted house beneath a mountain, each room must be sewn together to keep the home from unraveling, and something new and dark and strange lies behind every door. When centuries-old secrets unfold, Echo discovers a magical library full of books-turned-mirrors, and a young man named Hal who is trapped inside of them. As the year ticks by, the rooms begin to disappear, and Echo must solve the mystery of the wolf's enchantment before her time is up, otherwise Echo, the wolf, and Hal will be lost forever.
A Wicked Thing | Sherry Thomas 
⭐️⭐️
In the past couple of months I've been eyeing this book and wanting to pick it up but never ended up doing so, so just like it happened with another books, I chose it for a readathon I was participating, and though I went expecting nothing from it and curious to see how this was going to be, sadly it was such a disappointing book for me.
The thing about A Wicked Thing was that it seemed as though we started in the middle of a book instead of at the beginning of a story, and though I totally understand the reason why it was done that way and it was also addressed in the synopsis, the world building and the magic system in this book barely existed or were explained to the reader at all, and it almost seemed as if we already knew everything that was going on with this society and how everything worked.
The plot was so lacking during 70% of the book, and because the characters were so flat an one dimensional, I was so bored most of the time I read it. There were a few things that I enjoyed about the story, but for most part, I was so underwhelmed.
It was quite repetitive. Because of the lack of the plot I felt nothing was actually happening but the romance and the main character whining, and it was as if I was reading the same thing over and over again.
The romance was quite insta love-y and underdeveloped, and their interactions were so awkward, and I couldn't see any chemistry between these characters until the very end of the story, but that wasn't enough to redeemed the book for me, unfortunately.
One hundred years after falling asleep, Princess Aurora wakes up to the kiss of a handsome prince and a broken kingdom that has been dreaming of her return. All the books say that she should be living happily ever after. But as Aurora understands all too well, the truth is nothing like the fairy tale.
Her family is long dead. Her "true love" is a kind stranger. And her whole life has been planned out by political foes while she slept.
As Aurora struggles to make sense of her new world, she begins to fear that the curse has left its mark on her, a fiery and dangerous thing that might be as wicked as the witch who once ensnared her. With her wedding day drawing near, Aurora must make the ultimate decision on how to save her kingdom: marry the prince or run.
The Shadow Queen | C. J. Redwine
⭐️⭐️⭐️⭐️
I've been meaning to read this book and start this series since forever, because I'm a sucker for a retelling and I found the premise of this particular series super interesting, so it was about damn time for me to finally pick it up and read it, and I ended up really enjoying it and would definitely continuing with the rest of the books in the series, even though I had some minor issues.
The story was so easy to follow and I had not problem whatsoever getting into this fantasy world (the map actually helped me a lot at putting everything together in my head). I really enjoyed what we know so far about the world building and the magic system, even though I feel in this first installment wasn't that complex and it was more focused on the characters, but I think in the sequels we'll know more about it.
The characters were the strongest and one of my favorite parts of the story, in my opinion. Their journeys and arcs were pretty interesting, and even though it was told in different POVs, I didn't find that I was rooting more for a certain character, and I was enjoying the different story lines. Our female protagonist was such a great lead character, and I loved how it was her saving the prince and not the other way around, especially since it's a classic retelling.
Overall, I was so pleasantly surprised with how much I enjoyed this book. Though I admit some parts were a bit tropey, I still had so much fun reading it and following these characters.
Lorelai Diederich, crown princess and fugitive at large, has one mission: kill the wicked queen who took both the Ravenspire throne and the life of her father. To do that, Lorelai needs to use the one weapon she and Queen Irina have in common—magic. She'll have to be stronger, faster, and more powerful than Irina, the most dangerous sorceress Ravenspire has ever seen.
In the neighboring kingdom of Eldr, when Prince Kol's father and older brother are killed by an invading army of magic-wielding ogres, the second-born prince is suddenly given the responsibility of saving his kingdom. To do that, Kol needs magic—and the only way to get it is to make a deal with the queen of Ravenspire, promise to become her personal huntsman…and bring her Lorelai's heart.
But Lorelai is nothing like Kol expected—beautiful, fierce, and unstoppable—and despite dark magic, Lorelai is drawn in by the passionate and troubled king. Fighting to stay one step ahead of the dragon huntsman—who she likes far more than she should—Lorelai does everything in her power to ruin the wicked queen. But Irina isn't going down without a fight, and her final move may cost the princess the one thing she still has left to lose.
The Cold Is in Her Bones | Peternelle Van Arsdale
⭐️⭐️
Hear me out. I was so incredibly excited to read this book because the premise sounded incredible and really dark, and it was supposed to be a Medusa retelling or re imagining, so I went with such high expectations into this story, and unfortunately I was so let down and didn't enjoy it as much as I expected to.
The thing about The Cold is In Her Bones was that it was such a confusing story. The prologue was super interesting and I thought after finishing it that this was going to be a 5 star read, but once the actual story began and we were following a different cast of characters, I didn't like it that much. There wasn't any information regarding the world building and magic system, and I think that if we got to know a bit how everything worked and the reasons why our main character was different than the rest of the girls, it would have explained more things and I would have enjoyed it a bit more.
Also, there wasn't any plot during 80% of the story, which made the story focused only on the characters, and to be honest, I didn't like any of them. Nothing made me root for any of them, and I just found them quite annoying and one dimensional, so needless to say I got so bored out of my mind. Neither of them had any evolution throughout the story, so… yeah.
The second part of the story was so over the place, in my opinion. There was a huge gap between the first and second part, and I feel I only got some answers in the last 20 pages of the novel. The rest was so uneventful and confusing that it didn't redeem the book for me. Yes, it had such a eerie and dark atmosphere, but I was expecting so much more from it and it was so underwhelming and anticlimactic.
Milla knows two things to be true: Demons are real, and fear will keep her safe.
Milla's whole world is her family's farm. She is never allowed to travel to the village and her only friend is her beloved older brother, Niklas. When a bright-eyed girl named Iris comes to stay, Milla hopes her loneliness might finally be coming to an end. But Iris has a secret she's forbidden to share: The village is cursed by a demon who possesses girls at random, and the townspeople live in terror of who it will come for next.
Now, it seems, the demon has come for Iris. When Iris is captured and imprisoned with other possessed girls, Milla leaves home to rescue her and break the curse forever. Her only company on the journey is a terrible new secret of her own: Milla is changing, too, and may soon be a demon herself.
The Cold Is in Her Bones is a novel about the dark, reverberating power of pain, the yearning to be seen and understood, and the fragile optimism of love.
Sherwood | Meagan Spooner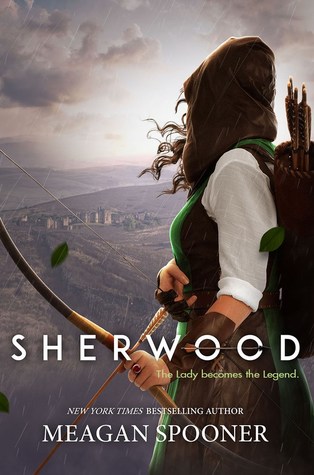 ⭐️⭐️⭐️⭐️
Sherwood was one of my most anticipated releases of this year. I adored Hunted when I first read it two years ago, so I went into this one with quite high expectations, and though I didn't love it as much as her solo debut, I still think it was quite an interesting and different story.
Something that I liked about this book was how empowering it was to me. I think the writing had a lot to do with it, because when it came to it, I found there were a lot of descriptions about our main character's feelings and overall her personality and journey. Her arc was so interesting to follow and I think her development was amazing, and we got to see her grow and evolved throughout the story.
The only thing I'm still not really sure about was the romance. I don't know why, even though it was said in the synopsis, but I thought Robin was alive during the entire time I was reading this book, and turns out I was so wrong about that. So I found that the romance came a bit out of nowhere, since I wasn't expecting a romantic relationship between these two characters happened at all.
Overall, I really enjoyed Sherwood despite having some issues with the romance. We had a wide glimpse of this world and this society even though it was a standalone, and the characters were so well written. The writing was spectacular and added a lot to the story, and it created this whimsical and gloomy atmosphere that fit really well with the tone of the novel and the plot.
I received an ARC of this book from Harper in exchange for an honest review. All thoughts are my own.
Robin of Locksley is dead.
Maid Marian doesn't know how she'll go on, but the people of Locksley town, persecuted by the Sheriff of Nottingham, need a protector. And the dreadful Guy of Gisborne, the Sheriff's right hand, wishes to step into Robin's shoes as Lord of Locksley and Marian's fiancé.
Who is there to stop them?
Marian never meant to tread in Robin's footsteps—never intended to stand as a beacon of hope to those awaiting his triumphant return. But with a sweep of his green cloak and the flash of her sword, Marian makes the choice to become her own hero: Robin Hood.
The Swedish Prince | Karina Halle
⭐️⭐️⭐️.25
I never believed in fairy-tales.
Never held out for Prince Charming. Growing up poor in small-town California as the oldest of six siblings, I knew I would never ride off into the sunset with anyone. That was even more apparent when a senseless tragedy took the lives of my parents, forcing me to become the sole guardian of our dysfunctional household at the mere age of twenty-three.
Then a fateful encounter literally brought Prince Charming to my doorstep. At first I thought Viktor was just your average businessman passing through, albeit obscenely handsome, six-foot-five, blue-eyed, and mysteriously rich. But soon I discovered the truth behind Viktor's façade. Beneath his quiet, enigmatic gaze and cocky charm, is a man who is running away from who he really is. A role he'd rather not fulfill.
He is Viktor of House Nordin, His Royal Highness, The Crown Prince of Sweden. Yet uncovering Viktor's secret was only the first step. I didn't expect to fall in love with him. I didn't expect to have my whole life turned upside down.
When you're from two different worlds, can your hearts meet somewhere in the middle? Or do happily-ever-afters only exist in fairy-tales?
 

The Gilded Wolves | Roshani Chokshi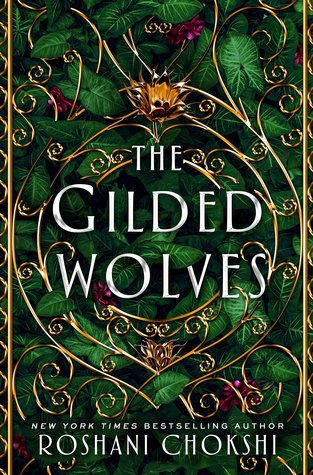 ⭐️⭐️⭐️⭐️.75
The Gilded Wolves was one of my most anticipated releases of this year, and ever since I read the synopsis I knew I had to read it, even though historical fiction isn't a genre I reach for that often, but still I had such high expectations because it reminded me a lot of Six of Crows, and I freaking adore that duology. Luckily for me, I completely fell in love with this story and these characters, and after that ending I really need the sequel in my hands.
First of all, I freaking adored this world. I know it's historical fiction and there wasn't a lot of room to create in it, but I've found I love secret society based stories, and this particular one was so interesting and mysterious that I wanted to keep reading until the very end. The mythology aspects were so cool and intriguing, and even though it was the first book in a series, we got to know a lot about it and the different societies within this world, which was one of my favorite parts. It took me a couple of chapters to understand what was going on and get into this story, but once I passed those I immerse myself into the story.
My other favorite part, and what stood out to me the most I think, was the characters. It had quite a diverse cast of characters, and I loved each and every single one of them. They were so flushed and complex, and though at first we didn't know much about them and they were quite mysterious, soon there was a lot of information regarding their backstories and their relationships that made me want to protect them and make sure they were going to be okay.
I overall feel that even though it didn't have that unique of a plot, the little details regarding the mythology and that society and these characters made it stand out to me, and after that ending and plot twists that were done towards the end I cannot wait to see what's going to happen in the sequel.
No one believes in them. But soon no one will forget them.
It's 1889. The city is on the cusp of industry and power, and the Exposition Universelle has breathed new life into the streets and dredged up ancient secrets. Here, no one keeps tabs on dark truths better than treasure-hunter and wealthy hotelier Séverin Montagnet-Alarie. When the elite, ever-powerful Order of Babel coerces him to help them on a mission, Séverin is offered a treasure that he never imagined: his true inheritance.
To hunt down the ancient artifact the Order seeks, Séverin calls upon a band of unlikely experts: An engineer with a debt to pay. A historian banished from his home. A dancer with a sinister past. And a brother in arms if not blood.
Together, they will join Séverin as he explores the dark, glittering heart of Paris. What they find might change the course of history—but only if they can stay alive.
The Vanishing Stair | Maureen Johnson
 
⭐️⭐️⭐️⭐️.75
Ever since I finished Truly Devious at the beginning of 2018 and suffered from that cliffhanger, I had to pick The Vanishing Stair as soon as I had it in my hands and see what was going to happen and how tables would turn, and I cannot believe I'm going to have to wait another year to know how everything ends because this freaking ended in another cliffhanger. Still, I loved it so much.
It's true that when I started this book it took me about 50 pages to place everything that have already happened and remember all the characters, but I appreciated that the first couple of chapters were a recap for people like me, so once I was reminded of everything that was going on in Truly Devious, I started to enjoy the story much more and flew through it.
Even though this installment wasn't as eventful as the first book, and I found that there were times nothing was actually happening and there were a lot of subplots, and those pages were more focused on the characters and their interactions. Still, I didn't mind it much, since I really enjoyed the characters and found their dynamics pretty interesting to follow.
Apart from that, I was so blown away by how many plot twists were in the story. To be honest, this is one of the series where I feel I have no idea the path the story's going to take. There were times where there was one thing revealed and I thought it was going to be some way, but then it was another, and there were a lot of twists and turns within the same plot that kept me so engaged and engrossed in the novel that I couldn't put it down.
Overall, even though I loved Truly Devious a bit more, I still think this was such an amazing sequel. Everything was so eerie and mysterious, and I adored the series so far and honestly don't know how everything's going to end.
All Stevie Bell wanted was to find the key to the Ellingham mystery, but instead she found her classmate dead. And while she solved that murder, the crimes of the past are still waiting in the dark. Just as Stevie feels she's on the cusp of putting it together, her parents pull her out of Ellingham academy.
For her own safety they say. She must move past this obsession with crime. Now that Stevie's away from the school of topiaries and secret tunnels, and her strange and endearing friends, she begins to feel disconnected from the rest of the world. At least she won't have to see David anymore. David, who she kissed. David, who lied to her about his identity—son of despised politician Edward King. Then King himself arrives at her house to offer a deal: He will bring Stevie back to Ellingham immediately. In return, she must play nice with David. King is in the midst of a campaign and can't afford his son stirring up trouble. If Stevie's at school, David will stay put.
The tantalizing riddles behind the Ellingham murders are still waiting to be unraveled, and Stevie knows she's so close. But the path to the truth has more twists and turns than she can imagine—and moving forward involves hurting someone she cares for.
Always Never Yours | Emily Wibberley & Austin Siegemund-Broka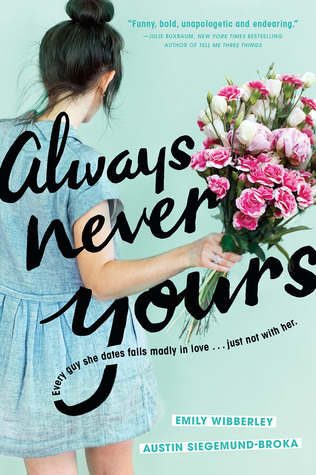 ⭐️⭐️⭐️⭐️.5
I was super excited about this book because even though I knew pretty much nothing about it, I've previously read another similar one and completely fell in love with it, and this seemed like it was going to be like that one. Turns out, I adored the crap out of it and I was so right about it.
This was such a heartwarming story. Not only I found the plot super entertaining , but I've come to the conclusion that I adore reading about a cast of characters that are trying to do a play at school or somewhere, and even though I'm not very familiar with Shakespeare nor his work, I still really loved the plot of this book and the journey these characters went through.
Apart from that, I absolutely adored the characters and the romance. Though there was a part where there was some type of cheating involved, I wasn't as mad as other books I've read because of the way it was done (just wanted to point that out, but I'm not going to explain further because of spoilers). Like I was saying, I really enjoyed the dynamics and interactions between out main character and her love interest, and they were so freaking adorable. I felt whole during the time I was reading about them, and I think that the romance parts were so slow burning, cute and really well done.
I also appreciated the female friendship and how the two girls overcame what was happening between them and leaned into each other. I don't know, I was so happy I decided to read this book, and will definitely be checking more of their works, because this left a lasting impression on me.
Shouldn't a girl get to star in her own love story?
Seventeen-year-old Megan Harper is about due for her next sweeping romance. It's inevitable—each of her relationships starts with the perfect guy and ends with him falling in love . . . with someone else. But instead of feeling sorry for herself, Megan focuses on pursuing her next fling, directing theater, and fulfilling her dream college's acting requirement in the smallest role possible.
So when she's cast as Juliet (yes, that Juliet) in her high school's production, it's a complete nightmare. Megan's not an actress, and she's used to being upstaged—both in and out of the theater. In fact, with her mom off in Texas and her dad remarried and on to baby #2 with his new wife, Megan worries that, just like her exes, her family is moving on without her.
Then she meets Owen Okita, an aspiring playwright inspired by Rosaline from Shakespeare's R+J. A character who, like Megan, knows a thing or two about short-lived relationships. Megan agrees to help Owen with his play in exchange for help catching the eye of a sexy stagehand/potential new boyfriend. Yet Megan finds herself growing closer to Owen, and wonders if he could be the Romeo she never expected.
The Black Wolf | J. A. Redmerski
⭐️⭐️⭐️⭐️⭐️
Since devastating secrets were uncovered by Nora Kessler, Niklas Fleischer and Victor Faust have been divided as business partners and brothers. But ultimately Niklas is persuaded to lead a mission to Italy, and he sees it as an opportunity to set in motion forgiveness—or retribution—for his brother's betrayal.
The mission: play the role of a wealthy German investor and kidnap a beautiful, notorious madam named Francesca Moretti. No stranger to these types of roles, Niklas is the best man for the job, but this time the risks will be much greater as he will not be doing it alone. Izabel Seyfried, still fresh out of a life of imprisonment and sex slavery, could be negatively affected by the things she will see in Moretti's mansion, and Niklas must keep her in line so she does not blow their cover and get them killed.
But Niklas isn't the only one who must play a role—Nora takes on the humiliating task of playing Niklas's slave, and Izabel must play the role of his lover.
On one hand, Niklas couldn't be enjoying himself more. On the other hand, the emotions that continue to rage inside of him may be too much for him to control, and it may be Niklas—not Izabel—who needs to be kept in line. He cannot forget what Victor has done, and this mission may just be the beginning of his downward spiral.
Can the blood bond that Niklas and Victor share as brothers be stronger than resentment? Or will vengeance dig the blade so deep that their bond be eternally severed?
Two Can keep a Secret | Karen M. MacManus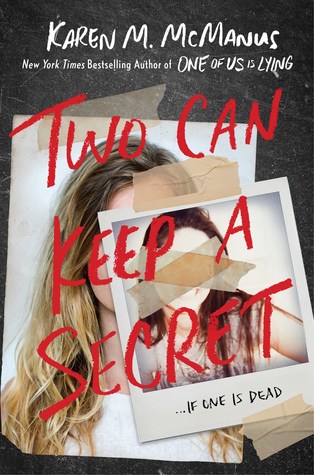 ⭐️⭐️⭐️.5
I was pretty excited to read this book because I really enjoyed her debut novel back when I read it last year, and this one had a very interesting premise, so I decided to pick it up to see what was going to be about, and though it had some elements that I enjoyed, I overall had some issues with it.
The writing I have to say had improved a lot in this novel since the last one. There were more descriptions and it felt like it was more put together and mysterious. I think that it was better constructed and had a few more elements that made the story more interesting. Still, it had not that unique plot, though I admit it was pretty fast paced and easy to get into, and kept me intrigued and engrossed in the novel until the very end.
Even though the characters were okay, I wasn't the biggest fan of the romance. I enjoyed the characters and their evolution throughout the story, but I feel the romance was a bit unnecessary and didn't add much to the plot of the book. I enjoyed the friendship and the relationship between the siblings more.
My main reason why I didn't give this book a higher rating was purely because I found some of the revelations pretty predictable. Though I think the mystery was kept pretty well and it made me want to keep reading, I found the ending a bit anticlimactic, and I guess I was expecting a bit more from it. Still, I think it was a solid mystery.
Echo Ridge is small-town America. Ellery's never been there, but she's heard all about it. Her aunt went missing there at age seventeen. And only five years ago, a homecoming queen put the town on the map when she was killed. Now Ellery has to move there to live with a grandmother she barely knows.
The town is picture-perfect, but it's hiding secrets. And before school even begins for Ellery, someone's declared open season on homecoming, promising to make it as dangerous as it was five years ago. Then, almost as if to prove it, another girl goes missing.
Ellery knows all about secrets. Her mother has them; her grandmother does too. And the longer she's in Echo Ridge, the clearer it becomes that everyone there is hiding something. The thing is, secrets are dangerous–and most people aren't good at keeping them. Which is why in Echo Ridge, it's safest to keep your secrets to yourself.
You'd Be Mine | Erin Hahn
⭐️⭐️⭐️
I was so excited to read this book because it had been receiving such incredible praise and I was super intrigued about the premise, and since I'm a sucker for anything that had to do with music bands or anything related to music making I decided to give it a go, and though there were some things that I enjoyed about it, I overall was expecting much more from it and ended up a bit disappointed with it.
It was a very fast paced story and it didn't take me long to finish, which is something I always appreciate in contemporaries, and it had a hate-to-love romance that was so angsty and it was actually really well written and it progressed in a realistic way throughout the story. I enjoyed the interactions between these two characters and basically how smoothly done that evolution was, like I said before.
However, I hated the male protagonist. It's true he did have some type of development as the story continued, but I just didn't like him at all. He was such an asshole with the female character and so prejudiced and even though he had a redeemable scene, I couldn't see past his toxicity. There were times where I found the romance so problematic and toxic, and I just wasn't the biggest fan of that.
Still, I enjoyed how focused this book was on music, and how important it was for the two main characters. It was present throughout the entire story, and basically I really enjoyed how real those feelings and scenes were.
TW: alcoholism, addiction, death
Annie Mathers is America's sweetheart and heir to a country music legacy full of all the things her Gran warned her about. Superstar Clay Coolidge is most definitely going to end up one of those things.
But unfortunately for Clay, if he can't convince Annie to join his summer tour, his music label is going to drop him. That's what happens when your bad boy image turns into bad boy reality. Annie has been avoiding the spotlight after her parents' tragic death, except on her skyrocketing YouTube channel. Clay's label wants to land Annie, and Clay has to make it happen.
Swayed by Clay's undeniable charm and good looks, Annie and her band agree to join the tour. From the start fans want them to be more than just tour mates, and Annie and Clay can't help but wonder if the fans are right. But if there's one part of fame Annie wants nothing to do with, it's a high-profile relationship. She had a front row seat to her parents' volatile marriage and isn't interested in repeating history. If only she could convince her heart that Clay, with his painful past and head over heels inducing tenor, isn't worth the risk.
Radio Silence | Alice Oseman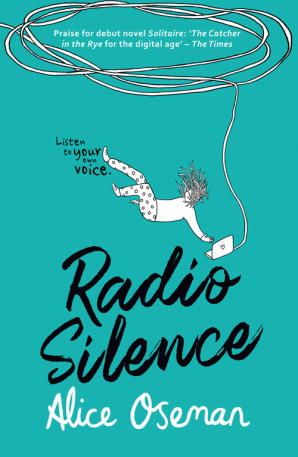 ⭐️⭐️⭐️⭐️.25
I was beyond excited to pick up this book because literally everyone that has read it has given it a very high rating, and I've heard amazing things about Alice Oseman and her books, so I went with pretty high expectations, and overall I have to say that even though it had quite a slow start and I had to put it down for a couple of days because I wasn't in the mood, once I got into the story I completely fell in love with the story and the characters.
This book was more a character driven story, but I wasn't mad at all because I absolutely adored the cast of characters and their personalities and interactions throughout the story. They are all my babies and they were so flawed but real that it was impossible for me to not feel identified with any of them.
I also think that this book brought up a very complex discussion about high school, academic pressure and parental figures that is so important nowadays and the author did it in such an incredible way that at times it was heartbreaking to read about these kids.
I also really enjoyed the representation and the friendship, and basically how these characters made me feel like I was in their group by reading their interactions.
TW: depression, toxic and abusive parental behavior.
Frances Janvier spends most of her time studying.
Everyone knows Aled Last as that quiet boy who gets straight As.
You probably think that they are going to fall in love or something. Since he is a boy and she is a girl.
They don't. They make a podcast.
In a world determined to shut them up, knock them down, and set them on a cookie cutter life path, Frances and Aled struggle to find their voices over the course of one life-changing year. Will they have the courage to show everyone who they really are? Or will they be met with radio silence?
The Kiss Thief | L. J. Shen
⭐️⭐️⭐️
Okay, I decided to pick this book on a whim because I've been hearing quite a lot of things about it lately, but I didn't know a lot about what it was about, so I ended up picking it up after hearing a person I followed talk about it, and I have to say that it wasn't as bad as I expected, and though it had some things that I wasn't the biggest fan of some stuff that happened in the book, it was quite a fast paced and addicting story.
So I have to say that even though this isn't the most soft and unproblematic book I've ever read and there were some things that were kind of sketchy and problematic in this novel, it was kind of a fun story and it reminded me of Beauty And the Beast at times because of all the themes and landscapes and scenes.
There were some weird stuff going on. For example, the first time they had sex was super uncomfortable to read, and I get that it was supposed to be like that, but still I think it was a little bit too much. Also I hated one of the tropes (plot twists?) at the end, because basically I hate when the main character gets pregnant just to add drama.
Also I felt that the characters had a 360 in the middle of the book, and that change was so rough and not really smooth. Though I have to say that I really enjoyed the characters' relationship and overall the romance was pretty angsty and well written.
They say your first kiss should be earned.
Mine was stolen by a devil in a masquerade mask under the black Chicago sky. They say the vows you take on your wedding day are sacred. Mine were broken before we left church. They say your heart only beats for one man. Mine split and bled for two rivals who fought for it until the bitter end. I was promised to Angelo Bandini, the heir to one of the most powerful families in the Chicago Outfit. Then taken by Senator Wolfe Keaton, who held my father's sins over his head to force me into marriage. They say that all great love stories have a happy ending. I, Francesca Rossi, found myself erasing and rewriting mine until the very last chapter. One kiss.
Two men.
Three lives.
Entwined together.
And somewhere between these two men, I had to find my forever.
The Queen's Resistance | Rebecca Ross
⭐️⭐️⭐️
I was pretty intrigued to pick up this book because I feel that the first installment had quite closed ending, so I wasn't really sure what this sequel was going to be about, but still I went with an open mind and I have to say that even though I didn't fully love it and find that there were some parts where nothing was really happening, overall I enjoyed most of the story.
One of the plus things was that we got to know more the different kingdoms and the world building expanded and we learnt new stuff about the different characters. There were times where the author explored the different character's personalities, and where I found some new things that weren't in the first installment.
However, I think the plot in this book was a lot weaker than in the first one. There were times where nothing was actually happening and I feel we were given the same information and nothing new was going on. And not only that but the plot in this one had nothing to do with the one in The Queen's Rising, and it almost felt as a last minute decision.
It took me a few chapters to get into the story, because I didn't remember most of the characters after a year, but I appreciated the fact that there was a character glossary at the very beginning.
I also think that the writing was very well done, and it had really vivid descriptions that merged you inside the story. Overall I think that there were some things that I enjoyed about this installment, but it's true that this was more focused on the characters and creating tension and drama between them instead of continuing the plot of the first novel.
I received an ARC of this book from HarperCollins in exchange for an honest review. All thoughts are my own.
Finally, Brienna is a mistress of knowledge and is settling into her role as the daughter of Davin MacQuinn, a disgraced lord who returned to Maevana to reclaim his house. Though she'd just survived a revolution, one that will finally return a queen to the throne, she faces another difficult challenge. She must prove herself trustworthy to the MacQuinns. But as Queen Isolde Kavanagh's closest confidant, she'll have to balance serving her father's house as well as her country. And then there's Cartier, a wholly separate but desirable factor in her new life.
Aodhan Morgane, formerly known as Cartier Évariste, is adjusting to the stark contrast between his pre-rebellion life in Valenia as a master of knowledge and his current one as the lord of a fallen house. During his castle's restoration, he discovers a ten-year-old boy named Tomas, whose past and parentage are a complete mystery. So when Cartier's former pupil Brienna is as taken with Tomas as he is, he lets his mind wander—what if he doesn't have to raise him or his house alone?
As the Lannon trial rapidly approaches, Brienna and Cartier must put their feelings aside to concentrate on forging alliances, executing justice, and ensuring that no one interferes with the queen's coronation. But resistance is rumbling among the old regime's supporters, who are desperate to find a weakness in the rebels' forces. And nothing makes a person more vulnerable than deep-seated love.
Vicious | L. J. Shen
⭐️⭐️⭐️⭐️.25
After reading her other book and hearing really good things about this one I decided to read this one as well and see what I thought about it, and I have to say that I was so pleasantly surprised by how much I enjoyed this book, because basically this was a Cardan and Jude romance, and I was super excited.
I have to say that the relationship in this book was pretty problematic, but there are times where a girl doesn't mind a more unhealthy relationship, and this one was one of them. I really enjoyed both perspectives and inner monologues, and basically the two characters' personalities themselves.
The romance was so smoothly done and so angsty and slow burning, which is usually what I tend to enjoy in romance books. The transition between enemies to friends to lovers was so well done, and not only that but also their interactions and dialogues were interesting to follow.
Also it was such an incredibly fast paced story, and so addicting as well, which made me want to continue reading the book to see what was going to happen.
Overall, I was pleasantly surprised by this book and how much I enjoyed the characters and story, so I'll definitely pick up more books by this author.
TW: abuse, manipulation
Emilia
They say love and hate are the same feelings experienced under different circumstances, and it's true.The man who comes to me in my dreams also haunts me in my nightmares. He is a brilliant lawyer. A skilled criminal. A beautiful liar. A bully and a savior, a monster and a lover.
Ten years ago, he made me run away from the small town where we lived. Now, he came for me in New York, and he isn't leaving until he takes me with him.
Vicious She is a starving artist. Pretty and evasive like cherry blossom. Ten years ago, she barged into my life unannounced and turned everything upside down. She paid the price.
Emilia LeBlanc is completely off-limits, my best friend's ex-girlfriend. The woman who knows my darkest secret, and the daughter of the cheap Help we hired to take care of our estate. That should deter me from chasing her, but it doesn't. So she hates me. Big fucking deal. She better get used to me.
What books have you read recently? Have you read any of these ones I've mentioned above or do you have any of the on your TBR? Let me know in the comments!
Follow me on BlogLovin'Goodreads | Instagram | Twitter | Contact Me