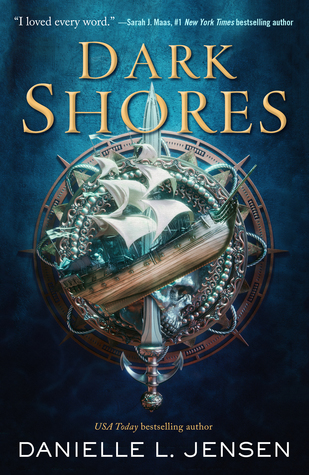 Title: Dark Shores
Author: Danielle L. Jensen
Series: Dark Shores #1
Genre: Young Adult, Fantasy, High Fantasy, Romance
Publisher: Tor Teen
Publication date: May 7th, 2019
Pages: 368
My rating:
---
In a world divided by meddlesome gods and treacherous oceans, only the Maarin possess the knowledge to cross the Endless Seas. But they have one mandate: East must never meet West.
A PIRATE WITH A WILL OF IRON
Teriana is the second mate of the Quincense and heir to the Maarin Triumvirate. Her people are born of the seas and the keepers of its secrets, but when her closest friend is forced into an unwanted betrothal, Teriana breaks her people's mandate so her friend might escape—a choice with devastating consequences.
A SOLDIER WITH A SECRET
Marcus is the commander of the Thirty-Seventh, the notorious legion that has led the Celendor Empire to conquer the entire East. The legion is his family, but even they don't know the truth he's been hiding since childhood. It's a secret he'll do anything to protect, no matter how much it costs him – and the world.
A DANGEROUS QUEST
When an Empire senator discovers the existence of the Dark Shores, he captures Teriana's crew and threatens to reveal Marcus's secret unless they sail in pursuit of conquest, forcing the two into an unlikely—and unwilling—alliance. They unite for the sake of their families, but both must decide how far they are willing to go, and how much they are willing to sacrifice.
"The East and the West must be kept apart. They must be protected from each other."
This book was one of my most anticipated releases of this year, and I went with such high expectations into it, not only because I've read another book by this author previously and enjoyed it, but also because the premise sounded absolutely incredible and right up my alley, and though there were some parts that I thoroughly enjoyed, I also had some issues with the pacing and the plot of the story.
The thing about Dark Shores was that when I was reading it I was enjoying it and interested, as happened when I thought about it when I wasn't, but I hadn't the urge to pick it up like I had with other novels. There was something about it that didn't make me interested enough to want to pick it up and continue reading, and that had something to do with my enjoyment of the novel.
I think Dark Shores had an amazing start. I was so intrigued about the world and the gods, and found the descriptions really interesting and unique, but as I kept reading it started to go a bit downhill for me. I feel like there came a part of the book (mostly the last 140 pages or so) where nothing was really happening apart from the romance. The things I loved about the gods or the sea battles were barely there, and I feel we got a lot more information about the Cel empire than we had about the Dark Shores and the society there, though a fair part of the book is set there.
"If your goddess is so desperate to keep the ocean paths a secret, why did she silence her loyal followers and leave loose the lips of the girl she had most cause to doubt?"
The characters were incredible, though, and one of the strongest parts of the novel. I absolutely adored Teriana as a main character. She was such a complex character and it was super interesting to see her interact and evolve throughout the story. With Marcus I had a love/hate relationship. He was definitely a strong role in this story, but there was something about his inner monologues and personality that made him not stood out as much as I expected, and make me lean towards Teriana's perspective a lot more.
Overall, I think this book has its good things and its bad. It took me a while to get into the story because I found the world building quite confusing at times, and I feel the pacing was a bit wonky, having sometimes really fast paced scenes where you're given a lot of information and other times where barely anything was happening, and it was more focused on the character's interactions and relationships.
"Guilt was an old friend, but it raged against him with a vengeance."
TW: torture, invasion
I received an ARC of this book in exchange for an honest review. This doesn't change my opinion whatsoever. All thoughts are my own.
Follow me on BlogLovin'
Goodreads | Instagram | Twitter | Contact Me