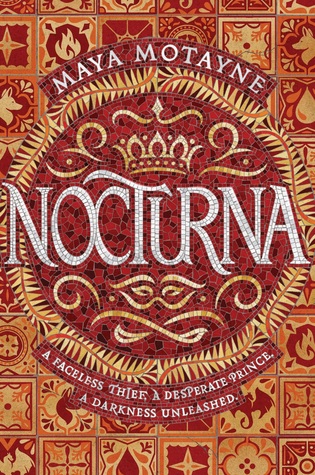 Title: Nocturna
Author: Maya Motayne
Series: A Forgery of Magic #1
Genre: Young Adult, Fantasy, High Fantasy, Romance
Publisher: Balzer + Bray
Publication date:May 7th, 2019
Pages: 480
My rating:
---
To Finn Voy, magic is two things: a knife to hold under the chin of anyone who crosses her…and a disguise she shrugs on as easily as others pull on cloaks.
As a talented faceshifter, it's been years since Finn has seen her own face, and that's exactly how she likes it. But when Finn gets caught by a powerful mobster, she's forced into an impossible mission: steal a legendary treasure from Castallan's royal palace or be stripped of her magic forever.
After the murder of his older brother, Prince Alfehr is first in line for the Castallan throne. But Alfie can't help but feel that he will never live up to his brother's legacy. Riddled with grief, Alfie is obsessed with finding a way to bring his brother back, even if it means dabbling in forbidden magic.
But when Finn and Alfie's fates collide, they accidentally unlock a terrible, ancient power—which, if not contained, will devour the world. And with Castallan's fate in their hands, Alfie and Finn must race to vanquish what they have unleashed, even if it means facing the deepest darkness in their pasts.
"A fox does not wait for an invitation, he waits for an opening."
This book was one of my most anticipated releases of the year, and I was super excited to read it because the premise sounded incredible and I've read glowing reviews about it, and I have to say that it was such a great first book in a series, and I was so impressed.
Though I feel it took a while for the plot to start developing, because the first few chapters were more an introduction to the character and the backstory, the world and the magic, once it started to evolved it was such a fast paced and action packed book, and I flew through it. I didn't have a lot of trouble understanding anything, because everything was explained so well throughout the novel, and though there were moments where the story was purely focused on these characters' dynamics and their journeys, I still didn't really mind that.
I think the world was so flushed and unique. Though I'm pretty sure I've read a book with a similar magic system, the way it was done in Nocturna made it stood out to me. I really loved what we got to know about the world, and the magic system was so cool and interesting that I hope she'll explore it more in the next installments.
"Magic was a mask Finn had slipped over her head so many times, she'd almost forgotten what her own face looked like."
The strongest part in my opinion was the characters. I loved them so much, and enjoyed seeing them grow as the story continued. They all had very different and complex back stories, so I found that their interactions were very well done and made sense in the context of the story. Also, the romance was actually really well done and didn't feel rushed or insta-lovey, and I would love to read more about it, because I feel that in this first installment we barely got a grasp of it.
The pacing of the story didn't feel off to me. There were a lot of action packed scenes that were keeping me at the edge of my seat, and I didn't know what was going to happen next. The plot built up pretty well and I think that the ending and the climax of the story were very well written and captivated me the way they were done. Though I still have some questions unanswered, I think I'll get to know them in the next installment, because even though this particular book didn't end on a cliffhanger or a high note and had a nice sum up ending, I still would like to know more about what's going to happen after that conclusion and how the author is going to do that.
Overall, even though I went with pretty high expectations into Nocturna, I was still so pleasantly surprised by how much I adored this first installment and the characters that were introduced to us, and I would definitely pick up the sequel as soon as I have it in my hands.
"We all carry good and bad within us, light and dark. That is what makes us human. And remember, no matter how far into the darkness we may fall, it is never too late to seek the light."
TW: abuse, gore scenes, mention of self harm, murder
Follow me on BlogLovin'
Goodreads | Instagram | Twitter | Contact Me